Have you lost desktop files in Windows 7, Windows 8, Windows 10, or other Windows OS? This article shows 7 methods to recover lost desktop files. In addition, this article also explains several reasons that may lead to desktop files loss. Read this article and get the lost files back.
Lost Desktop Files Annoyed Lots of Windows Users
When searching lost desktop files Windows in Google or other search engines, you'll find a huge number of Windows users are troubled by this issue files disappeared from desktop no matter whether they are running Windows 7, Windows 8, Windows 10, or other Windows OS. Below are 2 typical cases I picked out from forums.
Case 1: I just upgraded to Windows 10 from 8.1, and have lost my desktop shortcuts and files. How do I recover them? During the upgrade I did, "Keep personal files and apps", but they also disappeared. What's happening?
Case 2: Last week, when I logged in, I noticed all my desktop files were missing. Library files were also missing (including pictures, videos, music & docs). What's rather funny is that none of the folders are missing, but every possible file in each folder is missing. There is no way I could have deleted them by mistake. How can I get these missing desktop files back?
Of course, your actual case might be a little different from the above, but as long as your files disappeared from the desktop, you are very likely to be interested in these topics below:
Is it possible to recover the lost desktop files, folders, and shortcuts? How?
What could cause desktop files to be lost?
Why should desktop file recovery be done immediately?
In terms of desktop files missing, a piece of free data recovery software is a good choice for you to recover lost desktop files Windows. Thus, we will also show you how to recover desktop files in Windows 10/8/7.
Follow Our Methods to Quickly Get Your Lost Desktop Files Back
Here are 7 methods in total, and you need to choose the most proper one(s) by considering your practical situations.
Method 1: Recover Missing Desktop Files/Folders If You Can't Afford Losing Them.
1. Recover from Backup
If you are used to backing up important data, you can recover lost files from the backups. For the detailed information, you can refer to the post: How to Restore Individual Files from Backups? Focus on 2 Cases
But, if you don't have such a backup in place, you'll need a piece of free file recovery software.
2. Recover Desktop Files Using Data Recovery Software
Perhaps, you don't know how to choose a proper data recovery program to restore your lost desktop files. We suggest using the professional MiniTool Power Data Recovery which perfectly supports all versions of Windows operating systems, including Windows XPXP/Vista/7/8/8.1/10 and Windows Server 2000/2003/2008/2012/2019. It can recover deleted files and recover files from formatted, inaccessible, or lost partitions.
MiniTool Power Data Recovery TrialClick to Download100%Clean & Safe
Steps to recover desktop files with MiniTool Power Data Recovery are as follows:
Step 1: Open the software and scan the target drive.
Launch MiniTool Power Data Recovery to enter its main interface.
Go to This PC
Select the C drive to continue because the desktop files are always saved on the C drive.
Before scanning, you can click Settings to choose the file type you want to recover.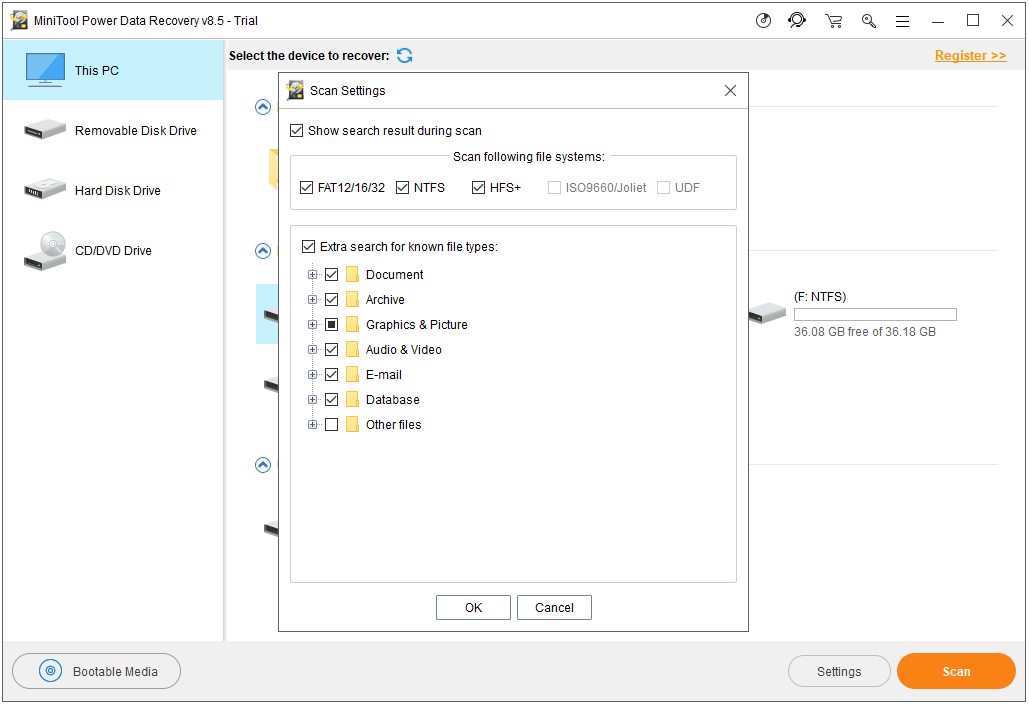 Step 2: Start to scan the drive to recover desktop files
After selecting the drive, click Scan to continue.
When the scanning process is finished, you can see that the scanning result is displayed by path.
Explore the partition to find the Desktop Then open it to check whether your lost files are recovered.
Check the files you want to recover and click Save to continue.
Tip: In order to save the time of looking for the files you need, you can use the Find and Filter features. You can use the Preview feature to check whether it is the file you want to recover, which supports previewing 70 types of files.
Step 3: Upgrade the software
After that, you will see a warning message which requires you to upgrade an advanced edition because the Trial edition only supports you to find your needed desktop files.
After all steps are finished, you have successfully recovered the desktop files.
Kind Reminder:
Please do not save recovered files to the drive where data loss appears, because this may overwrite lost files.
If you want to recover programs or shortcuts of programs, data recovery software may not work, so you need to manually recreate shortcuts of apps on desktop or even reinstall programs.
Nevertheless, if MiniTool Power Data Recovery fails to recover your missing desktop files, it seems that these files may have been overwritten, and you have most likely lost them forever.
If you don't want to do data recovery at first (the disappeared desktop files are not that important), you can see how to recover desktop files in Windows 7 with following methods.
Method 2: Show Desktop Icons
If there is no icon, file, and folder on your desktop, please right click on the desktop, choose View, and select Show Desktop Icons. Then, all shortcuts and desktop files should be visible again.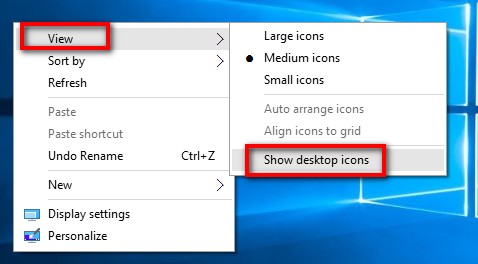 If you are just missing a part of desktop files, you can try the next method.
Method 3: Show Hidden Files
Please go to Folder Options (Windows 7) or File Explorer Options (Windows 10), then choose, Show hidden files, folder, and drivers, uncheck Hide protected operating systems, and click the Apply button.
Then, the disappeared files should emerge on the desktop again if they are just hidden by a virus or yourself. Otherwise, look for desired data in drive C.
Method 4: Find Files in Desktop Path
We have said desktop files are always located in C:\Users\user name\Desktop, so you can try finding your missing desktop files in this path. But, if they are not there and lost after upgrading to Windows 10, please search the Windows.old folder.
Method 5: Find from Windows.old Folder
If you are missing desktop files after upgrading to Windows 10, you can try finding those files in the Windows.old folder where files belonging to previous OS are stored. This folder is always located under the root directory of drive C.
In this folder, select all files you want, right click, and send or copy them to another location.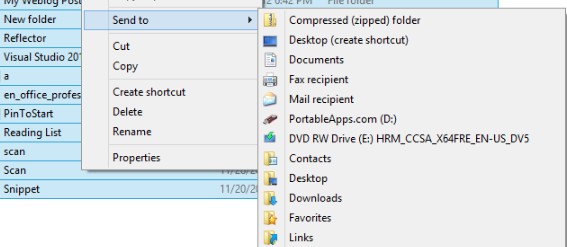 However, if they are not in Windows.old folder, please continue to attempt to do the following as listed below.
Method 6: Set the Folder Temporarily to Hidden and Read-Only
If folders exist on desktop, but files in those folders are missing, setting those folders to be hidden and read-only may make missing files visible:
Firstly, select and right click the desktop folders with missing files, and choose Properties from the popup window.
Then, give check marks on Read-only and Hidden options and click Apply.
After that, the missing files should appear in desktop folders again. If this method doesn't work, please search the disk, which will cost you some time. Your desktop files might be moved to other locations by a virus, Windows or yourself.
Method 7: Search Entire Hard Disk
Open Computer or This PC and type the exact file/folder name, or type a part of the file/folder name in the Search box, and then your computer will look for related items automatically.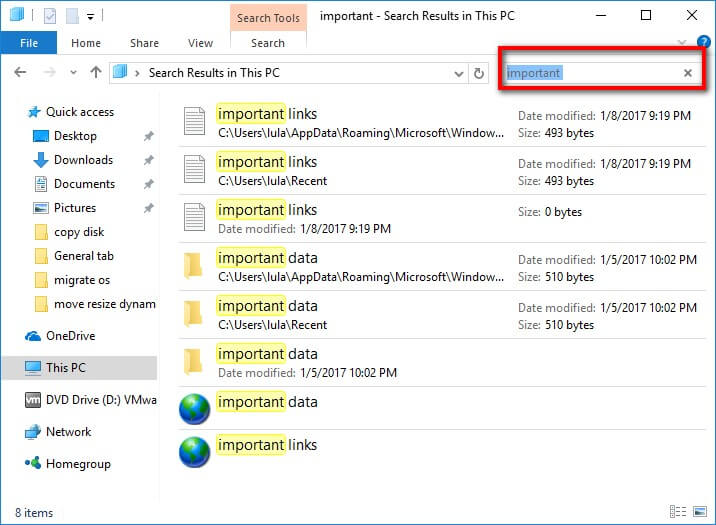 It should be noted that this may take some time if the disk saves a huge number of files. Please wait patiently.
Well, what if searching the computer doesn't find the desktop files you need? Most probably, those files have been lost, and you need to do a desktop file recovery. Go back to Method 1 and do desktop file recovery.
7 Factors That Could Cause Desktop Files to Disappear in Windows 10/8/7
Missing files/folders from Windows 10? Don't be anxious please! As we know, desktop files are always saved in C:\Users\user name\Desktop, like this:
Desktop file missing may be caused by the following reasons.
1. Reinstalling Windows or upgrading Windows without keeping personal files
Reinstalling Windows will format the drive where Windows is installed, and it is always the drive where desktop files are located. Therefore, original desktop files will be removed after successful reinstallation.
In addition, upgrading Windows, an upgrade to Windows 7 or Windows 8.1 to Windows 10, also requires reinstalling Windows, which means the drive holding the desktop files will also be formatted. There is a difference between a reinstallation and an upgrade: during an upgrade users are allowed to choose to keep personal files and apps or not.
If you choose Keep personal files only, your current settings and apps (containing desktop shortcuts for apps) will be removed. If you choose Noting, everything in drive C will be deleted, including desktop files, folders, shortcuts, and so on.
2. Accidents emerge when you update or upgrade Windows 10/8/7 and Servers
If accidents such as power outages and wrong click are generated during Windows upgrade or update, you may lose some desktop files.
3. Your computer suffered from a virus attack
Viruses may delete or hide your desktop files, folders, and shortcuts, and sometimes they even move those files to other locations.
4. Some anti-virus software may also delete your desktop files
There are cases reporting that MacAfee and AVAST Antivirus deleted or hidden desktop files without letting users know. Therefore, your desktop data might be deleted or hidden by MacAfee, AVAST Antivirus, or other antivirus programs.
5. Boot your computer from another Windows OS
Each Windows OS has its own desktop files. When you are booting a computer from this OS, you'll be unable to find desktop files belonging to other systems.
6. Log in with a temporary or different account
As most of us know, under one operating system we can create multiple accounts. If you log in using this account, desktop files under other accounts might be not be shown or only partly shown.
Many people reported some of their files disappearing from desktop after they upgraded their computer from Windows 7/8.1 to Windows 10, though they chose Keep personal files and apps, and then they found they were logged in with a temporary account which wasn't created by themselves.
7. Delete desktop files by mistake
In daily computer use, mistaken operation can't be avoided completely. For example, you were going to delete a useless desktop file, but deleted a needed one and then emptied the recycle bin without knowing. Or you mistakenly deleted an important desktop file using the Shift + Delete combination key.
Now that you know causes for losing desktop files, we will show users how to make missing desktop files appeared again. But in this post, let's talk about the following issue at first, because this could help increase the data recovery rate.
Why Desktop File Recovery Should Be Done Immediately
Desktop files are always saved in the drive where Windows is installed, and it is Drive C in most situations. Unlike other partitions where files should be written manually, drive C will receive temporary files, caches, cookies, software/Windows updates, and other files automatically as long as Windows is running.
This continuously incoming data might be allocated to be saved to the space released by your deleted desktop files. As a result, desktop files are easier to be overwritten. Unfortunately, overwritten data cannot be recovered anymore.
Note:
Deleting a file just operates File
Allocation Table
(FAT) of a FAT partition or
Master File Table
(MFT) of a
NTFS
partition, telling Windows space that occupied by this file can be allocated to new files, but the file is still there until new files are written in. At this time, we say the deleted file is overwritten by new data.
Therefore, desktop file recovery should be done before lost files are overwritten. The faster the better. In the future, you'd better not save important files on desktop since it's a very dangerous place. The desktop should be used only for shortcuts which are very easy to be recreated. Or you had better develop a habit of backing Windows.
Considering this situation, we suggest doing data recovery at first if you cannot afford losing data.
MiniTool Power Data Recovery TrialClick to Download100%Clean & Safe
Conclusion
Are you losing desktop files after upgrading to Windows 10 or due to other unknown factors? Now, it's your turn to try our solutions out, one or some of which may bring your missing desktop files back.
Should you have any problem, feel free to contact us by sending an email to [email protected]. Or, you can leave a message on the following comment zone.