When you install Windows 11/10 on your PC, you can use a product key or digital license to easily activate Windows 10/11 OS. You can also choose not to activate Windows 10/11 when installing it. It is legal to use Windows OS without activation.
Here comes the issue, what will happen if you do not activate Windows? What are the disadvantages of not activating Windows 11/10? You can check the explanations below.
All Disadvantages of Not Activating Windows 11/10
Without activating Windows, you may have some limitations when using Windows and lost access to the premium features of the Windows operating system. Below we list some disadvantages of not activating Windows 10/11.
1. Annoying "Activate Windows" Watermark on Screen
You will have a watermark at the lower-right screen saying "Activate Windows. Go to Settings to activate Windows". This annoying watermark will be there all the time unless you activate Windows 11/10. Still, you might also periodically get messages asking you to activate your copy of Windows after the 30 days trial.

2. You Can't Access Some Personalization Settings
Some of the personalization features in Windows Settings are greyed out if you don't activate Windows. You cannot change the Windows desktop wallpapers, windows colors and themes, customize Start menu/taskbar/lock screen/title bar/fonts, etc. Still, you cannot use Windows Dark Mode. You can't enable Dark Mode on your computer if you don't activate Windows 10/11.
3. You May Miss Some Windows Updates
If you don't activate Windows 10/11, Windows may only download critical updates for your device. Some updates like optional updates or security updates may be missed. Your computer may miss some latest downloads, services, apps, or driver updates from Microsoft. If you missed some security updates that help prevent viruses or malware, your computer may be easily attacked. You may also miss some bug fixes and patches.
Other FAQs about Disadvantages of Not Activating Windows 10/11
Q: Can I use the free version of Windows 11/10 forever?
A: You can use the free version of Windows 11/10 forever and you can still receive Windows updates. The disadvantages of not activating Windows have been introduced above.
Q: Is it legal to use Windows free version?
A: It is legal to use the free version of Windows 10/11. You can download Windows 11 or Windows 10 latest version for free from the official Microsoft website.
Q: How much does it cost to activate Windows 11/10?
A: Windows 11/10 Pro costs $199.99 while Windows 11/10 Home edition costs $139.99. To buy a Windows 11/10 license, you can go to Start -> Settings -> Update & Security (or System) -> Activation, and click Go to the Store to buy a genuine Windows license. You may also purchase a product key for Windows 11/10 from some authorized retailers.
Q: What is KMS activation and is it illegal?
A: KMS (Key Management Service) is one of the legal methods to activate Microsoft Windows OS and Microsoft Office. KMS is usually used by volume license customers like medium or large businesses, schools, or non-profits agents. KMS clients have to activate their devices at least once half a year.
Q: Is it a good idea to use a cracked product key?
A: You may be able to activate your Windows by using a cracked Windows product key, but it's not a good idea to do that. The key may be easily blocked by Microsoft. We strongly advise you to support Microsoft and use a legal license to activate your computer. You only need to purchase a license key once and you can use it for a lifetime.
Q: Is it possible to download and install Windows 11/10 without a key?
A: You can directly download Windows 11/10 from the Microsoft website. You can try the OS for a month without activating it. However, once the trial period expires, you are required to activate Windows 10/11. You will also see the "Activate Windows" watermark on your screen.
Q: Does it affect the PC's performance if I don't activate Windows 10/11?
A: No, it doesn't affect the performance of your PC or the gaming experience.
Q: How can I find the product key of my Windows?
A: Generally, you can find your Windows product key in the confirmation email if you bought Windows 10/11 from Microsoft's official website or any authorized retailers.
You may also find your product key from the packages of your computer if you bought a computer with Windows 10/11 preinstalled.
You may also contact Microsoft Support or your computer manufacturer to ask them for your product key.
You can also use some third-party professional key finders like ProduKey, KeyFinder, etc.
You can also check your Windows product key with CMD by typing the following command in Command Prompt: wmic path softwarelicensingservice get OA3xOriginalProductKey. Press Enter to execute the command.
Q: How to deactivate Windows 10/11?
A: If you want to transfer your license to another computer, you need to first deactivate Windows 10/11 by uninstalling the product key. However, only in some circumstances, you can transfer your license to a new computer.
Q: Can I use the same license for 2 Windows computers?
A: No, you can only activate one device with the license.
Q: Why is my Windows 10/11 suddenly not activated?
A: If you use a genuine license to activate Windows 11, don't be panic, you can try some measures to easily fix Windows 11 activation errors. However, if you use a pirated license, then you can choose to buy a genuine license that you can use forever.
How to Activate Windows 11/10
If you want to activate Windows 11/10, you have several ways to go.
Way 1. Through Settings
You can click Start -> Settings -> Update & Security -> Activation. For Windows 11, click Start -> Settings -> System -> Activation. Then you can click Change product key to enter your product key to activate your Windows.
If the product key is not working, you can check the tips to fix Windows 10/11 activation key not working issue.
Way 2. Via CMD
Press Windows + R, type cmd, and press Ctrl + Shift + Enter to run Command Prompt as administrator.
Type slmgr /ipk <Windows activation key> and press Enter to activate Windows 10 with CMD. Replace the "Windows activate key" with the 25-character product key you bought.
Way 3. Activate Windows with Digital License
If you purchased a digital license for your Windows, you don't need to enter the product key. Your device will be activated once your computer is connected to the internet.
If the digital license is not working, you may find some solutions to fix Windows digital license not working issue.
For more information about how to activate Windows, you may check the detailed guide from Microsoft: Activate Windows.
Free Data Recovery Software for Windows 11/10
If you mistakenly deleted a file and emptied the Recycle Bin, you need to use a professional data recovery program to recover the deleted file.
MiniTool Power Data Recovery, a professional data recovery program for Windows, helps you recover any deleted or lost files. You can use it to recover any deleted or lost data from Windows PC or laptop, external hard drive, USB flash drive, SD/memory card, SSD, etc.
Aside from recovering deleted files, this data recovery tool also helps you restore data from various data loss situations like hard drive corruption, system crash, or any other computer problems. If your computer can't boot, you can learn how to recover data when the PC won't boot.
Download and install MiniTool Power Data Recovery on your PC or laptop and check its simple guide below.
Launch MiniTool Power Data Recovery to get to its main UI. For an external drive, you should connect it to your computer beforehand.
Under Logical Drives, you can select the target drive and click Scan. Or you can click the Devices tab and select the whole device and click Scan.
Let it finish the scan process. Check the scan result and find wanted files, check them and click the Save Choose a new destination to store the recovered files.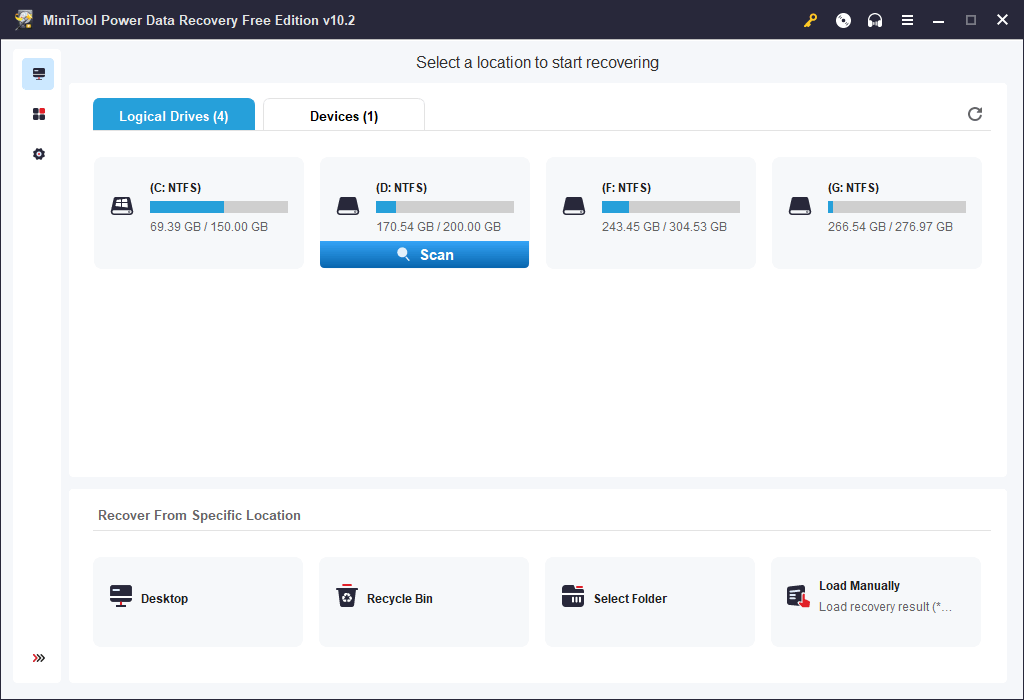 Free PC Backup Software for Windows 11/10
To avoid permanent data loss, it's advised you regularly back up your important files to another place. A professional PC backup software can save much effort.
MiniTool ShadowMaker is a top free PC backup software program. It lets you freely select files and folders to back up to another place. It also lets you select preferred partitions on your PC to back up. You can even select the whole disk content to back up. As for the backup device, you can use an external hard drive, USB flash drive, or network driver to store your backups.
This tool also lets you easily backup and restore your Windows system.
Other professional backup features like file sync, schedule automatic backup, incremental backup, etc. are also provided.
Free Disk Partition Manager for Windows 10/11
You may be also interested in another flag product from MiniTool Software - MiniTool Partition Wizard. MiniTool Partition Wizard is a professional free disk partition manager that lets you easily manage your hard drives by yourself.
You can use MiniTool Partition Wizard to easily create a new partition, delete a partition, split a partition, merge two partitions, extend/resize a partition, format a partition, wipe a partition/disk, etc. It also provides many other disk management features, e.g. migrate OS to SSD/HD, check and fix disk errors, analyze hard drive space, test hard drive speed, and more. It fulfills all your disk management demands.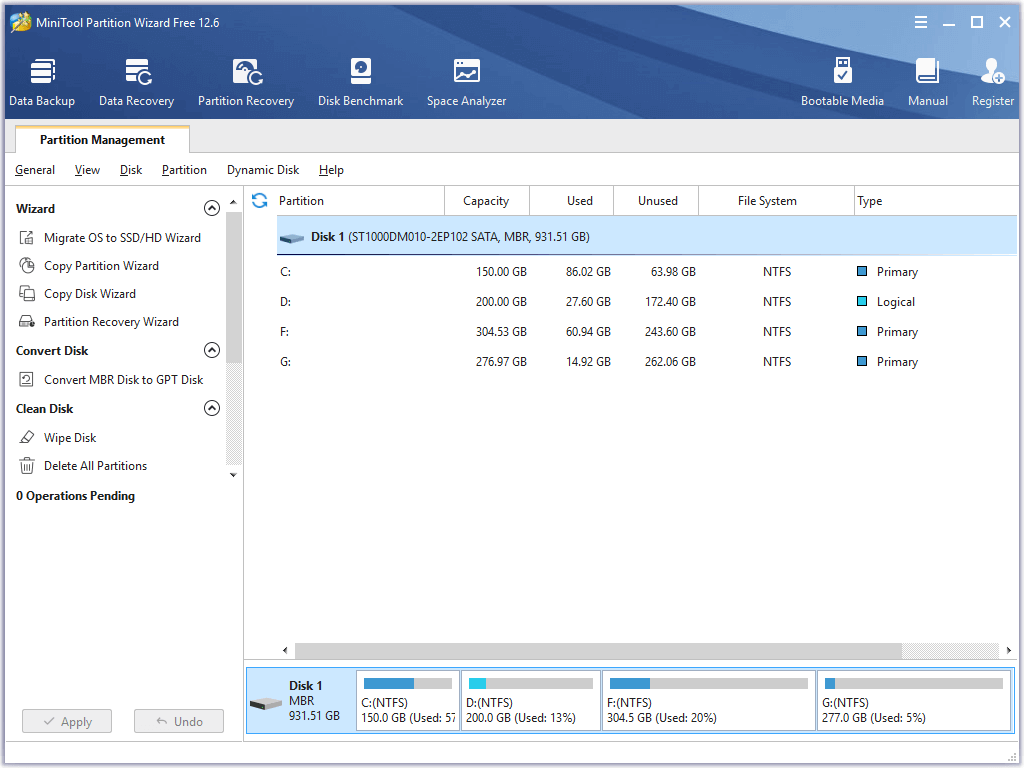 Bottom Line
This post introduces the disadvantages of not activating Windows 11/10. Some common FAQs about Windows activation are also listed. It also offers guides for how to activate Windows 11/10 and provides some useful computer tools to help you keep your data safe and manage hard disks.
If you have any problems with using MiniTool software products, you can contact [email protected].