Some of you may be confused with disc and disk. Disc vs disk, what's the differences between them? This post gives some answers. Still, a top free data recovery software – MiniTool Power Data Recovery – is also provided to let you recover mistakenly deleted or lost data from hard disk or DVD/CD disc.
Disc vs disk, what's the differences between them? If you are confused with these two words or objects, this post gives some explanations. Check when to use "disc" and when to use "disk" below.
Disc vs Disk Definition
If you check the word disc or disk in the dictionary, you may find that they are pronounced the same, and it says that disc is equal to disk in some instances. And you can also see disk and disc both can be used to refer to music records or albums.
However, despite of the same meaning in the dictionary, generally disc and disk are used to refer to different objects nowadays. Each one seems to have a preferred usage.
Disc: This word refers to optical media, namely, CDs and DVDs. CDs are audio compact discs that contain music records or albums, while DVD discs are generally compact movie video discs. Disc is more commonly used for round plate-like items.
Disk: This word is mainly used for magnetic storage devices. It is a standard spelling for computer-related terms like computer's hard drive, external hard drive or floppy disk. Disk is generally used for disk-shaped objects like an external hard drive.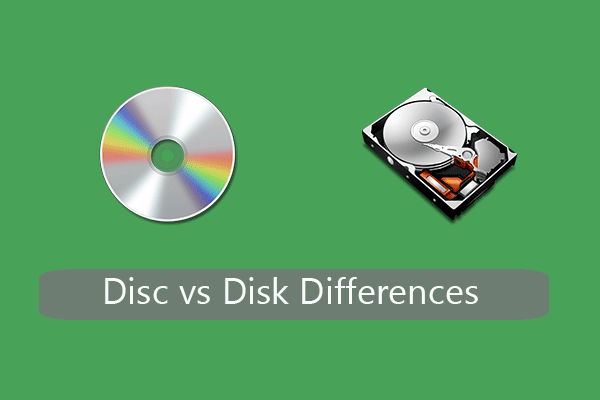 Disc vs Disk Differences
Discs can have CD, CD-ROM, CD-RW, DVD-ROM, DVD-RAM, DVD-RW, DVD-Video disc categories. DVD-RW, CD-RW or DVD-RAM are rewritable, DVD-R or CD-R disc allows you to write content once, DVD-ROM and CD-ROM are read-only.
All discs are removable. You can freely mount or unmount the disc on your computer with the built-in DVD-ROM or external DVD drive.
On the other hand, all disks are rewritable unless the disk is write-protected or locked intentionally. You can easily partition a hard drive to several partitions. Normally you can use a hard drive enclosure to encase the external hard disk and connect it to your computer via USB cable. Your computer has a core component, a built-in hard drive, to store files.
Disk vs disc, generally disk can be used to store any kind of files while disc can be only used for storing audio, video and subtitle tracks.
Based on the explanations above, you should know when to use disc and when to use disk now. Hard disk, as a popular mass storage media nowadays, seems to gain more popularity over disc.
How to Recover Data from Disk or Disc for Free
Disc or disk, both can store media files. If you mistakenly deleted some files or lost some data on hard disk or CD/DVD disc, you can use a professional data recovery software to try to restore the files.
MiniTool Power Data Recovery is a free Windows data recovery program from MiniTool. If you use a Windows computer, you can install this 100% clean data recovery software on your Windows PC or laptop, and use it to recover any deleted or lost files. For Mac users, please turn to the Mac data recovery software.
You can use MiniTool Power Data Recovery to recover data from Windows computer, external hard drive, CD/DVD drive, memory card, SD card, USB drive, etc. Corrupted/scratched CD/DVD disc or hard disk is also supported.
Download and install this free data recovery application on your Windows computer and check the simple instructions below for disk or disc data recovery.
To Recover Data from Hard Disk Drive:
For external hard drives, you should connect it to your computer first.
Launch MiniTool Power Data Recovery. For computer local disk, click This PC and select the target partition in the right window. For external hard drive, click Hard Disk Drive and choose the target drive in the right window.
Click Scan. Wait until the scan finishes.
Check the recovery result, and tick the needed files. Click Save button to choose a destination place to save the recovered files.
To Recover Data from CD/DVD Disc:
Connect the CD or DVD disc to your computer. Open MiniTool Power Data Recovery.
Click CD/DVD Drive in the left column, and choose the CD/DVD drive in the right window.
Click Scan button.
After the scan, find needed files and click Save to save the recovered files to a new place.
Best Free Hard Disk Partition Manager
Compared with disc, disk (hard disk) is more flexible for storing media files. You can store photos, videos, any type of files onto a hard disk. And you can partition the hard drive to several volumes to better manage data on it. Here we provide a free Disk Partition manager for you to help you fully manage disks by yourself.
MiniTool Partition Wizard, a top free disk partition manager for Windows, lets you create/delete/extend/resize/format partition, wipe hard drive, etc. This all-in-one partition manager also lets you convert partition format like convert FAT32 to NTFS, check and fix disk file system error, clone disk, etc.
Download and install MiniTool Partition Wizard on your Windows computer and check some of its features below.
To partition a hard drive:
Connect the hard disk to your computer.
Launch MiniTool Partition Wizard. Right-click the Unallocated space on the target hard drive and click Create.
In the pop-up window, set a partition size, label, drive letter, partition category, file system format, etc. based on your needs. Click OK.
Click Apply on the main UI to execute the change.
Tip: If there is no unallocated space on the disk, you can resize an existing partition to release some unallocated space and follow the guide above to create a new partition on the disk.
To format a hard disk:
If the disk has problems, you can back up data on it and reformat it. You can right-click the partition on the hard disk and select Format. Choose a file system format to format the hard drive.
To check and fix hard disk errors:
You can also use MiniTool Partition Wizard to check and fix errors on the disk. You can right-click the partition on the hard drive and choose Check File System. Select Check & fix detected errors and click Start to continue the process.
For more detailed info about the functions of this all-in-one free disk partition manager, please visit its official site.
Conclusion
Disc vs disk, they are used to define the same thing in the past, but today disk is more often used than disc, and disk is used to refer to various magnetic hard drives like computer local hard drives and external hard drives.
To recover data from disc or disk, MiniTool Power Data Recovery is a free tool. To manage disk partitions, MiniTool Partition Wizard is worth to try. If you have any questions about MiniTool software products, you can contact our customer service [email protected].
Disc vs Disk FAQ
What is a disc?
Disc is usually a thin circular phonograph record. You can insert the CD or DVD disc to your computer or CD/DVD player to play the music record.
What is a disk used for?
Disk is now used for both computer and external storage. Modern disks are usually divided into multiple sectors varying in block length, from hundreds to thousands of bytes.
What is meant by disk cleanup?
According to Wikipedia,
Disk Cleanup
is a computer maintenance utility that is built in Microsoft Windows. It is designed to
free up disk space
on a computer's hard drive. Disk Cleanup tool can search and analyze the hard drive for files that are no longer used and remove them. Disk Cleanup tool is incorporated into Windows 10 Settings app since Version 1803. You can click Start, type disk cleanup in the search box to find it.
Does disk cleanup delete everything?
Disk cleanup won't delete everything. It just removes the unnecessary files. The file categories it scans include temporary internet files, temporary Windows files, downloaded program files, Recycle Bin, compression of old files, removal of unused applications or Windows components, setup log files,
WinSxS folder
, etc. When you run the Disk Cleanup tool on Windows 10, you can freely select the files to delete based on your needs.