Loss data when Macbook Pro becomes crashed or dead? Don't worry. This post will show you some solutions to recover data from the crashed Macbook Pro. In particular, the professional data recovery software - MiniTool Mac Data Recovery is a good assistant. 
Probably you are being troubled by the following or related issue since you are reading this post:
My 4-year-old Macbook Pro has died (Model A1260). The people at the Apple Store have confirmed that it's a dead logic board. I have some important files on the computer that were not backed up. How can I retrieve these files? Preferably, I'd like to be able to access these files on a PC, but if need be, I can borrow my friend's iMac to do the transferfrom CNET
Definitely, once a Macbook Pro gets crashed, it's an urgent thing to extract data from crashed Macbook Pro before you are reinstalling Mac OS X, taking crashed Mac to Apple store for repairing, replacing old hard disk with new disk, or abandoning the crashed one, because any of these 4 options could lead to data loss.
Nevertheless, when it comes to transferring data out from a crashed Macbook, some of you would feel difficult or even impossible to complete, right?
But as a matter of fact, you are able to recover data from Macbook hard drive in easy steps, and in this post we will introduce 4 methods to help you perform Macbook Pro hard drive recovery. As to which way you finally choose, it just depends on your own situation.
Besides, if you encounter Mac hard drive failure, you also need to extract all useful data out at once. And dead computers data recovery should also be performed immediately when a Windows PC is broken.
And now, we will show you how to extract data from crashed Macbook Pro hard drive?
Method 1: Extract Data from Windows If You Are Dual Booting Windows and Mac OS X
New Macs are always equipped with the ability to run Windows. If you are dual booting Windows OS and Mac OS X, boot computer from Windows if it works well, and then transfer data out from crashed Macbook Pro to external disk.
Apple says "when you're using Windows, you can open and view files on the OS X partition. To modify a file, copy it to your Windows partition". That largely means we are able to copy files of Mac partition (HFS+) from Windows. For more details, please see Share data between OS X and Windows. Nevertheless, I'm not very sure about this method since I haven't tested it (I'm not dual booting). So just try it. If it finally turned out that you are not allowed to copy files of Mac partition from Windows platform, you have to make use of third party programs which install a proper read/write file system driver, but these programs are always chargeable.
Then, considering the situation where most people are running Mac OS only, we introduce other 3 methods. Firstly, let's see the second way.
Method 2: Transfer Data out from Crashed Macbook Pro via Target Disk Mode
Target Disk Mode, TDM for short, is a feature Apple introduced to share files between two Mac computers with FireWire or Thunderbolt ports. The Mac booting into TDM will function like a real external hard drive, and you can access its files in the Finder on another Mac. Moreover, users are even able to run a Mac in target disk mode even if it is unbootable, which makes it possible to migrate data from a dead Macbook Pro to a functional Mac. And the transferring speed is amazing due to the use of Firewire or Thunderbolt port.
Before enabling TDM, you'll need these things:
Another Mac apart from the crashed Macbook Pro, and each Mac needs either a Thunderbolt port or a Firewire port. If there is no such kind of port on one of the 2 Macs or no extra Mac is available, please choose other ways to extract data.
A Firewire or Thunderbolt cable, depending on the port of your Macs. If one Mac has a Thunderbolt port and the other Mac has a Firewire port, you'll need a Thunderbolt-to-Firewire adapter cable.
An external hard disk to hold files extracted from the crashed Macbook hard drive.
Then, let's start migrating data by following these steps:
Step 1: Connect 2 Macs via Firewire cable, Thunderbolt cable, or Thunderbolt-to-Firewire adapter cable.
Step 2: Power on and start the Mac that works well.
Step 3: Power on the crashed Macbook Pro and immediately hold down the T key on the keyboard as it boots, and release the key when the FireWire or Thunderbolt logo appears on the screen.
Once the crashed Mac starts up in Target Disk Mode, it will appear as a disk icon on the desktop of the other Mac. Then, you are able to open the disk and extract data from crashed Macbook Pro to an external hard disk.
Step 4: Exit from target disk mode: eject the disk by dragging its icon to the Trash (or right click the disk and choose Eject), press and hold the power button on the computer you used as a disk (the crashed Macbook Pro) to shut down it, and then disconnect the cable.
Warning: If you disconnect the Firewire cable or Thunderbolt cable or shut down the crashed Mac before ejecting the disk, there might be more serious errors generated on this disk.
However, some of you might say "I'm unable to enter Target Disk Mode", or "I don't have extra Mac", or "My Mac is not equipped with either Firewire port or Thunderbolt port", or "I do not have Firewire cable nor Thunderbolt cable".
Don't worry. The following 2 methods may help you recover data from Macbook Pro hard drive.
Method 3: Migrate Data from Dead Macbook Pro with Bootable Data Recovery Software
As its name implies, bootable data recovery software is capable of booting your computer without running OS to help recover lost data. Of course, this kind of programs will show users existing files too, so we can use it to extract data from crashed Macbook Pro.
Next, let's see how bootable data recovery software does this job.
Firstly, you'll need to download and install MiniTool Mac Data Recovery Bootable Media Builder (BMB), and then burn a bootable disk via the BMB on your friend or someone's Mac. BMB is a Mac based program, so it will not work on PC.
Further reading:
MiniTool Mac Data Recovery Bootable Disk is a piece of data recovery software that can help you recover deleted files, retrieve data from logically damaged partition, or restore data from a missing partition without you running Mac OS X. Like other data recovery apps, it can also help you transfer data out from a crashed Mac machine. For more details, please see MiniTool Mac Data Recovery Boot Disk.
As to burning bootable disk, you can refer to these steps:
Start Bootable Media Builder.
Copy and paste the license, which is sent to you after successful purchase, to the registry box, and then click Register button.
After successful registration, please choose "Build Boot CD/DVD Disc" if the Mac has CD-driver and you have useless CD or DVD. If not, select "Build Boot Flash Drive" instead. Of course, the flash drive should be connected in advance. Then, click "Next" to continue.
Wait until the burning process is completed.
Warning: All files on the selected flash drive or CD/DVD will be destroyed, so please backup important ones in advance.
Once MiniTool Power Data Recovery Boot Disk is created, boot the crashed Mac from USB flash drive or CD/DVD.
How to Boot from USB flash drive:
Power on the crashed Macbook Pro.
Press and hold the Option key immediately.
Release the key after Startup Manager emerges.
Highlight the USB device you want to use to boot computer by using your mouse or trackpad, or left and right arrow keys (← →) on the keyboard.
Double-click flash drive or press the Return key to boot your Mac from the selected device.
How to Boot from CD/DVD:
Turn on Macbook Pro, press and hold on the C key immediately until the Mac boots from CD or DVD. If the Mac doesn't boot, follow steps introduced to boot Mac from USB flash drive.
For more information about booting Mac from external device, please see Startup Mac from Bootable Media.
During the process of booting the program, you'll receive the following message:
Just do as it suggests.
After successful startup, you'll see the following window:
There are 4 function modules in total, and you are advised to choose "Damaged Partition Recovery" since it is the most powerful module for existing partitions.
Then, select the volume where your important files are stored and click "Open".
Tip: If you want to extract data along with recovering previously lost data, "Full Scan" is recommended, because it will deep scan the volume while "Open" just simply opens the volume. After that, all files, both existing and lost, found from the selected device will be shown:
Now check all files that you want to extract and recover, and then click "Save" button to specify a location to save the recovered data. Since your Macbook has corrupted, please save recovered files to external drive.
Bootable data recovery software can also help us extract important data from a crashed Macbook apart from recovering lost data. That's amazing.Click to Tweet
Now, if you think it's worth buying a bootable data recovery software to migrate data from dead Macbook Pro, do it now.
Well, what if you are unwilling to pay for bootable data recovery software and previous 2 methods are also proved to be infeasible? Try the 4th method, but it is risky.
Method 4: Take out Hard Disk from Crashed Macbook Pro and Extract Data on Another Mac
Note: If your Macbook Pro is under warranty, you'd better not employ this method, because disassembling the Mac may make the warranty invalid. Of course, Apple will also help you repair the Macbook even if the warranty is in no use, but you have to pay for it.
What you need: an extra Mac, a Phillips screwdriver, a spudger (optional), and a hard drive enclosure (if another Mac does not have extra SATA port for the crashed drive). As to which type of hard drive enclosure to choose, it depends on port type of the crashed drive.
Then, let's start disassembling the Macbook Pro.
Note: You should be very careful and gentle when dismounting hard disk, because any carelessness and force might risk your data or even the entire Mac.
Firstly, please power off the Macbook Pro if it is power on, and unplug the power cable.
Then, flip your Macbook Pro over on a flat work surface, and locate the 10 screw holes. There are always 10 screws to secure the back panel of Macbook machines.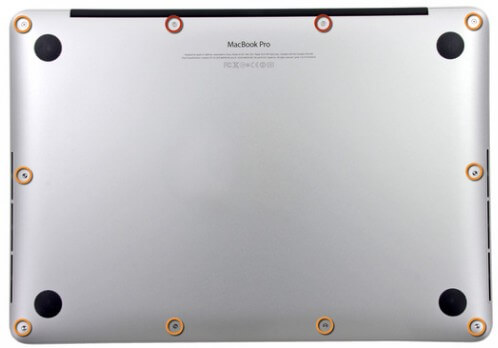 Next, remove all these screws using the prepared Phillips screwdriver, and put them into a container or box for future use. After that, you are able to dispart the back panel from the machine:
Then, locate the hard disk and unscrew all screws that fix hard drive, putting screws to another box.
Next, take out the hard drive slightly after detaching any retaining clips and cables. If there is a frame to fasten hard disk, remove it.
Some of you might say I'm using Macbook Pro with retina display, whose hard disk is integrated rather than mechanical. Actually, you can also disconnect it like disassembling traditional hard disk.
Once the hard drive is dismounted, insert it to the hard drive enclosure so as to make it portable. If there is no such enclosure, there must be an extra SATA port on another Mac for the drive of the crashed Mac. Then, connect the drive to the prepared Mac as a slave drive, boot the Mac, and startto recover data from Macbook hard drive to external hard disk.
When all useful files are transferred out, you can reinstall Mac OS, repair Macbook, or replace the crashed Macbook Pro without worrying about data loss. So choose one of our ways to extract your important data from the crashed Macbook Pro.
Bottom Line
To sum up, we have shown you how to how to recover Macbook Pro hard drive with 4 methods. If you have same trouble, try these solutions to extract data from crashed Macbook Pro.
Hope this post is useful for you. Should you have any other problem, please leave a message to the Comments part or contact us via [email protected].
Recover Data from MacBook Pro Hard Drive FAQ
How do I recover my Mac hard drive?
In order to recover data from the Mac hard drive, you can use the
professional Mac data recovery software
– MiniTool Mac Data Recovery. It enables you to recover the deleted, mistaken formatted and lost data from the Mac hard drive.
Can you recover data from a damaged hard drive?
If the hard drive is not physical damaged, for example, damaged due to bad sectors, you can recover the files on it with the
professional data recovery software
– MiniTool Power Data Recovery. If you want to recover data from Mac hard drive, you can use MiniTool Mac Data Recovery.
How do I recover files on Mac?
To recover files on Mac, you can use the data recovery software – MiniTool Mac Data Recovery.
Launch MiniTool Mac Data Recovery.
Select a proper module to continue. Here are Undeleted Recovery, Damaged Partition Recovery, Lost Partition Recovery and Digital Media Recovery.
Select a volume you want to scan and click Full Scan.
Select the files you want to recover and click Save to continue. 
What to do if my hard drive is not detected Mac?
Check whether the hard drive is connected properly.
Check the cable.
Change another USB port.
Reboot the Mac.
Reset NVRAM.
Check Apple's Disk Utility.
Check the File System of the hard drive.