Although computer technology is getting more and more sophisticated, files suddenly disappeared from a PC is still a common problem. This problem can be caused by various reasons. Sometimes files are hidden or moved, while sometimes they are lost actually. To help you resolve this problem, this post on
MiniTool
provides solutions and explains the main causes of this problem for you.
If you find your important files suddenly disappeared from your PC, do not be frustrated. This is a common issue in daily computer use. Even if your files really get lost, this post will show you how to restore your lost files safely. Please keep reading to find solutions.
Chapter 1: Files Suddenly Disappeared from PC
Files can easily disappear from your computer and many people have reported that they have ever been caught by the PC file loss issue. Now, we're going to show you a specific case and then teach you how to regain the lost files on your PC effectively.
Hello, recently I played Planetside 2 and it worked just fine in the morning and then an hour later I tried it again and it did not work so I verified the files and 5 gigs of files were just not there so I had to re-download them, and then verified it a separate 3 times and all of it was there. And just today I played it again and exited then went back to it again and it did not work and now 280 mb of files are gone. My files are disappearing for no reason. - noobie121

forums.tomshardware.com
This user finds his files get lost several times for no reason. Compared with downloading again and again, it is a good choice for him to recover these files with a professional data recovery tool.
MiniTool Power Data Recovery is highly recommended by millions of users around the world. MiniTool Power Data Recovery, the best free data recovery software, is well-matched with all Windows systems. You don't need to worry about file loss caused by incompatible reasons. Besides, MiniTool Power Data Recovery provides a secure data recovery service and allows you to restore lost files from various devices, such as external hard drives, USB flash drives, memory sticks, SD cards, etc.
No matter whether your files are mistakenly deleted or get lost due to OS crash, virus attack, or other reasons, MiniTool Power Data Recovery can retrieve your files safely. You can use MiniTool Power Data Recovery free edition to scan and restore up to 1GB of files. Then, if needed, you can get an advanced edition from this page. MiniTool provides Personal and Business editions. You can choose one suits you best.
MiniTool Power Data Recovery FreeClick to Download100%Clean & Safe
Chapter 2: Recover Missing Files on PC
Since electronic files are portable for daily use, many people like to save files on their computers or other data storage devices. However, files missing from PCs gradually become a common issue. Files may disappear due to accidental deletion, virus and malware attack, partition loss, and so on. To restore files, please keep reading to find a practical solution.
Files Suddenly Disappeared in Windows 10
As mentioned above, MiniTool Power Data Recovery works well in recovering lost and deleted data. The following content explains specific steps of how to make it.
Step 1: Download MiniTool Power Data Recovery. Then, install the software correctly by clicking the setup files.
MiniTool Power Data Recovery FreeClick to Download100%Clean & Safe
Step 2: Launch the software and select the partition that contains the deleted or lost files. If you don't know where the files are located, you can shift to the Devices tab and select the entire drive.
Step 3: Click the Scan button.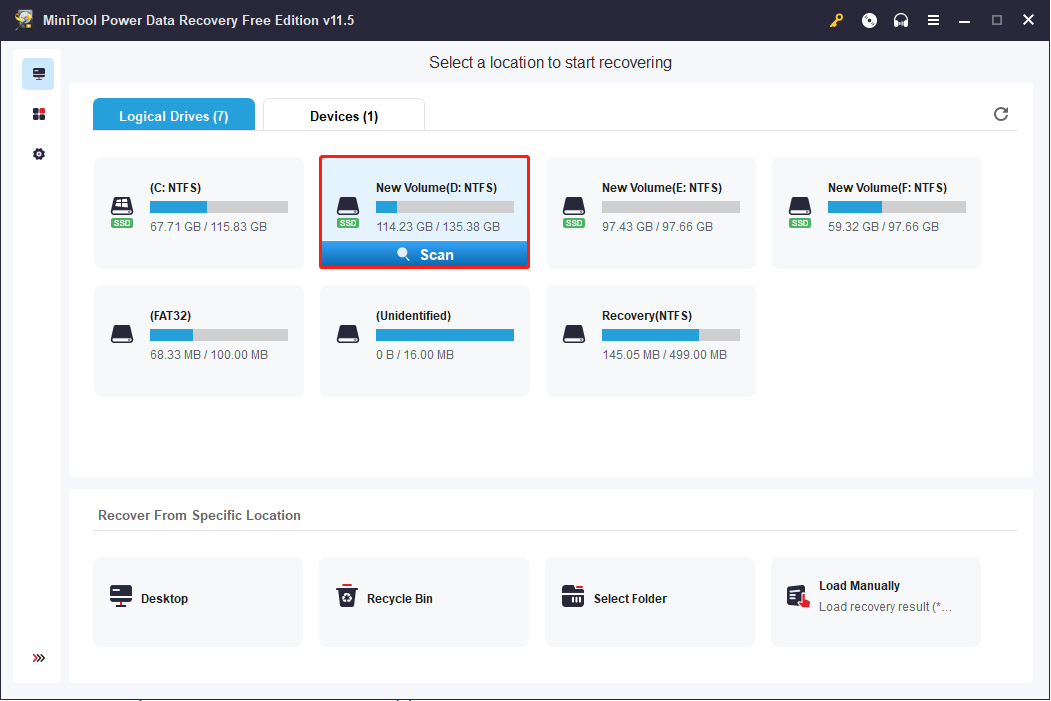 Step 4: Wait patiently until the scan process completes. For the best recovery results, please do not interrupt the process. Then, you can look through the result page to find your wanted files. Generally, there are three folders displayed on the result page: Deleted Files, Lost Files, and Existing Files. You can choose different paths to find your deleted/ lost files.
To increase the efficiency of finding files, you can try the Filter and Type functions. You can set scan conditions in these two features according to your needs, including file size, file category, date modified, etc. The two features are powerful in reducing unwanted files. Besides, you can preview the selected files to ensure the accuracy of data recovery.
Step 5: Choose all your wanted files and click on the Save button.
Step 6: In the following window, select a storage path and click OK to confirm.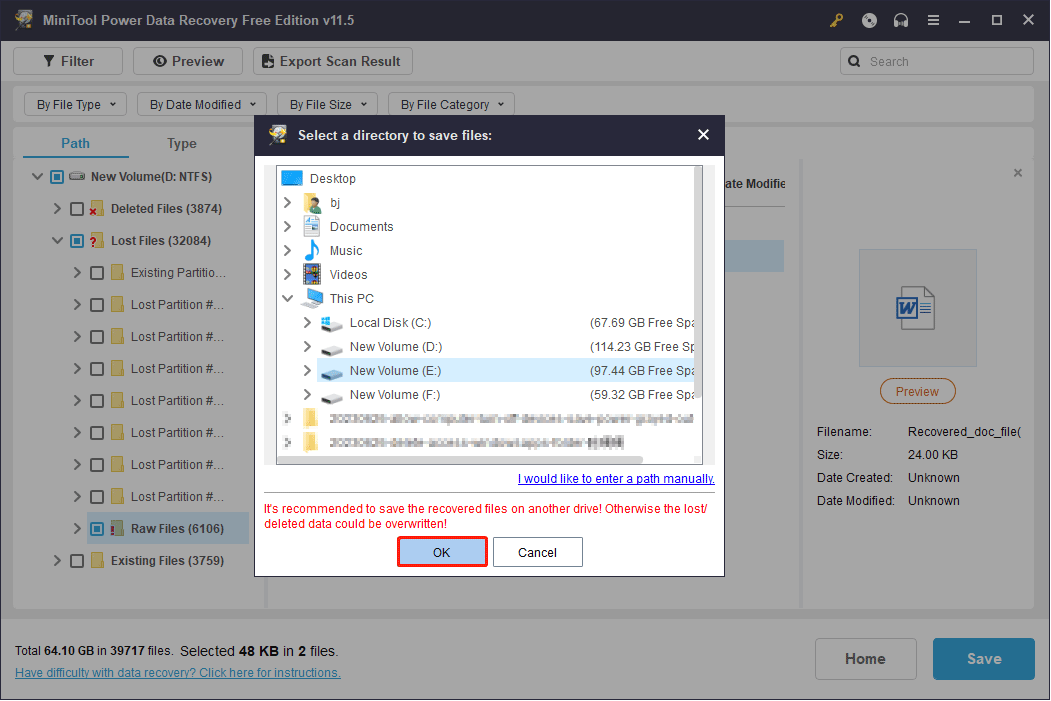 Tips:
Please do not save your recovery files to the original drive. Otherwise, there is a chance that data will be overwritten, then make the recovery fail.
An advanced edition of MiniTool Power Data Recovery can restore unlimited files. If you are a personal user, the Personal Ultimate edition is the best choice.
MiniTool Power Data Recovery FreeClick to Download100%Clean & Safe
Chapter 3: Causes for File Disappearance
As a matter of fact, files can be missing from any of your storage devices, without your acknowledgment. What causes files suddenly disappeared? The following content will show you the causes and put forward some solutions.
We have summarized mainly 5 factors that should be responsible for the missing files.
1. Human Error
Actually, most file missing cases are caused by human error, like shutting down computers forcefully, disconnecting removable devices improperly, permanently deletion, etc.
But luckily, files lost due to these reasons can be recovered with the help of data recovery software.
2. Files Being Hidden
Sometimes, when you search for a file but can't find it, another possibility is that the file is hidden. Some important files and folders are hidden by Windows by default, and you can set to hide some files to protect your privacy as well.
To find the hidden files, you can go to File Explorer by pressing Win + E, then go to the corresponding drive. Shift to the View tab and check the Hidden items choice to show these disappeared files.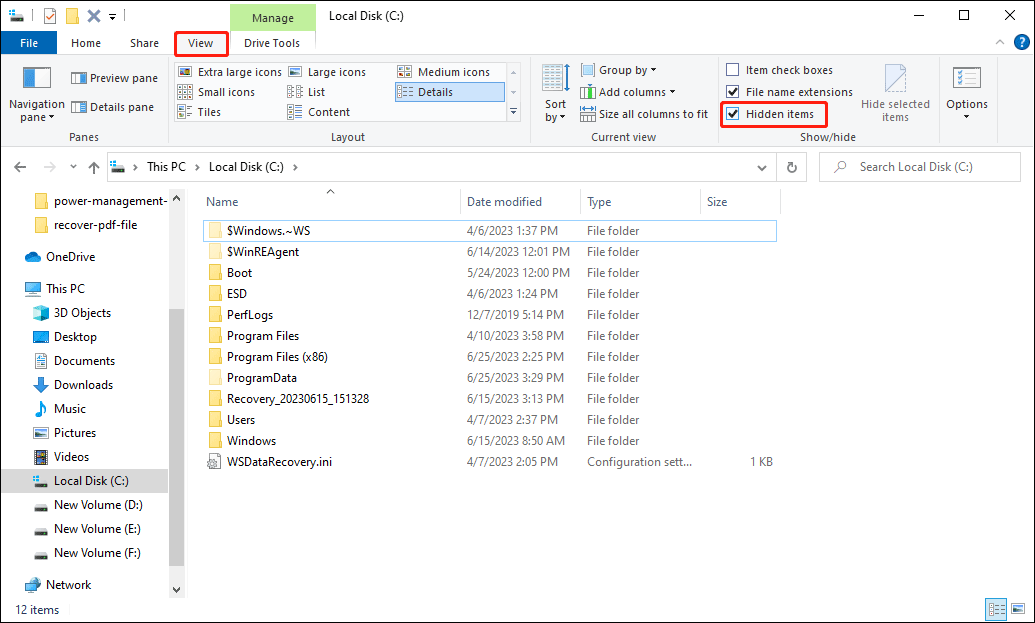 If your files are hidden by viruses or other programs, you can find more solutions from Best Fixes for: Files Are Not Showing in Folder on Windows PCs
3. Virus or Malware
According to our knowledge, some viruses attack your system to alter the directory structure of the drive and eliminate users' files upon opening. While others will overwrite your files while keeping the file names, making the data disappear from your PC.
As for the malware, they are often running rampant on storage devices to delete and damage your files.
Neither of them can be completely avoided. But you can perform a Windows Defender scan to check various threats and prevent malicious programs. You can also make full use of other powerful antivirus programs.
4. File Corruption or File System Corruption
File corruption occurs due to different reasons, like virus attacks, hardware errors, bad data injection, and so on. When your computer fails to save files because of a sudden power outage or system crash, the unsaved files may also disappear from the storage devices.
To recover corrupted files, you can use data recovery software like MiniTool Power Data Recovery.
MiniTool Power Data Recovery FreeClick to Download100%Clean & Safe
But if you want to repair them, you need to try other methods.
The File System, as a property of the drive, is actually used to control how data are stored and retrieved on that drive. Virus invasion, the improper restarting/shutting down of a PC, or closing a program when the recording or data transmission is still processing constitute the main causes for File System Corruption.
You can read the following passage to learn how to fix the corrupted file system: 4 Solutions to Windows Has Detected File System Corruption.
5. Files Being Moved Unawares
You can save your files on your computer hard drive and move them to other places. As time goes by, you may forget where the file is when you need it suddenly. On the other hand, your files may be moved by some programs, such as Windows Media Player. These programs will rearrange your files so that you can't find them in the original path.
In this case, you can press Win + S to search your wanted file with its name. For more methods to find files, you can read this passage carefully: How to Search for Files in Windows 10? (For Various Cases)
Chapter 4 – Conclusion
Almost all computer users face the file missing problem. When your files suddenly disappeared from your PC, you need to check if they are hidden or moved to other places. When finding files lost, please rescue your files with MiniTool Power Data Recovery right away.
MiniTool Power Data Recovery FreeClick to Download100%Clean & Safe
Hope this passage can give you some help. If you have any questions about MiniTool Power Data Recovery, please contact us via [email protected].