Why Does My PC Keep Turning off When Playing Games?
While you are playing games with your Windows 11/10/8/7 computer, you might encounter different problems like computer crashes when playing games, Windows 11 won't play games, Windows 11 stuttering in games, etc. Some users also report another annoying issue: computer shuts down while gaming.
This is not a rare issue. When you search for PC shuts down while gaming or why does my PC keep turning off when playing games on the internet, you can find that many Windows users are bothered by this problem. This issue can be caused by many variables like computer overheating, virus attacks, PSU problems, driver issues, hardware issues, system issues, and more.
Top Reasons for Computer Keeps Shutting down while Playing Games
Computer Overheating
While you are playing a game on your computer, the game uses the CPU and GPU that are installed on your device. Playing gaming will put more stress on your device compared with ordinary desktop apps. Both CPU and GPU are small elements that are packed in a small chassis. But the airflow of heat only has a small window to vent out. If the heat is not evacuated in time, the computer will overheat. The result may be that your computer automatically shuts down or it might damage certain components inside.
Virus Attack
If your computer is attacked by malware or viruses, the computer keeps turning off while playing games can easily occur. You have no idea how a virus can damage your computer, one way or another. Interfering with your normal use of your computer like computer shutting down randomly without warning is one way. If your computer keeps shutting down even if you are not playing a game, you should consider if your device is virus infected.
PSU Problems
The full name of PSU is Power Supply Unit. This unit supplies power to the computer. The power supply is another factor you should consider when your PC keeps shutting off while playing games. But it is an easily overlooked issue. Now, let's face the problem. When PSU fails to provide stable power or its power supply is not enough, your computer will shut down without warning and it might even damage the hardware on your PC.
Besides, if you install a new latest graphics card but still use an older PSU, the PSU should be outdated. You need to have a check and replace it if needed.
Driver Issues
When your computer turns off while playing games without warning, you should also consider the driver issue. Usually, it is a graphics driver-related issue. If graphics drivers are corrupted or outdated, your computer is prone to problems like keeps turning off when playing games. Windows OS doesn't keep your drivers up-to-date all the time. You should manually check for updates. If necessary, you should install the latest version of the graphics drivers to make everything work normally.
Hardware Issues
If your PC shuts off while playing games after you install new hardware like a Bluetooth adapter, Wi-Fi card, or a new GPU, the issue should be caused by that newly-installed hardware. Usually, it is caused by an incompatible driver.
System Issues
If the issue happens after you update your system, the new Windows version could be the cause. The games on your PC may not be compatible with the new system. You can go back to the previous version and check if the issue is solved. However, if you haven't updated your system before this problem occurred, you might need to perform a Windows update to have a try. The update might contain a fix for that issue.
Now, you know the reasons for this issue. Then, you can use appropriate methods to fix it. We offer some easy and useful fixes as follows.
#1: Fix Computer Overheating
The overheating issue could easily happen especially when you are using a laptop. If you are using a laptop, you can do the following things to cool it down:
Shut down your computer and wait for a while until its temperature is reduced.
Locate the laptop on a flat and hard surface. This will not block the fan and the internal parts of your device to improve ventilation.
To save power while gaming, you can enable the Power saver This can avoid laptop battery overheating to some extent. You can open Control Panel, then go to Power Option to enable the power saver mode.
Close the apps that you don't use currently. All the running apps and services are using your RAM or CPU. This can aggravate the laptop overheating.
Use a laptop cooling pad or a laptop cooler to sit the laptop on for assisted cooling of your laptop.
If you are using a desktop computer, you can also turn off the device to make it cool down quickly. In addition, you can do the following things to ensure that the computer is properly ventilated:
Clean up the dust around your computer's case.
Make sure the computer's fan works normally.
Check the heat sink of your computer.
Put your computer in a ventilated place.
Tip: Rescue Your Lost Files on PC
If your files get lost due to a virus attack or other reasons, you can use professional data recovery software to get them back. You can try MiniTool Power Data Recovery, a free file recovery tool.
This software is designed to recover all kinds of files from different types of data storage devices like computer internal hard drives, external hard drives, SSDs, memory cards, SD cards, USB flash drives, and more. As long as the files are not overwritten by new data, you can use this software to restore them.
This tool has a trial edition. You can first use it to scan the drive that previously saved the lost files and check if it can find the desired data.
MiniTool Power Data Recovery TrialClick to Download100%Clean & Safe
Step 1: Download and install this software on your PC.
Step 2: Open the software.
Step 3: This software list all the drives it can detect on the interface. Hover over the target drive and click the Scan button. If you are not sure which one is the target drive, you can switch to the Devices section and select the whole disk to scan.
Step 4: Wait until the scanning ends. Then, you can go to check if you can find your needed files from the scan results.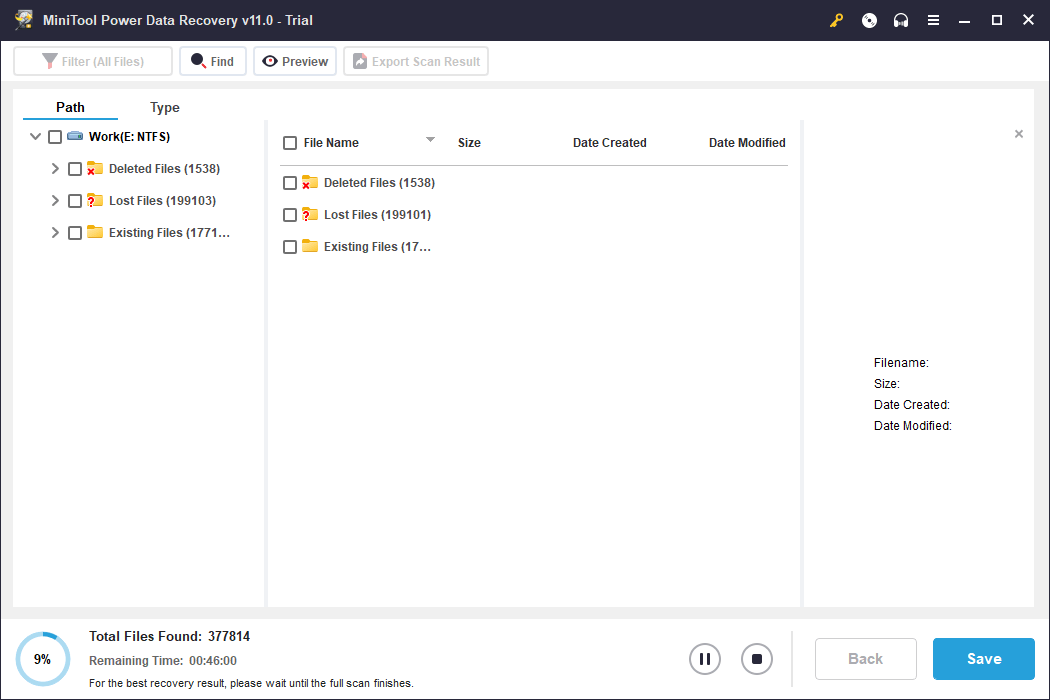 Step 5: If you want to use this software to recover data, you need to upgrade it to a full edition. Then, you can select all your needed files at once and click the Save button to select a suitable folder to save them. The destination folder should not be the original location of the files. This can prevent the lost files from being overwritten and becoming unrecoverable.
#2: Scan Your Computer for Viruses and Malware
Viruses and malware could bring unexpected damage to your computer, making your computer turn off while playing games without warning. You can use professional antivirus software to scan your PC for viruses and malware and remove them from your device.
As for viruses and malware removal tools, you can just use the Windows built-in Windows Security. This tool can supply virus and threat protection for your PC. You can use it to fully scan your computer to find threats and remove them.
How to Use Windows Security to Scan Your Computer?
Step 1: Click the search icon in the taskbar and search for Windows Security.
Step 2: Select Windows Security from the search result to open it.
Step 3: Click Virus & threats protection.
Step 4: Click the Scan options link from the right panel to continue.
Step 5: Select Full scan.
Step 6: Click the Scan now button to start scanning your device.
Step 7: Wait until the scanning process completely ends. Then, you can check if the found files are viruses and remove them.
You can also use third-party antivirus software like Avast, McAfee AntiVirus Plus, Norton AntiVirus Plus, Bitdefender Antivirus Plus, and more to find and remove viruses and malware from your device. There are many such programs. We will not describe how to use them one by one.
#3: Check PSU Problems
To check if the PSU fails, you can use a different PSU on your device and start your computer to check if the issue disappears. You can also test it using a multimeter or a power supply tester. If the result shows that the PSU is broken, you need to replace it with a working one.
#4: Update or Reinstall Graphics Drivers
To rule out the graphics driver issues, you can update the drivers or reinstall the drivers to have a shot.
#5: Uninstall Recently Installed Hardware
Your newly installed hardware might not be incompatible with the games you are playing. Or it is malfunctioning, crashing your device. To solve the issue, you should uninstall your recently installed hardware.
#6: Update Windows
If you are not using the latest version of Windows, you can consider updating the system to see if the problem can be solved. Why? Your computer keeps shutting down might be a bug in Windows, but this issue could be solved in the new version.
On Windows 10:
You can go to Start > Settings > Update & Security > Windows Update to check for updates and install the available updates on your device.
On Windows 11:
You can go to Start > Settings >Windows Update to check for updates and install updates.
#7: Restore Windows to an Earlier Version
Updating the system is not always a good thing. Sometimes, the new system might not be suitable for your game. Likewise, a compatibility issue between the game and the system can be the cause of computer shutting down. If the issue persists right after you upgrade your Windows, most likely it is the new system that causes the issue.
If you update the system within 10 days, you can go to Start > Settings > System > Recovery, and click the Go back button to go back to the previous version
If you have created a system restore point, you can also perform a system restore to make your computer go back to a version when the games work normally.
Bottom Line
If your computer shuts down while gaming without warning, you can just use the method mentioned in this article to help you solve the issue. If you have other useful methods, you can share them in the comments. You can also contact us via [email protected].