This post shows 8 solutions to fix the issue of having no display while the PC is turned on. It will also introduce an professional file recovery software to retrieve lost data - MiniTool Power Data Recovery. 
PC Turns On but No Display
Q:My computer is turning on but the screen is staying black
My computer powers up all lights, fans, HDD and VGA fan… but nothing comes up on screen.... have checked all connections and monitor... was working fine... then left off for few months now nothing on screen... any suggestions will help...
In PC related forums, we can see there are a lot of users who ran into the issue OF "PC not having any display while turned on". However, not many people know quick and effective ways to fix this.
Windows's black screen of death is a common issue. Here, for a better troubleshooting guide you can see How Do I Solve Windows 10 Booting to a Black Screen with Easy.
What should you do if nothing comes up on the screen or there is a blank display after you push the power button?
Don't worry. In this post today, I will show you not one but a number of suggestions that may help you get rid of this annoying "computer turns on but no display on monitor or keyboard" issue. You can try each of them until you get rid of the error.
Part 1. How to Recover Data When PC Turns On but No Display
Data loss is a biggest worry for many users when the PC becomes unusable due to any issue. If data loss is also your biggest worry when your PC is unsable due to the black screen, you have come to the right place.
(If you're not worrying about data loss, you can directly move on to Part 2
This professional file recovery software offers MiniTool Power Data Recovery Bootable edition is designed to serve people who have trouble booting up Windows operating system. (Note: MiniTool Bootable Media Builder is only offered in the Personal and above versions.)
More importantly, this read-only tool offers wizard-like interfaces with simple operations, which can help users effectively recover lost data with no difficulty. Using it can help you easily and quickly retrieve as much data as possible when your computer runs into any problems.
Let's see the detailed steps.
Get MiniTool Power Data Recovery Personal Edition. 
Install and launch it on a healthy computer that doesn't have any problems with booting.
Click Bootable Media icon at the top-right menu bar to create a bootable CD, DVD, or USB flash drive.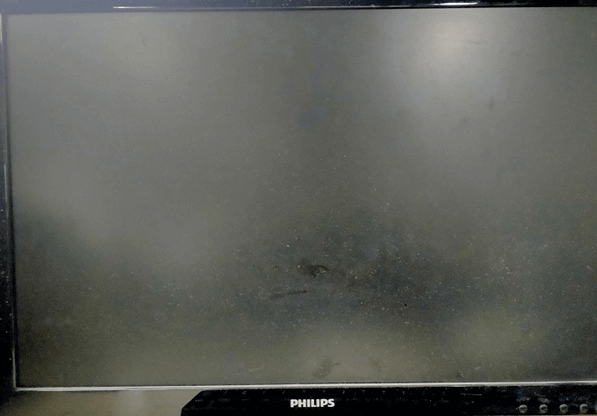 Boot your computer from the MiniTool Bootable disk to get the following window.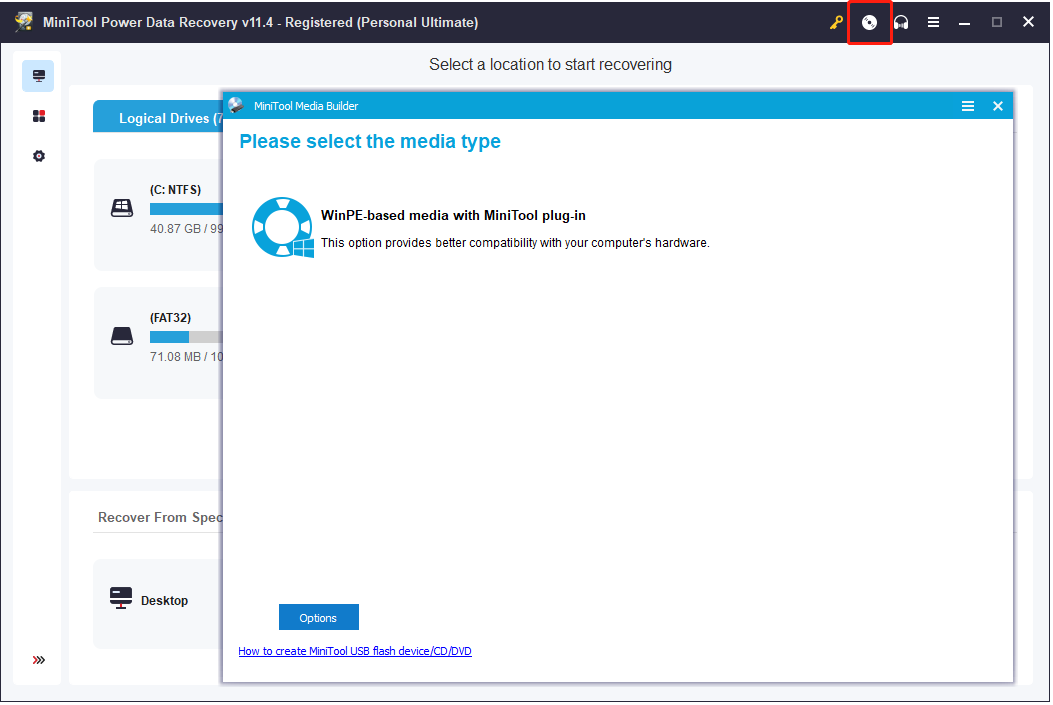 Select the target drive to scan, or click Devices tab to select the disk and click Scan to scan the entire device thoroughly for desired data.
If you just want to recover certain types of files like recover photos, you can click Scan Settings icon in the left menu bar and then only check the option "Graphics/Pictures" before scanning the drive.
Select all needed files in this interface, and click Save button to appoint a saving path.
Warning: Never save the selected files to the drive where you lost your data. Otherwise, the lost/deleted files will be overwritten.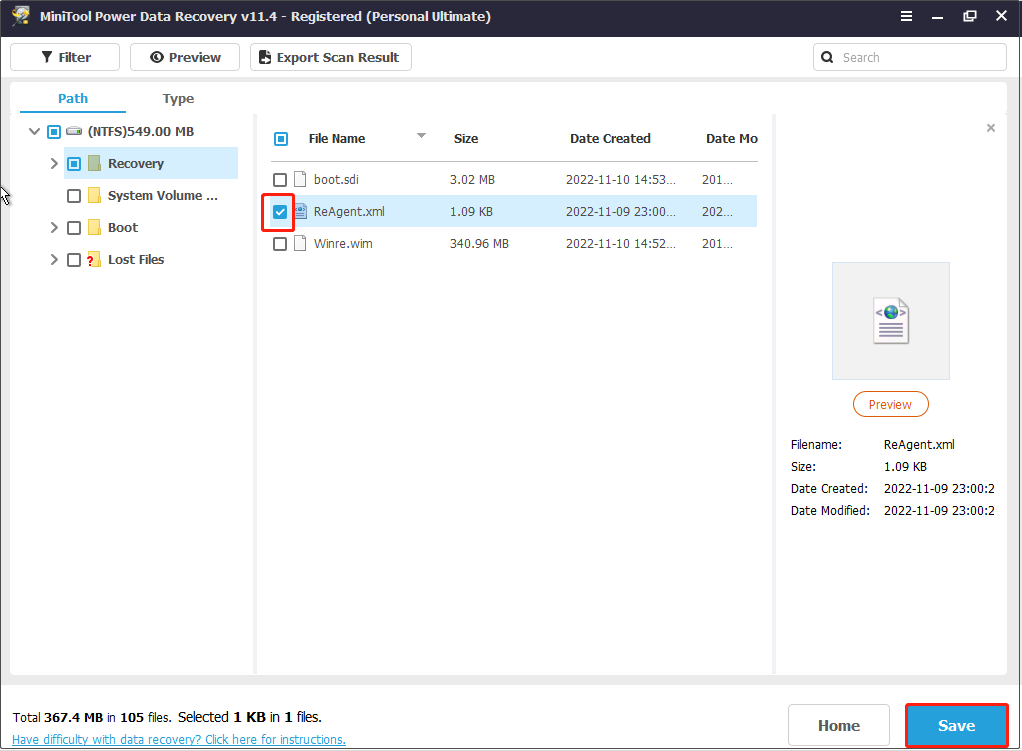 In this window, you can use the feature Preview to view pictures and txt. files before recovering.
If there are a lot of found files, you can use the Filter function configured in MiniTool Power Data Recovery to filter out needless files by file name, file extension, file size, and creation or modification date.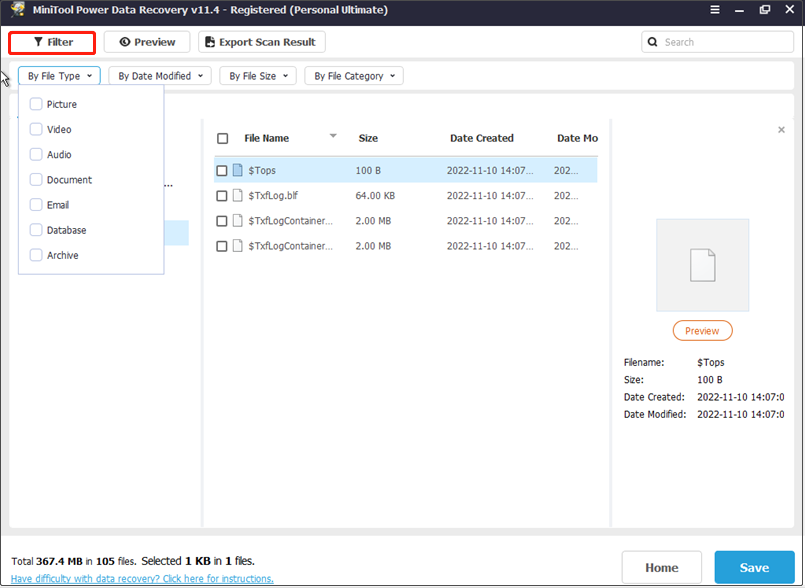 Hi, I effectively and quickly recovered lost data when PC turns on but no display with MiniTool Power Data Recovery.Click to Tweet
With data safely transferred, you can begin to fix your computer starts but screen remains blank issue.
8 Solutions - Your PC Turns On But No Display
Test your monitor.
Make sure your computer has completely restarted.
Verify that the power supply voltage switch is set correctly.
Perform a hard reset.
Clear the BIOS memory.
Reseat the memory modules.
Understand LED lights.
Check Hardware.
Part 2. How to Fix Your PC Turns On but No Display
There are 8 solutions to help you fix the PC turns on but the screen remains black issue.
Method 1. Test your monitor.
If your computer starts but the screen is black, you should first make sure your monitor is working properly before you begin more complicated and time-consuming troubleshooting.
It's possible that your computer is working fine and your monitor is your only problem. If not, keep reading to find other solutions to fix this issue.
Method 2. Make sure your computer has completely restarted.
Ensure that your PC is coming from a completely powered-off state.
Sometimes, your computer will appear to "not be on" when actually it's just having problems resuming from either the Standby/Sleep or Hibernate power saving mode in Windows, resulting in your computer being turned on but having no display on the monitor or keyboard.
Note: While in a power saving mode, you can hold the power button down for 3 to 5 seconds to completely power off this computer. After that, turn on this PC to check whether it can boot normally.
Method 3. Verify that the power supply voltage switch is set correctly.
If the input voltage for the power supply is not correct (based on your country), your computer turns on but no display on monitor or keyboard. (You might be interested in this post: What is a Power Supply Voltage Switch?)
If this switch is wrong, it is very possible that your PC wouldn't power on at all. Therefore, an incorrect power supply voltage might prevent your computer from starting properly.
Method 4. Perform a hard reset.
If your computer is still having no display even after checking the monitor and verifying that your PC has fully power cycled, you can try booting into safe mode and then repairing Windows either using System Restore/Automatic Repair or resetting your computer.
However, sometimes, Windows Automatic Repair not working issue will happen. (For more details about this issue, please check this post: How Do I Solve - Windows Automatic Repair Not Working.) Thus, most users will try resetting PC. Resetting is very often a "magic" fix to problems like PC turns on but no display.
Importance: Do you know how to perform a hard reset? What should you do if you find your data are missing after factory resetting? Here, you can know more information as long as you check our previous post: How Do You Recover Files After Factory Reset Laptop.
If the hard reset doesn't solve the problem, proceed to the following troubleshooting solutions.
Method 5. Clear the BIOS memory.
Your computer problems might sometimes be caused by some BIOS (an acronym for Basic Input/Output System) misconfigurations.
In this case, try clearing the BIOS memory on your motherboard, which will return the BIOS settings to their factory default levels.
Note: If this method solved your issue - computer starts but screen remains blank, make sure any future changes you make in BIOS are completed one at a time so that when the problem returns, you will know which change caused the issue.
Method 6. Reseat the memory modules.
If a memory module is loose, the computer might not display an image. In other words, your computer starts but the screen is black.
Now, you can try resetting the memory modules to fix the "PC turns on but no display" issue. Remove memory module from the memory slot, and then put it back into the slot to get a better connection so that the computer can recognize the memory.
Method 7. Understand LED lights.
If your computer makes one or two short beeps before starting, it is telling you that the BIOS startup was successful.
If your computer beeps and does not start, there might be a more serious hardware issue. Now, you'll probably need to seek professional help from a computer repair service or from your computer manufacturer's technical support.
Method 8. Check Hardware.
Take a look at the actual hardware.
Try disconnecting all devices and peripherals like the mouse, external hard drive, speakers, printers, scanners, etc from the computer. Then, try turning on your computer again.
If that doesn't work, you might need to check the actual port connectors on the computer and on the monitor for damage.
Sometimes, the video port on the computer could be damaged or bent if a cable connected to it wasn't properly taken out. Additionally, some people might try to connect a cable into a connection that doesn't match, which can also end up damaging the gold or silver connectors that you see inside the port.
In this case, you should take your computer to a repair shop in order to fix the bent or damaged ports.
Bottom Line
If your PC turns on but no display, don't worry and try the solutions we have listed above to effectively fix your issue.
If you have any other good solutions for this "computer starts but the screen is black" issue, please comment them in the section below. Thank you!
Should you have any question regarding data recovery via using MiniTool Power Data Recovery, please send an email to [email protected]. We will solve it as soon as possible.
Computer Turns On But no Display FAQ
What do you do if the computer does not boot up after turning on?
Check the Power Supply, Laptop Charger and Battery
Disconnect All External Devices, Unplug All USB Devices
Inspect Your Asus/HP/Acer/Dell/Lenovo Laptop Monitor
Start Windows in Safe Mode
Startup Repair
Perform a System Restore
Rebuild MBR
Fix Boot Errors
Check and Repair Computer Hard Drive Corruption
Reinstall Windows
How do I fix a black screen on startup Windows 10?
Check your connections.
Remove or update third-party antivirus software.
Perform a clean boot of your PC.
Unplug & Remove external devices.
Boot in Safe Mode to troubleshoot and fix a black screen problem.
How do I fix my monitor display?
Check the Game Full-Screen Settings.
Check the Display Settings.
Update or Reinstall Your Display Adapter Driver.
How do I fix the Windows startup problem?
Connect Windows bootable drive to your computer and boot from it.
Select your language preferences, and click Next.
Click Repair your computer.
Choose Troubleshoot.
Click Command Prompt.
Type chkdsk /r and press Enter.
Type exit and press Enter.
Restart PC.