When you're driving a car or rest in your car, you may want to enjoy some music, right? At this time, you can insert your USB drive to the USB port in the car and select music to play. Yet, the problem occurs during this process, some reported that the USB port is not working; some complained the USB thumb drive loading error; others said the USB music option disappeared.
USB drive becomes one of the most popular storage devices regardless of the development of cloud storage. Why? The main reason is USB device is portable and can be used for multiple purposes. Wherever you go, you can take the USB drive with you so that you can access data saved here conveniently.
Tesla USB Music Not Working Issue
Front USB is not working.
USB music loading error appears.
USB music option is disappeared.
Undeniably, the USB thumb drive is used frequently on Tesla for playing music. More and more problems are found during this process, including Tesla USB music not working. In the following content, different cases of Tesla USB music playing issues will be listed. Then, I will tell you some useful solutions to solve the problems yourself.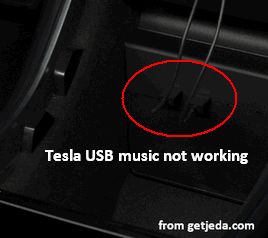 Front USB Not Working
Not sure if anyone else has this... My front 2 USB is not working. USB worked on 36.2 and 39.5 and then stopped working about after 5 days on 39.5. Stopped working about 2 days ago, got 39.6 today and still not working. Rears have always worked. Obviously tried both ports, different cables, different devices, ext with no luck. While on an hour-long call with support, they also noted that my maps update failed 19 days ago (before I got the car), firmware mismatch and the fans are throwing errors. They are sending Ranger to look at USB to ensure it is not just a loose connection but said good chance I will need to have the issue escalated to engineering due to map and firmware failure. Just wanted to see if anyone has had anything similar?

- posted by Nate977p in Tesla Motors Club
When connecting a USB drive to the computer or other devices, like the Tesla car mentioned above, you should first check whether it is recognized. If the USB drive doesn't appear, you'll lose access to all the data and files saved in it (you can do nothing with it).
What you should do to try to make the USB drive appear when finding a USB port not working?
Reboot your computer/device and see what happened.
Remove the USB drive and reconnect it to the device to make sure lose connection is not the reason for the problem.
Try a different USB port to see if the problem is caused by a bad port.
Disconnect all other external drives to eliminate compatibility issues.
Update the system of your device to have a try.
Connect the USB drive to the computer and see whether it is formatted into FAT32. If not, use MiniTool Partition Wizard to format it to FAT32 easily (you must back up data in the drive or transfer them out before starting to format it).
The USB port may stop working after you remove or insert a USB device.
USB Music Loading Error
I am getting a loading error when I try to play music on a USB thumb drive. Does not work in either USB port. The drive worked fine before and works playing on a computer. I have firmware update 2019.8.3. Anyone knows how to fix this?

- asked thedrisin in Tesla forum
When you encounter the USB files loading error, you should do the following things:
Reboot the device and reload the music files to see what happened.
When you find USB music hangs or won't load, please go to check whether the formats of files are supported by your device (Tesla car). If not, please change the format of music files.
You'll get the Tesla cam file after using the USB stick for capturing dash cam video; this will affect the USB music files loading sometimes. In this case, the music files will appear again after you deleted the cam file.
Sometimes, the USB loading issues will be caused by updating the car to a cool, sentry mode. Since then, all the settings will be factory reset. Therefore, you should try to roll back the mode system of your car and change the settings to the previous state. If this is not possible, you must wait for the next software update. (As a result, you must be careful with the update).
Extended reading:
USB Music Option Disappeared
I have a 512GB flash drive that has worked fairly well with my library of FLAC files. I added the TeslaCam folder and the dash am works, but my USB music option has now disappeared. Is it correct in saying that you must either use the USB for Dashcam OR music? I tried inserting a second USB flash drive with music in the other port at the same time and that also didn't work.

- submitted by cnsf in Tesla forum
The Tesla user complained that he found the USB music option doesn't appear after he added a TeslaCam folder. So, the first thing he should do to try to make things right is deleting the TeslaCam folder. If the problem persists, you should suspect that the Tesla USB drive not working error is caused by the unsupported file system or too large drive capacity.
Fear of Data Loss Since USB Shows 0 Bytes – Get Fixed Today!
How to Recover Files from Tesla Thumb Drive
If you are reluctant to lose music files saved on the thumb drive which is not working on Tesla or if you are worried about data loss during the problem fix process, please recover data first.
How to recover data from not working Tesla USB drive:
Step 1: get MiniTool Power Data Recovery and install it to your computer properly.
Step 2: remove the USB thumb drive from Tesla and connect it to the computer properly.
Step 3: please make sure the USB drive shows up at least in Disk Management.
How disappointed it will be if you connected a USB flash drive to your computer but it didn't recognize. Please read this page to learn how to deal with such a situation:
Step 4: Run MiniTool Power Data Recovery to enter its main window.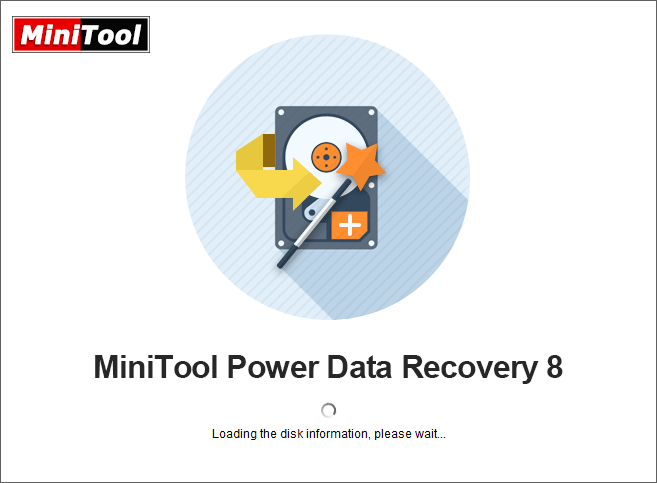 Step 5: select Removable Disk Drive from the left action penal of the software.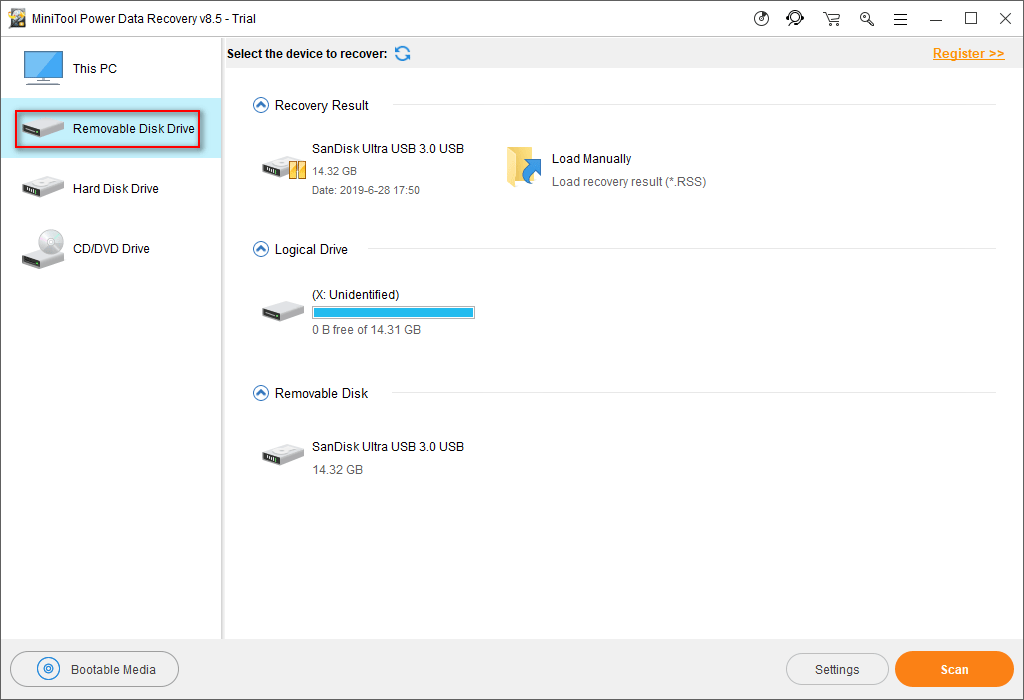 Step 6: right click on your USB drive displayed in the right action panel and wait for the scan.
Step 7: look through the found results one by one carefully and pick out all the music files you need (both existing music files and lost music files).
Step 8: click Save button to choose a destination (another drive) for the selected music files. Then, click on the OK button in the directory setting window and wait.
Step 9: when all the music files have been saved to the specified place, a window will pop up to tell you that the recovery is finished.
Now, you can go to check whether the software helps you find all music or not. If yes, you should close MiniTool Power Data Recovery; if not, you can try to scan the drive again by using this software.
How to Fix Tesla USB Drive Not Working
There are actually many reasons that are responsible for the USB music drive not working issue (USB loading error, USB device not recognized, and so on). Accordingly, you can fix the problem by using different methods. In this part, I will focus on these two aspects.
Note:
If the USB drive is damaged logically, you can
fix the damaged USB stick
yourself. If the USB drive itself has been broken physically, there's no other choice instead of buying a new one.
Possible Causes for USB Drive Music Not Working Tesla
Bad USB port
Lose connection
Car system crash
Improper file format
Unsupported file system
System compatibility issue
Hardware compatibility issue
…
The Volume Does Not Contain A Recognized File System - How To Fix?
As I have mentioned in the previous part, you can try to fix the problem by trying a USB port, reconnecting USB drive, rebooting system, changing file format, updating system, disconnecting unnecessary hardware, etc. In addition, you can also try the following methods.
Solution 1: Change the File System of USB Drive
It is said that the USB drive won't be recognized by Tesla if the partition (at least the first partition) is not formatted into FAT32. So you must change the file system to FAT32 in order to use the thumb drive to play music on Tesla.
How to change in Windows Disk Management (in Windows 10)?
Connect the USB drive with music to your computer and copy/transfer files from the USB drive to your local drive (get an Unknown USB Device error on your computer?).
Find This PC icon on the desktop and right click on it.
Choose Manage from the right-click menu.
Find Storage section from the left panel.
Select Disk Management under it.
Find your USB drive from the right panel.
Right click on the USB partition and choose Format.
Click the down arrow after File system to choose FAT32.
Keep the Volume label and Allocation unit size unchanged (you can also change them if you want).
Click on the OK button to continue.
A prompt window will appear to inform you that the formatting will erase all data. Please choose Yes to confirm.
Wait for the formatting process to complete.
Besides, you can use the MiniTool Partition Wizard to change the file system to FAT32 easily.
How to change file system with MiniTool Partition Wizard?
Situation one: if the original file system is NTFS, you can convert it to FAT32 by following steps.
Connect the USB drive used on Tesla to your computer and run MiniTool Partition Wizard.
Choose the partition on the USB drive from the right action panel.
Select Convert NTFS to FAT included in Change Partition section on the left action panel.
Click Apply button in the upper left corner.
Choose Yes in the prompt window to allow changes.
Wait for the converting process to complete.
Situation two: if the original file system is not NTFS (it is Ext2, exFAT, or Linux Swap), you should use the Format Partition function to change it into FAT32.
Repeat step 1 to step 2 in situation one.
Choose Partition from the menu bar.
Choose Format from its submenu.
Select FAT32 from the textbox after File System in Format Partition window.
Click OK to continue.
Press the Apply button and choose Yes in the pop-up window.
Wait until the formatting process is finished.
The formatting may fail if the capacity of your USB drive is larger than 32GB. How can you format it to FAT32 at this time? Please look here.
Solution 2: Change the Size of USB Drive Partition
There are also chances the partition won't be recognized by Tesla system when the FAT32 partition is too large. At this time, you can reduce the partition size of USB drive in both Disk Management and Partition Wizard.
How to use Shrink Volume of Disk Management tool?
Connect the USB drive to the computer and open Disk Management to find it.
Right click on the USB drive.
Choose Shrink Volume.
Set the amount of space to shrink.
Click on the Shrink button.
Wait for the process to complete.
How to Resize Partition with MiniTool Partition Wizard?
Connect the thumb drive to the computer and run MiniTool Partition Wizard.
Choose the thumb drive from the right panel.
Select Move/Resize Partition included in Change Partition section.
Drag the handle or input a value to decide how much space you want to reduce.
Click on the OK button to continue.
Tap Apply button and choose Yes in the pop-up window to confirm.
Wait for the resizing process to complete.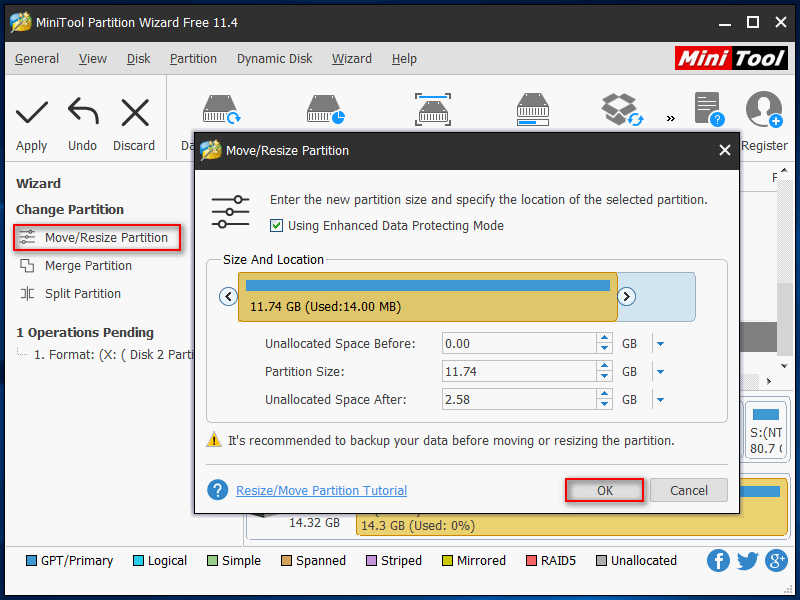 Also, you can make use of the Split Partition feature to divide the large partition into two small partitions.
There are less common reasons that could lead to Tesla USB music not playing issue:
The album song order is wrong. Please make sure it is correct and you didn't turn on the random track order option.
The cover art is missing or wrong. You must confirm that there is cover art and it is correct & works fine from that point.
The Universal SerialBUS controllers went wrong. Please update the controller if there is any new update or try uninstalling it if there's no update.
There is a hardware issue on the thumb drive. Please run Windows Troubleshooter to try to check & repair errors automatically. You can also use the disk Check feature to find and fix problems on the drive.
There is a problem with the device driver. Please reinstall current disk driver or update it to the latest version.
Final Words
People like enjoying music while staying in a car. That's what happens to Tesla drivers also. Recently, Tesla USB music not working has been talked about over and over again. If you are one of the drivers bothered by USB music loading error or USB port not working issue, this post will be very helpful.
You can learn the possible reasons for causing Tesla USB drive not working error and several useful ways to fix it. Besides, you don't need to worry about the security of your music files since it tells you exactly how to recover music files from Tesla USB in simple steps.
Tesla USB Music Not Working FAQ
How many USB ports does a Tesla Model 3 have?
The Tesla Model 3 is a popular electric four-door sedan; it equipped with 2 USB charge ports and 2 storage compartments in the center console. You can connect any supported USB devices to Tesla via the USB ports in order to use them on your car.
Can I play music through USB in my car?
Yes, most cars currently allow us to play music easily through USB ports or Bluetooth. You can insert your USB devices to it and then play music as long as your car gives support to the USB. It's important to be aware of the supported file formats of your car.
What is the best USB flash drive for music? (The list is in random order.)
SanDisk Ultra Fit
SanDisk Cruzer CZ36
Samsung 128GB Bar
SanDisk Ultra 128GB Dual Drive
Patriot Supersonic Boost XT
Patriot 512GB Supersonic Rage 2 Series
And so on
How long does a USB flash drive last?
According to study, a
USB flash drive
can last up to 10 years, which seems longer than a hard drive. However, there are many factors that will affect the lifespan of it. For instance, the USB drives will be degraded or even broken quickly if you delete and write new information frequently.