If a photo/picture is damaged, you can try some professional photo repair software to see if they can help you repair the damaged/corrupted photos. This post introduces some professional free photo repair/restore apps for your reference. To recover deleted/lost photos from a computer, USB, memory card, etc. you can try the free program – MiniTool Power Data Recovery.
This post mainly offers solutions for how to repair damaged/corrupted photos and restore deleted/lost photos from computer/USB/SD card/external hard drive. Some professional free photo repair software and a professional free photo recovery program are provided.
Top 8 Free Photo Repair Tools to Repair Damaged Photos
#1. Stellar Repair for Photo
This professional free photo repair software helps you fix various corrupt and damaged photos. It uses smart algorithms to repair even severely damaged videos.
It supports various image file formats including JPEG, JPG, PNG, TIFF, DNG, CR2, SRF, NEF, and many other image file types from popular camera brands. It also supports RAW photos from DSLRs.
It can fix various photo corruption issues like photo unreadable, grainy, pixelated, blurry, grayed out, color distorted issues, etc. This photo restore app can help fix corrupt header & invalid image file structure.
You can repair multiple photos simultaneously, preview repaired photos before saving, extract thumbnails of severely corrupt photos, etc.
This free photo repair tool supports both Windows and Mac versions.
If you need a photo repair and recovery program, you can try Stellar Data Recovery for Mac which combines data recovery, photo repair, and video repair features into one.
#2. Tenorshare Photo Repair
You can also try this tool to repair corrupt photos. It supports repairing 30+ image formats like JPG, PNG, camera RAW image files, etc. It tries to repair damaged photos by getting the original quality.
It also helps you repair severely corrupt JPEG images by using sample files.
You can use this program to repair distorted/grainy/blurry/pixelated/greyed-out/inaccessible photos.
You can try this tool to fix photos from Android or iOS mobile phones and various cameras like Canon, Sony, Nikon, Panasonic, DJI, GoPro, etc.
#3. Kernel Photo Repair
To repair damaged, pixelated, distorted, greyed-out, or corrupt photos, you can also try this program. Kernel Photo Repair helps fix corrupt photos of various formats including PNG, JPEG, JPG, BMP, GIF, RIFF, RAF, TIF, NEF, MRW, etc. It can also fix all kinds of image corruption issues.
#4. Picture Doctor
Picture Doctor is a professional photo repair program from SoftOrbits. This damaged photo repair software helps you restore corrupted or truncated JPEG and Photoshop (PSD) files. If you want to repair photos of other formats, you may try other tools introduced in this post.
#5. PixRecovery
PixRecovery is a professional photo restore app that can recover corrupted JPEG, PNG, GIF, TIFF, BMP, RAW images, etc. It supports RAW photos from Canon, Nikon, Panasonic, Sony, Kodak, Fuji, etc. The recovered data is saved in a .bmp file or the file format chosen by the user.
#6. File Repair
File Repair offers a set of repair tools to help you repair various types of files like pictures, documents, videos, databases, and more. You can download the corresponding tool from its website and use it to repair files.
#7. Wondershare Repairit
Wondershare Repairit is an all-in-one file repair tool that helps you repair corrupted photos, videos, and files. If your files, images, or videos can't open, you can use Repairit to fix the corrupted files in simple steps. Easily regain corrupted, inaccessible, or unreadable files. This tool also offers a free online service, and you can upload your media file and repair it online.
#8. https://online.officerecovery.com/pixrecovery/
This is an online photo repair tool that helps you repair corrupted JPEG/JPG, PNG, GIF, TIFF, BMP, or RAW images. You can just go to this website in your browser and click Choose File button. Then select the source corrupt image file and click Secure Upload and Repair. This online service will try to repair the corrupted image for you. After repairing, you can choose to download the file to your computer.
Best Free Photo Restore App for Restoring Pictures
If you are looking for a free file recovery program to restore photos (deleted/lost), you can try our professional data recovery software – MiniTool Power Data Recovery.
MiniTool Power Data Recovery is a professional data recovery program for Windows 11/10/8/7.
You can use this tool to recover any deleted or lost photos, videos, or any other types of files from various storage devices like Windows computers, USB flash drives, memory/SD cards, external hard drives, SSD, etc.
It helps you recover data from various data loss situations like mistaken file deletion, hard drive failure/corruption, malware/virus infection, computer problems like BSOD/system crashes, and more. It even helps you recover data when the PC won't boot with its built-in Bootable Media Builder.
Even novice users can use MiniTool Power Data Recovery with ease thanks to its intuitive interface and simple operation.
Download and install MiniTool Power Data Recovery on your Windows PC or laptop and check below for how to recover deleted/lost photos.
For external devices like memory cards, USB flash drives, external hard drives, you should connect the device to your computer first.
Run MiniTool Power Data Recovery and the connected devices should be detected and displayed on the main UI.
You can select the location to scan in two ways. One way is to select the target drive under Logical Drives. Another way is to select the entire device/disk under the Devices Click Scan after selection and the software will start scanning the chosen drive or device.
Wait for the software to finish the scan. Check the scan result to find the target deleted or lost photos, check them, and click the Save You should choose a new destination to store the restored photos.
Tip: To only scan and recover photos/images, you can click the Scan Settings button at the left bar. Select Graphics & Pictures category to only scan pictures. You can also select the specific image types like PNG, JPG, etc. to only scan the selected image formats.
Free Data Backup Software – MiniTool ShadowMaker
The best way to avoid photo corruption or permanent data loss is to always have a backup of important files. You can back up your precious photos to another device like USB, external hard drive, network drive, etc. You can also back up important photos to free cloud storage services like OneDrive, Google Drive, etc.
To back up photos and files on your PC, you can choose a professional PC backup program that offers feasible backup solutions.
MiniTool ShadowMaker is a professional free PC backup software program that helps you easily back up PC data and OS.
You can freely select any files and folders or partitions to back up to an external hard drive, USB flash drive, or network drive. You can also select the whole disk content to back up. You can also set a schedule to automatically back up the selected data.
Another backup mode – File Sync – is also supported.
MiniTool ShadowMaker also lets you easily backup and restore Windows operating system. It helps keep your system safe.
Besides, you can set a scheme for incremental backup. This will keep the latest version of backed-up data and delete the old backups to release more space for the hard disk.
Connect an external hard drive or USB flash drive to your computer as the backup device.
Launch MiniTool ShadowMaker. Go to its main interface and click the Backup module.
Click the Source section and select the source files you want to back up.
Click the Destination section and select the target location where you want to store the backed-up data.
Click the Back up Now button to start backing up the selected files or partitions to the external drive.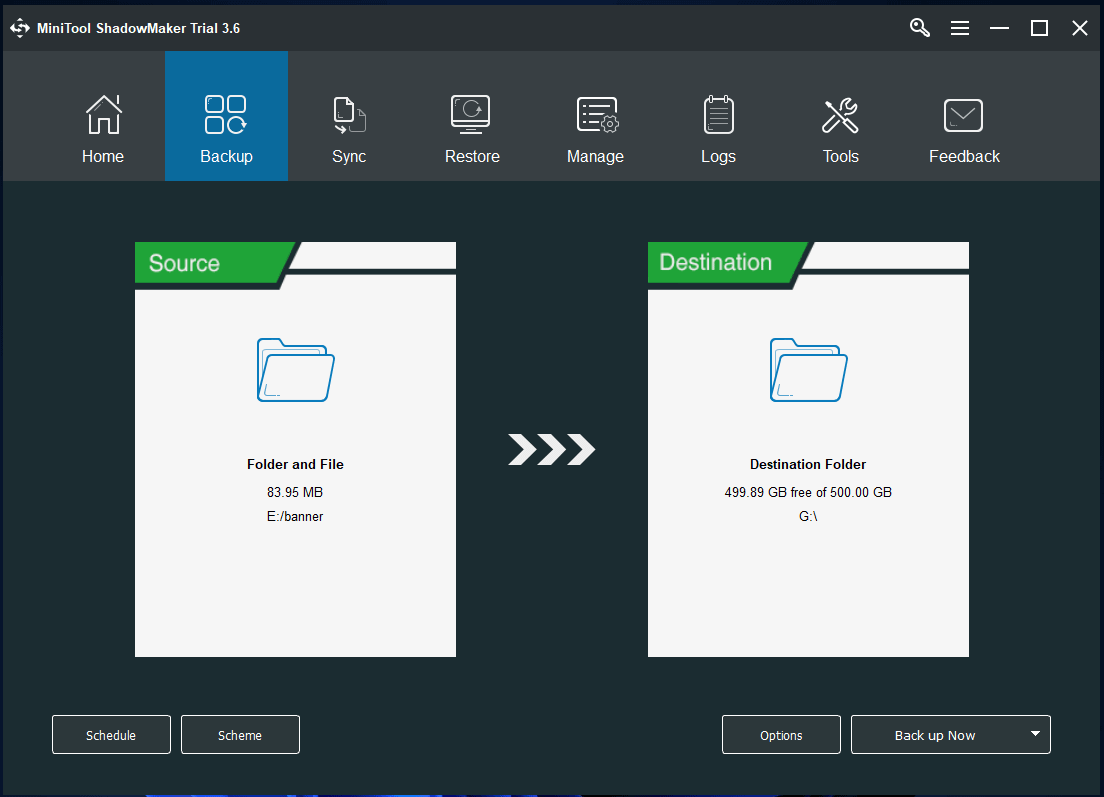 Possible Causes for Photo Damage
Improper operation of the camera or other storage devices.
Devices damage like camera/drone crash.
Hard drive failure or corruption like file system error or bad sectors. Run CHKDSK to repair hard drive errors.
SD card errors.
Sudden power outage or system crash.
Malware or virus infection.
Corruption occurs when transferring files from one device to another.
Other unknown reasons.
Other Free MiniTool Software Programs You May Be Interested
If you are looking for a professional free video repair program to repair corrupted videos, you can try MiniTool Video Repair. This tool lets you repair corrupted MP4, MOV, M4V, F4V videos for free. You can preview the repaired videos before saving them.
MiniTool Partition Wizard is a professional disk partition manager for Windows. You can use this program to manage hard disks by yourself. You can easily create, delete, resize, extend, format, wipe partitions, and do other operations to the hard disk. This all-in-one disk partition manager also lets you check and fix disk errors, convert disk/partition format, test hard disk speed, and more.
MiniTool MovieMaker is a 100% clean and free tool that lets you edit videos with various video editing features. You can easily trim video, add effects/transitions/titles/music to video, etc. It can export the video in high-quality MP4.
Another useful program you may need is MiniTool Video Converter. It allows you to convert any video or audio file to any preferred format for free. Aside from this, it also lets you download YouTube videos for offline playback or recover computer screen with audio for free.
Bottom Line
This post introduces some professional free photo repair software to help you repair damaged/corrupted photos. A guide for how to recover deleted or lost photos from storage devices is also introduced. Hope it helps.
If you have any issues with using MiniTool Software programs, you can contact [email protected] for suggestions.