Summary :
This post firstly tells you how to recover data from a USB drive using the free USB data recovery software. Then, it will show you the specific cases for USB data loss and several ways to avoid USB data loss effectively. All in all, to know information about the free USB data recovery, this post is worth reading.
It's not difficult to imagine this: USB data loss problems happen now and then due to its frequent use, which makes USB data recovery a hot topic. Are you one of those who are suffering from data loss issues on USB device? Don't panic; I'm writing this post to offer quality but free USB data recovery service.
Are you ready to recover USB data yourself? Please get MiniTool Power Data Recovery firstly and then install it to a local/external drive as you like. After that, you'll need to look at the steps shown in the following part to know what to do step by step.
After teaching you how to recover data with the data recovery tool, I will show you the exact cases of USB data loss problems. Then, I'll try my best to help you know how to avoid USB data loss problems. And at the end of the article, more detailed information about USB structure and USB application will be displayed. Hope you all can find what you need here!
Start Free USB Data Recovery
I advise all of you (experienced users or green hands) to rely on MiniTool Power Data Recovery – the greatest free data recovery software – to get back lost data from USB device easily and safely.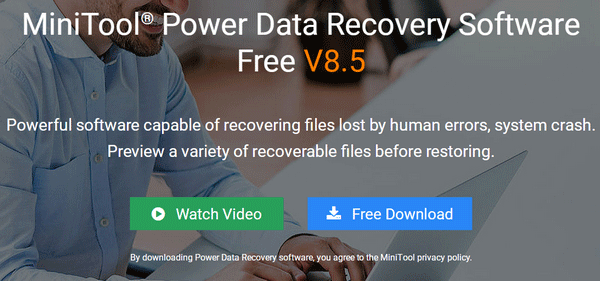 How to Do the USB Data Recovery
1. After downloading the software to your computer, you should install and run it immediately. Now, connect your USB drive that includes lost data to the computer (click to see lost data recovery from HDD).
2. You should select "Removable Disk Drive" located on the left side of the main interface. And then look for your USB drive from the right-hand panel.
Well, what if you can't find your USB drive from the main interface? Please read the solutions mentioned in the posts below.
3. Then, choose the USB drive and click on the "Scan" button located on the bottom right.
4. Wait for the scan to get the best recovery result.
Of course, you can browse the result while scan is processing.
If you can't find all the files you need, please wait for the full scan.
If all the files you need have been listed, please select them to recover.
5. Add a checkmark in front of the item you want to recover and then click on the "Scan" button to see a directory setting window.
6. Specify the location that will be used to store the recovered data and then click on the "OK" button to confirm.
7. Wait for the completion of the recovery.
Why Choose MiniTool Power Data Recovery
7 reasons for choosing MiniTool Power Data Recovery Free Edition:
It is totally free, safe and harmless.
The size of it is small and the software installation has basically no requirement for hardware.
Four options are embedded in it to help you get rid of almost all data loss problems (as long as the lost data are not overwritten by the newly saved information).
This free data recovery software is formed by wizard-style interfaces. You don't need to worry since you can complete recovery work independently under guidance.
It has strong scan intensity, fast scan speed and automatic data protection feature.
It can work perfectly in various operating systems and is able to recover data from almost all commonly seen storage devices: USB flash drive, memory card, CD, DVD, SSD, hard disk, etc.
Whether the free USB data recovery can be finished successfully or not, this software will definitely not damage your current data.
Why don't you give it a shot if you're troubled by data loss tragedy?
5 Common USB Storage Device Problems
Once valuable data are lost, you'll definitely try every possible means to recover data from USB device. So for users' sake, I have summarized 5 common problems that may occur during the use of USB data storage devices.
Unable to Safely Remove a USB Device
Some of you may have encountered this situation: when you plan to remove the USB device from computer, you find it can't be safely removed; Windows prompts it fails to stop the device and you are asked to close all possible programs that might be using the device and then try again later.
At this time, you should do the following things to try to fix the problem:
Please check whether there is any data copying/transfer in progress.
You need to confirm that no program in Windows is using any files from the USB device to be removed (for instance, a video may be played in a Windows player); if there is, close it.
If the USB data storage device still can't be removed after all programs were closed, you'll need to open Task Manager and then close all unnecessary background applications and services. (If this still couldn't help, you may as well try to close explorer.exe process for the moment)
USB Device Can't Be Recognized
Sometimes, you connect your USB device to the computer, but nothing shows up in computer; this is what people called the USB device not recognized problem.
According to research, I find the following reasons could lead to this problem:
USB data line problem
USB interface voltage instability
Compatibility issue
BIOS setting problem
Drive hidden issue
Correspondingly, I give my suggestions for solving the USB device not recognized problem:
Connect the USB data line to another computer to check whether it is broken.
Check whether the USB interface voltage is adequate or not.
Check whether the motherboard and system are compatible with each other.
Make sure the USB is enabled in BIOS and operating system.
Try to unhide the drive with Disk Management or a third-party tool.
USB Device Is Not Accessible
I know how upset you will be when trying to enter the USB storage device on the computer, but fails (prompt says it needs formatting). In this case, you are not able to see any data saved in that USB device. And the system prompt may appear, asking you to format the drive for further use.
As you can see from above picture, the Windows prompt says selected USB device is not accessible and the volume does not contain a recognized file system. Actually, this could appear after this USB device was attacked by virus or corrupted due to other reasons.
In this case, I advise you to make use of the MiniTool Power Data Recovery to get back data in the inaccessible USB device firstly before you carry out any operations to try to fix. Then, you may format the USB device for further use.
Note:
Sometimes, when your USB device becomes RAW, you also can't access it. But the good news is that you can also
recover data from RAW partition/drive
easily with the help of a professional recovery tool.
Formatted USB by Mistake
To be honest, you only need to do a few clicks to format a USB device:
Right click on the USB drive in File Explorer -> choose Format from the pop-up menu -> click on the Start button in the format window.
Right click on the USB drive in Windows Disk Management -> choose Format from the pop-up menu -> click on the OK button in the format window after volume label, file system, and allocation unit size.
Select the USB drive and select the format function in a third-party tool (see how to format partition in MiniTool Partition Wizard).
The most important thing people want to do after formatting the USB device must be recovering data from that drive. To finish the formatted USB recovery, I also advise you to use MiniTool Power Data Recovery:
Connect the USB device to computer.
Open the software and select Removable Disk Drive.
Double click on the USB drive from the right-hand panel.
Browse the scan result to check the files you want.
Click on the Save button to choose a safe location for storing the files.
Delete Data from USB Device by Accident
Undoubtedly, everyone makes mistakes in life and work. And the situation is the same when it comes to data storage and management in USB device.
Lots of users said they have deleted useful files from USB device unintentionally and they all feel very chagrin after realizing the mistake. This is common and understandable, admittedly. But, how to make up for the mistake bothers a lot of people.
In fact, deleted data can be easily recovered by using MiniTool Power Data Recovery. As for how to recover deleted files from USB, please read this post:
For users who need to recover deleted files from USB, this essay could be a lifesaver since it tells exactly how to undelete files from USB.
All in all, once USB device can't be accessed or valuable data in it are missing, the first thing to do is always recover data from USB device. Considering that not every user is able to afford the charge for data recovery, I have provided solutions to achieving USB drive data recovery for free in above content. Hope you can get rid of data loss trouble after reading this.
Top Recommendation
How to Protect USB Storage Devices
If important data are saved to a certain USB storage device, the strict management and control of this device becomes extraordinarily significant. You have to try your best to prevent serious data loss or leakage event.
I have summarized 5 ways to help you avoid data loss as much as possible, so you won't be bothered by seeking solutions for USB data recovery.
Way 1: enable write protection.
In order to prohibit others to freely modify important data stored in the USB device, you can modify the relevant key value of system registry. In this way, ordinary users are only allowed to access data in USB device, not able to change them.
Way 2: control virus running.
Considering that USB device being infected with virus is a widespread situation, I recommend you take actions to try to control the automatic running of virus and Trojans in USB device (reject the access right of all accounts to USB device). Otherwise, after the USB device was connected to computer, the virus and Trojans will be activated automatically so as to damage data.
How to recover files deleted by virus attack:
I feel glad to share solutions with users to help them recover files deleted by virus attack quickly and safely.
Way 3: hide the device drive.
If you don't want others to see the data in any USB devices, you may as well try to hide all the drives except for local hard disk drives. Thus, even though someone connects the USB hard drive to computer without your permission, trying to access your data, they'll end up in failure.
You are suggested to use "Hide Partition" function of MiniTool Partition Wizard to finish drive hiding work.
Way 4: set a password.
If you think it's too troublesome for yourself to access data in a hidden USB device, you can choose to set a password to the device, instead of hiding it completely.
Way 5: disable auto play.
When a USB device is connected to the local computer, Windows system will automatically open the corresponding device window, in order to help users quickly access their files. Well, network virus is easy to take advantage of this process to damage data.
Bottom Line
As you can easily find, USB has become one kind of the most important interfaces. With the help of USB, you are able to transfer data among different storage devices easily, without using network. Besides, varieties of USB devices enrich our life and ease our work.
Just because USB device is frequently used, problems tend to occur beyond our expectations. But no matter what kind of problem you're meeting, you should rescue data from USB device firstly. Then, you can choose to try possible means to fix the problem and make your device work normally again.