8 Best Free Word Processors for Windows 10/11
Microsoft Word
The most common word processor you can use on your Windows computer is Microsoft Word.
Microsoft Word is a word processing software developed by Microsoft. It supports Windows, Mac, Android, and iOS platforms.
Microsoft Word offers a standalone product and also acts as a component of Microsoft Office Suite.
You can try Microsoft Word for free for one month. After one month of the free trial of Microsoft 365, you will lose many features if you don't pay for a Microsoft 365 subscription. To get the full version of Microsoft Word, you can purchase the standalone Word app or buy a Microsoft 365 subscription.
If you don't want to buy Microsoft Office or Microsoft 365 suite, you can try Microsoft Office Online for free. The web version of Microsoft Office is free to use and offers Word, Excel, and PowerPoint apps.
Some new OEM computers may come with Microsoft Office and Windows OS preinstalled. You can easily activate Microsoft Office by following the instructions along with the computer.
If you are searching for some third-party free word processors for Windows 10/11, you may try the tools below.
Also read: If you've experienced data loss due to hard drive failure, this article on hdd data recovery offers invaluable insights into the recovery process.
WPS Office
WPS Office is a lightweight and feature-rich free office suite. It is made up of three primary components: WPS Writer, WPS Presentation, and WPS Spreadsheet. You can download WPS Office for free on multiple platforms like Windows 11/10/8/7, Mac, Linux, Android, or iOS.
It allows you to edit files in Writer, Presentation, Spreadsheet, and PDF. It has good compatibility and is the best alternative to Microsoft Office. The program can open and save all Microsoft Office document formats (DOC, DOCX, XLS, XLSX, etc.), HTML, RTF, XML, PDF, PPT, etc.
It offers 100,000+ free templates by category to let you customize your design with various documents like resumes, project plans, reports, etc.
WPS Office also features synchronization and seamless collaboration on all platforms.
Google Docs
Google Docs is a free online word processor that lets you create and collaborate on online documents. You can edit documents together with secure sharing in real-time and from any device.
Google Docs is a part of the free and web-based Google Docs Editors suite developed by Google. You can easily access Google Docs in one of your browsers.
It supports opening and saving documents of various file formats, e.g. Microsoft Word, the standard OpenDocument format, Rich text format, plain Unicode text, and zipped HTML.
Google Docs supports Windows, macOS, Android, iOS, Chrome OS, and BlackBerry OS. It supports 100 languages.
Writer
Writer is another powerful free word processor for Windows 10/11. You can use this program to create beautiful and inspiring documents for free. It lets you collaborate with teammates in real-time. This professional free writing assistant offers contextual grammar, readability and style suggestions and provides change-tracking tools to speed up your review process. It also features WordPress integration that lets you post content directly to your WordPress or Blogger pages.
This free word processing software for Windows 10/11 works well with Word. You can easily open and edit your Microsoft Word documents. It lets you save the documents as Microsoft Word, PDF, or other popular file formats.
Writer is completely free and with no ads at all.
WordPerfect
WordPerfect is also a free word processing application that is compatible with Windows 7 and later. It is an all-in-one Office suite that provides document, spreadsheet, and presentation applications. You can use this program to craft impressive documents, spreadsheets, and presentations. It supports 60+ file formats. You can use it to open, edit, and save DOCX, XLSX, PPTX, PDF, TXT, RTF, WPM, OTF, EBOOK, and more.
LibreOffice Writer
This free and open-source word processing tool allows you to edit all kinds of documents. It is similar to Microsoft Word and Corel's WordPerfect related to features and file format compatibility.
LibreOffice Writer can open and save many formats including Microsoft Word (DOC, DOCX), OpenDocument, XHTML, and more.
It contains a spelling and grammar checker, some drawing tools, form building tools, calculation functions, an equation editor, and more.
It is also able to import, edit, and export PDF files.
This program is compatible with Windows, macOS, Linux, and FreeBSD.
Apache OpenOffice
Apache OpenOffice is also an open-source free office suite. It includes a free word processor (Writer), a spreadsheet (Calc), a presentation application (Impress), a drawing application (Draw), a formula editor (Math), and a database management application (Base).
It lets you create and edit word documents, spreadsheets, presentations, graphics, databases, and more. Its default file format is the OpenDocument format (ODF). It can also read and write files from many other office software. You can download this program on Windows, Mac, or Linux.
SoftMaker FreeOffice
If you are looking for a good free word processor for Windows 10/11, you can also try SoftMaker FreeOffice. It supports Windows 11/10/8/7, macOS 10.12 or later, and Linux.
This free software allows you to create and edit word documents, spreadsheets, and presentations. It is compatible with Microsoft Office applications like Word, Excel, and PowerPoint.
Tip: For more free word processing tools, you can check the list of Word processors from Wikipedia.
Best Free File Recovery Software for Windows 10/11
If you mistakenly deleted some Word documents or lost some important files, you can try a free data recovery program to recover the deleted/lost files.
MiniTool Power Data Recovery is a professional free data recovery program for Windows. You can use it to recover any deleted or lost files, photos, videos, emails, etc. from Windows computers, USB flash drives, SD/memory cards, external hard drives, SSDs, etc.
It helps you tackle various data loss situations including mistaken file deletion, hard drive corruption, system crash, malware/virus infection, etc. It can even help you recover data when the PC won't boot.
It has a very simple interface and features very simple operation. Even novice users can operate this program with ease and use it to recover deleted/lost data in a few steps. Check the simple guide below.
MiniTool Power Data Recovery FreeClick to Download100%Clean & Safe
Launch MiniTool Power Data Recovery to access its main UI.
Choose the target drive or device that contains your deleted or lost files. Under Logical Drives, you can select the target drive and click the Scan Under the Devices tab, you can select the whole device or disk to scan. If you don't know the exact drive that contains the deleted or lost files, you can choose the entire device to scan.
After the scan process finishes, you can check the scan result to find if the deleted/lost files are there. Check wanted files and click the Save button to choose a destination to store the recovered files.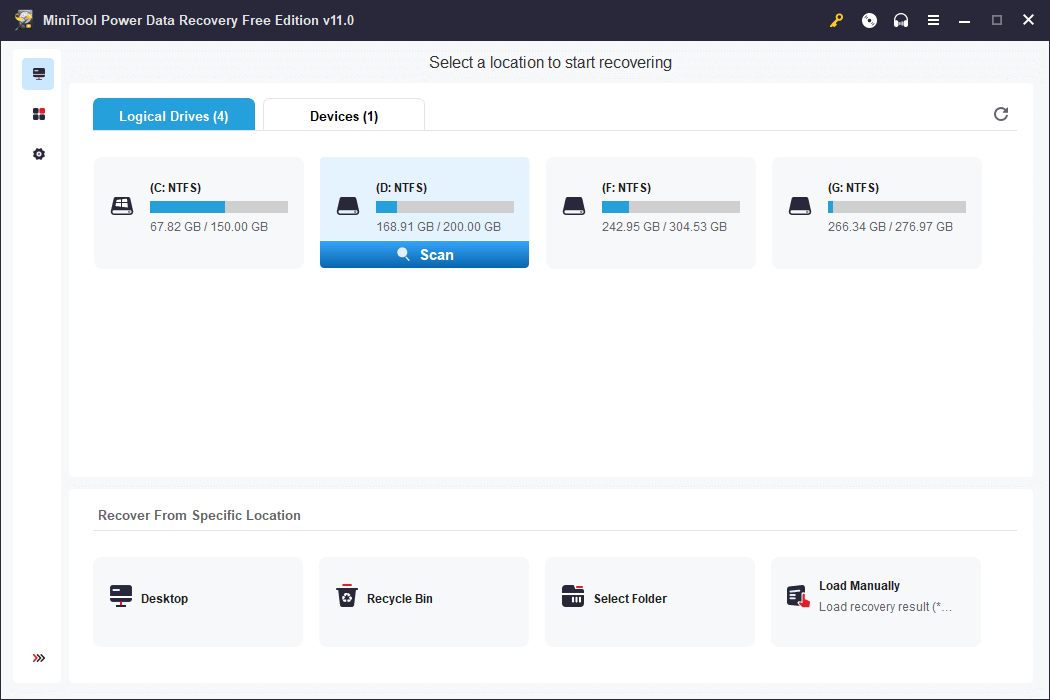 Free PC Backup Program to Back up Your Files
To avoid permanent data loss, the best way is to make a backup of important files. To back up large files or bulk of files at a fast speed, you can utilize a professional data backup application.
MiniTool ShadowMaker is a good PC backup utility that is 100% clean and free. It lets you not only back up your Windows OS but also back up any data on your PC. You can choose an external hard drive, USB flash drive, or network drive to store the backed-up data.
You can use MiniTool ShadowMaker to easily create a system image backup of your Windows OS. If your computer has problems, you can use this program to easily restore your Windows OS from the backups.
As a professional file backup tool, it lets you choose any files, folders, partitions, or even the whole disk content to make a backup. It supports automatic file backup and you can set a schedule to automatically back up the selected data. It also supports incremental backup and you can set it to only keep the latest backup.
Aside from the backup method, it also supports file sync.
Get this free tool to back up your Windows OS and data now.
MiniTool ShadowMaker TrialClick to Download100%Clean & Safe
Launch MiniTool ShadowMaker.
Click the Backup module.
Click the Source section to choose the files and folders you want to back up.
Click the Destination section to choose the target location or device to store the backups.
Click the Back up Now button to start the backup process at a very fast speed.
Conclusion
This post introduces the 10 best free Word processors for Windows 10/11 and you can choose a preferred tool to easily create, edit, or print documents on your computer. A free file data recovery method and a file backup method are also provided to help keep your data safe. Hope it helps.
For more computer tips and tricks, you can visit MiniTool News Center.
To find more useful computer software from MiniTool, you can visit its official website. Free tools like MiniTool Partition Wizard, MiniTool MovieMaker, MiniTool Video Converter, MiniTool Video Repair, MiniTool uTube Downloader, etc. are also provided. You can try these programs if you like.
MiniTool Partition Wizard is a professional free disk partition manager that lets you easily manage hard disk partitions by yourself.
MiniTool MovieMaker is a free video editor for Windows that lets you import, edit, and export videos.
MiniTool Video Converter lets you convert any video or audio format, record computer screen, download YouTube videos, etc.
MiniTool Video Repair lets you repair corrupted MP4/MOV video files for free.
If you have any issues when using these tools, you can contact [email protected].