Just like other hardware, your hard drive can fail. When using your hard drive on computer or any other devices, you may encounter disk-related error messages, experience a reduced performance and hear unusual noise. Does this mean your hard drive is failing?
In the content below, I'll walk you through the signs of failing hard drive and the methods for dealing with the hard drive failure properly.
You can easily find there are a lot of people ask: is my hard drive failing and they have written down the specific situation in forums, hoping to get help from other people.
Is My Hard Drive Failing, I Heard Weird Squeaky Noise
I might have a failing hard drive, but I am not sure so I wanted to try and ask in this forum. The PC and a hard drive are almost 5 years old. Lately I have heard a couple of times a weird squeaky noise from my hard drive. It has happened a couple of times and it did not last long it was just kind of a one squeak. I tried to run WD Data Life Guard. A quick test didn´t even start it showed that it failed and the status code was 07. The extended test ran for about 6 hours and came up with bad sectors (I think it showed 1 bad sector) and it could not repair. Then I used other HDD monitoring software like hard drive sentinel (trial) and it showed that everything is fine (health good and no wear, everything was about 98%). Then I tried to use passmarks DiskCheckup and it could not run either quick or a long test. Had some kind of and error. Last thing I tried was windows own check disk (chkdsk).– said xTeChN0 in Bleeping Computer Forums
The user suspects that he has a failing hard drive since he have heard a weird squeaky noise several times. He has tried many methods for smart hard drive test, including using hard drive test software. So how to tell if your hard drive is failing exactly? Please keep reading to find answers.
How to Fix a Failing Hard Drive
You might wonder can a hard drive be repaired when you feel your hard drive is going to fail or runs into problem. In general, a hard drive includes a lot of data and some of them are really important. Therefore, hard drive failure recovery is necessary when you suspect that the hard disk failure is imminent.
How to fix hard disk failure on laptop/PC running Windows:
Step 1: get the setup program of MiniTool Power Data Recovery, which is a professional tool for both hard drive recovery and flash drive recovery. Please make sure the program is saved to a drive that doesn't contain any data waiting to be recovered. (You should download MiniTool Mac Data Recovery if you want to recover a failing hard drive on Mac.)
MiniTool Power Data Recovery TrialClick to Download100%Clean & Safe
Step 2: double click on the program to start installing the software. Please select the language and follow the wizards to finish installation easily.
Please note: how do you fix a hard drive that won't boot?
What if your internal hard drive corrupted and you can't enter your OS? You should get the Snap-in WinPE Bootable Builder which is included in some editions of MiniTool Power Data Recovery. Then, complete the following steps:
Finish step 1 and step 2 on another computer that works fine.
Run the software and click on the Bootable Media button to create a bootable USB flash drive/CD/DVD disk.
Remove the bootable disk and connect it to the computer with a corrupted internal hard drive.
Change the boot sequence of your computer to make it boot from the disk you've created.
Finish step 3 to step 6 mentioned below.
Step 3: you have two choices to run MiniTool Power Data Recovery for hard drive failure fix – one is checking Launch MiniTool Power Data Recovery option in the finish interface of installation and the other is double clicking on the software icon on desktop/in the installation folder.
Step 4: select Hard Disk Drive option in the left side of the main software interface. If your external hard drive is failing, please connect it to the computer before this step to make sure it shows up in the disk list.
You may ask: what do I do if my hard drive is not detected. Here's a post teaching you how to fix when the hard drive is not showing up/recognized/detected by the computer:
Step 5: choose the hard drive that is going to fail and click on the Scan button in the bottom right corner. Then, wait for the scan.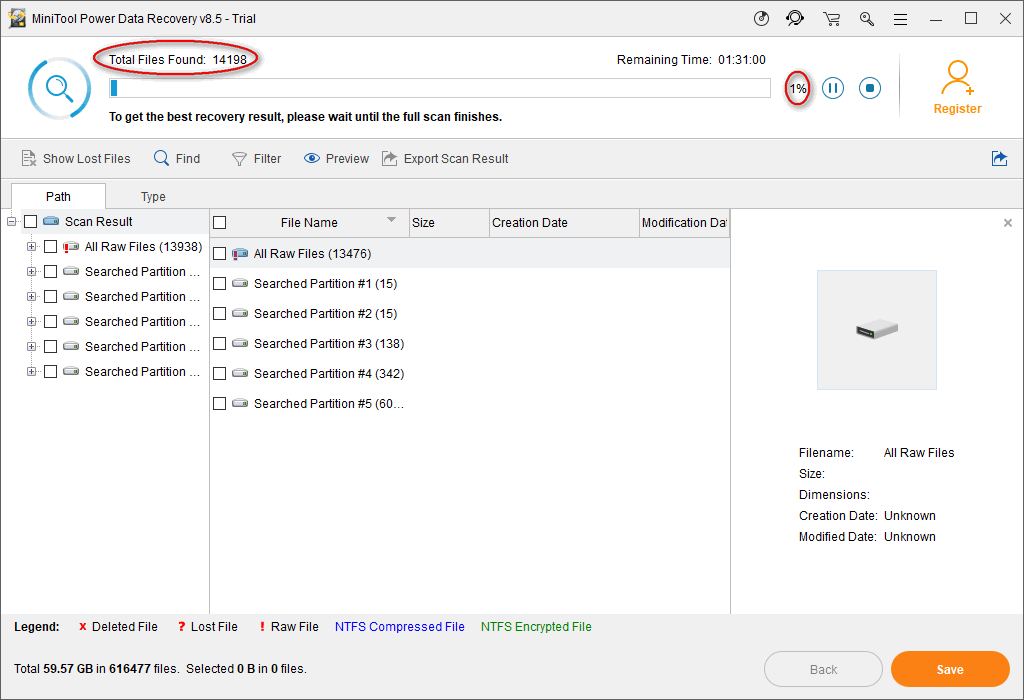 Step 6: take a look at the files and folders listed in the software.
If you find the files you need, please select them one by one and click on the Save
If your needed files are not included in the search result, please wait for the scan until it finds the data you need. Of course, you should select the data and click on Save.
After that, you will be asked to select a directory to save files (you should choose a drive that has enough free space left). When this is done, you should click on the OK button in the same window to confirm.
The data recovery process will last for some time, depending on the size and location of the files that you select to recover. When it finishes, a prompt window will appear, informing you that the failing hard drive recovery has been completed.
Note:
Please be advised that the trial edition only allows you to scan disk and preview found files. You should
get a license
to upgrade your software when it really finds needed files for you.
That's all about failing hard drive fix. You can also use this method to recover data from a hard drive that has failed already. As for how to fix hard drive failure in different cases, please read the next section.
What Causes Hard Drive Failure
In fact, the hard drive crash is a little different from system crash. It doesn't matter which system you are using, the system crash is often caused by a logical failure. As for the hard drive crash, both logical failure and physical failure can be the hard drive failure causes. Either way, you may lose access to your important data; that's why I introduced the useful way to recover data from hard drive in the previous part.
Note:
If you run into system crash and not be able to enter the OS, the system will give you the corresponding hard disk failure error message, such as
operating system not found
.
What Happens When Hard Drive Fails
The hard drive fails due to physical failure.
If the hard drive malfunctions itself, the physical failure should be responsible for it in most cases. But, there are still chances that the data saved on the drive is intact. You may hear a noise (clicking, clunking, grinding or whirring sound) coming from your hard drive, not the cooling fan or other components.
Hear a weird sound coming from your computer? Please stop using it at once and take actions to recover your data from the clicking hard drive.
You may encounter the following two situations:
One: if you can still boot into the system, you should make an image of the drive or clone the drive to a new hard drive. You can't rely on copying files to another drive since it will bring too much stress to the failing hard drive.
Two: if you can't boot into the OS, you'll need to recover files from the drive with MiniTool Power Data Recovery Bootable Disk (see how do you fix a hard drive that won't boot). Or you can remove the hard drive from current computer and connect it to another computer for hard drive data recovery.
The hard drive fails due to logical failure.
If the hard drive is healthy physically, you may still not be able to get into the system when a logical failure occurs, including virus attack, system driver conflict, software malfunction, and human error. Also, you'll lose access to your data. But this doesn't mean it is lost. On the contrary, the data is kept intact on the hard drive, and you can recover it by using professional data recovery software.
What Are the Symptoms of Hard Disk Failure
Users would like to know the signs of failing hard drive so as to figure out whether their hard disk is really failing or not. There are some of the most common hard drive failure signs. You should remember those hard drive failure symptoms so as to prevent disaster in time.
One of the most obvious signs of a failing hard drive is strange noise, such as clicking, humming and scratching.
Computer shuts down all of a sudden. This is another one of the popular hard disk failure symptoms.
Black or blue screen appears frequently on computer.
Can't boot into the system no matter what you do.
The hard drive fails to be detected in BIOS.
There are repeated disk or system errors during file moving and other typical activities.
There are frequent and abnormal crashes during system booting or running (the possible causes are CPU overheating, memory overheating and bad sectors).
It takes too long to load a file, a folder or a drive.
Can't access files or files become corrupted now and then.
The files, folders and even drive letter are disappeared suddenly.
The file size, file name and file location have been changed unexpectedly.
Running speed and responding speed become very slowly or the computer even freezes.
SMART errors are indicated by the Hard Disk Drive Diagnostic.
These are the common signs of hard drive failure on a Windows computer (the SSD failure signs are basically the same). If you want to know the common signs of hard drive failure Mac, please read this page.
How to Detect Hard Disk Problem
I find a lot of people asking is my computer dying. Most of them don't know if their hard drive is really broken. Therefore, it's necessary to show you how to tell if hard drive crashed or not in 3 different ways.
How to check if hard drive is failing Windows 10?
Use Third-party Software
The first way is using MiniTool Partition Wizard or other diagnostic software.
Download MiniTool Partition Wizard and install it.
Launch the software and select the disk you suspect is dying.
Choose Disk from the menu bar.
Navigate to Surface Test in the submenu and click on it.
Click on the Start Now button in the upper right corner.
Wait for the process to complete. If read error appears, it means that your hard disk has some problems.
How do I check if my hard drive is failing if I don't want to use the third-party software? Please follow the methods mentioned below.
Use Command Prompt tool
Press Start + I buttons to open Settings app.
Scroll down to find and select Update & Security.
Navigate to Recovery in the left pane.
Find Advanced startup section in the right pane.
Click Restart now under this section.
Wait for the restart.
Choose Troubleshoot.
Choose Advanced options.
Select Command Prompt in the Advanced options window.
Type wmic and press Enter.
Type diskdrive get status and press Enter.
Wait for the process to complete.
Check Disk for Errors
Open Windows Explorer to see all your drives (what if Windows Explorer not working?).
Right click on the drive you want to check.
Choose Properties from the pop-up menu.
Shift to Tools tab.
Find the Error checking section.
Click on the Check button.
Choose to scan drive and wait for the scanning process.
Follow the suggestions Windows gives you at the end of the scan.
Please note: you can also open Command Prompt at startup by following the previous way. Then, run CHKDSK commands to have a try (chkdsk *: /f and chkdsk *: /r are used frequently).
If CHKDSK commands have deleted your files, you can read this to know how to recover:
That's how do I test my hard drive on Windows. If you want to check hard drive health Mac, please go to this page.
Conclusion
After finding many people are asking the question: is my hard drive failing, I think it's necessary to talk about the hard disk failure problem. What are the signs of hard disk failure, how to detect whether your disk is failing or not and how to rescue data from the failing hard drive are all important things that people want to know. In this post, these questions are answered briefly. If you still have other doubts, please contact us.