There are lots of disk problems that will cause damage to the disk partition layout and disk data. For instance, a hard disk drive may become unknown (unallocated, not initialized, RAW, and Offline) suddenly. At this time, users need to start data recovery before doing anything else.
Problem: Disk Shows as Unknown
Among the computer compositions, hard disk drive (HDD) is the most significant one. During the continuous use of a computer, a plenty of problems, such as inaccessible partition, mysterious data loss and disk shows as unknown or uninitialized/unallocated/RAW error may appear, beyond all expectations.
It is really annoying to find disk unknown, not initialized, unallocated. People will be worrying about how to fix a bad hard disk as well as how to recover data from uninitialized disk.
Here, I recommend using MiniTool Power Data Recovery for unknown disk recovery and then I will offer some pragmatic tips for fixing disk unknown not initialized error by taking Windows 10 as an example.
5 Specific Cases of HDD Shows as Unknown
HDD shows as unallocated.
HDD shows as not initialized.
HDD shows as RAW.
HDD is offline.
HDD is bad.
Admittedly, all kinds of disk errors may easily appear during the using process of the computer. If you searched this on Google, you'll be even surprised by some hard disk recovery situations.
Currently, I find a large number of users saying that their HDD shows as unknown and the details of their issues are quite different. They're struggling to find a powerful way to recover files from disk shows as unknown completely.
Thus, I roughly divide the HDD unknown, not initialized or unallocated error into 4 different types of cases for users' reference. And the last case is HDD becomes bad physically.
Case 1 – HDD Shows as Unallocated
When your hard disk drive suddenly becomes unallocated, you're not able to see it in Windows Explorer. But if you go to the Windows Disk Management under such circumstances, you'll find it is displayed here.
The disk type is Basic, but all the space on that disk has been turned into unallocated now. This is similar to an initialized disk which is brand new and includes no formatted partition. Indeed, an unallocated disk indicates that all of your previous partitions are lost.
Of course, you're allowed to create a partition (simple, spanned, striped, mirrored volume) on this disk and make it appear in Windows Explorer, but all of those actions could bring secondary damage to the original data.
So, when the entire disk is turned into unallocated all out of a sudden, the first thing you should do is always performing HDD recovery.
Case 2 – HDD Shows as Not Initialized
When you find your external HDD is not showing up on the current computer, what are you expected to do? Actually, you may open the built-in Windows Disk Management tool and see whether it appears or not.
You may see it appeared here and shown as "Not Initialized". Likewise, all the space of this disk is marked as unallocated. This is exactly the same to the disk which is bought lately and you have no time to initialize it yet. If you right-click on this disk, a pop-up menu will appear and the first option on it is "Initialize Disk".
However, when your disk is not initialized anymore due to sudden change, I don't suggest you to initialize the disk to make it usable again. And I believe most of you will care more about how to initialize disk without losing data.
So, my suggestion is, getting back data from the uninitialized disk at first. Then, initialize the disk with Windows built-in tool or third-party tools.
You often have two choices when initializing a disk.
Case 3 – HDD Shows as RAW
Sometimes, you may see your HDD in the Windows Explorer; but when you click to open it, you'll find the access is denied.
As a senior user who has used computer for a long time, this situation may be not strange to you. And you will find the disk shows as RAW when you check it in the Disk Management afterward.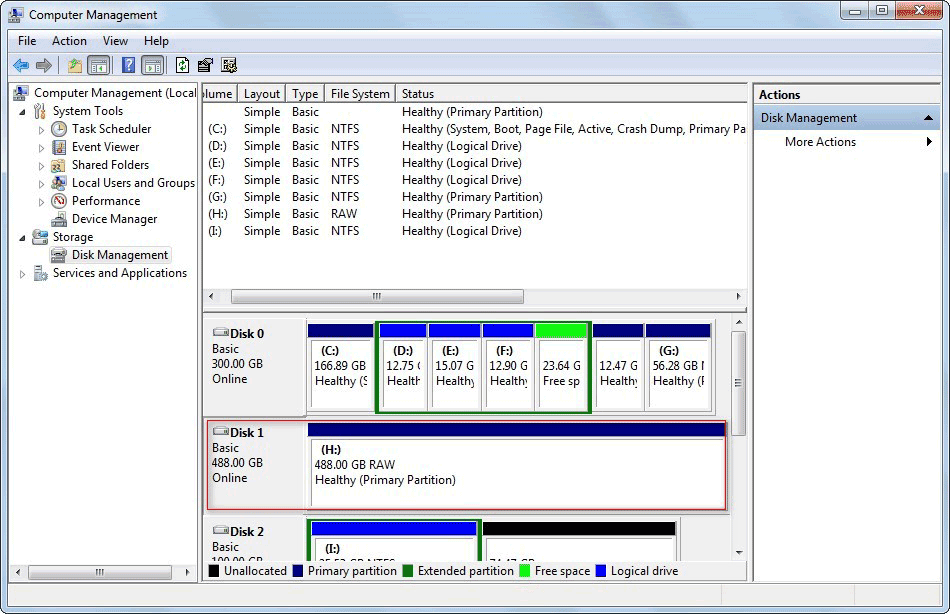 As you can see, there is no file system on disk 1. This kind of situation will happen when your file system of the HDD is corrupted due to certain reasons. But please remember, you should not agree to format this disk as required unless all data saved there are of no use.
Case 4 – HDD Is Offline
When an HDD is set offline, it won't show up in "Computer", which is often called as "Windows Explorer". This phenomenon seems to be exactly the same with the situation where all your partitions on HDD are lost, but they are really not the same.
This is basically caused by pressing "Offline" by mistake. Or when you're under the attack of malicious programs, it may set your HDD to be offline.
Case 5 – HDD Is Bad
Sometimes, your hard drive may become a bad disk suddenly. If you run into a power outage while the disk is still running or have been attacked by virus, it's easy that your disk won't show up in Windows Explorer even if you restart computer successfully.
Recover from the Unknown HDD
How to Recover Data from Unallocated Disk
Step 1: get MiniTool Power Data Recovery Trial Edition to experience the software first or purchase a license directly to get a full edition.
Step 2: install the software to any of your disks (except the one which is shown as unknown and has lost data waiting to be recovered). Run the software at the end of installation.
Step 3: launch this data recovery software to enter its main window as shown below. Next, please click on "Hard Disk Drive" from the left pane.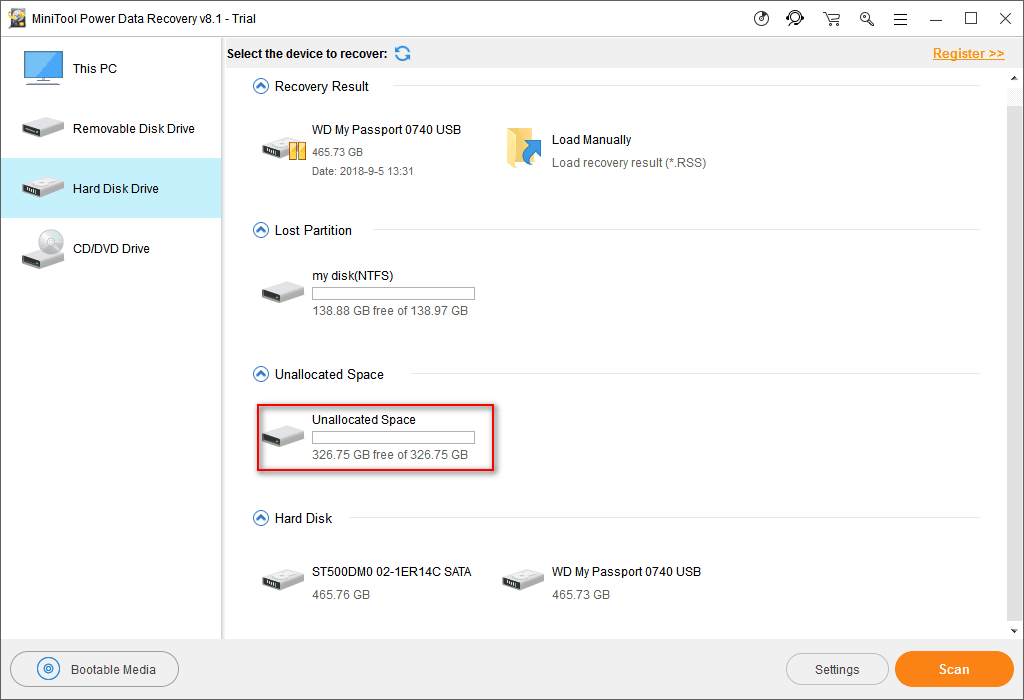 Actually, you can see the "Unallocated Space" area easily after clicking on both "Hard Disk Drive" and "This PC".
Tip: If your target device is an external HDD and you forget to connect it in advance, you should connect it now and shift to another option in the left pane to refresh. When the external HDD appears in the list, you can finally recover files from it.
Step 4: scan the unallocated space to detect the lost files. You have 2 choices in this step.
Select the "Unallocated Space" and press "Scan" button.
Double click on the "Unallocated Space".
Please note that the scan of the entire disk may last for a relatively long time, so please wait with patience.
Tip: If you only need certain types of files, you should click on the "Settings" button (next to the "Scan"). Then, check the file systems & file types you desire and press "OK" to confirm.
Step 5: during the scan, the data recovery software will find many possible partitions for you. These partitions will be listed in order and each one of them contains plentiful files. You should click to browse the partitions and files in order to decide which to recover and which not.
If too many partitions are found, only some of them will be listed automatically; to see more found partitions, you should click on "Show More Partitions" as suggested.
Tip: Of course, if you can remember the file name exactly, you may use the "Find" function to navigate to certain files quickly. Or you can enable the "Filter" function to locate certain files in a flash.
Step 6: please tick all the files you want to recover and press "Save" button to choose a proper storage location for them. At last, press "OK" button to confirm your selection.
When all the files are recovered to the appointed place, a prompt window will appear, indicating that the unknown disk recovery is finished and you can close the software currently.
In addition to Trial Edition, MiniTool Power Data Recovery also provides 8 types of license (
4 for home users and 4 for business users
) to meet different needs. The main functions of those editions are the same, but the usage limits of different licenses are different. You can find detailed information on our
license comparison webpage
.
After that, you may create new partitions on the disk again and then transfer data back to it.
How to Fix Unknown Hard Disk Drive
Fix an Uninitialized Disk
When your disk becomes not initialized suddenly, you should start to recover data from this disk firstly (the steps to regain your precious data in this case are the same with what were mentioned in the previous unallocated disk case).
And then, you should initialize the disk with Disk Management or other reliable disk management tools.
Fix a RAW Disk
Also, the data recovery steps are basically the same as what I mentioned in "How to Recover Data from Unallocated Disk & Fix".
Differences are:
In order to recover data from a RAW disk, you may click on "This PC" or "Hard Disk Drive" in step 3.
In step 4, you should select the RAW disk from right pane and scan it.
After recovery, you may as well re-format the RAW disk to make it available for data storage.
Set Disk Online
The recovery steps are the same as what I mentioned in "How to Recover Data from Unallocated Disk & Fix" part.
At this time, you have two choices to activate the offline disk.
You could try opening DM. And then, right click on the target disk and choose "Online" to fix.
You can also open the free edition of MiniTool Partition Wizard. Then, let it set your disk online automatically.
Click here to know how to reactivate a missing or offline dynamic disk.
All in all, you've got great chance to recover data from unknown disk as long as your HDD is not damaged physically.
Recover from a Bad Disk
When your HDD becomes bad, I advise you to open Disk Management (DM) to find out whether this disk can be detected or not.
If this disk is shown as unallocated or is marked as not initialized, you can open MiniTool Partition Wizard free edition to get hands on more details.
In above picture, you can see that the disk, which shows "Not initialized" in DM, is shown as "Read Only" in MiniTool Partition Wizard. It means that this disk may be write-protected somehow. This is also known as a type of bad disk.
In this case, you should also try to recover data from the broken disk; but you may end up in failure. After that, you should try to fix the disk by removing the write protection manually.
Till now, you must know well about how to recover data from hard drive that shows as unknown and how to fix the problem in different cases.
Verdict
I'm pretty sure that when users find their HDD shows as unknown or become not accessible, most of them will think of hard disk data recovery and how to fix the problem to make it finally appear.
Of course, the first thing they should do is trying every means possible to recover data from unknown disk (you should determine which case your HDD problem belongs to).
The good news is that I can really make it a breeze; you should follow the steps mentioned above carefully to recover data from disk.
After that, you are expected to fix the unknown disk to make it usable again by doing the following things.
Creating new partitions
Re-initializing disk
Formatting the RAW drive
Setting disk online
Removing write protection
Disk Shows as Unknown FAQ
How do you fix an unknown disk is not initialized?
An unknown disk could show as RAW, unallocated and uninitialized. The easiest way to fix the uninitialized disk is to initialize it directly.
Right click on My Computer/This PC icon on desktop.
Choose Manage from the menu.
Select Disk Management under Storage.
Right click on the disk which is not initialized.
Choose Initialize Disk and wait for it to finish.
How do I fix an unallocated hard drive?
Step 1: recover data from unallocated space with MiniTool Power Data Recovery.
Step 2: create new partition. You can finish this by right clicking on the unallocated space and choosing New Simple Volume in Disk Management; you can also use Create Partition function in MiniTool Partition Wizard.
Will initializing a disk erase it?
Sure, the disk data will be erased during the initializing process. So, you need to back up your data on a disk before starting to initialize it. In fact, the system will only ask you to initialize a disk when it is brand new or contains some serious errors.
Should I use MBR or GPT?
You can initialize the disk to MBR or GPT casually. But I advise you to choose GPT when: 1. you want to have more than 4 primary partitions. 2. your disk capacity is larger than 2TB (only 2TB of space can be used from a 512B sector MBR hard disk).