Windows 11 Official Release Date
Microsoft has announced the official release date of Windows 11: October 5, 2021. Windows 11 is upcoming. Do you expect it? While looking forward to it, you need to note whether your computer is eligible for Windows 11.
How Much Space Does Windows 11 Take on Your Disk?
If you want to install this new version of Windows, your device should meet the basic system and hardware requirements for Windows 11. Among these requirements, you may have noticed this one – Storage: 64 GB or larger storage device.
How big is Windows 11? Does this mean the Windows 11 size is 64 GB? Of course, not. So far, no Windows operating system has taken up such a large space. This minimum disk space requirement is to better ensure the operation of Windows 11.
How many GB is Windows 11? It is not a fixed number.
How much space does Windows 11 take? Now, let's see two cases.
Case 1: Clean Install Windows 11
Cleaning install Windows 11 will remove all files, settings, and apps on your computer. It only installs Windows 11 on your device. So, the storage usage of drive C after Windows 11 clean install is the closest to the Windows 11 size.
Recently, I have upgraded Windows 7 to Windows 11 Home via a clean install. Now, let's have a look at the storage usage of drive C.
Go to Start > Settings > Storage > Show more categories to see the disk usage. Details are as follows: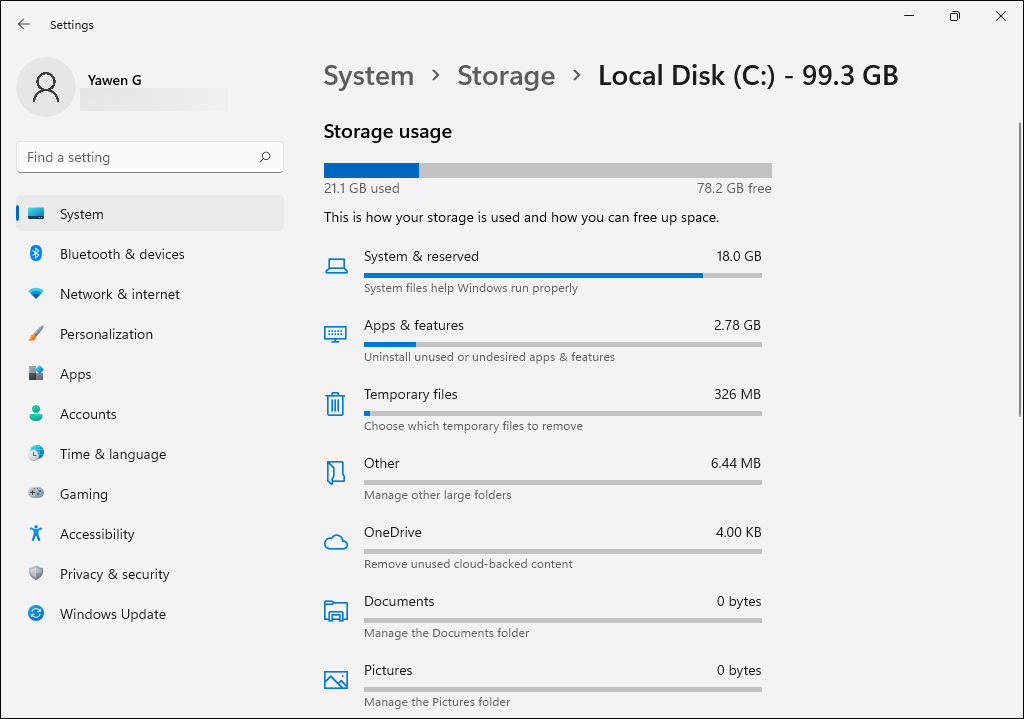 System & reserved: 18.0 GB
Apps & features: 2.78 GB
Temporary files: 326 MB
Other: 6.44 MB
OneDrive: 4.00 KB
The total size is about 21.1 GB.
However, this doesn't mean that the Windows 11 install size is 21.1 GB. It is just one case. If you clean install Windows 11 Pro or Windows 11 Education on your computer, the situation will be different.
Now, let's dig more:
System & reserved
You can click System & reserved to see the specific occupancy situations.
The system files: 8.18 GB
The reserved storage: 7.48 GB
The virtual memory: 1.93 GB
The hibernation file: 409 MB
Apps & features
You can click Apps & features to see which apps and features are pre-installed on your computer and their sizes.
Of course, you can also click on other options to see the details.
How many GB is Windows 11 (clean install)?
Although it is not sure of the exact GB of Windows 11, there is a general statement: a fresh installation of Windows 11 will take up about 27 GB of space on drive C. Most of the files are system files and system reserved files. Besides, Windows pre-installed apps take up about 3 GB of space.
Case 2: Upgrade to Windows 11
I upgrade my other computer to Windows 11 via Windows Update. Now, let's use the same way to check the space usage of the C drive.
Under Storage usage:
System & reserved: 36.0 GB
Apps & features: 22.5 GB
Temporary files: 4.11 GB
Other: 2.63 GB
Desktop: 1.02 GB
Videos: 173 MB
Maps: 1.83 MB.
OneDrive: 1.19 MB.
And more….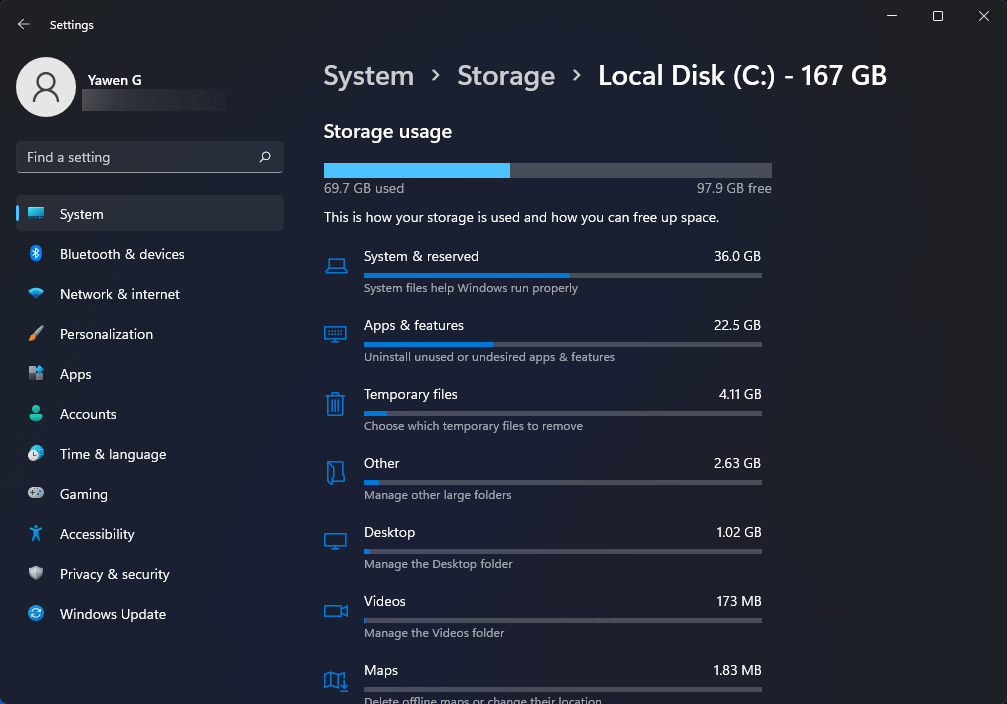 The total size is 69.7 GB.
System & reserved
System files: 32.7 GB
Virtual memory: 258 MB
Hibernation file: 2.77 GB
System restore: 2.94 GB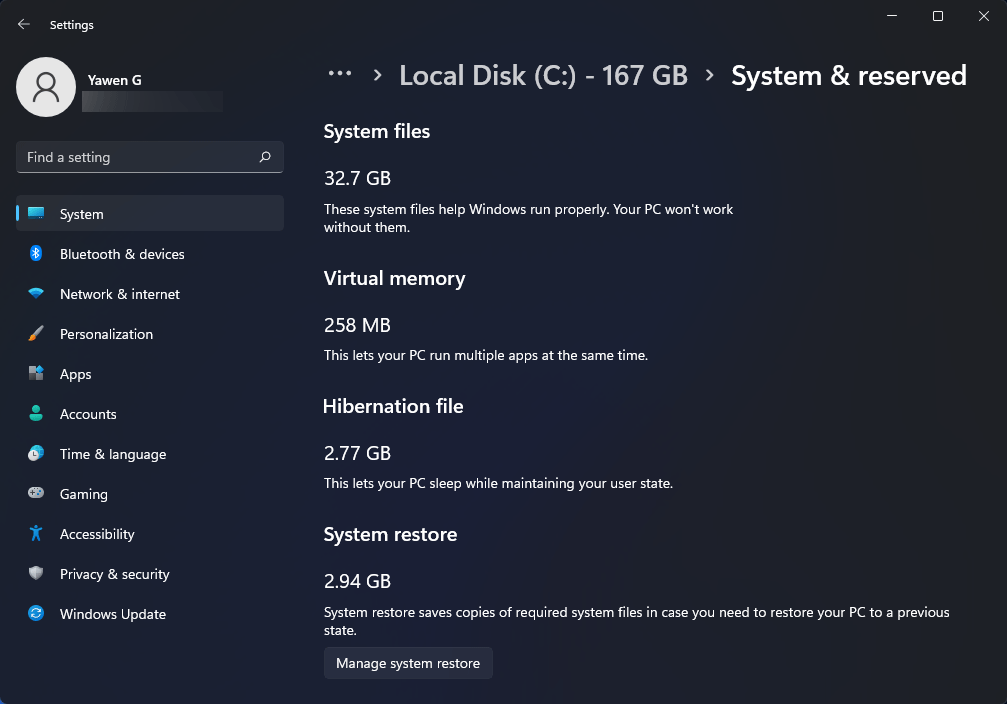 Apps & features
After clicking Apps & features, you can see all installed apps and features including Windows built-in ones and third-party software installed by yourself.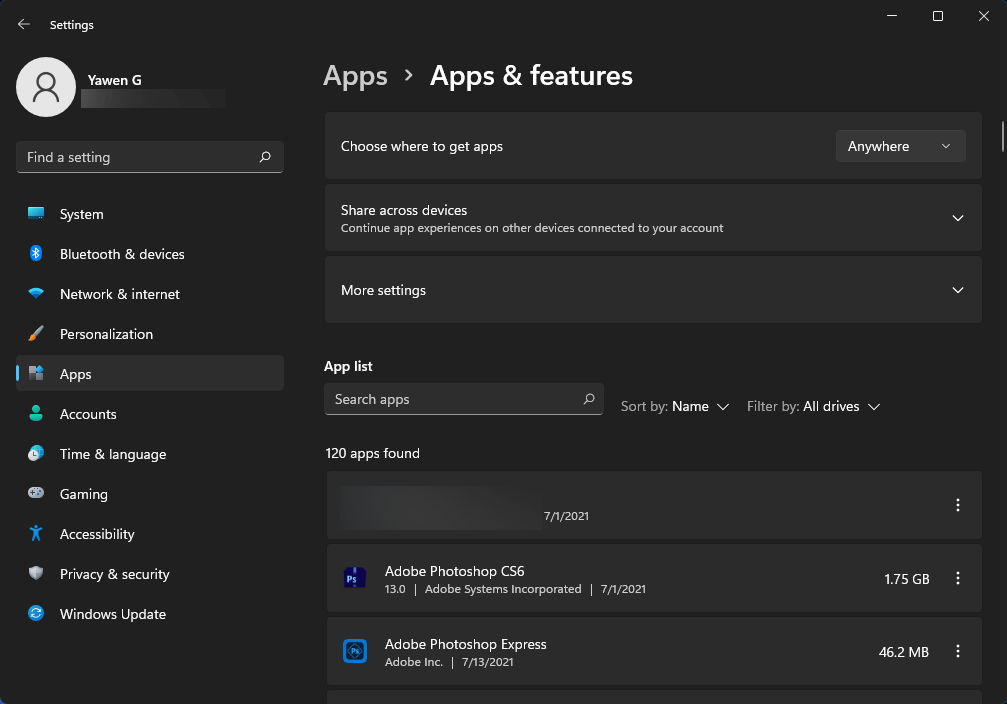 How many GB is Windows 11 (upgrade to Windows 11 from Windows 10)?
You see the value of this situation is not indicative. The total size is even bigger than 64 GB. Many factors can impact the amount of free space on C drive for upgrading to Windows 11:
The Windows versions that were previously installed on your computer.
The free space available from Windows files to reuse, such as the virtual memory page files and hibernation file.
The apps that are installed on your machine.
How installed apps store data.
Sum up
The Windows 11 install size is not fixed. In general, a fresh Windows 11 install can take up about 27 GB of space on your disk. But why Microsoft requires more for Windows 11 upgrade?
The Windows 11 requirement on disk space of 64 GB is to ensure a successful upgrade. After upgrading, temporary files, regular Windows update files, system restore files, and more will eat up more space. So, there should be enough space on the system drive.
How much space does Windows 11 take up on your computer? This article shows you the details.Click to Tweet
Free up More Space on C Drive before Upgrading to Windows 11
During the Windows 11 upgrade, Windows can automatically or guide you to free up enough space. However, you can also manually free up disk space if the C drive receives a low disk space warning.
You can refer to these two articles to release disk space on your Windows computer:
Free up Disk Space after Upgrading to Windows 11
After upgrading to Windows 11, you can also do something to release disk space for new data. Well then, how to free up disk space on Windows 11?
In addition to the disk cleanup methods mentioned in the above section, you can also try these operations:
Delete Previous Windows Installation(s)
After you upgrade your computer to Windows 11, the previous Windows system files will be kept for 10 days. Within these 10 days, you can downgrade to your previous Windows version if you want to. However, if you don't plan to do this and you want to free up disk space by deleting these files, you can:
Open Win+E to open File Explorer.
Right-click C drive and select Properties.
Click Disk Cleanup.
Click Clean up system files.
Find Previous Windows Installation(s) and select it.
Click OK.
Delete Windows Update Cleanup
These files are the old Windows versions you have installed on your device. In general, these files are usually very large, which can reach up to several GB. If you are not planning to uninstall the Windows update, you can delete them using Disk Cleanup like deleting previous Windows Installation(s).
Disable Hibernation
When you see the storage usage in Settings > System > Storage, you can discover that the hibernation file occupies a large amount of space. What is it?

The hibernation file is the file created by your operating system when your device enters the Hibernation Mode. It let your computer sleep while maintaining your user state. If it takes up so much space, you can choose to delete it from your computer.
Uninstall Unnecessary Apps
Over time, you may install more and more programs on your computer. You can check whether these programs are all necessary for you and uninstall the unnecessary ones.
Remove Duplicate Files
You may don't know that there are numerous duplicate files on your computer. You can use a professional tool to find and remove these duplicate files from your computer.
Extend C: Drive
If your C: partition still doesn't have enough space after you take measures to free up disk space, you can use MiniTool Partition Wizard, a partition manager, to extend its space by taking free space from another partition on the same disk. You can also set Storage Sense to automatically free up space on C: drive.
If your C drive is full after upgrading to Windows 11, you can use the methods mentioned in this article to release more disk space.Click to Tweet
How to Recover Your Lost and Deleted Files on Windows 11?
If some of your important files get lost unexpectedly in the process of cleaning up your computer or for some other reason, is it possible to get them back?
As long as these files are not overwritten by new data, you can use professional data recovery software to get them back. You can try MiniTool Power Data Recovery, a free file recovery tool.
This software is specially designed to restore lost and deleted files from data storage devices like internal hard drives, external hard drives, memory cards, SD cards, pen drives, thumb drives, etc. It can run on Windows 11/10/8.1/8/7.
With the trial edition of this software, you can scan the drive you want to recover data from and check if your needed files are in the scan results. If you want to recover files with this software, you can update it to a full edition and directly recover all your needed files without limits.
MiniTool Power Data Recovery TrialClick to Download100%Clean & Safe
1. Download and install this software on your Windows 11 computer.
2. Open the software to enter its main interface.
3. This software shows you all the connected drives it can detect. You need to find out the target drive, hover it over, and click Scan to start scanning it.
4. When the scanning end, you can see the scan results are list by path by default. You can open each path to find your needed files. Or you can switch to Type to show them by type. If you can remember the name of the file you want to rescue, you can use the Find feature to locate it by name.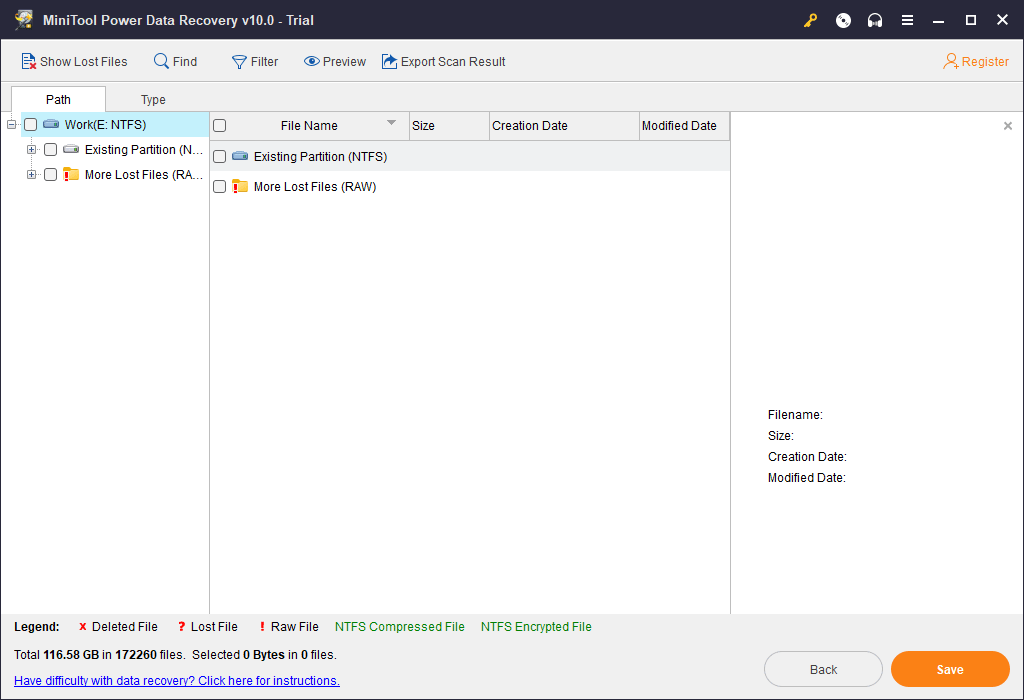 5. You can also preview files for confirmation. This software allows you to preview 70 types of files. You can double-click the file to preview it, or select the file and click Preview to preview it. But if it is the first time for you to use the Preview function in the Trial edition, you need to download the file previewer before previewing files.
6. You can't use the trial edition to recover files. If you want to restore your files, you can go to the MiniTool official site to get a full edition and use the license key to register the software. After that, you can select your needed files and click the Save button to choose a proper location to save them. Remember: you should not select the original location as the destination to prevent data from being overwritten.
Wrapping Things up
How much space does Windows 11 take on your hard disk? After reading this article, you should have a general understanding of it. Before upgrading to Windows 11, you can clean up your computer hard disk to release more space. After the upgrade, you can also check if any files need to be removed to regain more space. Good computer cleaning-up habits can keep your computer performing better.
Should you have any other good suggestions or issues that need to be fixed, you can let us know in the comments or contact us via [email protected].