Microsoft Office includes popular tools like Word, Excel, PowerPoint, Outlook, Access, etc. Depending on how to get or purchase Office, the Office activation process may be different. This post teaches you how to activate Microsoft Office 365/2021/2019/2016/2013 by using different ways. A free Office file recovery tool is also provided to help you recover deleted or lost Office documents with ease.
Also read: Learn the best tips and tricks for data recovery hard drive on Windows 11/10/8/7.
How to Activate Microsoft Office 365/2021/2019/2016, etc.
How to Activate Microsoft Office for Free
If you bought a laptop with Windows 11/10 OS and Microsoft Office preinstalled and with an OEM license, then you may be able to activate Microsoft Office for free. The activation instructions are normally attached in the computer package or on the desktop screen after you activate your Windows 10/11 OS. You may be asked to log in to Office with a Microsoft account to activate your Office suite. If you don't have a Microsoft account, you can follow the instructions to create a Microsoft account.
You can also activate Office for free if you start a 1-month free trial of Microsoft 365 Family. You can try the activated Office version for one month. If you subscribe to a Microsoft 365 plan, then you can download, install, and use Microsoft Office tools for free.
How to Activate MS Office with Product Key
1. If you have installed Office
If you have successfully installed the Microsoft Office suite on your PC and you have purchased an Office product key, you can follow the guide below to activate your Office suite.
Open one of the Office apps like Word, Excel, etc. on your PC.
In the pop-up Welcome window, click the Sign in button to enter your Microsoft account credentials to sign in to Office.
Click File -> Account.
Click Activate Product.
Click Use a different account option.
Click I have a product key link.
Then you can enter your product key to activate your Microsoft Office product. After the activation, you can see a "Product Activated" message along with the Office edition on the Account page.
2. If you haven't installed Office
If you purchase Microsoft 365 or Microsoft Office coming with a product key, you can follow the instructions below to activate Office and install Office products on your Windows 11/10 computer.
For Microsoft 365 and Office 2021/2019/2016/2013, you can go to https://setup.office.com/, click the Sign in button to sign in with your Microsoft account. If you don't have one, you can click Create a new account button to create a Microsoft account. Enter your product key in the pop-up window. Then you can download and install your Office product.
If you bought Microsoft Office or Microsoft 365 suite from Microsoft Store, you can go to https://www.microsoft.com/en-us/store/b/sale, click Sign in at the top-right corner to sign in with your Microsoft account that you used to buy Office. After that, you can click your name at the top-right corner and click Order History. Find your purchase of Office and click Install Office to view your product key.
How to Activate Microsoft Office with KMS Activators
For schools, companies, or other organizations, you can use a KMS software product to automatically activate Office products without entering a license key. The Key Management Service (KMS) is an activation service that allows organizations to activate systems within their own network. The KMS client can look for a local KMS server and activate the software like Windows OS or Office products for 180 days. After 180 days, you may need to reactivate Office again by using the KMS tool.
Top Microsoft Office KMS activators include KMSpico, MicroKMS, Microsoft Toolkit Activator, KMSAuto, etc.
For more information about KMS activation, you can visit the official guides from Microsoft:
Activate using Key Management Service
Key Management Services (KMS) client activation and product keys
How to Check If Your MS Office is Activated or Not
You can open any Microsoft Office program like Word app and click File -> Account. You can see if your Microsoft Office is activated under Product Information.
Disadvantages of Not Activating Microsoft Office
You can use Microsoft Office for free and do not activate it, but it has some limitations.
You will have a product notice all the time at the top of the app. It is a yellow bar saying "Word hasn't been activated. To keep using Word without interruption, activate before the date". An Activate button is next to the message.
If you do not activate your Office before the date it shows in the warning, you won't be able to use many features of the Microsoft Office apps. All editing features of Office are disabled.
If you go to File -> Account in the Microsoft Office program, you see also see a notification saying "Activation required".
How to Recover Deleted/Lost Office Documents for Free
If you mistakenly deleted some Microsoft Office documents like Word files, Excel files, PPT files, etc. you can firstly search and find the target files in Windows Recycle Bin. If you emptied the Recycle Bin, then you need to utilize a professional data recovery software to recover the deleted Office documents. Still, if you deleted some files from a USB flash drive, they will also be permanently deleted. You still need a data recovery tool to help you recover the deleted files from USB.
MiniTool Power Data Recovery, especially developed to help users with data recovery, allows you easily recover deleted or lost files, photos, videos, etc. from various storage devices.
You can use MiniTool Power Data Recovery to easily recover deleted/lost MS Office files or any other kind of files from a Windows PC or laptop. You can also use it to restore data from USB, SD/memory card, external hard drive, SSD, etc.
This data recovery service helps you deal with various data loss situations. You can use it to recover data from a formatted hard drive, recover data from a corrupted hard drive, recover data when the PC won't boot, and more.
Download and install this free data recovery software on your Windows computer. Check how to use it to recover deleted or lost Microsoft Office documents from your PC or USB below.
MiniTool Power Data Recovery FreeClick to Download100%Clean & Safe
Run MiniTool Power Data Recovery application. If you intend to recover files from a USB flash drive, you should plug the USB into the USB port of your PC beforehand.
On the main UI, you can select the target drive that contains your deleted/lost documents and click Scan. If you don't know which drive to select, you can click the Devices tab and select the whole disk or device, and click Scan.
After the scan, you can check the scan result to find if your needed files are there, if so, check them and click the Save Choose a new destination to store the recovered Office files.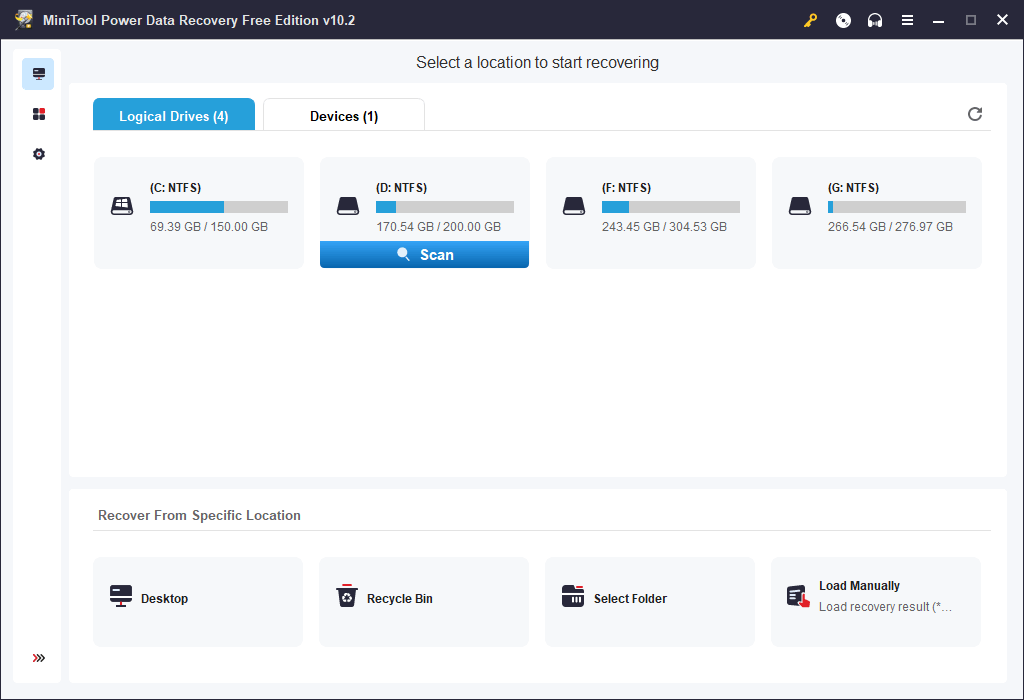 Tip: If you want to fast scan a specific type of Office file like Word file, you can click the Scan Settings icon in the left panel. Here you can choose what type of files you want to scan. If you want to only scan and recover Word files, you can choose Document and only select Office Word Documents (*.doc) file type. Click OK to save the scan settings.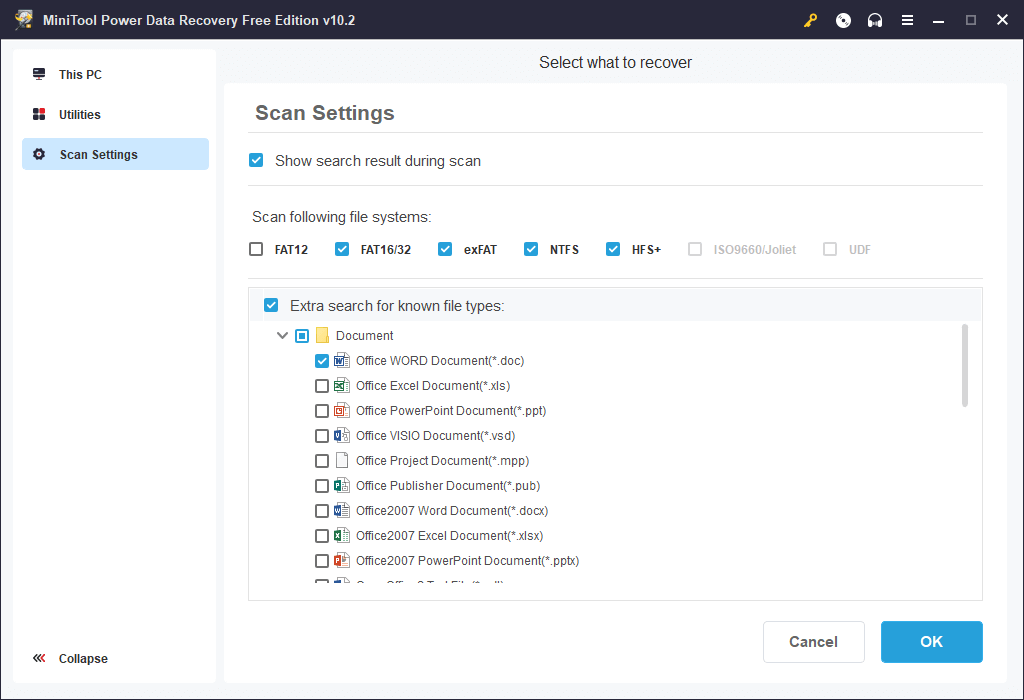 Free PC Backup Software to Keep Your PC Data Safe
To keep data safe, it's a good idea to always have a backup of important files. To help users back up Windows system and data, MiniTool develops MiniTool ShadowMaker – a professional free PC backup application.
MiniTool ShadowMaker lets you choose any files and folders to back up to another place on your PC or back up them to an external hard drive, USB flash drive, etc. You can also select a partition or several partitions to back up partitions. You can even select the whole disk content to back up.
Aside from backing up files, you can also use MiniTool ShadowMaker to backup and restore your Windows system. This is helpful when your computer has problems and you want to revert your computer to a previous healthy state.
This program also provides another backup method – File Sync – to help you easily make backups. If you want to make a backup regularly, you can set a schedule to back up the selected data automatically. To only keep the latest backup version, you can set an incremental backup scheme.
MiniTool ShadowMaker TrialClick to Download100%Clean & Safe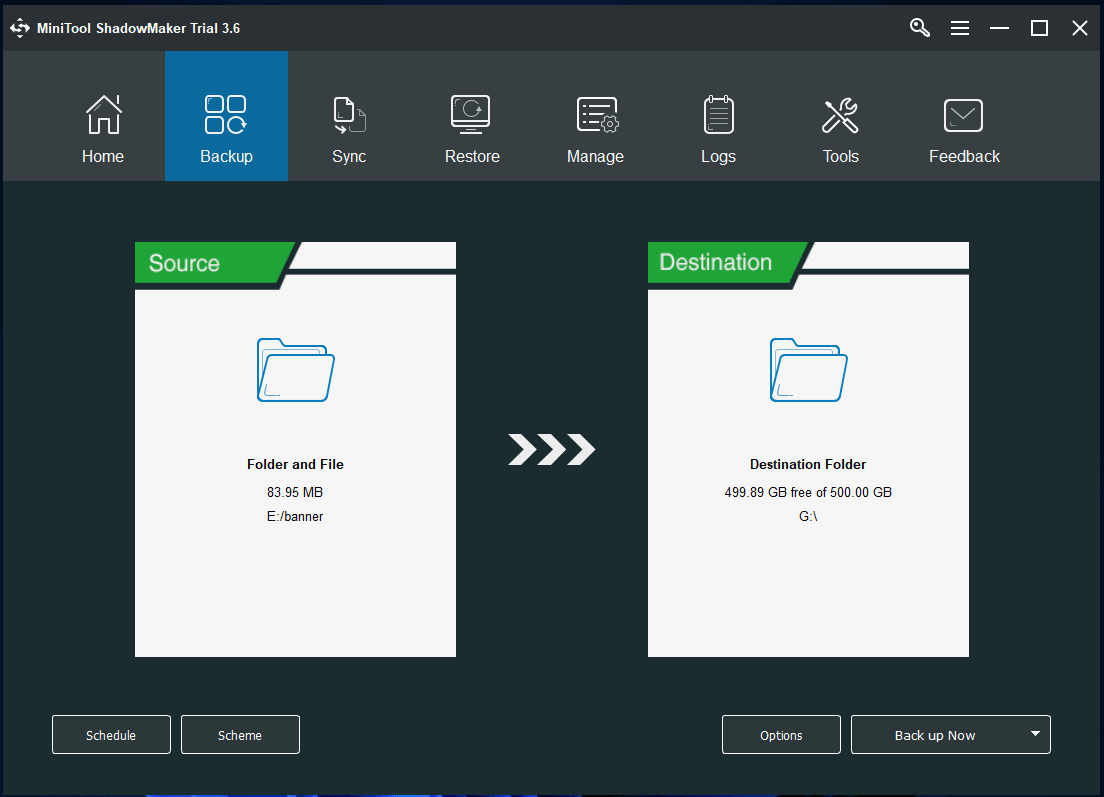 Conclusion
This post offers instructions for how to activate Microsoft Office 365/2021/2019/2016/2013 and offers a free data recovery guide to help you recover deleted or lost Office documents. Hope it helps.
If you are interested in other products from MiniTool Software, you can find MiniTool Partition Wizard, MiniTool MovieMaker, MiniTool Video Converter, MiniTool Video Repair, and more from MiniTool Software official website.
MiniTool Partition Wizard lets you easily manage your hard disks and partitions by yourself. It offers a full set of disk management features.
MiniTool MovieMaker lets you edit videos and create personalized videos for uploading to YouTube, TikTok, etc.
MiniTool Video Converter allows you to convert any video or audio format, download YouTube videos, record Windows computer screen (with audio), etc.
MiniTool Video Repair helps you to repair corrupted MP4/MOV video files for free.
If you have problems with using any MiniTool Software products, please contact [email protected].