One of the most important reasons why people enjoy taking pictures with a camera is that pictures can help them capture the beautiful sceneries and freeze the unforgettable moments. So what if accidents happen and you lose the precious photos and pictures? Do you want to get it back? I guess the answer must be definite.
Some pictures are particularly meaningful to you since you will never have a chance to go back to the place in the photo or back to that precious moment. Well, among all digital camera brands, Canon is popular and enjoys high reputation all over the world. No wonder there are so many people care about Canon digital camera recovery.
React Properly after You Lost Pictures on Canon Digital Camera
Have you ever lost pictures on Canon digital camera? Please calm down when you find your Canon camera pictures disappeared; no matter what the reason is to lead to digital camera data loss, you've got a chance to regain the lost pictures.
How to deal with camera says card cannot be accessed error:
Some people would ask: what if I do not know anything about the lost picture recovery? My answer is that you also don't need to worry too much; you just need this digital camera picture recovery software – MiniTool Power Data Recovery, which has good compatibility in regard to file support types.
It works great for Canon photo recovery on Windows. But you have to keep the following things in mind in order to recover all your lost pictures.
Firstly, you must stop using the camera at once.
Then, hurry up to get a proper edition of MiniTool Power Data Recovery when you find Canon camera pictures disappeared.
Afterward, install the software to your computer.
Next, take out your memory card & connect it to your computer.
Finally, run the software in order to get pictures from camera to computer.
Recover Pictures from Camera in Time
In general, the pictures taken by Canon digital camera are in RAW image format, mainly CRW and CR2 files. Believe it or not, CRW and CR2 are two excellent file formats for photos due to those reasons:
They haven't gone through lossy compression.
They will not lead to the loss of quality.
Considering this, I will now focus on how to recover Canon CRW and CR2 photo files.
Click here to learn more about the recovery from RAW file system/partition/drive.
Reasons for Losing Canon Digital Camera Pictures
In summary, there are mainly four common reasons to explain why you lost Canon digital camera pictures.
People have deleted precious photos accidentally; sometimes they are aware of this problem, sometimes not.
The pictures are disappeared somehow; the memory card works fine after the loss of picture.
People have formatted the memory card in Canon camera by mistake.
The memory card is corrupted due to certain reasons.
MiniTool Power Data Recovery may do you a favor in all of above situations. Please follow what I have said in the previous part – get & install the software, connect your memory card to computer and launch software to start recovery. Digital camera recovery software free download:
MiniTool Power Data Recovery TrialClick to Download100%Clean & Safe
Now, please take a look at the following content to see how to get pictures from camera to computer.
Recovery Solution for Situation 1 & 2
Step one: on the main interface, you'll find "This PC" option is selected by default. At this time, you should keep it unchanged in order to recover deleted/lost files from memory card.
Step two: you're expected to select the drive that represents your memory card taken out from Canon digital camera. Then, you need to click on the "Scan" button to start searching for the lost pictures.
If you forget to connect the memory card to the computer before, you may:
Connect it right now.
Shift to another option listed on the left side.
Shift back to "This PC" option to refresh the list in order to show the newly connected device.
Step three: wait for the completion of the scan. It won't take much time to scan the whole memory card unless the card has some physical problems. When the scan is over, you'll see the scan result and you need to do the following things:
Browse the found files one by one carefully.
Then, add a checkmark in front of the pictures that you want to recover.
Click on the "Save" button to set a storage path for them (please don't save them to the memory card again in case of data overwriting).
You can click on the "Preview" button to see a bigger & clearer image and to see the corresponding hex information.
Step four: go to check the recovered pictures and make sure if these are all the files you need. If yes, you can close the software and finish the Canon photo recovery.
Top Recommendation
Have you ever heard of Stellar Photo Recovery? Most users will answer yes. Well, though Stellar Photo Recovery is famous, MiniTool Power Data Recovery is actually a better choice for Canon photo recovery and Canon video recovery. To see the comparison between these two programs, you should read this post carefully. Please click here to know how to recover deleted videos from canon camera.
Recovery Solution for Situation 3 & 4
Well, in both situation 3 and 4, the memory card is damaged; to finish Canon photo recovery for Windows at this time, I advise you to choose "Removable Disk Drive" to scan the whole memory card.
Step one: connect your formatted memory card to computer and select "Removable Disk Drive". Then, you'll see all the disks mounted to your computer right now.
Step two: you also need to select the memory card from the right-hand panel. Then, click on the "Scan" button to start scanning.
Before the full scan (before clicking on the "Scan" button), you can click on the "Settings" button next to the "Scan" button to set "Extra search for known file types".
Expand "Graphics & Picture" folder.
Find and check "Canon CRW File (*.crw)" & "Canon CR2 File (*.cr2)" only.
In the meantime, uncheck all other folder options.
At last, click on the "OK" button to confirm your selection.
Step three: wait patiently for the scan. The completion of the full scan will bring you the best recovery result. Till then, the software may choose some of the partitions to list if there are many partitions found in the specified device.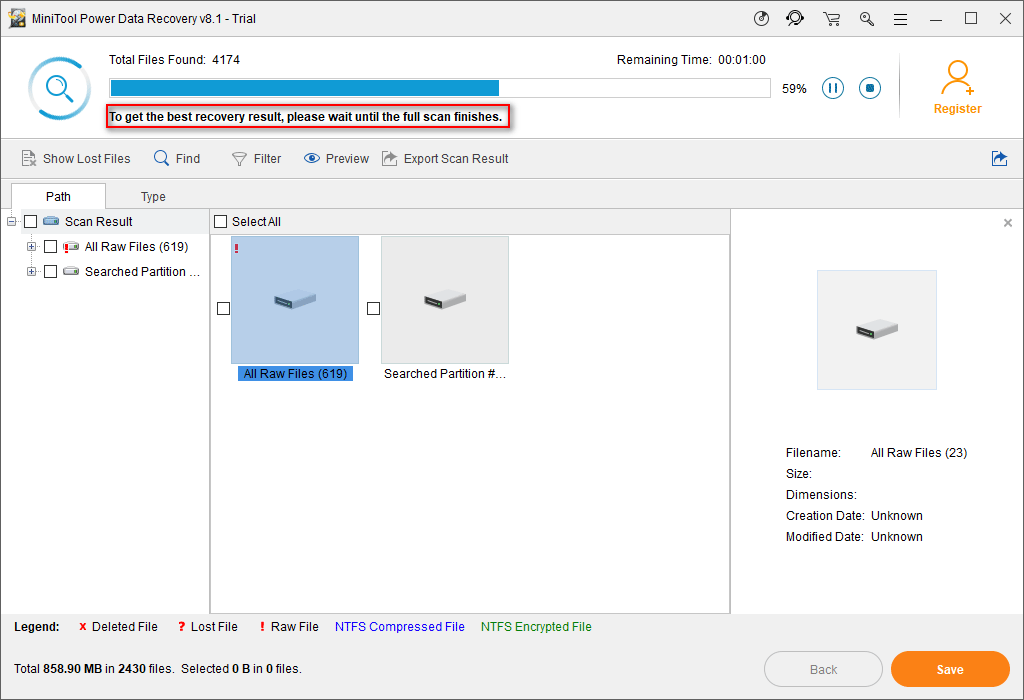 Step four: look through the listed partitions one by one to see whether you can find all the picture files you want to recover.
If none of the photos you need are found, you may click on the "Show More Partitions" button to choose other partitions to have a look (if there are).
If all of them are there, please check them carefully and click on the "Save" button to recover them to another safe place (not the memory card).
If some of them are found, you may recover them first and then click on "Show More Partitions" button to try to find others in other partitions or arrange another round of scan.
That's all about lost pictures recovery on Canon digital camera with MiniTool Power Data Recovery.
Tips for Protecting Your Camera & Memory Card
In the photographic activities, in addition to the lens and other components of the digital camera, the memory card is also a very important part. The improper use or disposal of memory card could make the data disappear from it or damage the entire card. As a result, I'd like to show you some maintenance tips for protecting your memory card and the digital camera components.
Memory Card Maintenance
I will talk about the protection of memory card in mainly three aspects.
Aspect one: the usage of memory card.
You must first turn off the digital camera whether you plan to insert a memory card into or taking it out from the camera; don't move the memory card when the camera is still working. (Do You Really Need To Safely Remove USB Device)
Besides, please note the orientation when inserting a memory card into the digital camera; the specified memory card can only be loaded into the camera in the specified orientation, otherwise, damages will be brought to the card slot and the card itself.
Aspect two: formatting of memory card.
You should be very careful when you format the memory card. The formatting methods of the memory card in different digital cameras are not the same, so you should read the camera operating instructions and then hands-on.
In general, the memory cards that come with the digital camera have already been formatted at the factory and can be used directly after purchase. Of course, you can format the card again on the camera, but you need to pay much attention in order to avoid mistakes. Besides, you may format a memory card easily on the computer by using format partition function of third-party tool (you must format the memory card with a file system that your camera can support).
You must make sure that all files on the memory card have been saved to your computer or other devices before doing the format work.
Aspect three: placement of memory card.
Please do not place the memory card in an environment with high temperature or direct sunlight.
Do not press or bend the memory card and you must avoid the memory card fall and impact.
You also need to avoid extremely high/low temperature, high humidity, static electricity and magnetic field environment.
You'd better put the memory card (which stores important pictures) into the anti-static box when placing or moving it, getting away from the liquid and corrosive material.
Digital Camera Maintenance
Aspect one: lens.
The camera lens is a very sophisticated part, and anti-reflective & enhanced coating treatment has been made to its surface. Please be sure not to touch the lens directly with your hand. After the camera is used, the lens will be stained with dust; at this time, the best way to clean it is to gently brush with a soft brush or to gently wipe with a dedicated lens cloth or lens paper. But you should keep this in mind – it is a last resort to wipe the lens (since the film on the camera lens may be damaged easily).
Aspect two: Camera housings.
Generally, the housings of the digital camera is made up of two kinds of materials:
Alloy material (such as aluminum alloy and magnesium alloy)
Industrial plastic (which has a similar texture with metal shell after special processing)
No matter how careful you are, you'll inevitably leave your hand sweat, fingerprints or other stains on the shell. In this case, you can drop the special cleaning fluid onto a soft cotton cloth to wipe the stains.
Aspect three: LCD.
Color LCD is an important part of the digital camera; it is very expensive and easy to be damaged. So you need to be very careful when using; don't let the LCD screen be scratched by hard objects. Some color LCD screens are provided with a protective film on its surface while some are not. The latter is more fragile, so I advise you to choose a color LCD screen with film (you can also add a screen protector manually) and relatively high price.
Aspect four: battery.
Being different from traditional cameras, the digital cameras have a particularly high demand for electricity. Therefore, the lithium batteries and nickel-metal hydride batteries become popular since they are reusable and can provide strong power. Reasonably, you should pay special attention to the battery when using, placing or carrying the digital camera. Stay away from:
Dust
Water
High temperature
High humidity
Other inappropriate environments
Conclusion
Almost all of us enjoy using a digital camera for it enriches our lives and helps us keep a lot of precious memories. Well, when you're excited after taking some wonderful pictures, please don't forget to protect your camera and memory card. Once accidents occur, you'll lose them all.
Lost pictures on Canon digital camera is not a rare problem, it has happened to a lot of people. That's why I decide to write this article to mainly focus on retrieving CRW and CR2 photo files (the standard formats of pictures taken by Canon – one of the most popular cameras).
When you find Canon camera pictures disappeared, please don't waste any time; obtain MiniTool Power Data Recovery right away and run it immediately to get pictures from camera to computer easily by following the steps illustrated in part 2: "Recover Pictures from Camera in Time".