Windows 10 and Windows 11 have a built-in File History feature, enabling it allows you to restore files/folders from their previous versions. For example, when you accidentally update or delete a file/folder, you can use the Restore previous versions function to view and restore the version before the update.
Now you can see the step-by-step guide to recover a previous version of files/folders in Windows 10/11.
How to Restore Files/Folders From a Previous Version in Windows 10/11
For Windows 10 users:
Step 1. Press Windows + E key combinations to open File Explorer.
Step 2. Navigate to the files or folders you want to restore to a previous version and right-click it to select Restore previous versions (take a folder for example).
Step 3. Now you can see all the previous versions of this folder are listed. You need to select the wanted one and click Restore to recover it to its original path.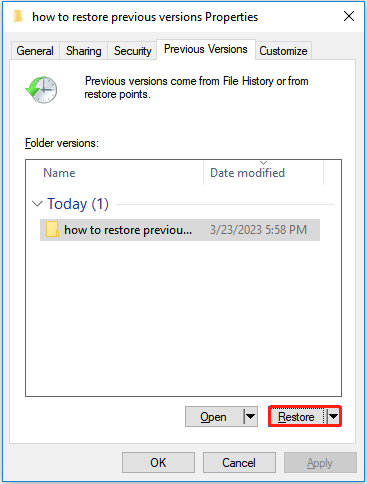 If you want to restore a file to another location, you can click the drop-down triangle next to Restore and click Restore to. Then choose the desired file location for it.
For Windows 11 users:
Step 1. Open File Explorer and find the file/folder you want to restore from its previous versions.
Step 2. Right-click the file/folder and select Show more options > Restore previous versions.
Step 3. Select the needed file/folder version and click Restore.
That is how to restore files/folders from a previous version. However, if you cannot recover your files from the previous versions, can you restore lost files using other ways? The answer is Yes. Here you can see several methods listed below to help you recover deleted files.
Alternative Ways to Recover Deleted Files
Way 1. Recover Deleted Files Using Data Recovery Software
To recover deleted files, the best way is to choose a piece of free data recovery software. MiniTool Power Data Recovery is a professional and reliable data restore tool that can help you recover almost all types of files including documents, pictures, emails, videos, and so on. It is fully compatible with Windows 11/10/8/7.
This best data recovery software supports recovering files and folders in all file storage devices such as internal hard drives, external hard drives, SSDs, USB flash drives, and more.
Now you can follow the steps below to get your lost data back with MiniTool Power Data Recovery.
Step 1. Download, install, and run MiniTool Power Data Recovery.
MiniTool Power Data Recovery FreeClick to Download100%Clean & Safe
Step 2. You come to the Logical Drives section by default. In this section, choose the partition where your deleted files are stored and click Scan or start scanning by double-clicking the target partition.
After scanning, all found files of the selected partition are displayed. To quickly locate the desired ones, you can click Filter to filter out unwanted files by file size, file type, file category, and date modified.
If you know what the file name is, you can also directly search for it in the search box as shown below.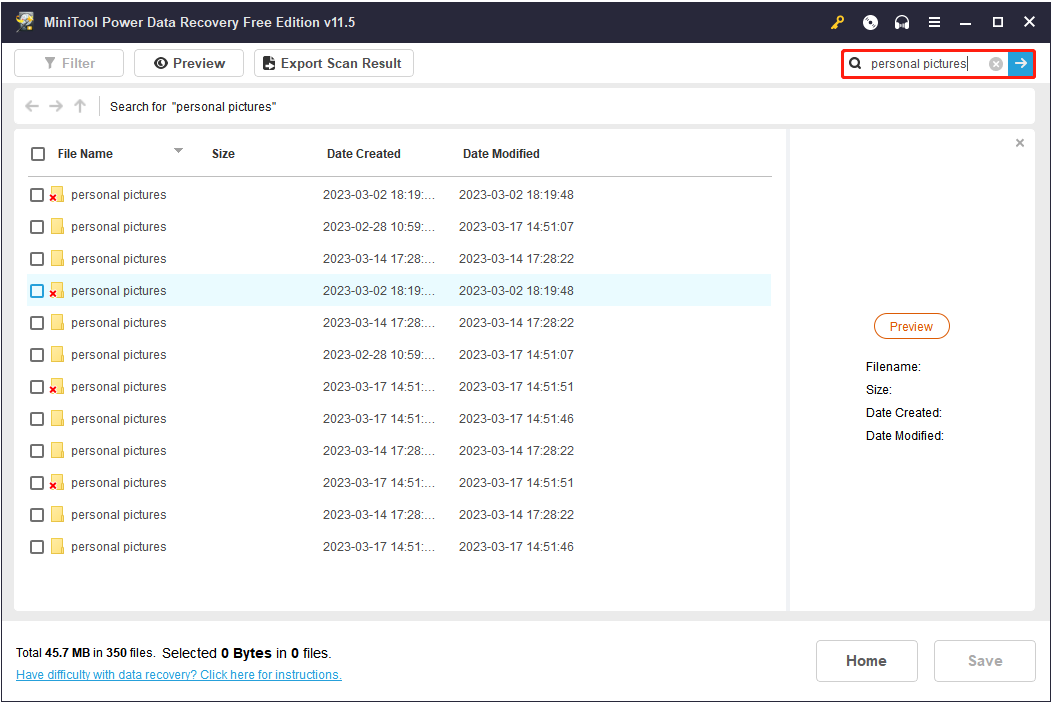 Step 3. Now preview your files (supporting to preview 70 types of files) to check whether they are the wanted ones. Then select all needed files and click Save to select a storage path separate from the original path for them in case of data overwriting.
You can view the recovered files in the file location you chose right now.
Hi! MiniTool Power Data Recovery recovered my lost files effectively. This is a good file restore tool I highly recommend. You can download it and have a try.Click to Tweet
MiniTool Power Data Recovery FreeClick to Download100%Clean & Safe
Way 2. Recover Deleted Files From the Recycle Bin
The second way is to check the Windows Recycle Bin because deleted files will be stored in the Recycle Bin temporarily. So, you can open the Recycle Bin by double-clicking it on your desktop to check whether you can find the wanted files in it.
To restore deleted data from the Recycle Bin, you can refer to this post: How to Recover Files Deleted From Recycle Bin.
Way 3. Recover Deleted Files From Backups
There are many ways to back up data for data security, and the common is to do so through USB flash drives, external hard drives, data backup software, or cloud backup.
If you have backed up your data through these ways, now you can take corresponding measures to restore them, such as copying them from a USB flash drive or downloading it from a cloud drive like OneDrive (Here you may be interested in this post: 7 Ways to Fix OneDrive Download Slow Issue in Windows 10).
Bonus Tip
Among these data backup methods, choosing a piece of professional file backup software is the easiest way. Here MiniTool ShadowMaker is highly recommended for its security, reliability, and ease of use.
You can use MiniTool ShadowMaker to back up all your files, folders, disks, partitions, and the operating system regularly. It can automatically back up data daily, weekly, monthly, or when you log out, depending on your settings.
In addition, this tool offers a 30-day free trial to help you detect if it works for you. You can download the trial edition to have a try with confidence.
MiniTool ShadowMaker TrialClick to Download100%Clean & Safe
You can read this post to know how to use it to backup files: 3 Ways to Create Automatic File Backup in Windows 10/11 Easily.
Bottom Line
Now you have already known how to restore files/folders from a previous version. If this way does not work, you are highly recommended to use MiniTool Power Data Recovery to get lost files back without affecting the original data.
If you have any questions or suggestions with MiniTool data recovery software or file backup tool, you can leave your comments in the comment area below or send an email to [email protected]. We will give feedback as soon as possible.