Are you suffering from the
missing DLL files
error when opening your applications? Take it easy. Read this post from
MiniTool
to see how to fix this issue including how to restore missing DLL files with the
best data recovery software
.
DLL Missing or Not Found Errors
DLL, short for Dynamic Link Library, refers to a type of file format containing multiple codes and procedures for Windows programs that can call upon to do many things. DLL is helpful to share data and resources, allowing multiple applications to access the contents of a single file at the same time. These libraries usually have DLL file extensions.
However, sometimes the application is not working due to the trouble of "missing DLL files".
To be specific, when trying to open an application, you may receive a pop-up message saying a .dll file is missing or not found. Listed below are the common missing DLL file error messages.
The program can't start because the .dll file is missing from your computer. Try reinstalling the program to fix this problem.
Cannot find .dll. Please, reinstall this application.
This application failed to start because .dll was not found. Reinstalling the application may fix this problem.
The code execution cannot proceed because .dll was not found. Reinstalling the program may fix this problem.

Why do the missing or not found DLL errors occur? The common reasons are as follows.
1. Accidentally delete a DLL file.
When trying to clean up space on a hard disk or uninstalling/installing a program, a single DLL file may be deleted mistakenly. 
2. DLL file is overwritten.
A recent installation of a program may overwrite an existing DLL file with an invalid or incompatible DLL file.
3. The DLL file is corrupted.
A bad application installation may corrupt one or more files, causing.dll errors.
In addition, malware infection, hardware malfunction, etc. can cause DLL file errors. What should you do if you find a DLL file is missing or not found? Try the following feasible ways to fix DLL errors.
How to Fix Missing DLL Files in Windows 11/10/8/7
Tips:
When receiving DLL missing or not found errors, it is better not to download them from websites since DLL files from download sites may be outdated, infected, etc.
Way 1: Restart Your PC
Sometimes, the problems that lead to DLL missing or not found errors are simply due to temporary glitches. Restarting your computer should successfully resolve the issue.
Way 2: Reinstall the Program
If the missing DLL issue occurs when using or opening a specific application, try reinstalling the program as the error message suggests.
Way 3: Restore Deleted DLL Files From Recycle Bin
When the DLL file is accidentally deleted, problems such as DLL not found or missing DLL files will appear. In this situation, you can access Recycle Bin to see if these files are temporarily saved there.
If so, right-click on the corresponding .dll files and select the Restore button to restore them.
However, if the Recycle Bin is grayed out or has been emptied, you can seek help from a file recovery program.
Way 4: Restore Missing DLL Files With Data Recovery Software
When it comes to DLL file recovery, MiniTool Power Data Recovery, reliable and free data recovery software, is strongly recommended.
MiniTool Power Data Recovery is compatible with almost all Windows operating system versions including Windows 11/10/8/7, allowing you to recover deleted files or lost data from computer hard drives (SSDs and HDDs), external hard drives, SD cards, USB flash drives, and other file storage devices with simple clicks.
Besides, MiniTool Power Data Recovery is quite helpful for data recovery from various unexpected situations, such as data recovery from Alt + Tab black screen, file restoration from a locked hard drive, data recovery from a location not available drive, and so on.
What's more, it won't bring damage to the original data because it is a read-only tool.
Now, download MiniTool Power Data Recovery and install it on your computer to start missing DLL file recovery.
MiniTool Power Data Recovery FreeClick to Download100%Clean & Safe
To get deleted or lost DLL files back, just do the following step-by-step instructions.
Step 1: Double-click MiniTool Power Data Recovery to open it. Usually, the DLL files are regarded as critical system files and saved to C:\Windows\System32. Hence, here we choose the C partition to scan. If the missing DLL file is located in another drive, choose the actual drive to scan.
After that, MiniTool Power Data Recovery will start to scan the partition you selected.
Tips:
A full scan may take a long time. For best recovery results, we do not recommend stopping the scan midway.
Step 2: In the scan result window, this hard drive recovery service will list all found files. You can quickly locate the target file by using the search box.
Just type the file name or file extension in the search box and press Enter, and the search result will be displayed. For example, if you receive a $RE1PD3S.dll missing error, you can type $RE1PD3S.dll to find this DLL file.
If you cannot remember the specific names of the missing DLL files, you can type .dll in the search box to view all found DLL files.
Step 3: After finding the needed DLL files, check them and click the Save button to choose a location to store them.
Do not store the found DLL files where they were lost. Otherwise, they may be overwritten and become unrecoverable.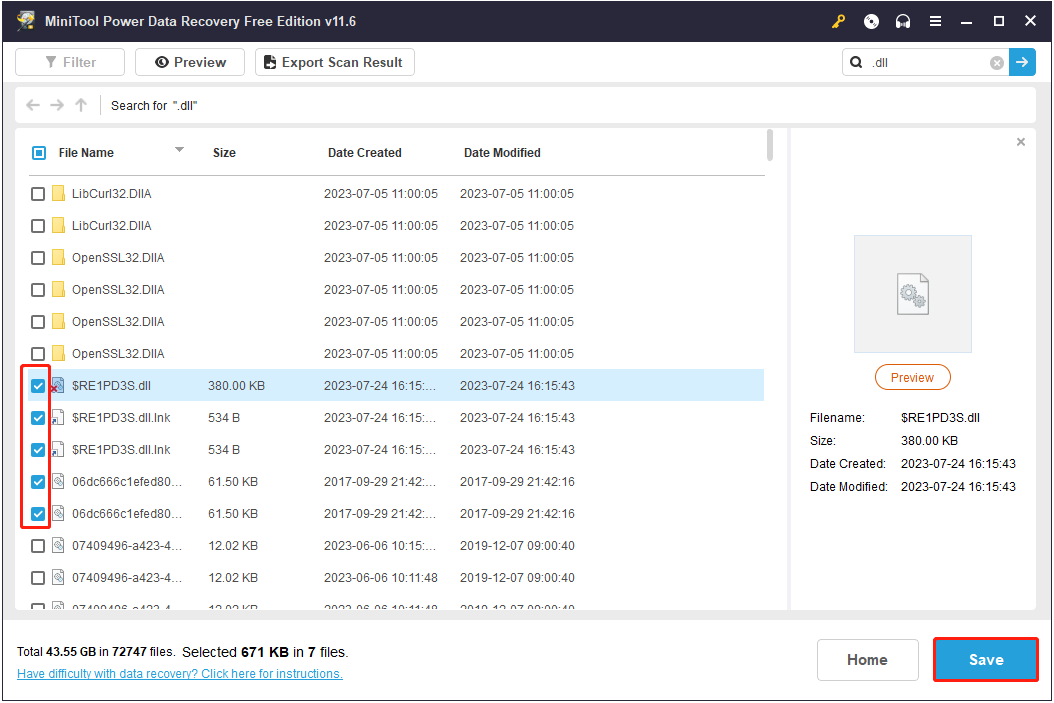 Tips:
MiniTool Power Data Recovery Free Edition has a 1 GB free data recovery limit. To recover more data, upgrade this software to an
advanced edition
.
"I deleted a DLL file and my program didn't work. Then, I recovered the DLL file successfully using MiniTool Power Data Recovery."Click to Tweet
Way 5: Undelete DLL Files via System Restore
If the missing DLL files issue is caused by a change that is made to an important file or system configuration, a System Restore can be helpful to repair the DLL files.
Follow the steps below to restore your system.
Tips:
Steps vary from different Windows versions, please choose the corresponding options to finish the system restore. Here we take Windows 10 for example.
Open Control Panel using the Windows search box and select Recovery > Open System Restore. Then follow the on-screen instructions or refer to this post Make the Most of System Restore in Windows 10 to complete the necessary actions.
After restoring your system to an earlier state, check whether the missing DLL files problem re-appears.
Way 6: Run a Virus/Malware Scan
In some cases, DLL missing or not found problems are caused by virus infection. Some hostile programs can masquerade as DLL files, bringing damage to your applications. Thus, to fix the DLL errors, you need to download an antivirus tool from the Internet and use it to perform a virus scan and removal. Or you can use Windows built-in antivirus – Windows Defender to scan for viruses or malware.
Way 7: Run DISM and SFC Scan
As mentioned before, corrupted DLL files can be responsible for the missing DLL files issue. In Windows 11/10/8/7, there is a built-in System File Checker, enabling you to scan system files and automatically repair corrupted system files. So, you can use this tool to replace any incorrect system-related DLL files to fix DLL problems.
Step 1. Run Command Prompt in Windows 11/10/8/7.
Step 2. If you are using Windows 11/10/8, type the following command in the command line window and press Enter. If you are using Windows 7, skip to Step 3.
DISM.exe /Online /Cleanup-image /Restorehealth
Wait patiently until the process completes.
Step 3. Next, type sfc /scannow and press Enter.
Wait for the scan process to complete. Then, restart your computer and see if the DLL missing issue still exists.
Way 8: Update Drivers for Hardware Devices
If the DLL file missing issue appears while using certain hardware like a printer, try updating the hardware's driver to debug the error.
Way 9: Install Available Windows Updates
Many service packs and patches are useful to replace or update Microsoft-distributed DLL files on your computer. Thus, you can try to install available Windows updates to fix DLL errors.
Way 10: Run a Clean Installation of Windows
If all the methods listed above fail to work, you may consider performing a clean install of Windows.
Warning:
A clean install of Windows will wipe out everything from your hard drive including the operating system files. Hence, please 
back up the entire disk
 in advance by using MiniTool ShadowMaker.
MiniTool ShadowMaker TrialClick to Download100%Clean & Safe
If the "missing DLL files" error still exists after reinstalling Windows, the DLL problem is most likely hardware-related. Please seek professional help.
Verdict
In this post, we have shown you what DLL is and how to fix the missing DLL files issue. Use MiniTool Power Data Recovery to recover deleted DLL files; the issue should be fixed if it is caused by the deletion of those DLL files.
If you have any questions when using MiniTool Power Data Recovery or have any suggestions for the DLL issue, please tell us by leaving a comment below or send an email to [email protected].