As the default file system of Windows NT family, NTFS (New Technology File System) naturally becomes the first choice of people and it is popular and frequently used around the world. Till now, NTFS is widely used. Today, I'll show you how to recover data from the NTFS partition in various cases.
If you are careful enough, you will find NTFS is actually more popular than FAT (File Allocation Table) among computer users.
Indeed, more and more people prefer to format their new partitions into NTFS rather than FAT nowadays since the former is claimed to have so many advantages.
Even some FAT partition users choose to convert their partitions from FAT to NTFS.
Tip: In some special cases like Xbox 360 can only support FAT partition, people may need to convert NTFS partition to FAT instead.
After investigation, I found this contributes a lot to the appearance of issues related to NTFS data recovery and FAT data recovery. Here, I will focus on the former in the following content.
Methods for NTFS Data Recovery in Different Cases
In reality, data always get lost in a flash, leaving no chance for us to cool down. And the only thing you can do to make up for it is starting NTFS file recovery right away, so as to recover as much files you need as possible.
What I want you to do is: taking actions immediately to regain as much missing files as possible, with the help of NTFS data recovery toolkit crack.
Before the recovery, I'd like introduce the options you can find on the main software interface of a powerful recovery tool.
"This PC": it helps you to regain data lost from a partition that can be shown in computer.
"Removable Disk Drive": it is useful when you find files are not showing in an external hard drive or when you fail to enter it.
"Hard Disk Drive": this is designed especially for data recovery on crashed hard disk or normally working hard disk.
"CD/DVD Drive": it is only available when you need to recover data off compact discs, like CD-RW and DVD-RW.
NTFS File Recovery Tutorial
Now, I will show you how to finish NTFS data recovery step by step.
Step one: free download the NTFS recovery software and install it properly on your computer (this step can't be finished in the NTFS partition that contains files waiting to be recovered).
Step two:
Connect the external hard drive or memory card to computer (this can be omitted if you only want to recover files from a local NTFS drive).
Run the software to see its main interface as shown in the above picture.
Choose a proper option from the left side of the interface.
Step three: specify the NTFS drive from the right-hand panel of the main interface. Then, click on the "Scan" button to start to search for files.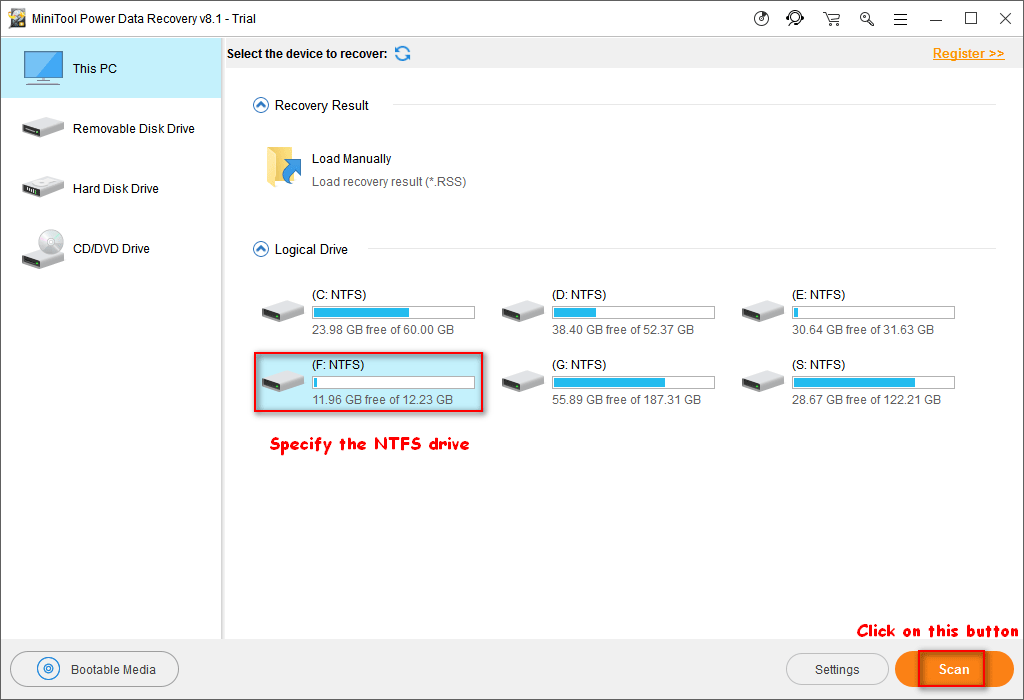 Step four:
Browse the items found by the data recovery software carefully.
Figure out which files need to be recovered and which are not.
Check the files and click on the "Save" button to store them to another drive.
Please note:
All editions of MiniTool Power Data Recovery give support to common file systems, such as NTFS, FAT16, FAT32 and exFAT.
The trial edition of MiniTool Power Data Recovery only allows you to scan the NTFS drive and preview files found by it; if you want to recover any of them, you'll need a license code for a full edition.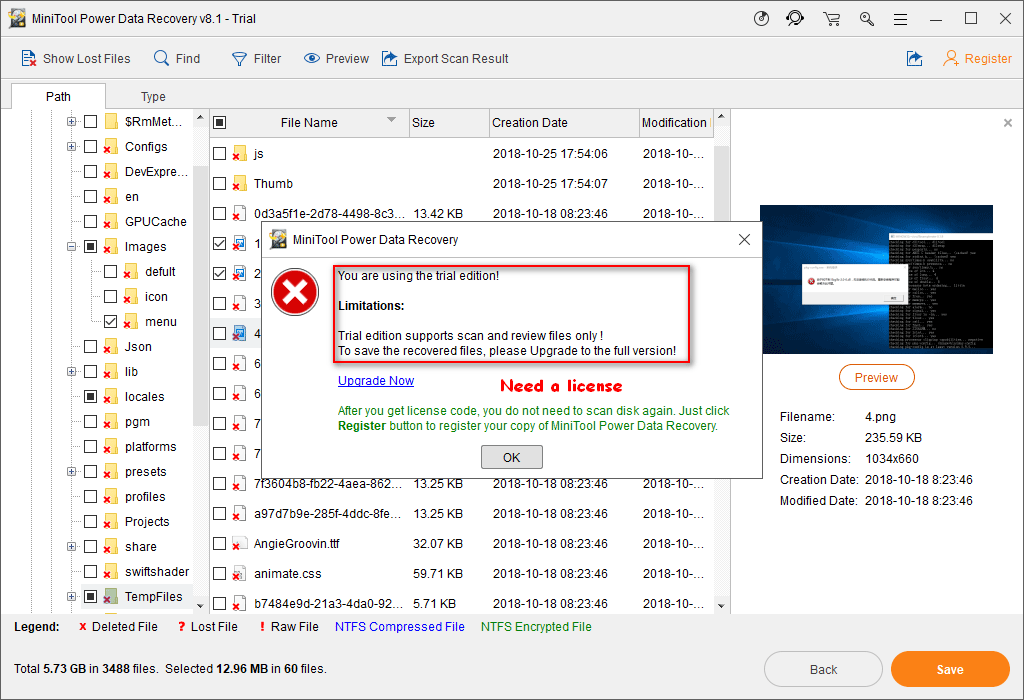 Reasons for Data Loss in NTFS File System
Data in NTFS partition may be lost directly because of certain reasons:
Mistaken deletion of useful files
Virus invasion/attack
System crashes and failures
Partition problem (lost or damaged)
And so on
Main Causes for NTFS Data Loss
Cause 1: deleted files by accident.
So... a few months ago I cleaned my HDD a bit by removing a bunch of folders, but much to my frustration, I accidentally deleted an important file that was among them as well. I've seen there are a few programs that can recover files that were emptied from the recycle bin, but do they really work? I'm really desperate to recover this one file of mine to the point I could even pay a professional to recover it for me. How can I recover the files? I'd really appreciate if someone could help me on this.

– asked by synnchan on Tom's Hardware
His question can be summarized as how to recover deleted files after Recycle Bin was emptied.
Yes, to check Recycle Bin is definitely the right thing to do after you find you've made a mistake in pressing wrong buttons to delete files or choosing the wrong files to delete. Under some circumstances (the files are deleted by "delete" only, not "shift + delete" and the files are deleted from hard disk, not flash disk), the deleted files will be saved in Recycle Bin. And this is an important reason why Recycle Bin is designed.
If you failed to find deleted files in Recycle Bin (for instance, Recycle Bin has been emptied), the next step is choosing high-quality software to recover completely deleted files Please note that you should stop using the disk immediately in order to avoid lost files being overwritten disaster.
I guess you are interested in Recycle Bin recovery.
Cause 2: files are deleted by virus.
Every time I put any flash disk, hard disk, or rewriteable CD, the virus worked by deleting some of my files in that external hard disk. And my flash disk becomes shortcut icon like this: "(externaldrivename)15GB". Anyone can help me please?

– from Cint
With people are more and more relying on internet, it's getting harder and harder to stay away from computer viruses; they're hidden everywhere you could think of:
Links
Emails
Files
Folders
Etc.
So lots of users' computer have already installed with an anti-virus program when the system is firstly installed.
But, our advice is not to use anti-virus program to kill virus until files deleted by virus have been completely recovered since the virus killing process may delete other existing files.
Here's how to recover files deleted by virus.
Cause 3: files are lost after sudden failure.
I have a windows 7 ultimate 64 bit on Lenovo B560 laptop. Yesterday i downloaded Bluetooth driver from the Lenovo site, when the already installed driver was not working and also not getting updated. When i was installing the driver, after some time it seemed as if the system has hanged. So i ended the process through start task manager, thinking to reinstall it. As soon i ended it, i saw many of the files on my system were missing. I tried everything possible to repair, but ultimately i had to reinstall windows. Now my major problem is all the data and software on my system are gone and i have no idea how to recover it. I do not have any system image or as such any backups. I handled any blunders in the past through system restore but that is not working.

– from curiousmind on Seven Forums
This is a kind of situation in which users don't even have a clue how the files are missing; they just get lost "mysteriously", as many users described.
And as long as the lost files are not responsible for booting system, users can start the computer as usual.
In fact, sometimes, you couldn't enter system after booting files were lost somehow.
In both cases, MiniTool Power Data Recovery can help to restore data from NTFS partition.
How to recover data from a failed hard drive:
Other Causes for NTFS Data Loss
Data can also be lost because the NTFS partition which saves it is in trouble. This category includes mainly 2 situations:
The NTFS partition is missing due to accidental deletion or other reasons.
The target partition becomes damaged & inaccessible.
Cause 1: partition is deleted or lost.
I accidentally deleted the NTFS partition on my win home premium 64bit hard drive... I now need to recover it, but all the tools out there you have to pay for it to make it work fully, please help... hard drive is blank.

– from Saulokillo11
In this case, obviously, the user didn't plan to delete NTFS partition, but he did it due to carelessness. Now, he's in need of great solutions to make up for the mistake. He said he was not able to find a tool that could work fully. Yet, that is until now.
Cause 2: partition is damaged and not accessible.
I want to ask about my flash disk. For some reason, my flash disk have 0 bytes, and still accessible, but there is no data. When I chkdsk it, It shows me it's an NTFS. When i use computer management, it says MBR, but yet when I use another software, it says it was a raw partition, with all of its component set to zero and dots. Could you tell me how to solve it without formatting it? Or at least recover the file?

– from AgiBLaDE
I can easily summarize what the user said (in above paragraph) into just one sentence: his flash disk becomes RAW and shows as "0 bytes". They are both a sign of damage – this user's flash disk has been damaged somehow. Though you don't even have a clue why this is happening, you have a solution to fixing it.
It's Easy To Recover 0 Bytes Files If Only You Have This Tool.
Tip: Please don't perform any operations to try to repair NTFS file system unless data recovery is completed since it's likely to bring secondary damage to your data and thus make them gone forever.
Needless to say, the best way to avoid being suffering from unexpected data loss is to be well prepared at any time. How? There're 2 safe and effective ways:
Backup the drive/partition/disk regularly if you have enough space. Or you can just backup important files to appointed place at fixed periods.
Install a piece of professional data recovery software to computer in advance. This does no help to avoid data loss, but it is perfect solution for getting back lost data as much as possible.
Backup software suggested: MiniTool ShadowMaker.
NTFS vs. FAT
NTFS is a very popular file system. Why? That is because, compared to other file systems like FAT, NTFS has many advantages. For instance:
Support sparse file.
Support disk quotas.
Support a maximum capacity of 2TB.
Support active directories and domains.
Provide better disk compression approach.
Be able to give permissions to a single file/folder.
Be capable of compressing individual files/folders.
Adopt B-Tree structure to accelerate file access rate.
Provide file encryption to improve the security of information.
Here's how to recover data from BitLocker encrypted hard drive:
Conversion between FAT and NTFS
Upon seeing the market of mutual conversion between FAT and NTFS, many developers have seized the opportunity quickly, thus a wide variety of FAT to NTFS converters appear and become available on the internet. But, here comes the problem – some converters are not qualified enough so it keeps destroying users' data saved in both FAT and NTFS partitions. Thus, the demand for NTFS data recovery is very high.
After choosing superior converters to change partitions from FAT to NTFS or vice versa, users may find themselves been left in limbo: some important data are gone or partitions become inaccessible. So, they're in dire need of NTFS recovery, NTFS file recovery, FAT recovery and FAT data recovery.
Convert NTFS to FAT without Data Loss or Vice Versa
Actually, here's a tool that can help you convert FAT to NTFS safely.
Run the software and choose the FAT partition.
Select "Convert FAT to NTFS" from left list or from right-click menu.
Click on the "Start" button to get FAT to NTFS conversion started automatically.
Click on the "Close" button when the conversion is completed.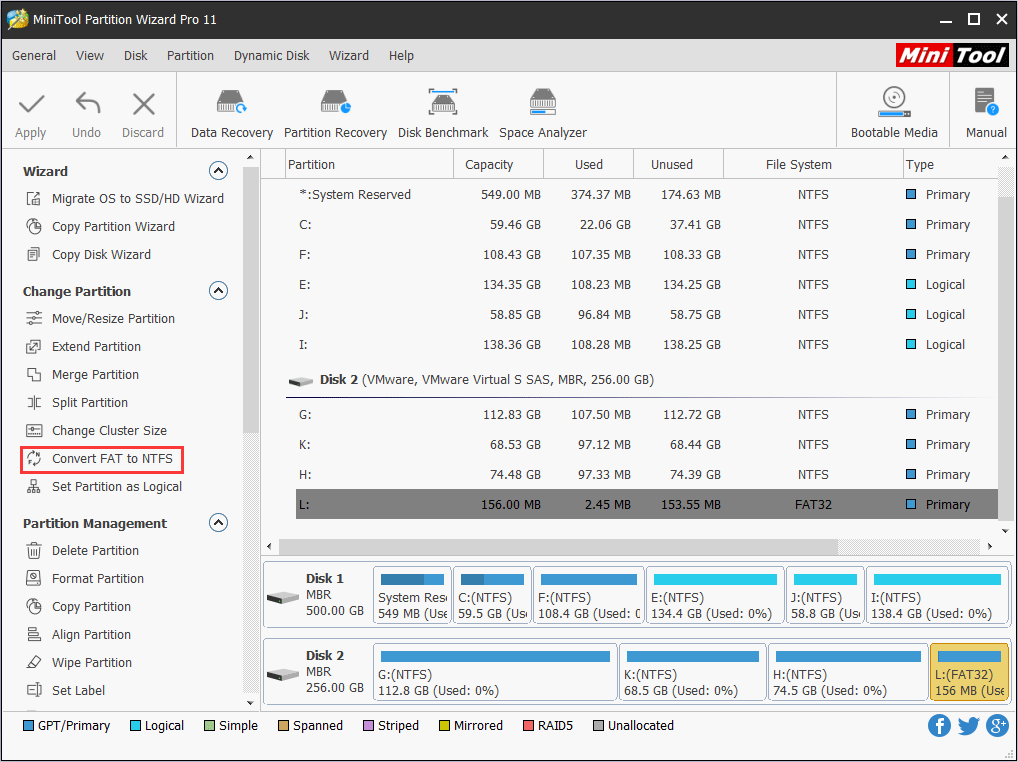 Oppositely, you can also covert a NTFS partition to FAT with this software when necessary.
Verdict
When there are hardware failures or software failures found on a NTFS partition or NTFS hard disk, data loss may be generated. At this time, you don't need to be anxious; in contrast, you should stay calm and take actions to start NTFS data recovery immediately. Just follow the steps shown to you at the beginning of the article to get back files easily and quickly.