My Photos on SD Card Gone
SD cards are widely used in Android smartphones and cameras because of their widespread compatibility. Using the SD card to store the captured photos can expand the internal storage of the electronic device. However, many users have encountered the problem of pictures deleting themselves from the SD card.
A user on Android Central expressed his frustration:
"Something weird just happened. When waking my phone up I went into the stock camera app and noticed that after taking one picture earlier, ALL OTHER PICTURES PREVIOUSLY TAKEN and stored on the SD CARD are not there! Please tell me someone here has some idea on what happened and how I can get the pictures back."
Following that, we will delve into potential causes behind the vanishing of photos from your SD card, as well as provide viable solutions to resolve this issue.
Solutions to Photos Disappeared From SD Card
Solution 1: Reboot the Device
Photos saved on the SD card may not be read properly due to temporary files or cache memory on the electronic device. In this case, you can restart your Android phone or camera and see if the disappeared photos show up.
Solution 2: Re-Insert the SD Card
It is possible that SD card photos disappeared because the card was not properly inserted into the device. To rule out this cause, you need to turn off your Android phone or camera first and then remove the SD card. After a while, reinsert the memory card into the SD card slot in the correct direction, and check if the missing photos are back.
Solution 3: Delete the Nomedia File (Android)
The Android operating system uses empty .nomedia files to tell smartphone applications not to display the contents of that folder. This prevents photo files from being displayed in the image library. That may be the reason why pictures on the SD card don't show up on the phone.
So, to reveal the missing photos, you need to open File Manager on your phone and go to the SD card storage to find and delete the .nomedia files.
Solution 4: Uninstall Recently Installed Applications (Android)
If the photos in the Android SD card suddenly disappear, please recall whether you have installed new software recently. If yes, then the missing picture could be due to an application conflict. You can try uninstalling the newly installed app and check if the pictures come back.
Solution 5: Connect the SD Card to the Computer
The problem of "photos on SD card gone" may also be caused by a faulty camera/Android phone or SD card slot. To rule out such causes, you can remove the SD card and connect it to the computer to see if the pictures display on your PC.
Solution 6: Perform SD Card Recovery
If, despite attempting all the above methods, the photos in the SD card are still not displayed, it is possible that the photos may have been deleted or lost. To recover missing pictures from SD card, you have to take the help of professional data recovery software.
Option A: Use MiniTool Power Data Recovery
There are many data recovery software options available that are designed to recover photos. Among them, MiniTool Power Data Recovery is the most recommended one. It is the best free data recovery software that is not limited to a certain image file format but supports the recovery of almost all image types, such as JPG/JPEG, TIFF/TIF, PNG, GIF, PSD, BMP, CRW, etc.
Also, MiniTool Power Data Recovery is suitable for recovering data in various SD card failure scenarios, such as recovering photos from formatted SD cards, recovering data from corrupted SD cards, recovering files when SD cards cannot be read, and more.
Besides, it is a green, read-only, and secure data recovery service that can efficiently recover lost files without bringing any damage to the original data and the SD card itself.
Next, it is time to download, install and, use this leading SD card recovery software to recover photos from your SD card.
MiniTool Power Data Recovery FreeClick to Download100%Clean & Safe
Before performing SD card recovery, you need to:
Turn off your phone or camera, then remove the SD card from your device.
Insert the SD card into a card reader and connect the card reader to your computer where MiniTool Power Data Recovery is installed.
Steps to recover photos disappeared from SD card:
1) Launch MiniTool Power Data Recovery. On its main interface, select the SD card partition and click Scan.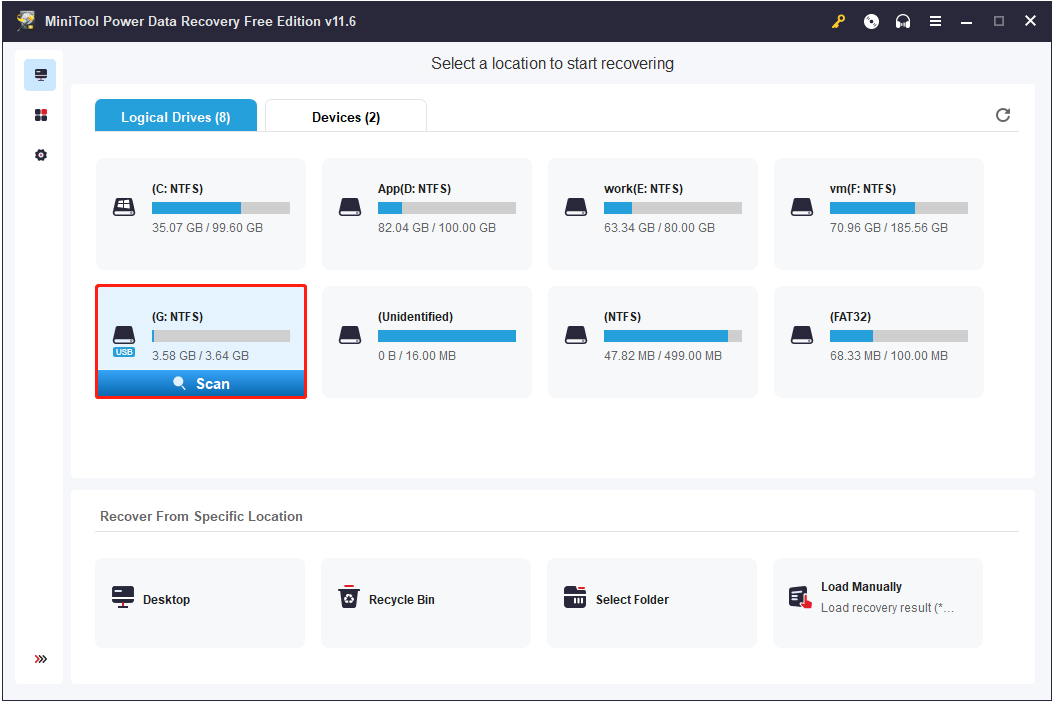 The scan duration is closely related to the amount of data in the SD card. Also, if the SD card is damaged, the scan duration may be longer. Please be patient and wait for the scan to finish for complete scan outcomes.
2) Once the scan is complete, you can start looking for the photos you need. The Filter feature is the first recommended as it allows you to specify the file type. Since you need to recover photos disappeared from SD card, you need to click Filter > By File Type, and then select the Picture option only.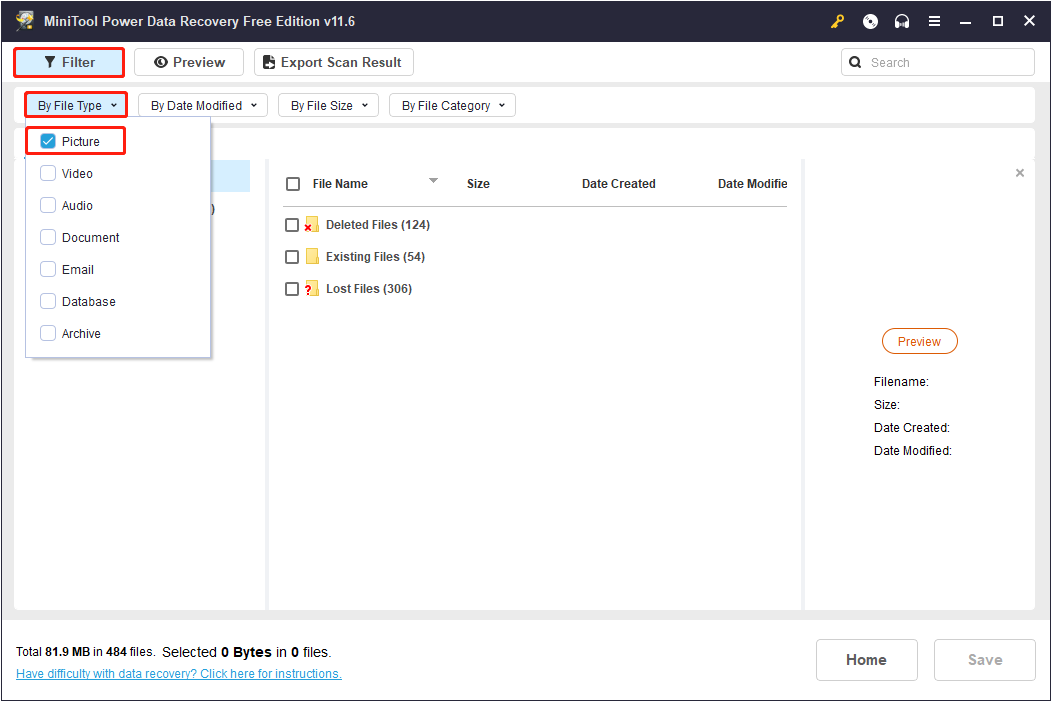 Alternatively, you can choose to view images only from the Type category list, which supports finding pictures according to specific picture formats like JPG or PNG.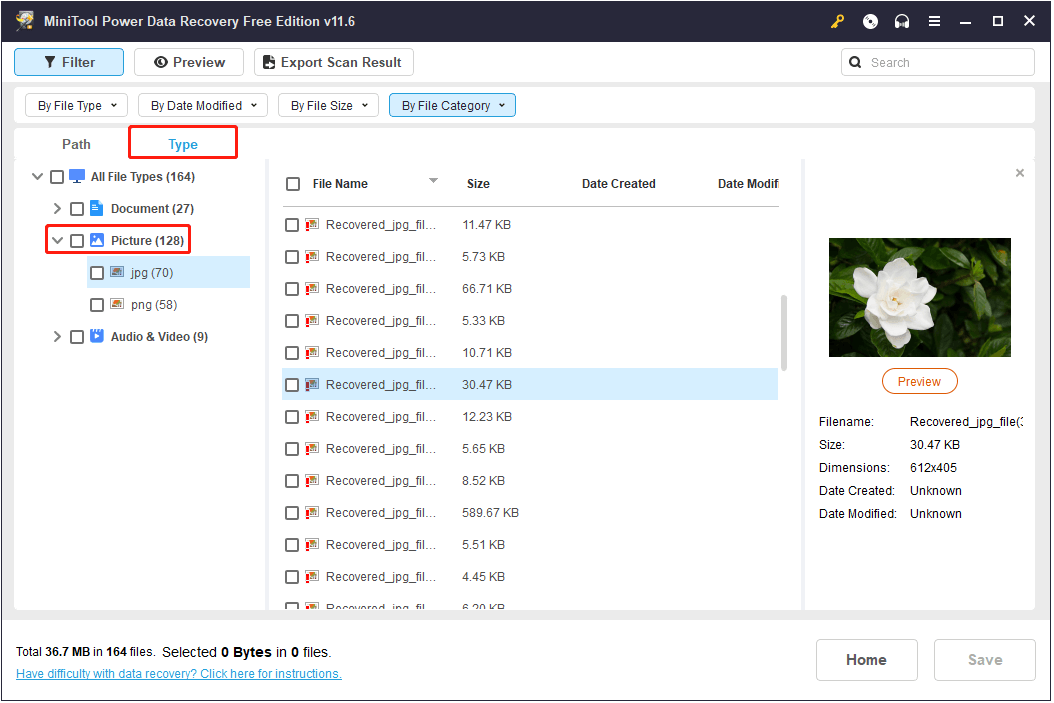 If you remember the name of the picture, the Search feature can also help you quickly locate the specific picture. Just type the image name in the search box and press Enter, the search result will be returned to you.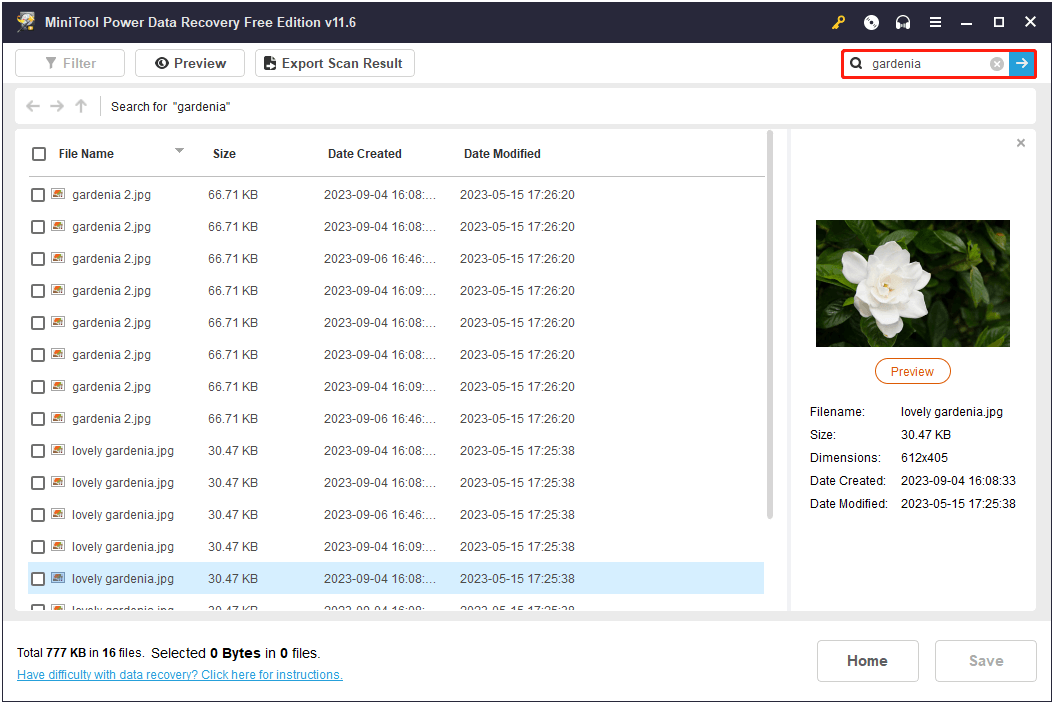 Before saving the desired photos, you are allowed to preview them. Image types supported for preview include JPEG, JPG, JPE, BMP, TIFF, TIF, GIF, PNG, EMF, WMF, and WEBP.
Besides, JPEG, JPG, JPE, BMP, TIFF, GIF, PNG, EMF, and WEBP are supported to be saved from the preview window directly.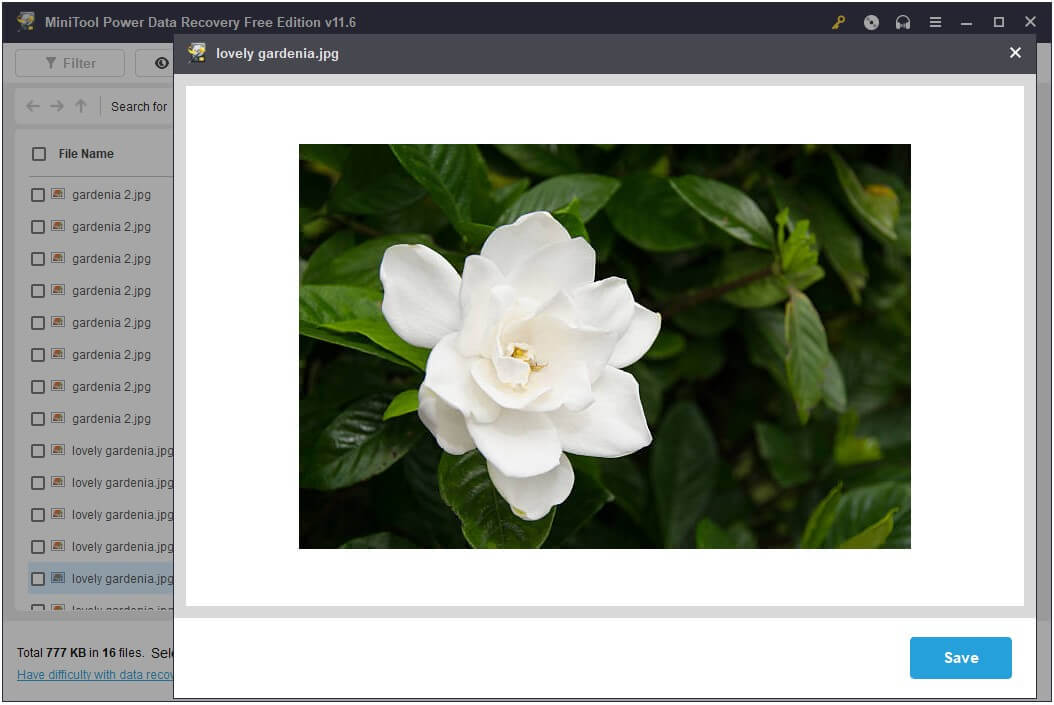 3) Select all the pictures you need and click Save to choose a safe location for the recovered photos. The selected location is expected to be another location instead of the original SD card in case of data overwriting.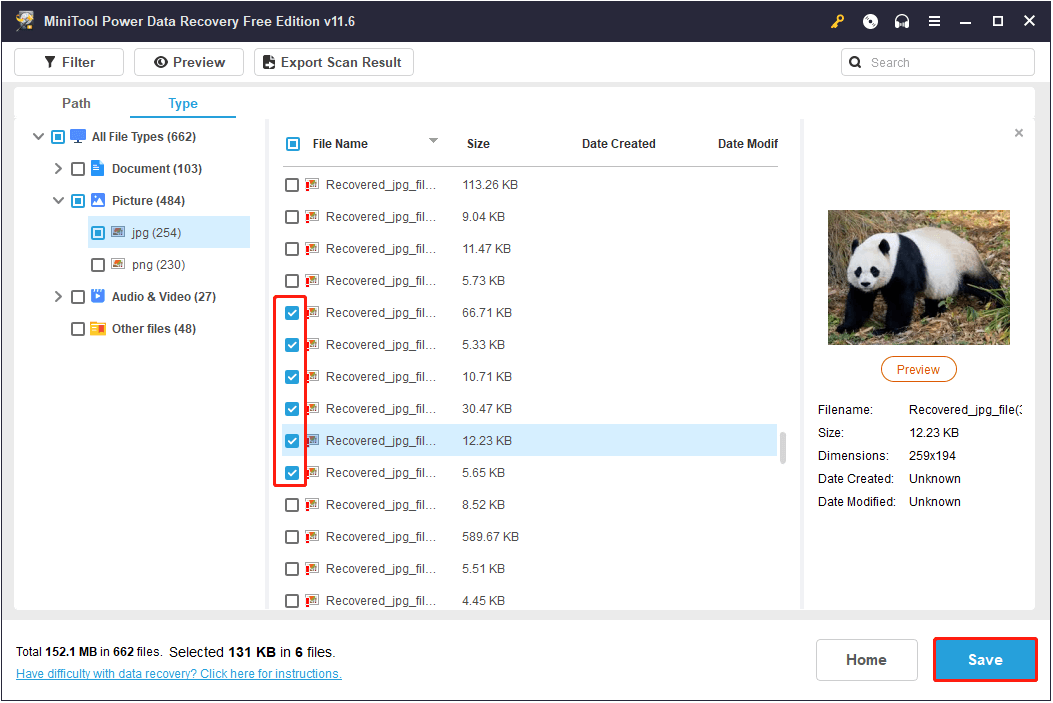 Please note that the Free Edition of MiniTool Power Data Recovery only supports saving files with a total size of 1 GB. To recover unlimited photos or other files, you have to upgrade it to an advanced edition like MiniTool Power Data Recovery Personal Ultimate.
After recovering the missing photos from your SD card, you may consider formatting the memory card to restore its original state.
Option B: Use MiniTool Mobile Recovery for Android
In addition to MiniTool Power Data Recovery, MiniTool has released another fabulous data recovery software to assist you in restoring missing photos from your SD card. This photo recovery tool is MiniTool Mobile Recovery for Android.
Likewise, it also supports recovering photos from SD cards in various states, such as formatted, corrupted, unreadable SD cards, etc. You can click the button below to download MiniTool Mobile Recovery for Android and try it out.
MiniTool Android Recovery on WindowsClick to Download100%Clean & Safe
This post shows you a detailed guide on how to use it: Android Photos Lost During Transfer? Recover Lost Pictures Easily.
Tips for Keeping SD Cards Healthy
Once the SD card gets damaged without any symptoms, it may lead to data loss stored within it. There are some precautions you can take to prevent file loss or expand SD card lifespan.
Do not remove the card while transferring data between PC and SD card or SD card and Android phone.
Safely eject the SD card from the PC when each operation is finished. Or you can enable the quick removal to stop using Safely Remove Hardware.
Turn off the device before removing the SD card from the phone or camera.
Perform SD card backup. Once the data on the SD card is lost, you can extract the data from the backup file. In addition, regular backups also play an important role in dealing with phone failures or phone theft.
Final Words
This article introduces a variety of methods to help you display the pictures that disappeared from the SD card when photos on SD card gone. And, it provides two professional photo recovery tools to help you recover lost photos.
In addition, during daily use of the SD card, please pay more attention to keeping it in good condition.
If you have any questions about MiniTool software, please don't hesitate to send an email to [email protected].