My computer shut down and I lost my word document? Don't worry. The best file recovery software, MiniTool Power Data Recovery, can help you recover files after unexpected shutdown. And, this post shows another 2 common errors you might encounter after unexpected shutdown.
Have you ever suffered data loss because of unexpected showdown? Do you know how to recover files after unexpected shutdown? Here, let's see a true example:
I had to work on various projects for school, but the only one I'm SURE didn't save is my Word Document. I'm SO angry because I worked the most on it during class and after school. I'm also a very snazzy person. I closed my computer which put it into sleep mode; shaking the mouse, pressing the keyboard, IT WOULDN'T WORK. And I'm even more and more now because I heard taking out mouse etc. could help it work. But I force rebooted it by holding the power button down. I tried to look for temporary files and NOTHING. I'm SO mad. And if you're going to say "Sorry, it's impossible" please don't reply at all. It'll only get me more upset.

answers.microsoft.com
According to a survey, we find many computer users have encountered the above problem. Therefore, unexpected shutdown files recovery has become a hot problem annoying many computer users.
Right here, in today's post, I am going to show you how to recover files after shutdown quickly and effectively by using a professional and free file recovery software.
Solution One: How to Recover Unsaved Data after Unexpected Shutdown
To be honest, it can be quite frustrating if your precious data are lost since your computer shuts down unexpectedly. And, it can be additionally frustrating if you don't know how to get missing data back. Here, if you lose files after an unexpected shutdown, don't panic and read the following content to find solutions.
As we know, if your computer suddenly turned off while working with Windows Word/Excel/PowerPoint, or some other programs like PS, you are able to get missing files back via the auto-save feature. Detailed steps are shown here.
Note: here, we take Windows 10 Word for example. If your computer shut down unexpectedly or you accidentally clicked "Don't Save" as you closed your document, you can recover your file in seconds with this quick tip:
Go to the Windows Start Menu, click File Explorer, choose This PC in the left-hand menu, type ".asd" into the search bar, and hit Enter on your keyboard, as illustrated in the following picture.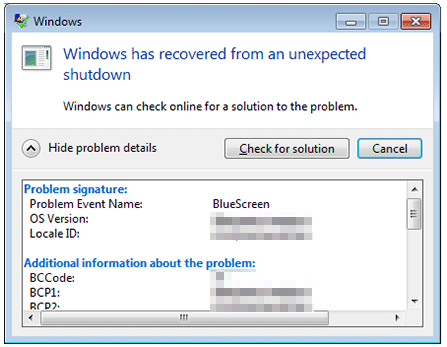 After that, your computer will bring up your missing file in the search results. Click on the file and when it opens in Word, save it as usual.
Note: if the unsaved files haven't been written to disk, there is no way to recover them.
Although we can find unsaved files with auto-save feature, this method may not be applicable in all situations. For instance, what should you do if your computer shut down suddenly while transferring files? Here, this post "Solved - How to Recover Files Lost after Cut and Paste" will tell you what you want to know.
Want to know the best way?
Solution Two: How to Recover Files after Unexpected Shutdown via Third-Party Software
With the rapid development of computer software technology, many different data recovery programs are now made available in the market which can help to recover files after unexpected shutdown. This is known to all.
However, I think you will agree with me when I say:
"It is REALLY HARD to choose a suitable data recovery program!"
Now, it turns out that many data recovery programs more or less have some defects like functional defects or security defects. If you mistakenly select an inferior program to recover lost data, you may suffer heavy losses, including economic loss.
Right here, MiniTool Power Data Recovery, a piece of green yet professional data recovery software equipped with high security, is recommended here. You can click the following button to download this software to have a try.
Why Choose MinTool Power Data Recovery?
It can recover data that was lost due to various reasons.
It can recover many known file types, including documents, photos, videos, music, emails, and so on.
It works well on all desktops and notebooks that are based on Windows 10, 8, 7, Vista and XP OS.
It is a read-only tool, thus you can recover data by using it without damaging the original data.
It is able to recover data from many storage devices including external hard drive, SSD, USB flash drive, memory card, and more.
It offers wizard-based operation as well as simple interface. So, even a new user can easily use this tool to recover data.
After reading some basic features about this tool, let's analyze the detail steps of unexpected shutdown files recovery. (Here, we take Windows 10 for example.)
Step 1: download and install MiniTool Power Data Recovery.
You can download this professional tool, and then install it on computer according to prompts. Note: Never install this tool on the disk partition containing lost data.
Step 2: install MiniTool Power Data Recovery and then select the target volume/device.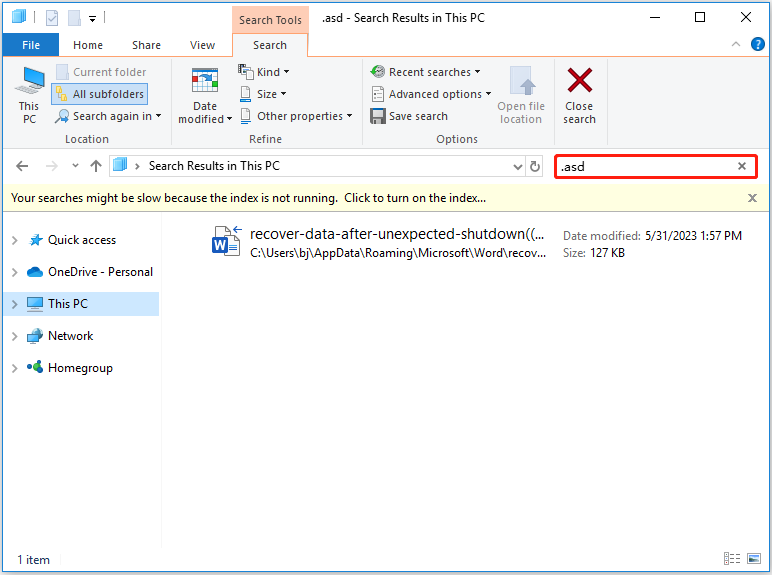 In the main interface, you can see 4 relatively independent recovery modules, and each of them is designed to deal with different data loss situation. To be specific:
This PC is selected by default, and can be used to restore lost data as long as the partition exists. In other words, if you want to recover data from formatted/RAW/damaged hard drive, you can try using this module
Removable Disk Drive is designed to quickly recover lost photos, mp3/mp4 files, and videos from flash drives and memory sticks.
Hard Disk Drive focuses on recovering data from lost/deleted partitions.
CD/DVD Drive helps to get files back from formatted or erased CD/DVD discs.
Here, to recover unsaved documents and other files, you can directly select the target drive in This PCrecovery module.
Step 3: scan target drive.
Click San button to full scan the selected volume. Once you find needed files, you can stop the scanning process. Of course, you can wait until the full scan finishes to get the best recovery result.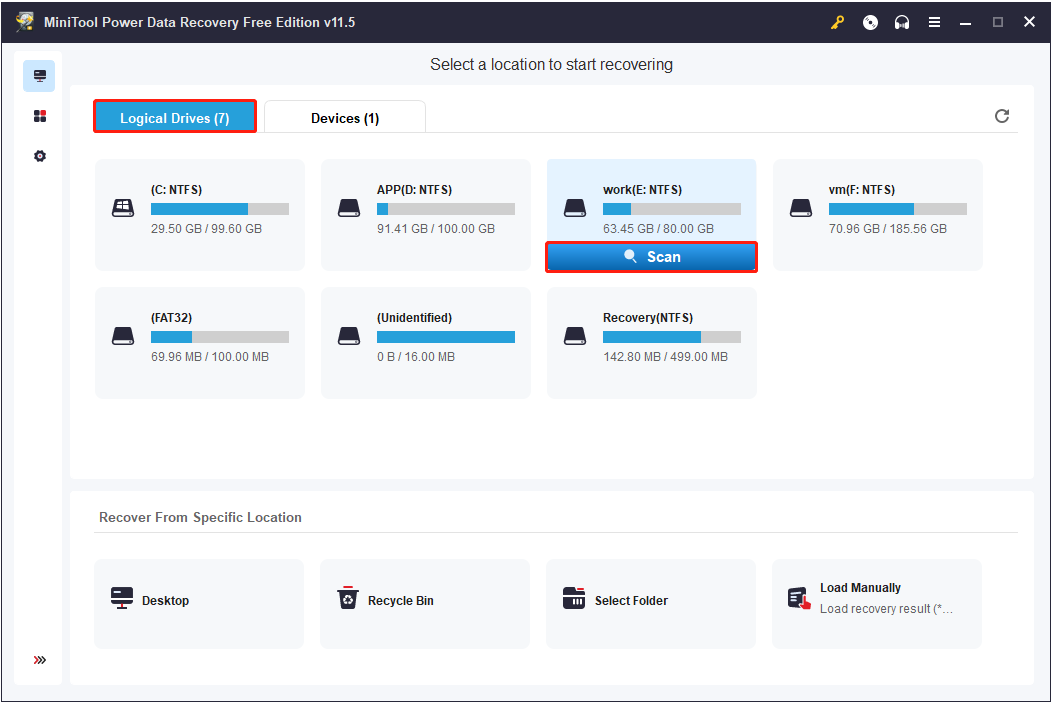 Step 4: save needed data.
In this window, choose all needed files and hit Save to store them. If you are recovering pictures, you can preview them before saving.
In this window, if you want to quickly find desired files, you can ask the Filter feature for help. To be specific: you are able to tap Filter button to filter out desired files according to some related information like filename, size, creation time, and modification date.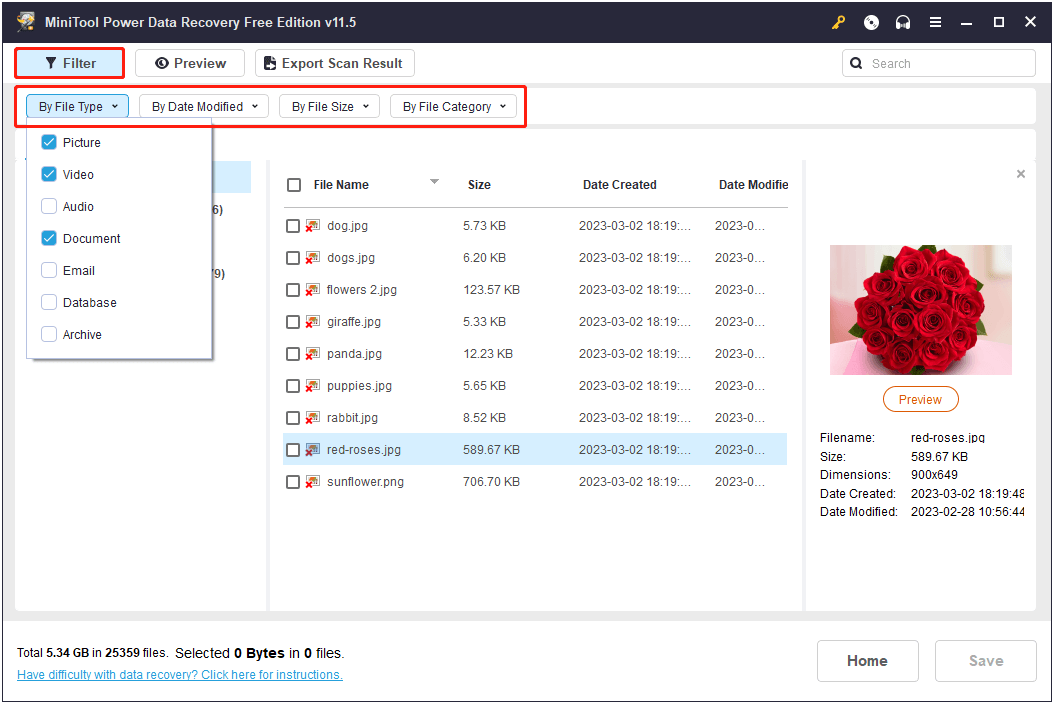 After all operations are done, you have successfully restored data after computer shuts down unexpectedly.
Top Recommendation
Our previous post Surprising Instructions to Recover Your Data after Power Outage is recommended here. This post indicates that you have big chances to recover lost/corrupted data after a sudden power outage or make Windows bootable without losing personal data.
MiniTool Power Data Recovery helped me recover lost data after unexpected shutdown without affecting the original data. Here, you can try it to save your lost data and files….Click to Tweet
4 points to be remembered to safeguard files from loss
Save files and programs before you shut down your computer
Make use of UPS to provide constant power to your computer while using.
Please disconnect any removable drive like USB flash drive from computer at first, and then turn off it.
Take back up of essential data in case of any accidents.
You can't use the trial edition of this software to recover your data. But, you can update it to an advanced edition to restore your files without limitation. Now, you can press the following button to get a license key and activate this software for further use.
After recovering data that was lost due to unexpected shutdown, here, I guess you might be interested in the following content.
Windows Has Recovered from An Unexpected Shutdown
Here, let's begin with a true example from SevenForum:
"Hi, I have been looking around for a solution to this. So far no luck so I thought maybe you guys could help.
As of a few weeks ago whenever I seem to leave my computer for a few hours and come back I find that it has restarted. When I log in I receive an error saying that Windows has recovered from an unexpected shutdown. And under more information it says blue screen.Hopefully this is the information you need I tried to follow instructions for posting."

SevenForum
Now, what should we do when we encounter the same error?
In general, the message "Windows has recovered from an unexpected shutdown" will typically appear after a computer has had an unexpected shutdown or reboot. Here, you can try the following steps to fix this error.
Step 1: open System Configuration, and then click Disable all under Startup feature. After that, apply all changes. (Note: if you don't know how to open System Configuration, you can find 4 ways from this post: How to Access the System Configuration Utility.)
Step 2: Go to command prompt. (Run as administrator.) Next, type "sfc/scannow", and press Enter. Finally, restart your computer and this problem is fixed.
Useful information:
Here, from the Seven forum's example, we can see another common issue "Blue Screen" (sometimes also called Stop Errors, BSOD error, or back screen error), and the BSOD error can occur if a serious problem causes Windows to shut down or restart unexpectedly.
If you encounter the Stop Error, the first thing you should do is to recover missing data. This post "Solved – Data Recovery after Blue Screen of Death" will show you how to effectively recover data after blue screen of death as well as how to solve the Blue Screen error.
After seeing the Windows has recovered from an unexpected shutdown error, we want to share another error with you.
How to Fix: Windows Automatic Repair Loop
Some users reported that they restarted their computer after it had shut down unexpectedly, but they stuck into another trouble – Windows Automatic Repair. At this time, how to fix it?
If you stuck in Windows automatic repair, you can read this post "How to Fix the Automatic Repair Loop in Windows 8.1" to find complete solutions on how to deal with this issue with ease.
Bottom Line
It is believed that almost everyone has encountered Windows unexpected shutdown issue! Here, if you are unlucky enough to encounter this issue, you don't need to feel panic since there are still chances to get lost data back.
MiniTool Power Data Recovery, a piece of professional yet simple data recovery software, is recommended here. This all-in-one data recovery software can help you effectively recover files after unexpected shutdown without damaging the original data.
Besides, after reading this post, you will learn how to deal with 2 errors (Windows has recovered from an unexpected shutdown as well as Windows automatic repair), and some related information.
If you like this post, you can share it to help more users.
If you still have some doubts on unexpected shutdown or suggestions about how to recover files with MiniTool Power Data Recovery, please leave it in the following comments or directly send emails to [email protected]. Thanks in advance!
Unexpected Shutdown FAQ
What causes unexpected shutdown?
PC unexpected shutdown can be caused by many reasons including power outages, brownouts, depleted laptop battery or removed power cord. Besides, if you hit the power button by accident, your PC will be shut down. And, if the computer encounters some kind of problems, your PC will be shut down.
Why does my computer freeze randomly?
Too many programs opening
Driver corruption or errors
Overheating
Insufficient RAM
BIOS settings
Faulty external devices
Computer viruses
Corrupted or missing system files
Software errors
Can overheat cause PC to freeze?
Overheating can slow down a computer, eventually causing computer freeze. It is recommended to make sure your computer is thoroughly vented to avoid the
computer keeps freezing
issue.
What do I do if my computer keeps crashing?
Close some programs
Install the latest drivers
Disable the onboard sound device
Make sure that you install the required software from the trusted and official website
Start scanning your device for malware and virus issues
Check the bad sectors on your hard drive
Check the cooling components to see if they are working properly