How to recover lost PowerPoint file easily? Read this post. This article will show you how to recover deleted or lost PowerPoint file efficiently and will not bring any damage to the original data. 
Part 1 – You Need to Recover Deleted or Lost PowerPoint File Sometimes
As an important part of Microsoft Office, PowerPoint is used widely. PowerPoint, along with Word and Excel, provides great convenience for our work, improving the work efficiency to a large extent. Well, power failure, system crash, human error or many other reasons could make your PowerPoint file (also known as PPT file or PPTX file) gone (or at least the content of it gone). No wonder there are so many people who asked "how do I recover unsaved PowerPoint files" and "how do I recover deleted PowerPoint file".
Taking this into consideration, we feel it's necessary to talk about how to recover deleted or lost PowerPoint file with a piece of free data recovery software or with the solutions provided by Microsoft.
Recently, one of my friends Annik said that she has worked on a PPT file all day, but now lose one important PTT file. She struggled to find it based on her knowledge but ended with a failure. Now, she needs help to get that PTT file back.
In her case where the PPT file is lost unexpectedly, we guess a piece of free file recovery software may help. Here, we suggest MiniTool Power Data Recovery, which has helped a lot of users finish PPT recovery or the recovery of other kinds of files and won the favor of many people. Believe it or not, it works well in various file loss cases; and even if it can't find the specific file for you, it will never do any damage to your disk and other data. So you might as well give it a shot, and we believe it will surprise you.
MiniTool Power Data Recovery TrialClick to Download100%Clean & Safe
After that, we'll talk about the AutoSave function and Auto Recovery options of Microsoft PowerPoint in detail. Please jump to it if you want to know clearly about those features.
Part 2 – Recover PowerPoint File with Different Methods
According to search, the recovery of MS PowerPoint content is widely talked. Sometimes, we have deleted a very important PowerPoint file by mistake and sometimes, the PowerPoint file/content is lost somehow due to different reasons like system crash and power failure. No matter which the situation is, you must want to restore PowerPoint file, right?
Here, we provide different ways to help you recover deleted PowerPoint file and recover not saved PowerPoint. You should first confirm your situation and then select the appropriate way to start PowerPoint file recovery yourself.
How to Retrieve Deleted/Lost PowerPoint Files
Before you do anything else, you should acquire a MiniTool Power Data Recovery, which is regarded as the best file recovery program by a large number of users. Considering that the size of PowerPoint file is generally not too large, We think you should firstly download the trial edition of this software on your computer to check whether it can find the files you want to recover.
Tip:
to recover deleted or lost PowerPoint files on Mac, you should get the Mac edition –
MiniTool Mac Data Recovery
, the free edition of which allows you to recover 1MB of data for free.
You can download the program directly by clicking on those two buttons. Then, please run the setup program to install the software immediately.
This free MiniTool data recovery software has four recovery modules: This PC, Removable Disk Drive, Hard Disk Drive, and CD/DVD Drive.
These four recovery modules can fix different situations for you:
This PC recovery module can help you to recover data from logical damaged partition, RAW partition, or formatted partition.
Removable Disk Drive recovery module is used to retrieve files from different kinds of removable drive, such as USB flash drive, SD card, memory card, and more.
Hard Disk Drive recovery module is designed to get your missing data back from the lost partition.
CD/DVD Drive recovery module can be used to recover your data from scratched or corrupted CD/DVD.
So, if you want to recover deleted or lost PowerPoint file, you need to choose a proper recovery module accordingly. In this post, we take This PC module as an example.
Suppose that you want to recover a PowerPoint file from partition F:, you need to choose that partition from This PC interface and click on Scan button to start the scanning process.
This software will take some minutes to finish the scanning process. When it finishes, you will enter the scan result interface.
Here, we will tell you some useful tricks to find your wanted files quickly.
You can click on Type tab to make this software show you the scanned files in type, and then you can pick out the PowerPoint files easily.
If you know the name of the lost or deleted PowerPoint file, you can click on Find button to input the name of the file to locate the target item directly.
You can also use the Filter function to filter the files according to your own requirements which can help you find the target PowerPoint file easily.
After you check the files you want to recover, you need to click on Save button and choose a path on the pop-out window to save these files. Here, you should notice that you'd better not save the selected files to its original location to prevent them from being overwritten.
After these steps, you can discover that your lost or deleted PowerPoint files are back to the specified location.
If you want to use this software to recover your data. Please update it to an advanced edition.
If you need to use other recovery modules of this software to recover deleted or lost PowerPoint file, you can refer to the above steps, and we will not repeat them here.
Well, how to recover deleted PowerPoint files on Mac? You should get MiniTool Mac Data Recovery and run it to choose Undelete Recovery from the main window. Then, select the target drive to scan and check files to recover at the end of the scan.
Top Recommendation:
If you plan to recover Word document, instead of PowerPoint file, the "How To Recover Unsaved Word Document (2020) – Ultimate Guide" article will help you out. Please click to read it earnestly.
How Can You Recover PowerPoint Unsaved
Closing a PowerPoint file without saving the changes and system crashing down when PowerPoint is running are quite common things actually. You may easily run into one of them. When that really happens to you, how are you going to deal with it? If you have no idea at all about how to recover an unsaved PPT file, we are here for you; we'll show you the exact way to get back lost content with the AutoSave and Auto Recovery options provided by Microsoft.
Tip: In general, the autosave function is enabled in any newly created PowerPoint files unless someone has disabled it manually in advance.
All the steps shown below are finished in Microsoft PowerPoint 2010.
Recover unsaved presentations.
When you need to get back the unsaved content while PowerPoint is still opening, you should follow this:
Click File button in the upper left corner.
Navigate to Versions under Info option, which is selected by default.
Find out the certain version from all the automatically saved versions by taking a look at the autosave time.
Click on it in order to open it in a new window, in which you can choose to Compare this one with the current version in the running PowerPoint or you can just click on Restore to recover this version.
Recover autosaved PowerPoint.
What if you have closed a PPT file without saving the many changes that have been made? Under this circumstance, you are not able to find the previous versions through above method. What to do at this time? Please calm down and follow the steps given below to recover an unsaved PowerPoint file all by yourself.
Open any PowerPoint file on your computer or just create a new one.
Click File in the upper left corner and select Options, instead of Info.
In the pop-up PowerPoint Options window, please shift to Save from General.
Look at the AutoRecover file location and open C drive to expand the folder step by step in Windows Explorer (the default location is C:\Users\Username\AppData\Roaming\Microsoft\PowerPoint\).
Find the unsaved PowerPoint file and click on it.
Click on the Restore button in the open file and then choose Yes from the pop-up prompt window to allow the restoration of this PowerPoint file.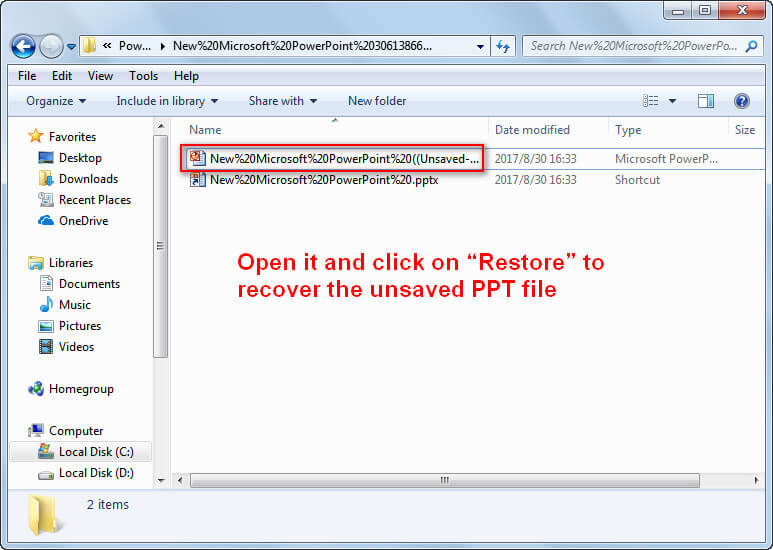 To know more about automatically save and recover files in Office for Mac, please look at this page.
Part 3 – Conclusion
While you are using Microsoft Office, you must be aware of the potential risks of important file loss, like Word document, PowerPoint file and excel file. In case of any unexpected data loss, we highly recommend that you make a reasonable backup plan for your data, at least important data. To backup data on a regular basis is a good habit that all of you should form.
Well, there're many cases in which the accidents happen before people have a chance to backup PowerPoint file or before they realize the importance of backup. Does this mean that data will be gone for good? Of course not! We have practical solutions to help you recover deleted or lost PowerPoint file efficiently. You should stop doing anything else when the accidents occur and then resort to the methods we mentioned in part 2 immediately in order to avoid any unnecessary data overwriting and recover as much data as possible.
If you run into any problems while recovering PowerPoint file that has been deleted or lost suddenly, please feel free to contact us via email or just leave a short message below to explain your problem. Then, we'll reply you very soon.
Recover Deleted or Lost PowerPoint File FAQ
Can you recover a PowerPoint you didn't save?
Some Office users said they lost the PowerPoint file before they got a chance to save it. Luckily, like other Office programs, the PowerPoint also has an AutoSave feature, which can help us recover the unsaved content when we're interrupted suddenly.
Where are temporary PowerPoint files stored?
Generally, there's a folder to keep the temporary files of PowerPoint. If you didn't move it, you can go to this path to find the temporary PowerPoint files: C:\ Documents and Settings\Username\Local Settings\Temp. These files will be named as pptxxx.tmp (xxxx stands for a number).
How do I recover a temporary PowerPoint file?
Open Windows File Explorer.
Type ppt*.tmp into the search box at the upper right and hit Enter.
Look through the found ppt files and right click on one to Rename it. (Please add the .ppt extension.)
Double click on this ppt file to open.
Click Save As and choose a storage path for it.
How do I recover a deleted PowerPoint in Windows 10?
Use MiniTool Power Data Recovery: run software -> select the drive to scan -> choose needed PowerPoint file to recover.
Use Restore previous versions: open File Explorer to find the folder containing deleted PowerPoint file -> right click on it to choose Restore previous versions.
Turn to Backups: open the software/services that you used to make backup -> select the backup that includes the deleted PowerPoint file -> restore to this backup.