This article will tell you how to recover deleted photos, images, pictures or any other types of files from SD card with the help of a wonderful SD card photo recovery tool. With it, you can scan your SD card completely to find lost files and then decide which ones to recover. At the end of this post, I will show you the common reasons responsible for photo loss issues.
Delete Photos from SD Card by Mistake
The last but most popular cause for SD card data loss is accidental deletion. Everyone makes mistakes and it often occurs in the blink of an eye. So it is a common thing that you delete a precious photo carelessly, considering it as useless.
Under this circumstance, if the SD card is working well and it is only some data that have been lost, the work to recover deleted photos from SD card would be very easy.
A Real Case
I had a rough patch with my girlfriend and I deleted all of my pictures in a fit of rage. Is there a way I can recover these prized photos that weren't on my SD? Could I restore to an earlier date. If so, how could I?– by ThorntonDonald on TechRepublic Forum
Are you familiar with this case? I know you may be stuck in a different situation, but you may face the same problem with ThorntonDonald: how to recover the lost photos from SD card.
You may be interested in the following things:
Well, congratulations! You've come to the right place. I am going to tell you the exact solutions you need.
How to Recover Deleted Photos from SD Card
Even if you know nothing about SD card data recovery, don't be worried too much. I have already taken that point into consideration. The SD card data recovery tutorial given below is easy enough for you.
Step 1 – Get & Install an SD Card Data Recovery Tool
I advise you to acquire MiniTool Power Data Recovery immediately and then install it to your local drive or external disk that doesn't include any files waiting to be recovered. After that, you can launch the software to start the recovery.
MiniTool Power Data Recovery TrialClick to Download100%Clean & Safe
Outstanding features of this tool:
It is very easy to use, so even green hands are able to complete picture recovery by looking at the operation tips.
Its scanning speed is very fast and recovery success rate is pretty high.
It is absolutely pure with no plug-in or spyware bundled.
It has excellent compatibility, so it allows you to recover photos from SD card and many other commonly seen devices, such as hard disk, USB flash drive and CD/DVD. Besides, the recovery of photos in various formats is supported perfectly by on various operating systems.
Step 2 – Choose a Suitable Option
After installing MiniTool Power Data Recovery properly on computer, you're expected to open it at once to see the main interface. Now, I will list the specific options provided for you to recover data from SD card.
"This PC": this option is suitable when the entire SD card is shown as a partition on your computer.
"Removable Disk Drive": this is suitable for all situations as long as your SD card can be recognized by the computer.
What if a USB flash drive is not recognized?
In general, the SD card is formatted as a large partition as a whole. In this case, it really doesn't matter which option you choose.
Yet, if your SD card happens to be divided into more than one drive and you only need to recover data from a certain drive, you should select "This PC".
Step 3 – Scan the SD Card & Browse the Scan Result
After selecting an option from the left side of main interface, you should specify the drive that includes deleted photos from the right side. Then, you may double click on the drive or click on the "Scan" button in the lower right corner to start detecting lost files.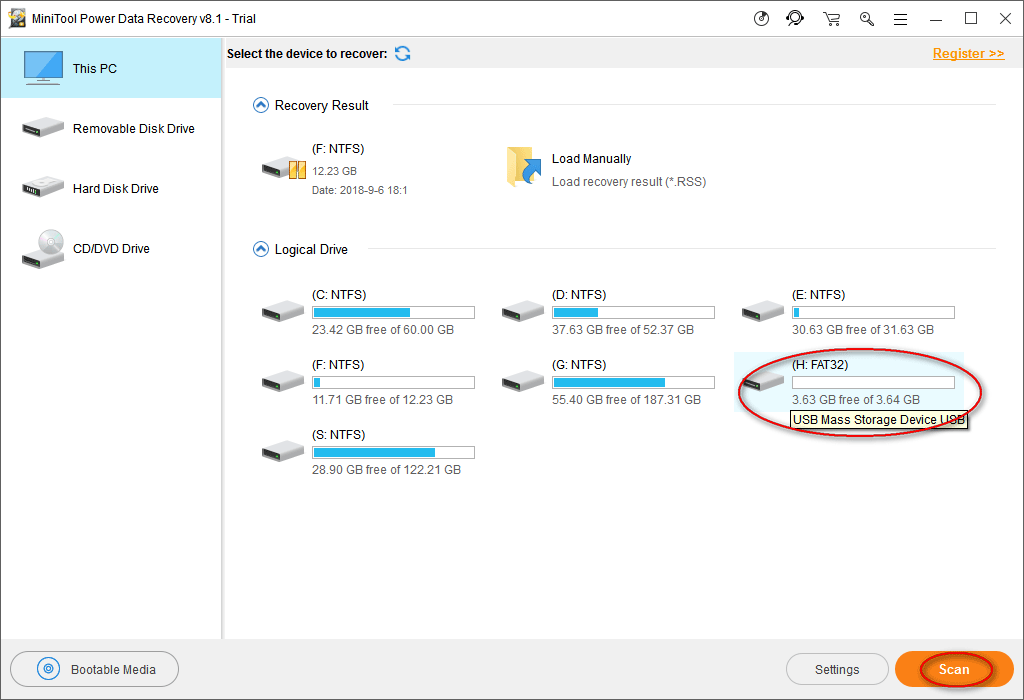 During the scan, an increasing number of items will be discovered. You are able to browse them one by one in order to find out whether your needed photos are included or not.
If you have discovered all the photos you need from current scan result, you may click on the "Stop" button to end the scan.
If you can't find files you need, please wait till the end of the scan in order to get the best recovery result.
Please note: common graphics & picture formats can all be supported by this software. You can make the software to scan only known file types by clicking on the "Settings" button before scanning the SD card.
Adobe Photoshop (*.psd)
Coredraw Files (*.cdr)
JPEG Camera/Graphics file (*.jpg)
GIF Files (*.gif)
PNG Image (*.png)
Etc.
Step 4 – Check the Needed Photos to Recover
The last step of SD card data recovery is to check all the photos you want to get back and then click on the "Save" button to see a pop-up window, in which you should select a directory for those photos. Please click on the "OK" button to confirm your selection.
How Accidental Photo Deletion Occurs
Most digital cameras and mobile phones are inserted with a SD (Secure Digital) card to save photos and other data like videos. Yet, the capacity of SD cards is so limited that it gets full easily.
In this case, some of you have to:
Transfer data to another place (like computer hard drive or a USB flash drive, which is used to save photos only)
Or delete unnecessary data in SD in order to make room for new data.
Thus, mistaken deletion becomes a frequently happened issue and users generate the needs to recover deleted photos from SD card.
According to users' feedback, I find the mistaken deletion of photo mainly happens due to 3 kinds of reasons:
Users are not very familiar with using skills of photo-catching devices.
Users mistakenly regard the valuable photos as the useless ones.
Unexpected crashes.
Bottom Line
Though it's easy to delete photos from SD card by mistake, the good news is that you don't need to be guilty for the loss of precious photos in SD card. I mean, come on, everyone makes mistakes, and even the saints are no exceptional. So please stop feeling sorry and cheer up to follow the steps mentioned in above content to recover photos from SD card as quickly as you can.
Recover Deleted Photos from SD Card FAQ
Can you recover deleted photos from SD card for free?
You have multiple ways to
recover deleted files from SD card
. First, use backup; second, start file sync through cloud service; third but not the least, use the free edition of MiniTool Power Data Recovery. Please hurry up to recover your photos from SD card!
How do I recover deleted pictures from my Android SD card?
You can connect your Android device (by keeping the SD card inside) to computer and use MiniTool Mobile Recovery for Android to recover delete pictures. You can also take out the SD and connect it to the computer through card adapter, and then use MiniTool Power Data Recovery.
How can I recover deleted videos from memory card?
Connect your memory card to a computer properly.
Download, install, and run MiniTool Power Data Recovery.
Select Removable Disk Drive from left pane.
Double click on your memory card from right pane.
Wait and follow instructions to finish video file recovery.
Does formatting a SD card delete everything?
Of course, it will. All the folders and files (photos, documents, videos, and audios) will be removed from an SD card after it was formatted. But what's exciting is the formatting action doesn't really erase the data completely, you can still recover the files when necessary.