Have you ever felt desperate when you suddenly lost files after cut and paste for unexpected reasons? If you don't know how to get those files back, you may check out this post to find how to effectively and quickly recover files after cut and paste. Download MiniTool Power Data Recovery - the best file recovery software to recover files right now.
Lost Files in Cut, Copy and Paste Transfer
How do you transfer data from your PC to removable devices like USB flash drive, memory card, etc. or vice versa? According to a survey, many users are turning to copy, cut, and paste features to transfer data.
However, some users are reporting that their data is getting lost while transferring files through the use of cut as well as paste commands, and they don't know how to recover files lost after cut and paste.
Right here, let's see a true example from answers.microsoft.com:
Lost files in an interrupted cut and paste
Hi! If anyone could help I'd be really grateful, I'm hopeless with computers:
I was moving my music library from an external hard drive to my new PC and thought I'd hit skip when asked to confirm a file overwrite. I must have hit cancel becasue the transfer stopped and I have now no idea how to find and recover the files. They are not in the original folder, nor the target folder. It appears that they're on my hard drive somewhere as there is about 50G there that wasn't before in properties, but I cannot find them in a folder, or by searching the computer. Any ideas?
As a matter of fact, before recovering data, we need to know why the data was lost after copy, cut and paste, which can help us to get missing data back and prevent it from happening again.
In general, there are some reasons that result a loss of files due to unsuccessful cut and paste file transfer.
1. Unexpected Shutdown: Power failure is one of the most common problems that interrupt file moving processes. If your system shuts down suddenly due to some reasons when you are transferring files from one drive to another one using the cut paste option, then you lose all files.
Useful post: Unexpected Shutdown –Missing Data? Get It Fixed Here
2. Improper Removal of Storage Drives: as we know, USB flash drives are frequently used to transfer data from one system to another. However, you will lose files by forcefully rejecting it when cut and paste processes are in progress.
3. Of course, there are some other possible reasons including improper system termination, hardware failure, etc.
In a word, no matter what the cause, the first thing we should do is to look for a suitable recovery solution to recover cut files as soon as possible.
How to Recover Files Lost in Cut and Paste
In general, users who successfully recovered cut files from their  hard drives, USB drives, memory cards and other devices always turn to a piece of professional data recovery software.
Note: here, if you don't care about high recovery fees as well as data security, you could turn to professional data recovery companies.
Now, however, you might be wondering:
"How do I find an excellent data recovery tool to recover removed files?"
Right here, if you don't have any idea, you can try using MiniTool Power Data Recovery. This professional data recovery software offers many excellent features, and wizard-like interface. More importantly, it can recover lost data without affecting the original data because it is a read-only tool.
Download this tool and have a try.
Next, let's see how to restore lost data with this professional and all-in-one data recovery software. (Let's take Windows 10 for example.)
Steps to Recover Data after Cut and Paste
Step 1: Download MiniTool Power Data Recovery, and then install it on your computer.
Note: never install it on the drive containing lost data, for this may cause irretrievable data loss. After that, launch it to get its main interface as follows.
Select the target drive and click Scan. You can also click Devices tab, select the whole device and click Scan.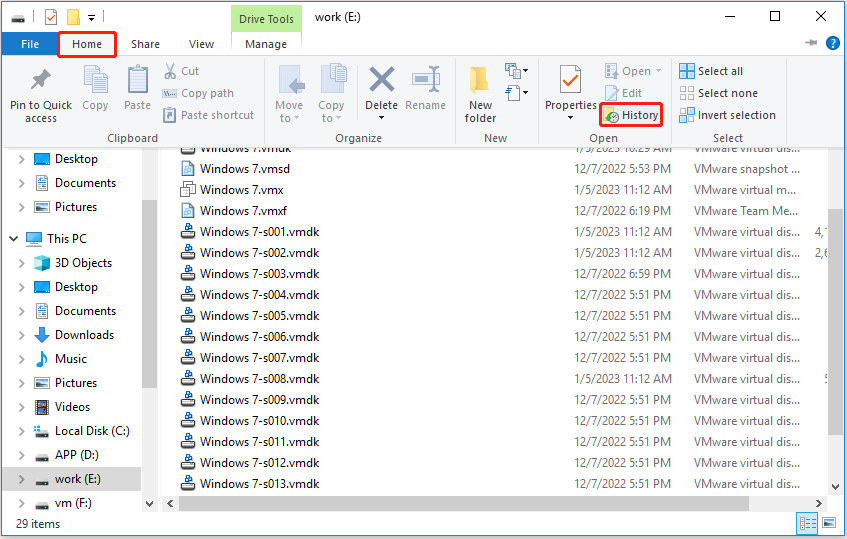 Step 2: Select all needed files and choose a safe place to store them. It is recommended to store selected data on another drive. Otherwise, the lost data could be overwritten.
Useful Information
If you find lots of files in this window, you can use the Find and Filter feature to quickly find needed files.
Thus, all work has been done.
Maybe such a brief introduction cannot help you understand this tool, as well as its powerful function clearly. Want to know more? The following video is worth watching.
I used this tool to effectively recover lost data after cut and paste with ease.
Conclusion: MiniTool Power Data Recovery, a piece of green yet professional software developed by MiniTool Software Ltd., is indeed a good recovery solution for us to recover removed files from SD cards, USB flash drives, and other storage devices.
"With MiniTool Power Data Recovery, I successfully recovered files lost in cut and paste without affecting the original data with ease.  I hope you can try it to get your missing data back…"Click to Tweet
Now, after seeing data recovery after cut and paste failure, let's learn how to transfer data effectively to avoid the risk of data loss.
Overview of Cut, Copy and Paste Files
How to Cut, Copy and Paste Files
It is believed that most knows how to copy, cut and paste files or folders. However, if you don't know, don't feel panic since you can find the details here: right-click target files/folders, and choose cut or copy. (Or, you can select files and press Ctrl&X/Ctrl&C.) Ok, now that you've selected the item and copied/cut it into the USB drive or other places,  you just need to place your cursor in the location you wish to paste the content, then right-click and select Paste from the resulting drop-down menu. (Or, you can press Ctrl&V in the desired location.)
Now, you know how to cut, copy and paste files, but do you know the difference between copying and cutting?
Cutting Files VS Copying Files
As we know, whichever you choose, you can directly transfer your files from one place to another, since when you copy or cut something, it will get sored in the clipboard and you can create a copy of it.
However, if you choose Cut and Paste, the files will be removed from the original place and then it will be pasted in another place; if you choose Copy and Paste, you will have 2 copies of files with exactly the same name, size and contents.
In a word, if you want to reduce the risk of data loss, you had better choose Copy and Paste. However, if you find your data gets lost caused by some unknown reasons during the process of cutting files, you can try using MiniTool Power Data Recovery to quickly and effectively recover lost data.
The copy, cut and paste feature indeed can help to transfer files, but it is not a wise choice for transferring a large number of files, or even all Windows data. Therefore, what should we do if we want to move or copy all data saved in the hard drive? Can we quickly and effectively copy large files without affecting the original data?
Do you want to know the best way?
How to Copy Large Files Quickly
MiniTool Partition Wizard, a green, professional and simple partitioning tool developed by MiniTool Software Ltd., is recommended here, for it contains more than 21,000,000 downloads. Not only can this tool copy single partition containing massive important data, but it can also back up all Windows data as well as OS without affecting the original data.
Here, we privude a copy disk for example to help you learn more details about this tool.
1) In the main window of this professional partitioning freeware, select the disk which needs copying and activate the Copy Disk function from one of 3 places boxed in the red line. Here, we choose "Copy Disk" from the left pane to continue: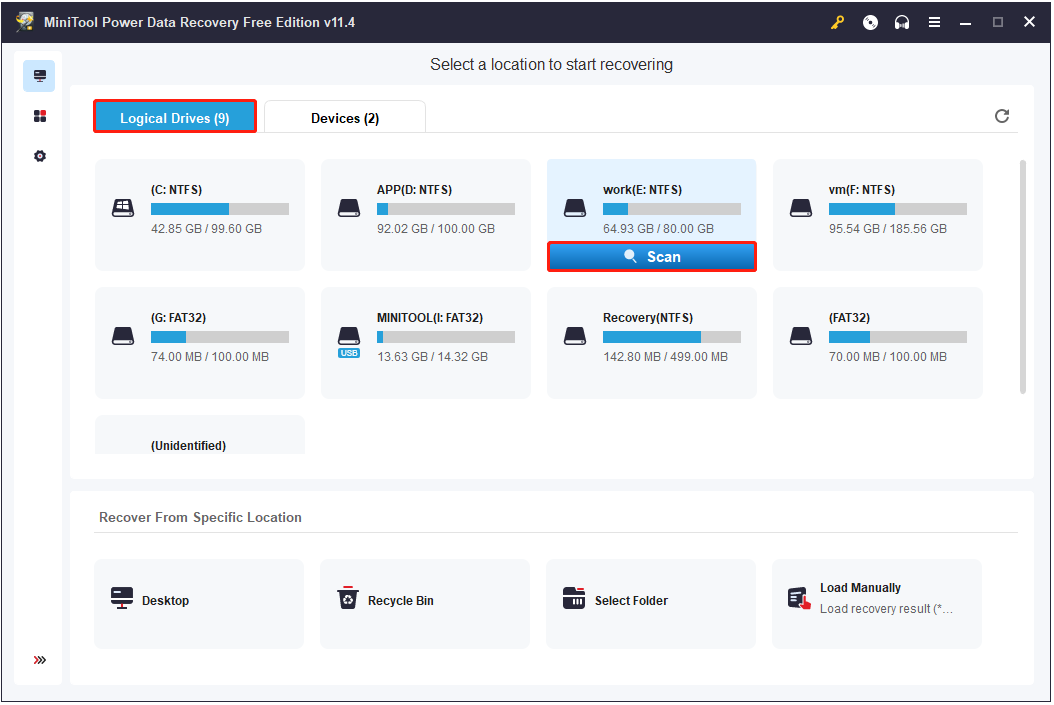 2) Select the disk that will save the copy of the source disk as the target disk and then click the "Next" button.
Note: the target disk should be large enough to hold all the content on source disk. You also need to back up all important data on this target disk in advance, otherwise the original data will be overwritten.
3) Choose a copying method to decide the layout of the target disk and then click "Next".
4) Click "Finish" to go back to the main interface.
5) Click "Apply" and tap "Yes" to perform all changes.
Thus, all work has been done. In a word, if you want to copy large files, copy all Windows data, or copy OS without data loss. You can try using MiniTool Partition Wizard because of its high security, excellent performance and simple operation.
Top Recommendation: 3 Valuable Tips for Data Protection
Here, at the end of this post, we want to share 3 preventive tips for you to perfectly carry out data recovery after cut and paste failure.
1. Immediately stop using your PC if there is any file or data loss.
2. You had better equip your computer with a UPS device to prevent loss of data due to sudden power failure while transferring files from one storage drive to another.
3. It is recommended to make use of the "Copy and Paste" method instead of "Cut and Paste" to avoid accidental data loss.
Bottom Line
After seeing the above introduction, I guess you may have gained a basic understanding of how to copy or move files. However, as we know, data loss is inevitable. So, how do we quickly and effectively recover missing data after cut and paste failure?
Now, you can try using MiniTool Power Data Recovery. With this professional and simple data recovery software, you not only can recover data lost in cut and paste, but you can also recover data from lost partitions, recover data after factory reset, recover data from 0 bytes drive…
Like this post? Share it to help more users.
Should you have any questions or suggestions, please leave it in the below comments or directly send them to [email protected]. Thanks a lot.