Are you bothered by virus attacks? Are you seeking solutions to recover files deleted by virus attacks? If yes, this
MiniTool
post is the right place for you to find feasible workarounds. You can get your files back with third-party recovery software or Windows built-in tool.
Virus attacks are common during computer use. According to statistics, more than half of computer users have the experience of being attacked by viruses. The most annoying thing is that the virus is not only hard to remove but also deleting files on your computer. You can keep reading to find out how to recover files deleted by virus attack with this post.
How to Recover Files Deleted by Virus Attack
In this part, I will introduce two commonly used ways to help you with file recovery after a virus attack.
Recover Lost Files after Virus Attack with MiniTool Power Data Recovery
Compared with other methods, I'd like to introduce you to an effective and easy tool, MiniTool Power Data Recovery, to regain your lost files after being attacked by viruses. This free file recovery software has been used and praised by tens of users.
It works well in many files lost/deleted situations, including virus attacks, OS crashes, formatting errors, etc. You don't need to worry even if your computer fails to boot up after virus attacks. You can use the snap-in WinPE Bootable Media Builder to create a bootable USB drive, then boot your computer from this created bootable drive to restore files.
Then, you can recover your files with the following guide according to your real situation.
Situation 1: The Computer Works Fine after Virus Attacks
Most of you should be in this situation. Files, including text files, photos, videos, and audio files are missing after your computer has been invaded by a virus. These files might be deleted by viruses without any warning or notification, and you can't find these files lost immediately.
Don't worry. This tutorial is able to help you recover deleted/lost files from the computer.
Step 1: Download and install MiniTool Power Data Recovery properly.
MiniTool Power Data Recovery FreeClick to Download100%Clean & Safe
Step 2: Run the software and choose the partition that contains your deleted/lost files, then click on the Scan button. If your file is missing from a certain location, you can choose to scan the Desktop or a selected folder, which will reduce the scan time largely.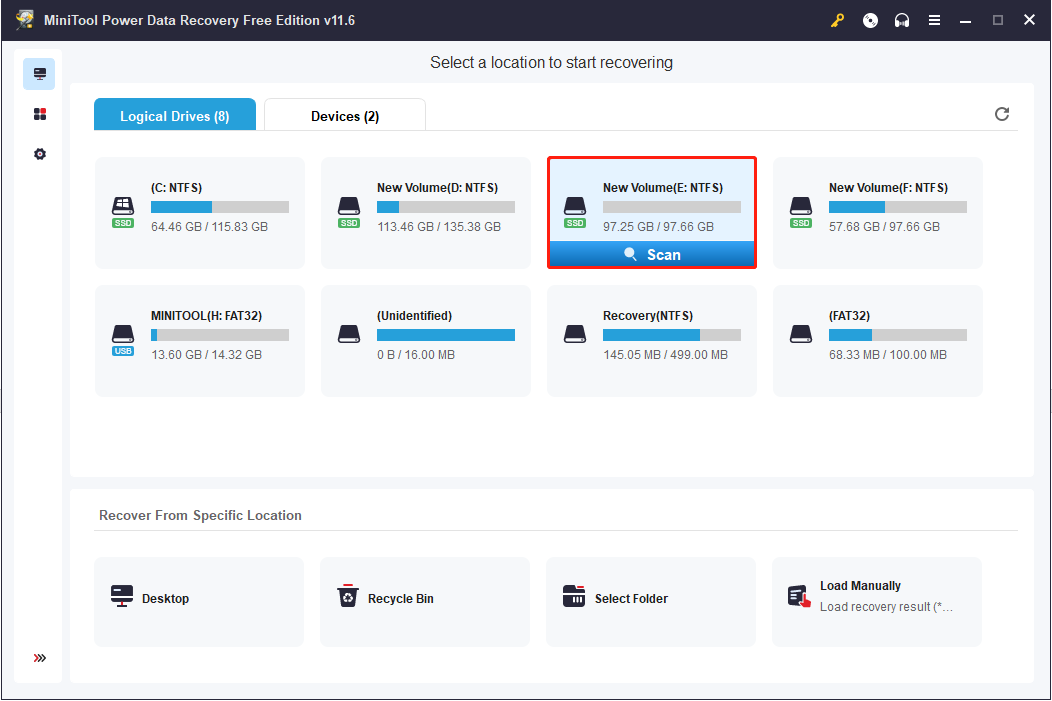 Step 3: Wait for the scan process to complete. For the best data recovery result, you are not suggested to interrupt the scan process.
There might be millions of files on the result page. You can look through the file list with the help of these four functional features:
Type: switch to the Type category list to find files from certain types.
Filter: use the file type, file category, file size, and date modified under the Filter function to filter out unrequired files.
Search: type full or part of the file's name to look for the matched file.
Preview: check the chosen file is correct. Note that the size of audio and video files should be smaller than 2GB when you want to preview.
Step 5: Choose the desired files and click Save to select a storage path.
Step 6: Click on OK to start the recovery process.
Situation 2: The Computer Refuses to Boot after Virus Attacks
A more serious problem is that the operating system becomes unbootable after the virus attack. This may happen because the virus has damaged the OS, deleted essential boot files, or changed the boot settings.
If you run into an operating system not found or other problems that result in a non-bootable computer, you can't use the previous method to recover files. But MiniTool Power Data Recovery with a snap-in WinPE Media Builder has the power to make it. You can create a bootable media by using the MiniTool Media Builder and boot your computer from the created bootable disc, then recover files from it.
Step 1: Download and install MiniTool Power Data Recovery on a well-performing computer.
MiniTool Power Data Recovery FreeClick to Download100%Clean & Safe
Step 2: Launch the software and shift to the Utilities interface. Click on the Download button under the Power Data Recovery Bootable section.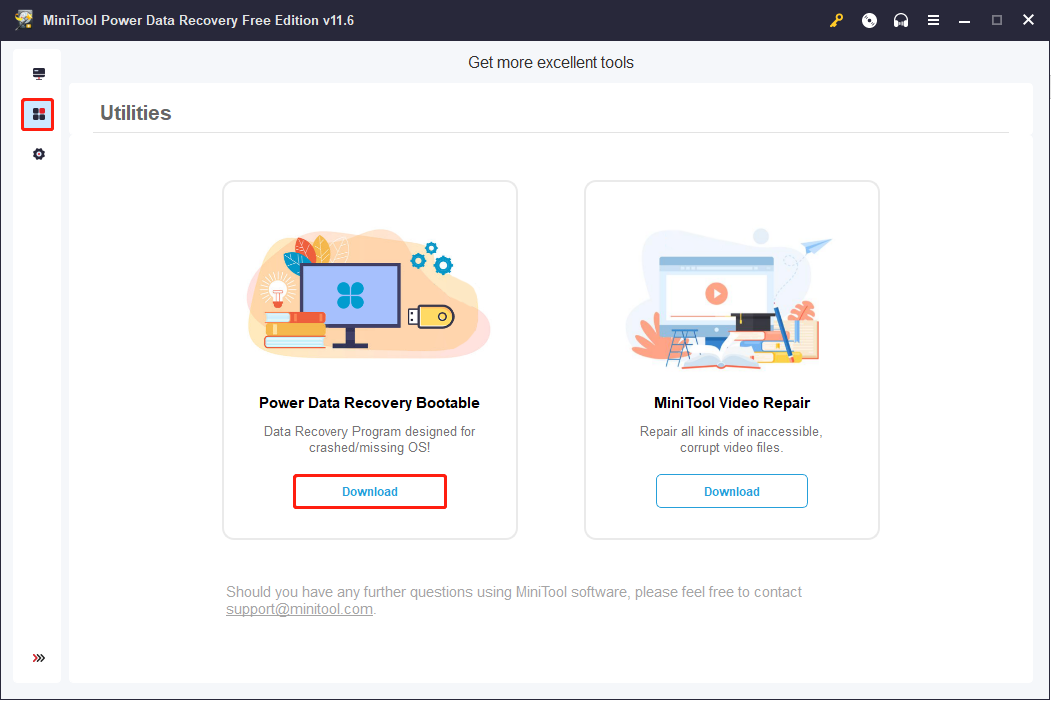 Step 3: You can update the software to a full edition. Please remember to choose an edition equipped with a snap-in WinPE Bootable Builder.
Step 4: Return to This PC interface, then connect a USB drive, the size between 4GB to 64GB, to the computer.
Step 5: Click on the Refresh button to display the USB drive.
Step 6: Choose the key icon and input your license key to register.
Step 7: Click on the disc icon and follow the on-screen instructions to create a bootable media.
Step 8: When the file preparation process is completed, click Finish.
Later, re-plug this USB drive into the unbootable computer. You can recover files deleted by virus attacks with the detailed steps in this post.
Recover Files Deleted by Virus Attack with Microsoft Solutions
The virus can attack computers and other kinds of data storage devices like USB flash drives. And when the virus is activated, it might start to delete files and ruin the operating system. When you discover this, you should think about how to retrieve deleted files on this PC. There are two ways explained specifically in the next content.
Way 1: Restore from a Backup
File History works as a Windows built-in backup tool. It is disabled by default; thus, you need to enable this function manually if needed. File History can back up files in the Library, including Documents, Music, Photos, Downloads, and folders stored on the Desktop. If you have enabled File History and backed up files before the virus attack, you can try to restore files with this method.
Step 1: Press Win + S and type Control Panel in the search box.
Step 2: Choose File History from this list.
Step 3: Select Restore personal files from the left pane.
Step 4: Browse the files and choose the files you want to restore.
Step 5: Click on the green Restore button to recover them.
Tips:
You can also find the folder where your lost files are stored, then right-click on the folder to choose Restore previous versions from the context menu. You can choose a proper version from the list and click on the Restore button to get the lost files back.
It is necessary to back up files periodically to prevent data loss due to unexpected accidents. Among various backup software, MiniTool ShadowMaker is highly recommended owing to its comprehensive and professional functions. You can use it to back up files, folders, systems, and disks. To avoid duplicated backups, you can choose to make differential or incremental backups. Besides, you are allowed to set the backup cycle based on your needs. You can download MiniTool ShadowMaker to find and experience more functional features.
MiniTool ShadowMaker TrialClick to Download100%Clean & Safe
Way 2: Recover with System Restore
System Restore allows your computer back to the previous status when the error or the change hasn't happened. But you need to enable System Restore and create system restore points by yourself. If you have done these actions before, you can recover virus-deleted files and folders in Windows.  
Step 1: Press Win + S and type Control Panel into the search box.
Step 2: Choose Recovery > Open System Restore.
Step 3: Click on the Next button.
Step 4: Choose a proper restore point from the list, then click Next.
Step 5: Confirm the information and click Finish to start the restore process.
Kill Viruses for Security Concerns
In today's era, where information and science are well-developed, almost everyone is aware of the danger of viruses and the importance of killing viruses. But do you know what time is the best time to kill a virus?
The Best Time to Kill Virus
Knowing that viruses may further ruin the data and operating system after their invasion, most of you think it would be better to kill viruses as soon as you can by using powerful antivirus tools.
However, I don't suggest you to do so. On the contrary, I recommend you try every means to recover files deleted by virus attacks first before performing any other operations because antivirus programs may delete useful files from your computer when removing viruses for you. And this may cause secondary damage, deleing more files from the computer and making some data gone for good.
MiniTool Power Data Recovery FreeClick to Download100%Clean & Safe
You are suggested completing data recovery before adopting antivirus programs to clean the disk unless the files deleted by the virus are of no use.
How Virus Enter Your Computer and Ruin Data
With the development of the internet, the risk of being attacked by viruses is high. When you click on links sent from untrusted sites or in an anonymous email, you are giving way to a hidden computer virus.
Other actions are dangerous and may let computer viruses invade your OS:
Use pirated or unknown software/programs/applications.
Use a new movable device on a computer without checking security or killing viruses.
Continue visiting sites on which viruses or abnormal operations are detected.
Download files from the network casually, even from unknown sites.
In fact, viruses can get into our personal computers through plenty of new ways. That's why most users would like to roll up their sleeves and start to install a trusted antivirus program when they buy a new computer or reinstall the OS. After viruses enter computers, they may not be activated right away.
Virus Comes with Storage Media
In theory, viruses are attached to storage media like floppy disks and hard disks so as to constitute an infection source, and the transmission medium is decided by the work environment. A virus is put into memory after invasion and the virus creator has already set up the trigger condition, which is diverse. It could be the clock, system date, user identifier, or system communication. When the condition becomes ripe, the virus will start replicating itself to the infected object and performing various sabotage activities, including:
Definitely, recovering files deleted by a virus attack becomes an urgent thing.
Verdict
All in all, a computer virus is more than just a data killer since it actually can cause serious problems to a computer's disk and system. Computer viruses are to computers what biological viruses are to the human body. They can place us in precarious situations, causing concern over the destruction of hard-earned work, the disappearance of cherished memories, financial setbacks, and more.
But you shouldn't kill the virus immediately after getting attacked since this is a dangerous action to your data. You should finish deleted or corrupt files recovery first and then clean the virus.
MiniTool Power Data Recovery FreeClick to Download100%Clean & Safe
If you have any problem using MiniTool Software, please contact us via [email protected].