Summary :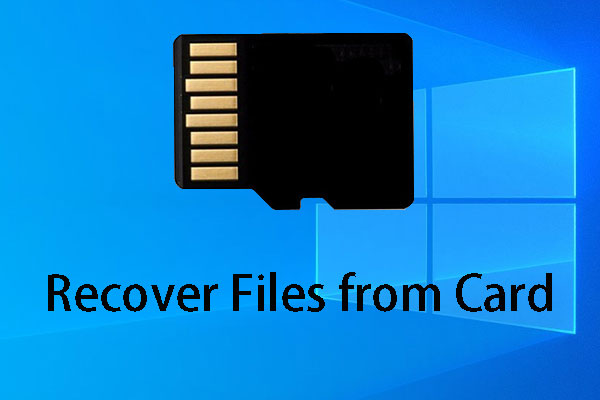 Do you have the requirement to make SD card recovery? If yes, do you know how to do this job easily and effectively? To recover data from SD card, you should not miss MiniTool Power Data Recovery. Now, get some useful information in this post.
SD card can be widely used to save different kinds of files such as photos, videos, documents, music files, and more in your daily life and work.
Generally speaking, SD card has different forms, such as standard SD card, mini SD card, and micro SD Card. And it can be used on various portable devices, including digital cameras, handheld computers, and Android phones.
You can insert SD card into your portable device or computer directly or through an SD card reader to use it immediately.
For example, you can insert your SD card into your Android phone to increase internal storage space of Android. Or, you can insert it into your digital camera to save photos and videos.
Obviously, there are so many important data on the SD card, and you should keep them safe to avoid data loss issue.
Reasons for SD Card Data Loss
SD card recovery is a very hot topic nowadays since there are many unexpected factors which may cause data loss issue on your SD card. Here are some common reasons as follows: 
Human Error

You may delete or format the data on the SD card by mistake, or bend it heavily causing unserviceable forever.

Viruses and Malware

When viruses and malware attack your SD card, they may delete or steal the files on your card and cause data loss.

SD Card Malfunction

Some faults may happen to SD card due to the improper use of the card. Then, you may loss all its files unfortunately.

Power Outages

When using an SD card on PC, a power outage can shut down procedure suddenly, causing the loss of unsaved files and existing files to be corrupted.

Formatting

Mistakenly formatting an SD card can delete all files on your card and cause data loss issue if there are important files on it.

Natural Disaster

Natural disaster such as tornadoes and fire can destroy your SD card as well as all the data on it entirely.

Liquid Damage

Liquid damage can break your SD card. In this situation, you can't use your SD card, let alone the data on it.

SD Card Loss

You may lose your SD card by mistake. When this happens, all files will go with the lost SD card.
Best Free SD Card Data Recovery Software
When data loss issue happens to your SD card, you will need a piece of free data recovery software to do SD card recovery and MiniTool Power Data Recovery is a good choice.
This software has four recovery modules, and they are This PC, Removable Disk Drive, Hard Disk Drive, and CD/DVD Drive.
These four recovery modules focus on different drives and situations. Please see the following introduction:
This PC module is designed to recover data from logically damaged, formatted, or RAW partition.
Removable Disk Drive module is used to retrieve files from digital media storage devices, including USB flash drives, SD cards, memory cards, and more.
Hard Disk Drive module can help you to restore data from lost partition which is caused by system update, hard drive failure, OS corruption, and so forth.
CD/DVD Drive module can recover lost and deleted files from damaged and scratched CD/DVD discs.
You can see that if you want to recover data from SD card, you need to use Removable Disk Drive module of this free SD card recovery software. Also, you can recover various kinds of files with this recovery module, including missing photos, lost music files, disappeared VCF files, and more.
Now, you can use the trial edition of this software to check whether it can find your needed data. If you want to use this software to recover them, you'd better use a full edition.
3 Steps to Recover Data from SD Card
Step 1: Insert the SD card into an SD card reader and connect it to your computer.
Step 2: Open the software and click Removable Disk Drive module. Then, choose the target SD card to scan.
Step 3: Check the files you want to recover from the scan result interface and click Save to store these files.
SD Card Data Recovery Situations
MiniTool Power Data Recovery can recover you lost and deleted data from SD card in different faulty situations. Here, we summarize some common SD card recovery cases as follows:
Recover Deleted Files from SD Card

You may delete some important files from SD card by mistake. In this situation, as long as these deleted files are overwritten by new data, you can use MiniTool sofwtare to retrieve them.

SD Card Is Blank or Has Unsupported File System

Android SD card may face this issue which is caused by virus infection, rude extraction, logical damages, RAW file system, etc. Making SD card recovery for Android with MiniTool is a good way to rescue its data.

Recover Data from Dead SD Card

A dead SD card means that you can't open it, let alone use the files on it. If it is not physically damaged, you can use a piece of professional SD card data recovery software to restore its important data.

When you want to open the SD card in Windows Explorer, you may receive an SD card not formatted error. To rescue the important data on the card, you can use MiniTool to recover its data, and then format the card.

This Memory Card Cannot Be Used

When you open your camera, you may receive this error message which prompts that the card may be damaged. If you don't want to lose your important photos and videos, try MiniTool to restore them.

Camera Says Card Cannot Be Accessed

This error message suggests reinserting/changing or formatting card to fix this issue. But you will lose its files after formatting it. So, you can use MiniTool data recovery software to restore its data in advance.
If you want to use MiniTool Power Data Recovery to retrieve SD card data without limitation, you need to update it to an advanced edition from the MiniTool official site.
Conclusion
How to deal with SD card recovery easily and effectively? You should try the Removable Disk Drive module of MiniTool Power Data Recovery. This recovery module is very powerful for it can not only recover lost and deleted SD card data but also recover data from SD card with various kinds of errors.
Should you have any questions when you are using this MiniTool software, please feel free to contact us by sending an email to [email protected] or leave a message in the following comment section.