How to recover deleted or lost photos from memory cards, cameras or portable devices with ease? Read this post and you will find the solution. Here, this post will show you how to recover photos with the professional photo recovery software. 
It Would Be a Big Blow to Lose Important Photos, But We Can Recover Them
My daughter works at a group house for the severely, mentally and physically disabled, and the house bought a Canon digital camera to record house events, birthdays, outings, etc. and quickly it took a good number of photos. Several days ago, a staff member took the camera to a "print your own" service but couldn't get any photos on the screen. Therefore, she called the shop owner of camera for assistance, and the owner said the problem was that the memory card had not been formatted. As a result, he formatted it, and then all photos disappeared. As you can image, this was a severe blow. So, I hope someone could tell me how to recover all these lost photos for free. PC World Forums
Indeed, all of you would feel sad after losing photos especially when they are important, valuable, or unique.
But don't panic, because there is still a big chance to recover them. Next, we will give a step-by-step tutorial on free recovering lost or deleted photos from SD card, CF card, and other memory cards in Android mobile phone , digital camera, or other portable devices.
But before doing photo recovery, let's see some tips on increasing photo recovery rate.
Don't Do These 3 Things after Photo Loss
Once photos saved on memory card get lost, the following 3 things SHOULD NOT be done.
Go on taking photos or videos with your Android mobile phone, digital camera, or other portable devices whose memory card is suffering photo loss. —– This could overwrite lost photos and make data recovery so difficult or even impossible.
Directly bring your memory card to data recovery companies and ask technicians for help. —– You have to pay expensive data recovery fees.
Save recovered photos to its original place – the memory card. —– This could also overwrite lost photos.
And what you should do is to stop any write-in operation immediately, and then rescue the lost photos using a free photo recovery program. At last, save the recovered photos to devices where data loss doesn't emerge.
Tell your friends what they should do after losing photos from memory card.Click to Tweet
After knowing these issues, now let's start memory card photo recovery.
Step-by-Step Tutorial on Recovering Lost/Deleted Photos from Memory Card with Freeware
Warning: don't take any photo, shoot any video, or write anything to the memory card once realizing photo loss, because such operations could make your lost pictures lost forever.
Step 1: Download a Free Photo Recovery Software
Since photos deleted from SD card, CF card, or other memory cards cannot be found in Recycle Bin or Trash of computers, users need to download a photo recovery program. Here, MiniTool Photo Recovery is worth trying, which is free, safe, and easy to use. On Windows computers, please download and install the Windows version. On Mac machines, please download and install the Mac version.
MiniTool Windows Photo RecoveryClick to Download100%Clean & Safe
First of all, let's take the Windows version for example, and then go to the Mac version.
For Windows Users
Step 2:Run MiniTool Photo Recovery on Windows Computer
Once the program is installed successfully, please launch it to get the main interface.
Step 3: Make Preparations
If you start the program successfully, please make preparations by following instructions shown on the interface.
To be specific, since you are going to recover photos from memory card, you need to insert our memory card to computer built-in card slot, or connect memory card to computer using card reader. Of course, you can also use your camera or other portable device as a card reader via USB as long as the computer recognize your memory card and its contents.
Step 4: Start Recovering
Once the card is connected successfully, please click "Start" button to start recovering your lost or deleted photos from memory card in Android mobile phone, digital camera, or other portable devices.
In this window, users need to select the memory card and click "Scan" button to start scanning the card. But before clicking "Scan", you can make use of the program built-in feature – Setting, which could help you save much time.
Just tap on "Setting" button to get the window below:
Under the submenu of "Graphics/Picture", please choose the specific photo type(s) to scan. Here, we only give check mark on JPEG Camera file, , which means the program only scans JPEG camera files. Then, click "OK" to continue.
Tip: please uncheck the "Audio/Video" option in the Setting interface, because it is checked by default. With this item checked, MiniTool Photo Recovery will scan all audio and video files.
Then, click "Scan" button to start scanning memory card.
Step 5: Lost/Deleted Pictures Recovered
After scanning, MiniTool Photo Recovery will show users all photos with the selected type(s):
Now, we can see only JPEG Camera files are shown, and we can even preview all of those photos, which makes it so easy to find needed photos. Just give check marks on photos which need recovering, and then click "Save" button to save those pictures to a specific location.
Warning:
don't save those photos to the original memory card, or lost photos could be
overwritten
. Both MiniTool Photo Recovery and professional data recovery companies are unable to recover overwritten photos.
For Mac OS X Users
However, if you only have machines running Mac OS X, use MiniTool Mac Photo Recovery instead.
This is the main window of MiniTool Mac Photo Recovery, which is nearly the same as that of MiniTool Photo Recovery for Windows. And actually photo recovery steps on Mac machines are also similar to those on Windows computers. Therefore, Mac users can refer to memory card photo recovery on Windows to recover their photos on Mac machines.
After showing how to free recover lost or deleted photos from a memory card using MiniTool Photo Recovery, we think it's still necessary to tell users the following 3 useful things.
How to Free Recover Photos from Internal Memory of Mobile Phone
If you are going to recover photos from internal memory of iPhone or other iOS devices, you'll need to use MiniTool Mobile Recovery for iOS.
MiniTool iOS Recovery on WindowsClick to Download100%Clean & Safe
Top Recommendation: 2 Simple Solutions to Recovering Deleted Photos on iPhone
If you want to recover deleted photos on iPhone in an easy way, you'd better try the professional iOS data recovery software – MiniTool Mobile Recovery for iOS.
However, if you want to recover lost/deleted photos from internal memory in Android mobile phone or other Android devices, MiniTool Mobile Recovery for Android is required.
Further Reading
Modern Android devices obsolete USB Mass Storage due to limitations of this mode and use the MTP or PTP protocols instead. For more details of USB Mass Storage, MTP, AND PTP, please see Android USB Connections Explained: MTP, PTP, and USB Mass Storage. As a result, computers and most third party programs, MiniTool Photo Recovery for example, are unable to recognize internal memory of those devices, let alone contents saved on internal memory. However, there are still programs like MiniTool Mobile Recovery breaking this limit.
Then, let's talk about the second useful thing – what types of files MiniTool Photo Recovery could recover, what kinds of storage devices it supports, etc.
What MiniTool Photo Recovery Could Retrieve
MiniTool Photo Recovery is able to recover various types of files from different kinds of storage devices. Get details from the following contents.
MiniTool Photo Recovery is a freeware that can recover lost photos, videos, audio files, and other media files, not limited to photos. Photos could be Autocad Drawing files, JEPG Camera/Graphics files, GIF files, PNG images, Cannon CRW/CR2 files, Nikon NEF files, Olympus RAW pictures, and so on. The following picture shows what types of graphics and pictures it can recover.
Audio and video files could be ASF files, Windows Media Audio files, MP4 Audio/Video files, AVI Clip, FLV video files, etc. See the following screenshot to get all types of audio and video files MiniTool Photo Recovery supports recovering.
Apart from deleted media files, it is able to recover files from formatted, corrupted, or inaccessible memory card or devices, too.
It supports recovering deleted/lost photos or other media files from SD card, CF card, or TF card in Android mobile phone, digital camera, tablet, or other portable devices. Internal/external HDD and SSD media file recovery is also supported.
Both Windows OS and Mac OS X are supported since there are Mac version and Windows version provided.
Supported Windows OS: 32 bit and 64 bit Windows 10 /8.1 /8 /7 /Vista /XP along with Windows Server 2003 /2008 /2012
Supported Mac OS X: Mac OS X 10.5 and above
However, if lost media files have been overwritten by new files or damaged, MiniTool Photo Recovery can't recover them. In addition, if data loss is caused by physical damage, MiniTool Photo Recovery will also fail to recover them.
Therefore, though we have a chance to free recover lost/deleted photos, it's just a remedial measure, and no one can promise lost files could be 100% recovered. So, we'd better develop a habit of using memory card correctly so as to reduce or even avoid photo loss.
3 Tips on Using Memory Card
Tip 1. Take out, Plug, and Unplug Memory Card Correctly
Please slightly take out memory card from Android mobile phone, digital camera, or other portable devices slightly, and plug it to card slot slightly, too.
Before unplugging memory card, please eject the device at first though currently most external drives support hot-plug. When the message "The 'USB Mass Storage Device' device can now be safely removed from the computer" or similar messages pop up, you can take out the memory card without worries.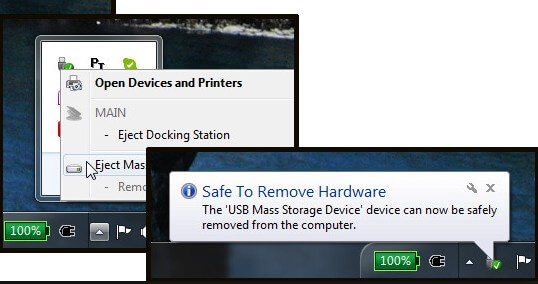 Tip 2. Avoid Taking out Memory Card Repeatedly
Please use your camera or other portable device as a card reader via USB to read data if the computer recognizes your memory card and allows you to view contents. After all, frequently taking out and plugging memory card might physically damage it.
Tip 3. Transfer Photos out from Memory Card Regularly
Nowadays, capacity of a memory card, like SD card, could be several hundred GB or more, so lots of people's memory card saves a huge number of photos. Under this situation, a mistaken operation, formatting the memory card by accident for example, could make all these pictures lost.
So, we highly suggest transferring some or all photos out from memory card to computer hard disk after a task, vacation, etc. Then, even if the memory card is damaged, we still have a backup.
Conclusion
When photos and other media files saved on memory card in Android mobile phone, digital camera, tablet, PDA (Personal Digital Assistant), multi-media player, and other portable devices get lost, try using MiniTool Photo Recovery to recover them. To recover photos from inaccessible memory card, you can also use this program. However, if you need to recover files from internal memory of Android /iOS mobile phone or other portable devices, try using MiniTool Mobile Recovery.
Should you have any problems on memory card photo recovery or MiniTool Photo Recovery, please feel free to leave us messages in comment section or send us an email to [email protected].