This post teaches you how to repair corrupted PNG images and recover deleted/lost PNG images. Some professional PNG repair tools and a free data recovery program are introduced. MiniTool Software offers you free data recovery software, disk partition manager, PC backup software, video editor, video converter, and more.
How to repair corrupted PNG images for free? How to recover deleted or lost PNG files?
This post introduces some professional photo repair software to help you repair damaged PNG files and provides a free file recovery program to help you recover deleted or lost PNG pictures or any other types of files. Check the details below.
How to Repair Corrupt PNG Images (Online) for Free
A PNG file can be corrupted due to interruption of transfer, malware/virus infection, hard drive bad sectors or other corruption, disk formatting, improper ejection of the memory card, and more.
If a PNG file becomes corrupted, you can use a professional file repair tool to fix it. Below are some professional PNG repair tools to help you fix corrupted PNG files. Check their details below.
1. OnlineFile.Repair
You can also try this free online file repair service to fix PNG corruption. This online service helps you repair various formats of damaged files including Word, Excel, PDF, PPT, Access, Photoshop, etc. You can just drop your corrupted PNG file to the specified area of this website and start repairing the file instantly.
2. online.officerecovery.com
To repair corrupt PNG images online, you can try this online photo repair service. It helps you repair corrupted PNG, JPEG/JPG, GIF, TIFF, BMP, or RAW images.
You can go to its website (https://online.officerecovery.com/pixrecovery/), click Choose File button under Data Recovery to select the source corrupted PNG file, and click the Secure Upload and Repair button to upload and repair the PNG image. You can download the recovered file after repairing it.
3. Stellar Repair for Photo
To fix damaged PNG files, you can try Stellar Repair for Photo. This professional photo repair software helps you easily repair and restore corrupt photos including RAW image files. You can use it to repair corrupted photos recovered from corrupt media. It supports the latest Windows 11 and macOS Monterey.
If you want a 2-in-1 data recovery and file repair program, you can turn to Stellar Data Recovery for Mac.
4. Wondershare Repairit
This is another popular file repair application that helps you repair various formats of files. You can use this tool to repair broken photos, videos, and files in a few clicks. You can just add your corrupted files and click the Repair button to let the program automatically repair the files. You can preview the repaired files and save them to the desired location after repairing.
5. FileRepair
You can also try this file repair tool to repair corrupted picture files, documents, etc. It offers a set of tools to allow you to fix various types of media files.
6. Aspose 3D PNG Printing
This free online PNG repair tool is used for detecting and repairing defects of uploaded PNG files. It supports various 3D formats and automatically detects and fixes model errors. You can go to its website and upload your file. Click Repair Now button to let it repair the file for you.
Other Tips to Fix Corrupted PNG File
Tip 1. If the PNG file can't open, you can try another photo editor to see if it can smoothly open it.
Tip 2. Convert PNG to another format. You can use some online tools to easily convert PNG to JPG. You can try tools like PNG2JPG, CloudConvert, iLoveimg, etc. If you use Photoshop, you can also import the PNG file into Photoshop and save it as a JPG file.
How to Recover Deleted/Lost PNG Files for Free
If you mistakenly deleted some PNG files and want to restore them, you can find them from the Recycle Bin. However, if you emptied the Recycle Bin or the files were deleted from external devices like USB, you need to utilize a professional data recovery program to recover the deleted PNG files.
MiniTool Power Data Recovery is a top data recovery application for Windows. You can use it to recover any deleted or lost files including PNG images from storage devices. It lets you easily recover data from a Windows computer, USB flash drive, memory card, SD card, external hard drive, SSD, etc.
Aside from recovering deleted files, MiniTool Power Data Recovery also helps you restore lost data from various data loss situations, even from a crashed PC. It features a bootable media builder that lets you create a bootable USB drive to boot your computer into WinPE. You can launch MiniTool Power Data Recovery in WinPE and recover data from your PC.
MiniTool Power Data Recovery also features an intuitive interface and simple operation. You can use it to recover data in a few simple steps.
Download and install MiniTool Power Data Recovery on your Windows computer and check how to use it to recover deleted/lost PNG files.
Connect the USB flash drive, memory card, or external hard drive to your Windows computer.
Launch MiniTool Power Data Recovery.
Select a drive or device to scan. You can select the target drive under Logical Drives or select the whole device under the Devices Click Scan after selecting the drive/device.
After the scan process is ended, you can view the scan result to check if the deleted or lost files are there. Check needed files and click the Save button to choose a new place to store the recovered files.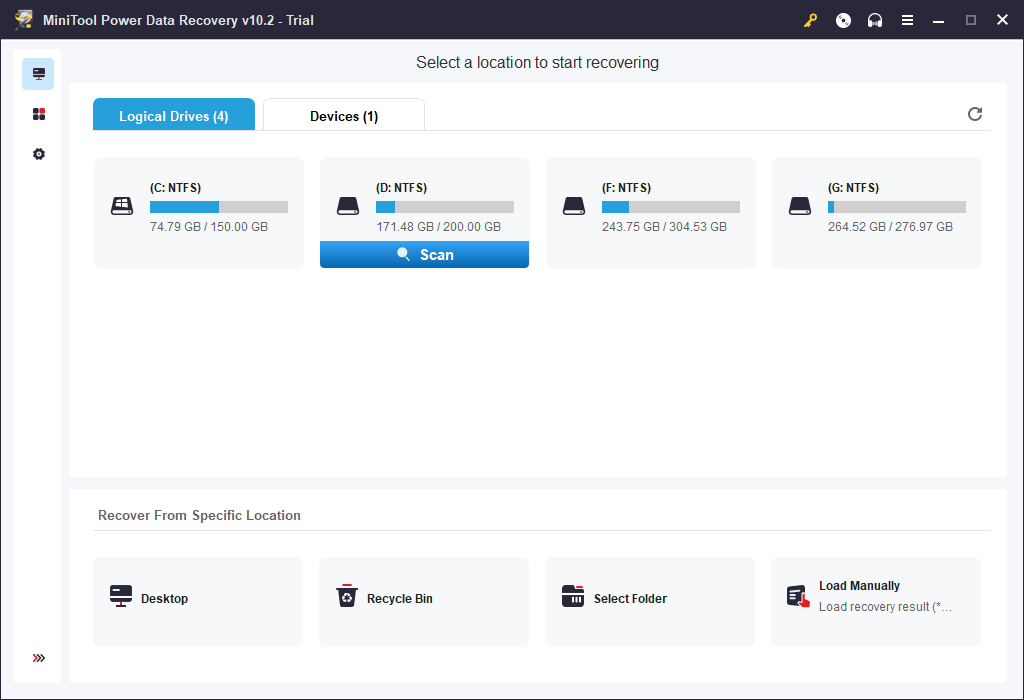 Always Make a Backup of Precious PNG Images
If you have some important pictures or photos that you don't want to lose unexpectedly, you should make a copy of them and store them in a safe place.
An easy way is to copy them to another location to make a backup. You can also upload them to cloud services for backup.
To help you easily back up files and folders or partitions and disk on your Windows computer, MiniTool develops MiniTool ShadowMaker – a professional PC backup program.
MiniTool ShadowMaker lets you easily choose bulks of files and folders to back up to an external hard drive, USB flash drive, or network drive. It also lets you choose the whole partition or disk to back up.
You can set a schedule to automatically back up selected content or set an incremental backup scheme to keep the latest backup and delete old backups.
Aside from backup mode, you can also use the File Sync feature to sync important files to another device to have a copy.
Download and install MiniTool ShadowMaker on your PC and check its simple user guide below.
Launch MiniTool ShadowMaker and get to its main UI. Click Backup module.
Click the Source Choose the Files and Folders option or choose the Partitions and Disk option. Then choose the target files, folders, or partitions that you want to back up.
Click Destination Choose a location or device that you want to save the backups.
Click the Back up Now button on the main interface to start the backup process.
A 100% Clean and Free Video Repair Tool
If a video is corrupted and can't open/play, you can try our professional video repair program – MiniTool Video Repair – to see if it can help repair the corrupted video.
MiniTool Video Repair helps you repair corrupted MP4, MOV, M4V, F4V videos for free. It helps you fix various video corruption issues and repair damaged video from various devices. Its Advanced Repair feature helps you fix severely damaged videos. This video repair tool is a 100% clean and free application.
Conclusion
This post introduces some tools and tips to help repair corrupted PNG images and recover deleted or lost PNG files.
If you are looking for more useful computer programs from MiniTool Software, you can visit MiniTool Software official website. Below are some other flag products you may be interested in.
A powerful free disk partition manager lets you manage your hard disks with ease. Easily create, delete, extend, resize, format or wipe partitions, convert NTFS to FAT32 or vice versa, convert MBR to GPT or vice versa, check and fix disk errors, clone disk, migrate Windows OS, test hard drive speed, analyze hard drive space usage, and more.
Well received by many users, MiniTool MovieMaker has helped many people to edit and create personalized videos. It is a professional video editing program that offers various edit features. You can use MiniTool MovieMaker to trim/cut/split video, add effects to video, add transitions to video clips, add background music to video, add emotion effect to the video, change video speed like time-lapse and slow motion, add subtitles/titles to video, etc. You can export the edited video in MP4 or any other preferred format.
Another 100% clean and free application that offers ultimate video solutions. You can use MiniTool Video Converter to convert any video or audio format to the preferred format. Aside from that, you can also use it to free download YouTube videos for offline playback. Besides, it includes a screen recorder that lets you record computer screen and audio. You can select any area on your Windows computer screen to record or record the full screen. You can select recording system audio or microphone audio or not.
If you have any problems with using MiniTool Software products, please contact [email protected].