Kingston pen drive, also known as Kingston flash drive, is widely used throughout the world. It is a wonderful on-the-go device which provides file storage for photos, music, video and other personal files.
However, a Kingston pen drive could corrupt anytime due to many reasons. So I'd like to offer useful ways to repair the USB drive.
As an American multinational computer technology company, the Kingston Technology Corporation has been devoting itself to the development manufacturing, sale and support of flash memory products. Till now, the Kingston pen drive is world-famous. Many people like to purchase a Kingston flash drive to save business documents, personal data, and backup files.
Section 1: Kingston Pen Drive Is Corrupted
Here comes the problem: the Kingston pen drive is corrupted sometimes, without leaving users chance and time to transfer the important files. Taking this situation into account, I think it's urgent to provide methods to help you recover lost data and tell you how to fix corrupted Kingston pen drive.
If you're a Kingston flash drive user, you should read the following sections carefully even though your device hasn't had any problems so far. I mean, the methods for flash drive repair will come in handy.
A True Example of Corrupted Kingston Pen Drive
Corrupted and Undetectable Flash Drive:
Hey everyone, so my 32GB USB3.0 Kingston flash drive just got corrupted (some file and folders had random symbols for names and the rest couldn't open and got a corrupted error) and after I switched ports, neither my laptop nor desktop can read it in any port. My Desktop is running Windows 8.1 Pro and my Laptop is running Windows 7. If I go to Devices and Printers, I can see my flash drive, but there is no way to access it. I also tried using the command prompt to repair it (chkdsk h: /r) but I get a Cannot Open Volume For Direct Access error. Is there any way that I can recover my files without formatting then using recovery software? I'm scared that if I format I may not recover as many files as if I didn't format.

- said Hunterkill in Tom's Hardware Forums
The user said his 32GB USB3.0 Kingston flash drive is corrupted and he can't access it. So he wrote this post to ask for useful ways to recover files without formatting. In section 2, I'll offer the detailed steps for Kingston flash drive recovery.
Common Causes & Situations of Kingston Flash Drive Failure
Causes:
In summary, there are mainly 8 types of reasons for causing corruption on a Kingston pen drive.
NAND memory wear: the NAND flash memory is failed due to long use time.
USB driver issues: the driver of Kingston flash drive is missing or conflicting with others.
Broken USB connector: the connector used to connect Kingston drive and computer is damaged.
Virus attack: the Kingston flash drive can easily get corrupted when it is attacked by virus.
Program/OS crash: the programs running on the drive is damaged somehow, resulting in data corruption. (How to recover data from disk without OS?)
Insufficient/unstable power supply: if the power supply of your Kingston drive is not enough or unstable, it will cause damage to it.
Human error: if you use or eject the Kingston pen drive improperly, damage will also be brought.
Physical damage: if the pen drive has oil/water stain or if it fell to the ground, it may be broken physically and cause irreversible failure.
Situations:
I'd like to introduce 3 types of situations to you in brief.
One: the Kingston pen drive is not detected.
This situation can be subdivided into 2 cases:
Kingston flash drive is not showing up in Windows Explorer.
Kingston flash drive doesn't appear in Disk Management.
In the first case (you can't see your Kingston drive in File Explorer), you should open Windows Disk Management to have a look.
If you find the Kingston flash drive here, the problem is probably caused by missing drive letter or drive letter conflict. Therefore, you should right click on it and choose Change Drive Letter and Paths; also, you can make use of the Change Drive Letter function of MiniTool Partition Wizard.
If you still can't see the pen drive, please move to the next case.
In the second case (you can't see your Kingston drive in Disk Management), you should suspect that:
The computer settings are not correct.
The USB port or data cable is broken.
There're physical problems on your drive.
Etc.
Two: the Kingston pen drive is not formatting/accessible.
You may see the following error messages when trying to access the Kingston pen drive.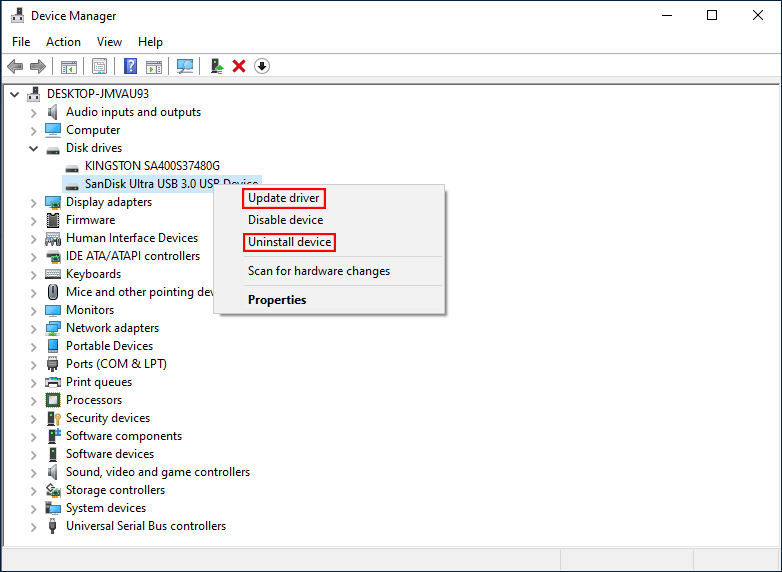 How To Deal With Micro SD Card Not Formatted Error – Look Here!
Three: the Kingston pen drive is write protected.
You'll also lose access to your Kingston pen drive data when you see the message The disk is write-protected. It appears when you are opening both the drive and a certain folder.
In fact, the write protection is a good way to secure your data documents, folders, and drives by using physical mechanism. When it is turned on, anyone without privileges can't add, delete, or modify the files under protection.
Section 2: How to Fix Corrupted Kinston Pen Drive
How to Repair Kingston Pen Drive When It Is Not Showing
First of all, you need to make sure the Kingston flash drive is showing up on your computer.
How to fix an unrecognized USB disk:
Change Drive Letter and Paths: if the unrecognized USB flash drive does appear in Disk Management, you should right click on it and choose Change Drive Letter and Paths to add or change a drive letter to it.
Create partition: there's an uncommon reason for USB drive not showing up – the entire disk turns into unallocated space. At this time, you should right click on the unallocated space and choose New Simple Volume to create a new partition on it.
Plug the USB drive into another USB port: if the USB port is broken, you can never make the PC recognize your Kingston drive; so I advise you to change a USB port to connect the flash drive.
Unplug & reconnect computer: you should shut down your computer and remove all power supply from it; then, reconnect it to the power supply. This process reloads motherboard & drivers and reboots USB ports.
Update the drivers: if the drivers are damaged/corrupted, the Kingston drive also can't be detected by PC.
Uninstall recently installed software & hardware: if the Kingston pen drive can be recognized before you have make changes to your computer recently, you should revert the changes and try again.
Read this page to know more about why the flash can't be recognized by computer and how to fix it.
When you finally get your computer to recognize the corrupted Kingston pen drive, you should consider USB data recovery first. (Of course, you can ignore this if you don't care about the data on it at all.)
How to Recover Data from Corrupted USB Flash Drive
In order to recover pen drive data easily, you need to get a powerful and reliable recovery tool. I recommend MiniTool Power Data Recovery which enjoys high reputation among millions of users.
How to recover data from Kingston flash drive with MiniTool Power Data Recovery?
Step one: download the software from a reliable link and install it properly on your PC.
Step two: connect the Kingston drive to your computer through the USB port.
Step three: launch MiniTool Power Data Recovery and select Removable Disk Drive from the left sidebar.
If you only want to recover pictures from it, you should:
Click on the Settings at the bottom right.
Find Graphics & Picture folder under Extra search for known file types.
Check the picture types you need and click on the OK button to confirm.
Step four: click on the Scan button on the right side of Settings button and wait for the scan.
Step five: look through the found files one by one to pick out the ones you really need.
You can make use of the following features to find files quickly:
Find: find file by file name; you can choose to Match Case and Match Word.
Filter: find file by Filename/Extension, Size, and Date.
Preview: find file by browsing its contents.
Step six: check the files you need and click on the Save button to choose a storage path for it. Then, click on the OK button to confirm your choice.
Please remember that you can't choose the Kingston drive to save recovered files; otherwise, it will lead to data overwriting.
Please click here to know more about corrupted memory card data recovery.
How to recover data from pen drive using Command Prompt?
Open Windows search box to type cmd.
Right click on Command Prompt and choose Run as administrator.
Type diskpart and press Enter.
Type list disk and press Enter.
Type select disk * and press Enter.
Type rescan and press Enter.
Wait for the scan to finish.
Check if your files are recovered at the end.
Note: You must make sure that the Kingston flash drive is connecting to your computer during the entire process.
How to Repair Inaccessible Kingston Flash Drive
Can you repair USB drive when you find the Kingston flash drive is not formatting or accessible? Of course, you can; you need to format USB Kingston.
Formatting is an easy way to fix corrupted pen drive when the file system of the USB drive is broken or not supported. Here, I'd like to introduce 3 commonly used ways to format a drive.
How to format USB drive in Disk Management:
Open Disk Management.
Right click on the Kinston drive to choose Format.
Choose a File system, keep the Allocation unit size unchanged, and change the Volume label if you want.
Check Perform a quick format and click OK.
How to format flash drive in Windows File Explorer:
Open File Explorer.
Right click on your Kinston disk in the right pane.
Choose Format from the context menu.
Keep Capacity & Allocation unit size unchanged and choose a suitable File system. (Add a volume label if you want.)
Check Quick Format and click Start.
How to fix when your File Explorer is not responding or stops working?
How to format pen drive by using USB drive repair tool like MiniTool Partition Wizard. (Also, you can choose another Kingston USB format tool to complete this process.)
Run MiniTool Partition Wizard and select Launch Application.
Choose your USB drive from the right pane.
Expand Partition Management from the left sidebar.
Select Format Partition.
Choose a File System, keep Cluster Size intact, and add Partition Label if you want.
Click OK and press Apply in the upper left corner.
Choose Yes in the pop-up window to confirm changes.
Some people would ask how to fix a corrupted flash drive without formatting. My answer is using Command Prompt.
Press Start + R to open Run dialog box.
Type cmd and press Ctrl+Shift+Enter.
Type diskpart and press Enter.
Type list disk and press Enter.
Type select disk * (* is the number in front of the flash drive) and press Enter.
Type clean and press Enter.
Type create partition primary and press Enter.
Type format fs=ntfs and press Enter.
Type assign to add a drive letter to the flash drive.
When the operations are finished, please exit DiskPart.
In the cases where the Kingston pen drive is write-protected, you should just remove write-protection from it to access files inside successfully.
Section 3: Verdict
This post introduces the Kingston pen drive corruption issue and analyzes the causes & situations of Kingston flash drive failure. After that, I demonstrate the detailed steps to fix the corrupted Kingston drive with different flash drive repair tools. What's more, I teach you how to recover data from corrupted flash drive using different ways (this is important for most users since the data kept in Kingston pen drive is valuable).
If you run into a corrupted Kingston pen drive, please stay calm and do what the above content tells you to do to solve the problem all by yourself.