If you can't open a Word file or meet a corruption error when opening the Word file with the Microsoft Word app, you can try some free Word repair tools to repair the corrupted/damaged Word document. Check the detailed information below.
Free/Paid Online Word File Repair Tools
1. https://word.recoverytoolbox.com/online/
This free online word file repair service helps you easily repair damaged Word documents.
You can click the Select File button on the website to select a corrupted Word file to upload. Enter your email address and click Next Step. It will automatically repair the Word file. You can download the recovered Word file to your computer after it finishes repairing it.
The repaired file is saved to a new file with a *.docx extension. You can then open the file with the Microsoft Word app again to see if it can open.
2. https://online.officerecovery.com/word/
To repair damaged Word files online, you can also try this free online Word repair service. It helps fix the Word file when it can't be successfully opened in Microsoft Word or you see errors or warnings while opening it.
You can go to this website in your browser. Under the Data Recovery tab, you can click Choose File button to upload the corrupted Word file. Next, you can click the Secure Update and Repair button to let it fix the broken Word document.
The recovered data is saved into a new Word document. You can download the repaired file to your computer after the repair process.
3. https://onlinefile.repair/rtf
This free Microsoft Word recovery software can also analyze the file, extract and save the maximum of text from the damaged doc, docx, dotx, or rtf file. It can extract texts from all versions of Microsoft Word documents. Fix corrupted Word files with ASCII or Unicode encoding.
Go to this website and click the Select File button to select the corrupt Word (.doc/.docx) file, and type your email address to upload the file. It will start the file repair process instantly. At last, you can download the fixed (.docx) file to the local drive.
This online service helps fix various Microsoft Word errors:
The document name or path is not valid.
Word cannot open the document: users don't have access privileges.
Word was unable to read the document. It may be corrupt.
"FileName.doc" file cannot be opened.
The file is corrupted and cannot be opened.
Microsoft Word has encountered a problem and needs to close.
There is not enough memory or disk space to complete the operation.
A file error has occurred.
And more.
4. https://onlinefilerepair.com/word
You can also try this online file repair tool to repair corrupted Word documents online. It supports the recovery of various file types.
Go to its website, click the Select File button to select the source damaged Word file. Click the Email button to enter your email address. Click Next to let it repair the file for you. Preview the repaired file to see if it is satisfying. Download the repaired file after payment.
Free/Paid Desktop Word File Repair Tools
1. GetData Word Repair
You can download and install Word Repair software on your Windows computer and use it to repair your Word document. This program is designed to recover text from damaged or corrupt Word files that cannot open normally. It lets you preview the recoverable text and save it to a new Word file.
2. Wondershare Repairit
The File Repair feature in Wondeshare Repairit allows you to repair your corrupted or inaccessible Word, PDF, Excel, and PowerPoint files. It helps fix various kinds of file corruption, e.g. files not opening, distorted file layout or content, unreadable data, etc. It provides an easy fix option for text, images, font, header, footer, etc. in the Word file. It supports MS Word 2019, 2016, 2013, and earlier versions.
You can launch the program and add the corrupted Word file, click the Repair button to start repairing the file, then preview the file and save the file to the desired location.
3. Remo Repair Word
You can also use this program to repair corrupt Word documents easily. It creates a new good document copy while keeping the original file unchanged. It repairs and recovers text, formatting, hyperlinks from the corrupt DOC files. You can preview the recovered data once the repair process is finished and save it to a new Word file.
4. Stellar Repair for Word
Stellar Repair for Word is an easy-to-use free Word repair tool that helps you repair corrupted/unreadable Word (.doc, .docx) files without modifying the original text, images, fonts, etc. It allows you to repair multiple Word documents in a batch. It offers three repair options: Simple, Advance, and Raw Recovery. You can preview the recoverable Word document data before saving it. It supports Word documents in Word 2019 and earlier versions.
Possible Causes for Word File Corruption
Virus/malware infection.
Computer system crashes.
File transfer issues.
Word app crashes and other problems.
The unexpected power loss of the device.
Improper ejection of the USB device.
And so on.
Other Tips to Fix a Corrupted Word File
Fix 1. Restart computer
If the Word document cannot open on your computer, you can restart your computer and try to open it again.
Fix 2. Use the Open and Repair feature
Open Microsoft Word app.
Click the File tab and click Open -> Browse. Go to the location where the damaged Word file is stored.
Select the target file and click the down-arrow icon next to Open and choose Open and Repair. It will try to repair the problematic Word file automatically.
Fix 3. Start Word app with default settings
Press Windows + R, type winword.exe /a in the Run dialog, and press Enter.
Fix 4. Update MS Word app
Open Microsoft Word app.
Click the File tab and click Account.
Click Update Options under Product Information. Click Update Now. If you don't see the Update Now option, then you may need to choose Enable Updates first.
Alternatively, if you purchased Office from Microsoft Store, you can also open the Microsoft Store app and click the three-dot icon at the top-right corner and click Downloads and Updates -> Get Updates to update MS Word app.
Fix 5. Update Windows
Click Start -> Settings -> Update & Security -> Windows Update -> Check for updates to update Windows 10.
For more tips to repair damaged/corrupted Word documents, you can check the official help guide from Microsoft: How to troubleshoot damaged documents in Word.
How to Recover Deleted/Lost Word Files for Free
If you mistakenly deleted a needed Word file and empty the Recycle Bin, you can use a professional data recovery program to easily restore it.
MiniTool Power Data Recovery is a free data recovery application for Windows. It lets you recover any deleted or lost files, photos, videos, etc. from Windows PC or laptop, USB flash drive, SD/memory card, external hard drive, SSD, etc. This program helps you deal with various data loss situations. You can even use it to recover data from a formatted/corrupted hard drive or recover data when the PC won't boot.
Download and install MiniTool Power Data Recovery on your PC or laptop and check how to recover deleted/lost Word documents below.
Launch MiniTool Power Data Recovery.
On the main UI, choose a hard drive under Logical Drives and click Scan. If you don't know the exact location, you can click the Devices tab and select the whole disk/drive and click Scan.
Once it finishes the scan, you can check the scan result to find the target files, tick them and click the Save button to choose a new location to store the recovered files.
If you only want to scan for Word (.doc, .docx) files, you can click the Scan Settings icon in the left column on the main UI. Then choose Document and choose the Office Word document (*.doc, *.docx) file type to scan.
Always Have a Backup for Important Word Files and Other Documents
In case the Word document is corrupted and cannot open, the best way is to always have a backup of the important files.
MiniTool ShadowMaker is a professional free PC backup program that helps you back up Windows data and system with ease.
This program lets you choose files and folders to back up to an external hard drive, USB flash drive, or network drive. It also supports schedule automatic backup and file sync. You can even choose the whole partition or the whole disk to back up.
You can also use it to create an image backup of your system and easily restore the system with the image backup when needed. Many other features are also included in this PC backup software.
Clean and Free Video Repair Software for PC
If you can't open a video file due to corruption issues, you can try a professional video repair tool to repair corrupted videos.
MiniTool Video Repair, a 100% clean and free video repair program for Windows, lets you repair any corrupted MP4/MOV/M4V videos. It also allows you to add a reference video to analyze and repair the severely damaged video. You can preview the repaired videos before you save them.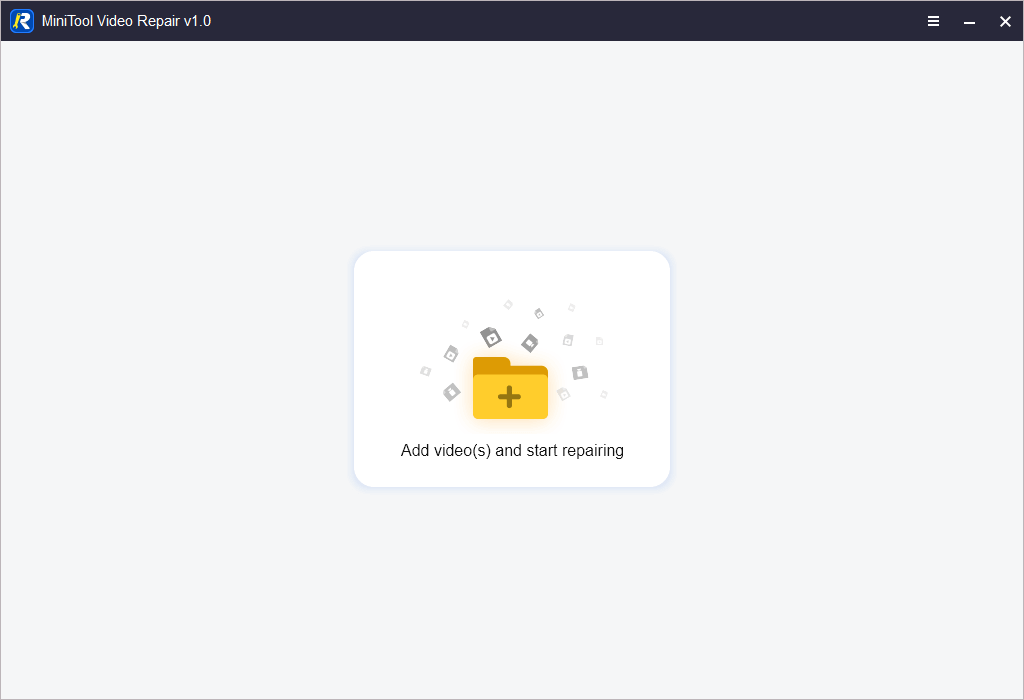 Conclusion
This post teaches you how to repair corrupted Word documents for free. Some free (online) Word repair tools and other Word repair tips are provided for your reference.
MiniTool Software also provides MiniTool Partition Wizard, MiniTool MovieMaker, MiniTool Video Converter, and more software programs. You can try them. If you have any problems with using MiniTool Software programs, you can contact [email protected].