Have you ever seen the Restart to repair drive errors on your computer? Do you want to repair the drive errors on your own? If your answers to both questions are yes, the following content talking about how to get back data from the problematic drive and how to fix the repair drive errors will be much helpful. Please get moving now!
What Does Restart to Repair Drive Errors Mean
When running into some problems on the computer, users tend to try to fix it by restarting the PC. Similarly, when any problems are found by the error checking tool (whose main function is scanning and repairing drive), the system will suggest you to restart to repair drive errors.
As you can see from the above picture, the Restart to repair drive errors (Click to restart your PC) message will appear in the action center on a Windows 10 computer. What does this error mean exactly? To be precise, this error indicates the following things:
Windows found errors on this drive that need to be repaired.
You need to restart your PC to repair drive errors found by the built-in Windows checking tool.
You are not able to access your data until you restart PC after repairing the drive.
The Restart Repair Error Is Annoying
If you do click to reboot your computer, you may get the following result:
The problem has been fixed automatically by the system after reboot.
The problem persists; you are still asked to do a restart for fixing the drive errors.
The second result may drive you crazy (see above picture), right? Undeniably, the Windows disk errors are quite a common thing; that's why there's a disk diagnostic tool built in all the Windows systems to scan and fix disk errors (check the integrity of your hard disk and fix various errors like file system error). Yet, it becomes annoying and equally devastating when the problems can't be fixed after you have done what Windows suggests you do – restart your computer.
Taking a look at the error again, you'll find that your data on the target drive may get lost since Windows says To prevent data loss, repair this drive now. On this occasion, I advise you to recover data from the drive that needs to be repaired after you have tried a reboot and failed. Then, you may try the feasible methods that'll be mentioned later in this article to fix the reboot to repair drive error.
How to Recover Data When Windows Asks You to Repair This Drive
Since Windows won't allow you to access the drive until the repair this drive error has been fixed, you can't copy files from it to keep data safe. In this case, you should recover data from the inaccessible drive with reliable data recovery software. Another way to ensure data security is to make a data backup with powerful backup software.
Attention. If your drive turns into RAW suddenly and you can't access it, please read this to know how to do the recovery:
My suggestion: MiniTool Power Data Recovery and MiniTool ShadowMaker.
In the following content, I'll mainly focus on telling you how to recover data with the amazing recovery tool.
Data Recovery Steps
Step one: get the setup program of a reliable tool – download it properly. Then, click on the setup application to run the installation process and follow the instructions to complete installing the tool.
MiniTool Power Data Recovery TrialClick to Download100%Clean & Safe
Step two: run the recovery tool and you'll be brought to its main window after a quick disk loading process.
Step three: you'll see four options located on the left side of the software main window: This PC, Removable Disk Drive, Hard Disk Drive, and CD/DVD Drive. Please select the drive that is most suitable for your case.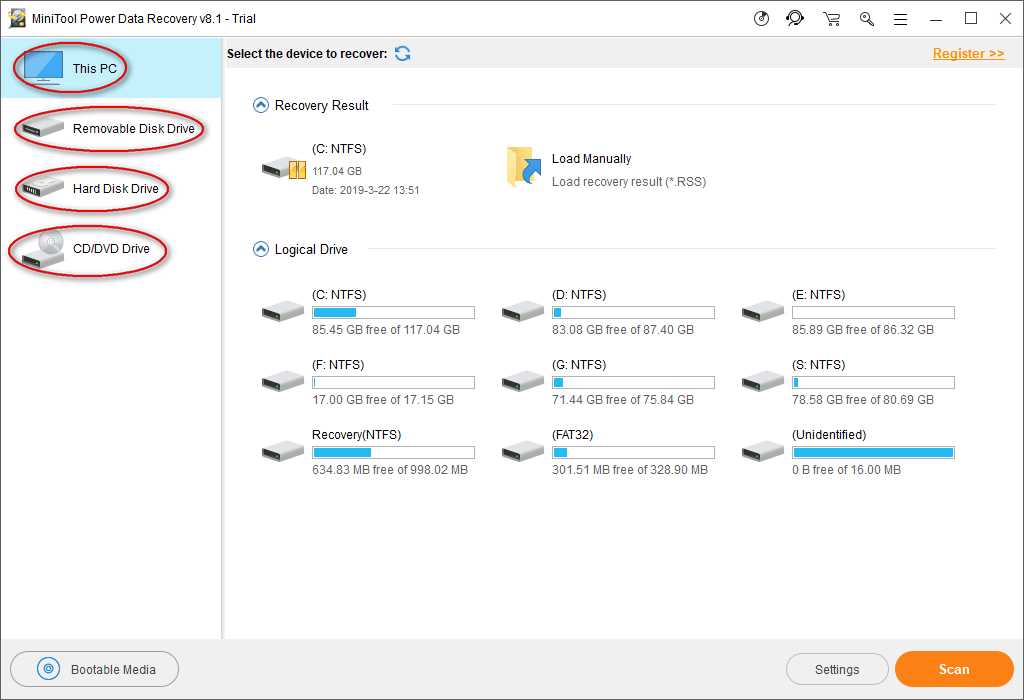 For instance:
If the repair error occurs on a partition, you should select This PC to see all partitions mounted on the computer.
If you need to fix the error occurs on a removable disk like a broken USB stick, you should select Removable Disk Drive.
If the error is found on a hard disk (both internal and external), you may as well choose Hard Disk Drive.
Please remember to connect the drive to the computer before running the recovery tool if it is a removable/external/portable one.
Step four: find the drive on which the restart to repair drive error appears. Then, double click on it or single click on the Scan button to start the drive scanning process (it will be initialized immediately after clicking).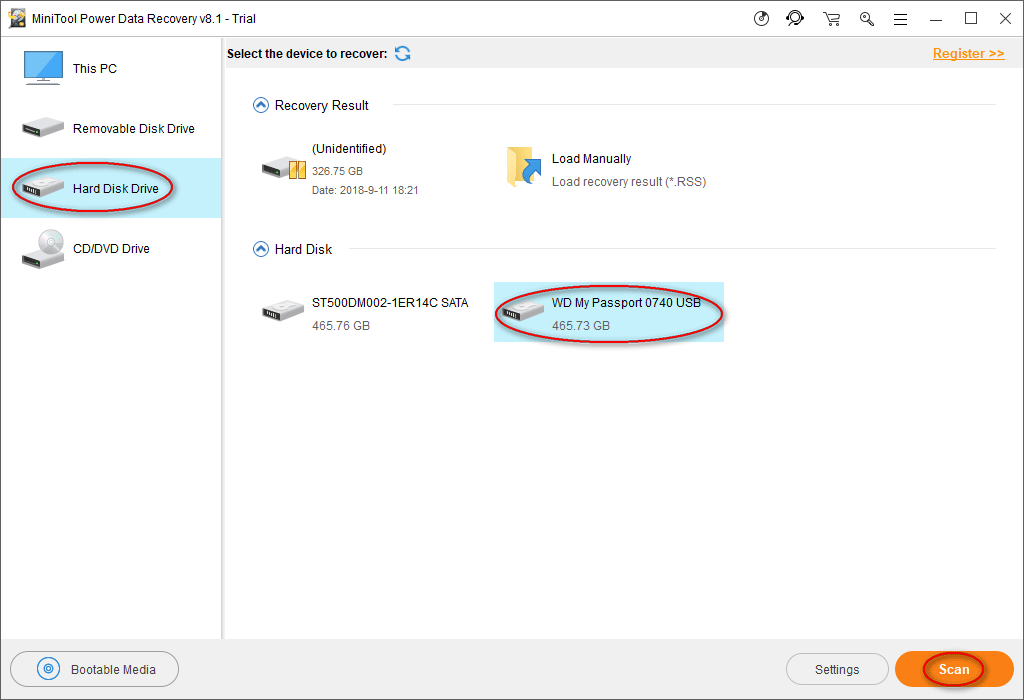 Step five: you'll see a progress bar now which indicates the progress of the scan. Besides, you'll see the following information on the same page.
The specific scanning progress which is shown by a percentage.
The numbers of files that have been found until
How much time it will need to finish the scan.
Certainly, these types of information will be constantly changing.
Step six: now, you can expand the found partitions and folders to see whether your needed files are contained.
If all the important data you need on the problematic drive have been found, you should end the scan and check them to recover by clicking on the Save button.
If there are still some files not found yet, you should wait for the scan and check all the items you need to recover when they have been finally found.
What happens after you click on Save?
If you're using the trial edition, a limitations window will pop up to prevent you from continuing the recovery. At this time, you need to get a license for registering a full edition in order to get the recovery done.
If you're using a registered edition, you'll see a storage path setting window, in which you are asked to select a directory to save the files you have checked. Then, you should click on the OK button to confirm.
That's all I want to talk about the data recovery from the inaccessible drive.
After that, I advise you to backup data (at least the important files) on your drive with a reliable tool like MiniTool ShadowMaker, as I have suggested earlier. Please click here to know how to create automatic file backup in Windows 10.
FYI: there are mainly 3 cases in which you can't access your drive (hard drive or flash drive):
How to Fix Repair Drive Errors on Windows 10
The restart to repair drive errors on Windows 10 are talked frequently in 2018. Many methods have been put forward by different people to try to fix the error. Here, I summarize 5 methods to help you settle down the repair this drive problem easily.
Method One: Run SFC – System File Checker Tool
Click on the Cortana icon on the left side of the taskbar and type cmd to find command prompt.
Right click on Command Prompt under the Best match and choose Run as administrator.
Select Yes in the prompt window to allow the app to make changes to your device.
Type sfc /scannow into the command prompt panel and then press Enter key to run the System File Checker.
Then, the system scan will be started immediately and the prompt command tool will tell you that the process will take some time, so you need to wait patiently.
Once the scan process has been completed, this tool will fix all problems it has found; you just need to wait for the completion.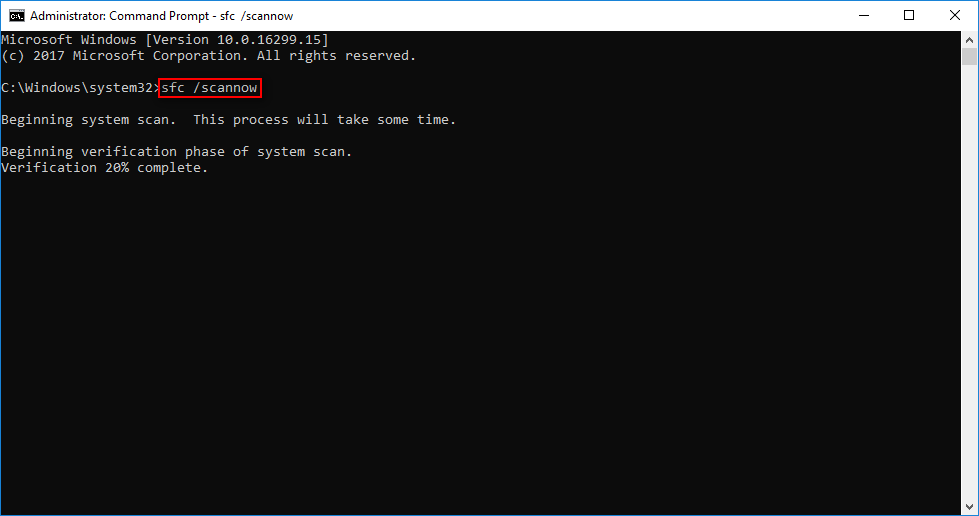 Method Two: Run Check Disk
Repeat step 1 to step 3 mentioned in method one.
Type chkdsk *: /f into the command prompt tool and hit Enter in the keyboard.
Wait for the disk checking process, which consists of mainly three stages (examining basic file system structure, examining file name linkage, and examining security descriptions).
Any problems found by this command will be fixed automatically at the end of the scan.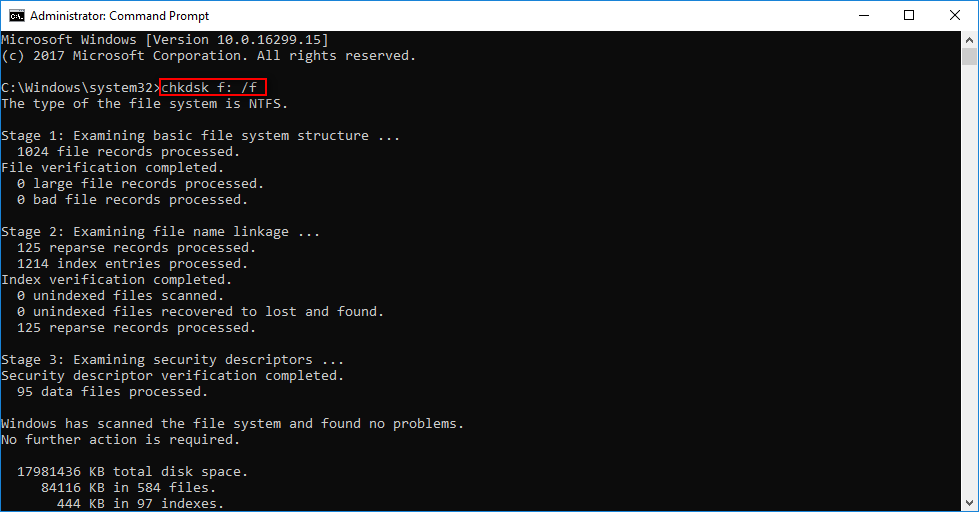 Please note: the CHKDSK command will clean up disk-related errors on your PC, but it may delete your data. Click here to know how to recover data after CHKDSK.
Method Three: Run DISM
The Deployment Image Servicing and Management (DISM) is actually a command-line tool embedded in Windows systems to do a lot of things, such as manage .wim files, update Windows features, and fix corrupt system files.
Open the Start Menu.
Scroll down to find Window Systems folder.
Expand it and right click on Command Prompt inside.
Choose More from the pop-up menu and choose Run as administrator from the submenu.
Select Yes in the prompt window.
Type DISM.exe /Online /Cleanup-image /Restorehealth and press Enter.
Wait please when the tool is obtaining the system files online in order to restore back with the corrupt files (click here to know how to recover corrupt files easily).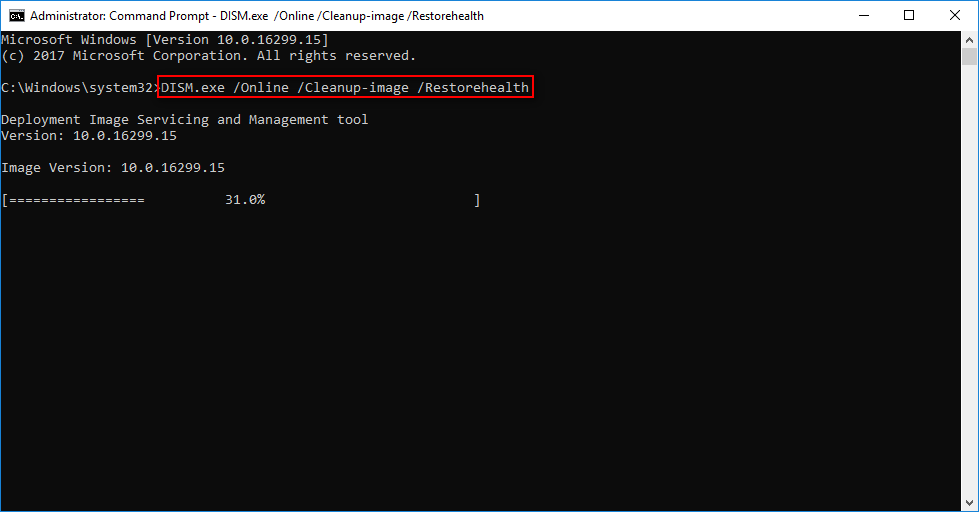 Please note: sometimes, the DISM may fail to get the files. At this time, you may turn to the USB or DVD for help.
Connect the USB or DVD to computer.
Type DISM.exe /Online /Cleanup-Image /RestoreHealth /Source:* /LimitAccess (* stands for the path of your USB/DVD).
Then, press Enter and wait.
Method Four: Automatic Repair or Startup Repair
In this method, the Windows bootable installation CD/DVD is necessary, you need to find it and make it ready for use.
Connect the Windows bootable installation CD/DVD to the computer properly.
Restart your Windows PC.
When prompted to continue, you need to press any key in order to boot from this CD/DVD.
Choose the language you like from language preferences and click on the Next button.
Click on the Repair your computer option, located in the bottom-left corner.
Select Troubleshoot in the Choose an option screen.
Select Advanced options then to see the following window.
Click on the Automatic Repair (Fix problems that keep Windows from loading) option (you can also select Startup Repair).
Wait for the completion of Automatic Repair or Startup Repair.
Restart your computer when it finishes and then boot into the Windows PC.
Method Five: Execute System Restore in Safe Mode
With the help of System Restore, you can bring your computer back to a point before the restart your PC to repair drive errors appear (you can recover files after System Restore if any important data are lost).
How to run system restore in safe mode:
Shut down your computer properly and then power it on.
Press F8 or another key (varies from computer to computer) before the Windows logo appears.
Select Safe Mode with Command Prompt and press Enter under Advanced Boot Options.
Type rstrui.exe and press Enter.
Type system restore into the textbox and press Enter.
Follow the System Restore instructions to choose an available restore point from the list so as to restore your computer.
Wait for the end of the restore, and then reboot your PC.
That's all I want to talk about how to repair drive errors on Windows 10. If you have other good suggestions, please leave a message below to help more people.
Final Words
A lot of users reported that the "Restart to repair drive errors" keep showing up even after a reboot. Generally, it occurs after or during the use of error checking tool. Well, how did this issue arise exactly? In fact, there are many reasons that could be responsible for such errors:
Interruption discovered during the error checking.
Problems found while running system optimization programs.
The root reason is actually – the loss of access to data saved on a Windows PC. Since you know you can't access your files successfully when the error appears, you should try every possible means to recover data from it at once.
Then, I also advise you to make a backup of the significant files so that you won't be affected when necessary files are lost in the future.
In the end, I provide you with five practical ways to fix the error you have met. These methods are said to have helped many people get out of the repair this drive error. Hope they also work well in your case!