Summary :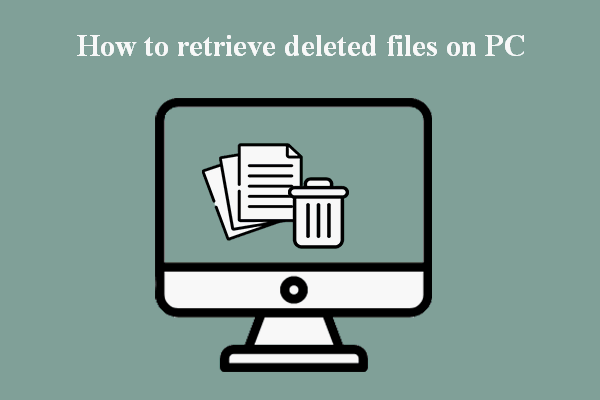 Digital data is an indispensable part of our life. Our computers contain some of our most important files - thesis, study materials, personal data, business documents and many things - that we can never afford to lose.
However, many people have the same experience: accidentally deleted a file. This article will show you how to get help from MiniTool Power Data Recovery to finish deleted file recovery.
Accidental data loss is a very common disaster that can happen to anyone. Unfortunately, not everyone knows how to retrieve deleted files on PC.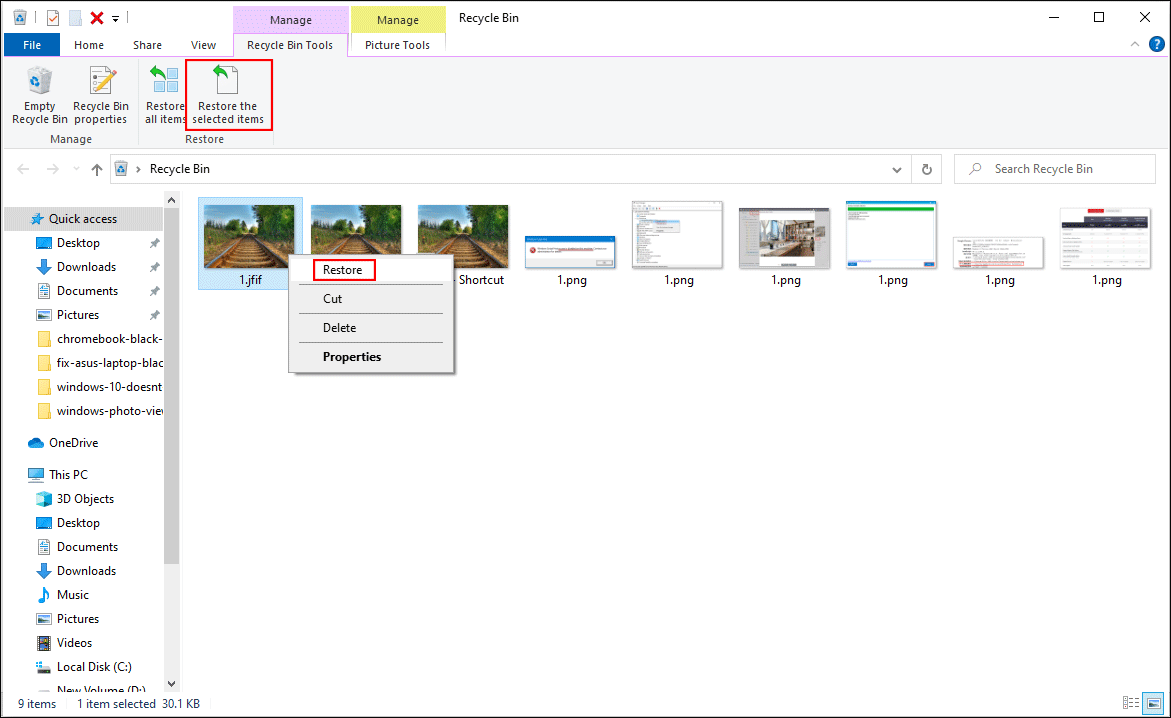 Here, I will walk you through the specific steps to undelete files quickly. Then, I'll show you what happens when files get deleted.
Please be advised that this tutorial to restore accidentally deleted data is very user-friendly and easy to understand.
How to Retrieve Deleted Files on PC
Recover Deleted Files Windows
Backup is important for data recovery for Windows.
Please recover deleted data from a backup if you have any.
If you don't have any backups, you should go to check Windows Recycle Bin to see whether the important files you need are included there.
Recover deleted files with Recycle Bin:
Right click on the icon on desktop.
Choose Open from the context menu.
Check and select files to recover.
Right click on the files you need.
Choose Restore from the context menu to recover selected files (you can also drag the files directly out of Recycle Bin).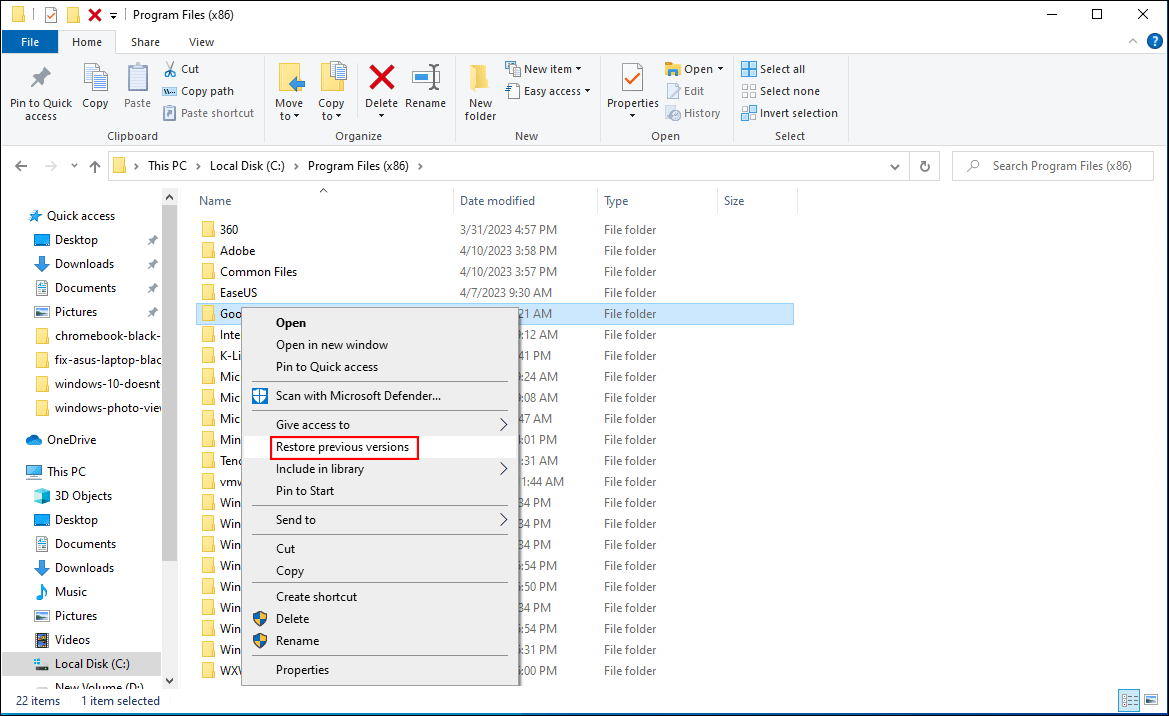 Click to know more about Recycle Bin recovery.
Can't find your desired files? Don't worry; you still have a good chance to restore deleted files.
To recover permanently deleted files, you can right click on the file and select Restore previous versions if you have enabled System Restore for it.
Additionally, free data recovery software like MiniTool Power Data Recovery can help you recover deleted files for free (it provides high-quality data recovery service).
How can I get my files back after accidental deletion? Please keep reading. (The operations to successfully recover deleted files in Windows 10, Windows 7 or other systems are basically the same.)
How to undelete important files with Power Data Recovery:
Preparations:
Download MiniTool Power Data Recovery and install it to a drive that does not contain any files waiting to be recovered.
Run the software; it gives support to all common file types like photos and videos.
Steps to recover deleted files after emptying Recycle Bin:
Select This PC from left sidebar.
Select the partition that contains the files you have deleted. (You can appoint the file type you need by clicking Settings)
Click Scan and wait for it to complete.
Browse the scan result and check the files you want.
Click Save and set a storage location.
Click OK to confirm and wait till the end of free data recovery.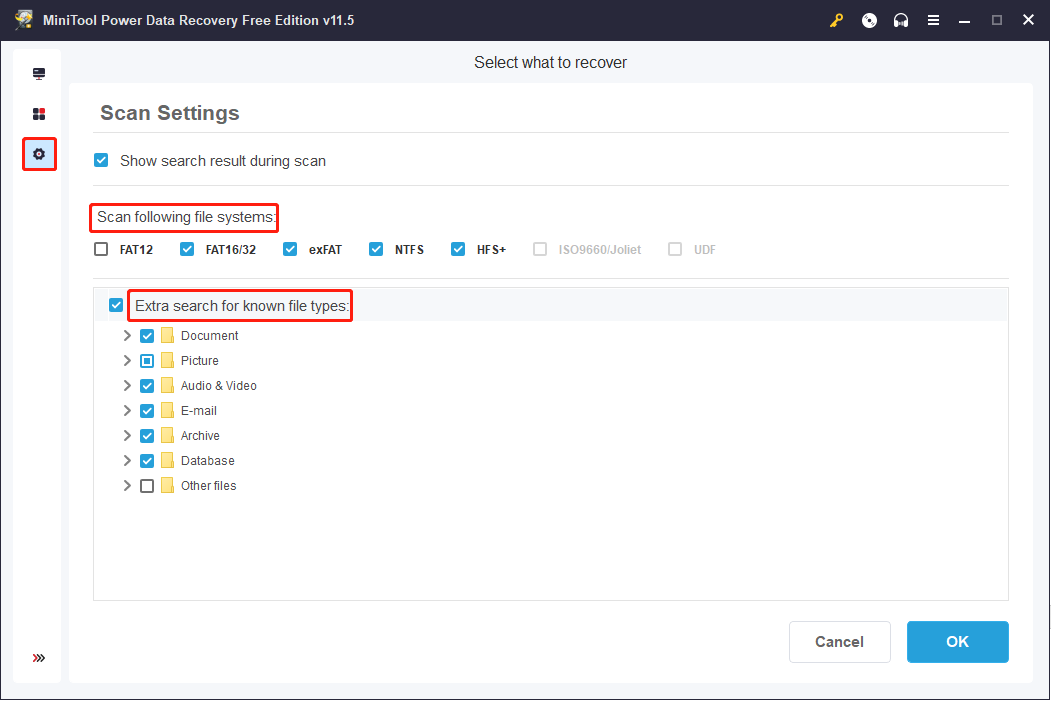 When all those operations are done, you can complete the process of recovering lost and permanently deleted files.
That's how to retrieve deleted files on PC when you're running a Windows PC (it also introduces the way to recover data deleted from cloud storage service like OneDrive).
Restore Deleted Files Mac
If you want to finish data recovery on Mac, you can choose Time Machine; but there's a better choice: using the file recovery program MiniTool Mac Data Recovery.
Download MiniTool Mac Data Recovery, install it and launch it to start hard drive recovery.
Click Undelete Recovery, which is designed for deleted files recovery.
Select the drive containing deleted Mac files.
Click Scan and wait for it.
Browse found data and select the files you need (retrieve documents and recover photos).
Click Save and choose a path.
Click OK and wait for file recovery on Mac.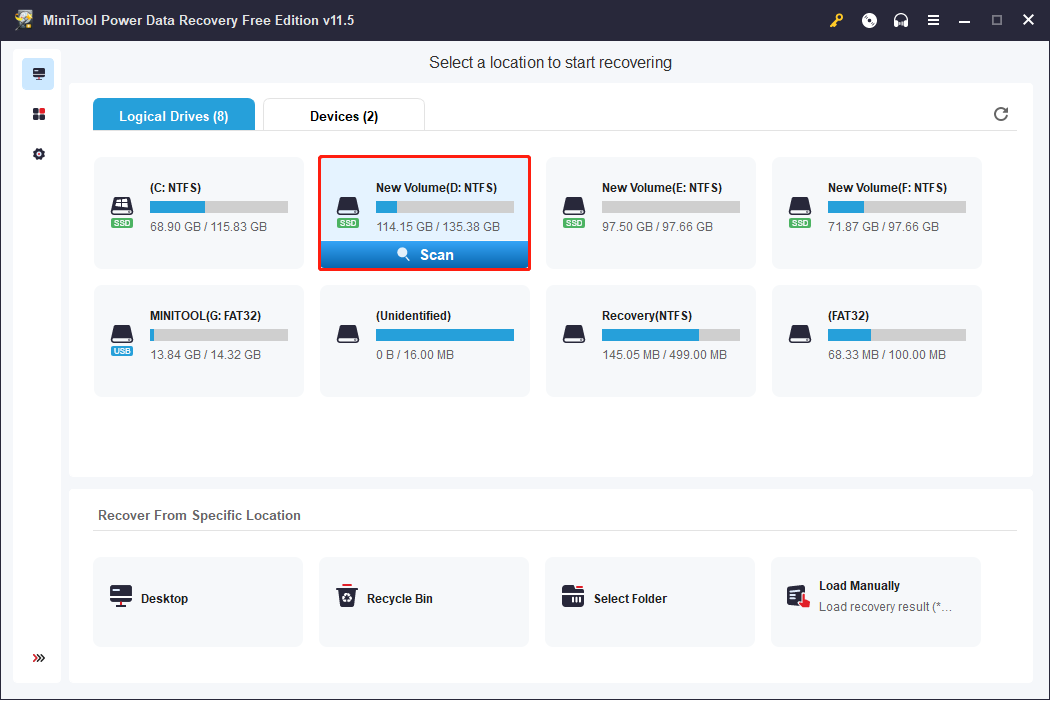 Here's how to recover lost files Mac:
Believe it or not, we can make it easy to recover deleted data on Mac even if you are totally a novice.
Recover Your Deleted Files in Other Cases
In addition to how to retrieve deleted files on PC, you may want know how to recover files from:
External disk
Flash disk
Memory card
Android device
How to Recover Files Deleted in Different Situation
Recover data from external hard drives.
To recover deleted data from external storage, you only need to take one more step: connect the device to PC and make it show up. (What if the external storage doesn't appear?)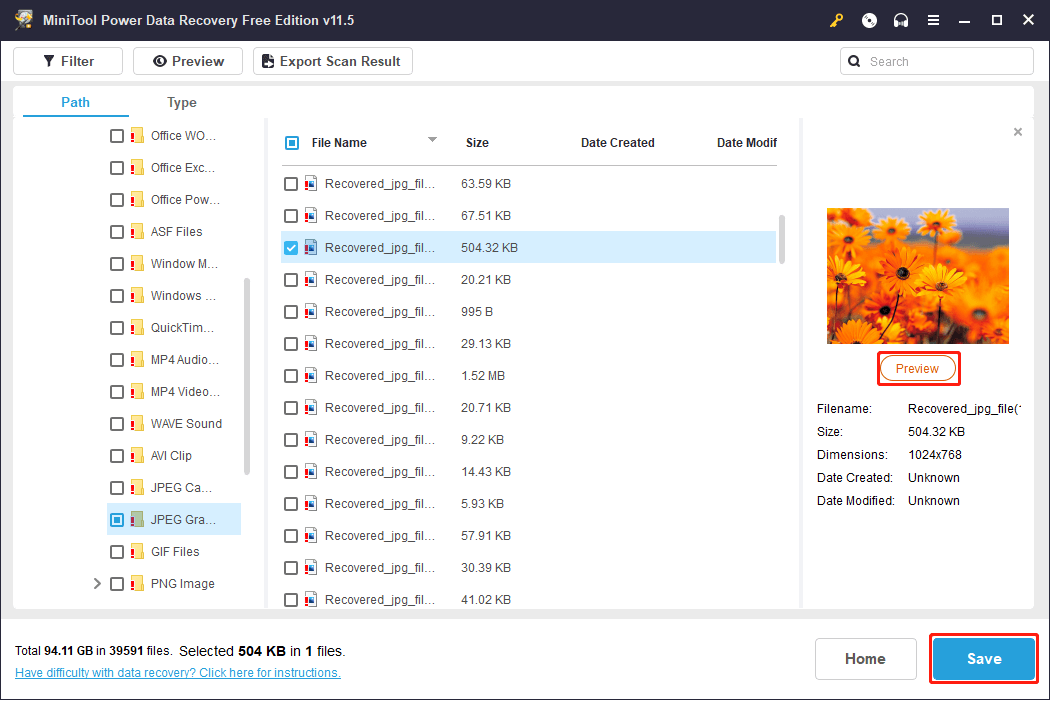 Recover files from flash drives.
Steps for recovering files from a flash drive:
Connect your USB storage to PC.
Make sure the USB drive appears. (How to fix when USB flash disk can't be recognized).
Open the recovery software and use it to restore files disappeared from the flash disk.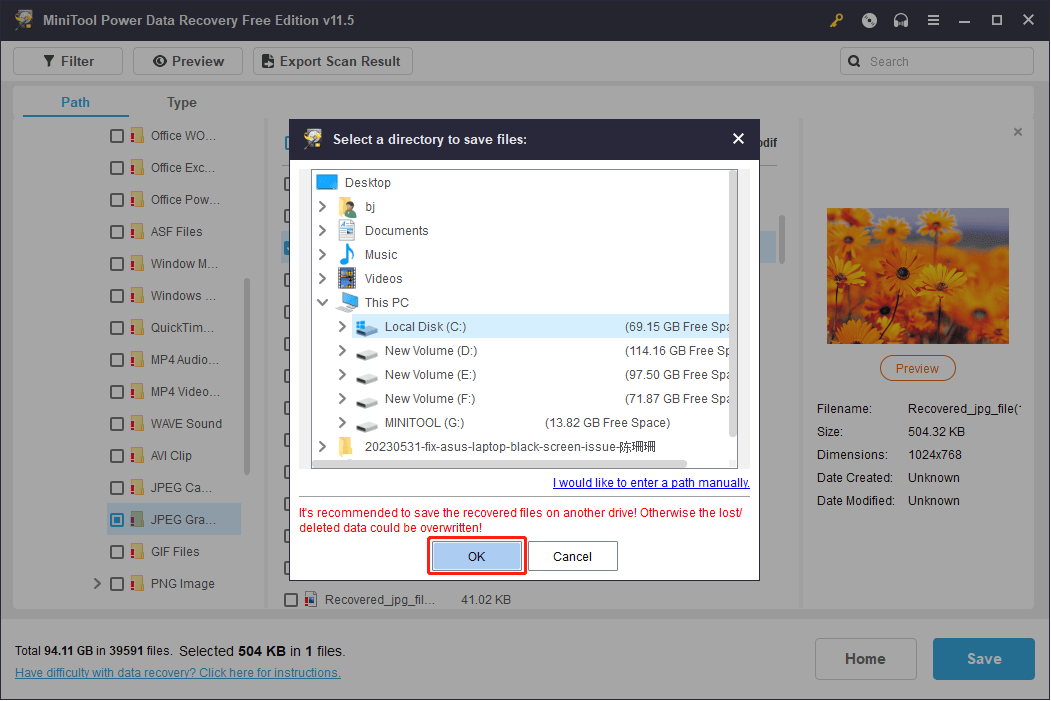 Restore files from memory cards.
How to recover lost files from SD card:
Take out the SD card and insert it into a card reader.
Connect the card reader to PC.
Use the software to scan it for deleted data.
Tips on recovering deleted files from SD card:
The content involved in this essay can help you restore deleted files from SD card without any obstacles.
Restore deleted files Android.
2 choices to recover a deleted file on Android.
Recover files after virus attack.
Power Data Recovery can not only help you restore files deleted permanently, but also get back files deleted by virus attack.
Please note: if your PC is unable to boot after virus attack, please resort to the bootable edition.
How to fix when PC doesn't boot after BIOS update?
Recover files from deleted partition.
If a partition is deleted/lost, you should scan the whole disk to find missing files: select Hard Disk Drive and follow the steps mentioned above to find files and folders.
That's how I recover my files on PC quickly by using MiniTool Power Data Recovery, a better choice than Stellar Data Recovery.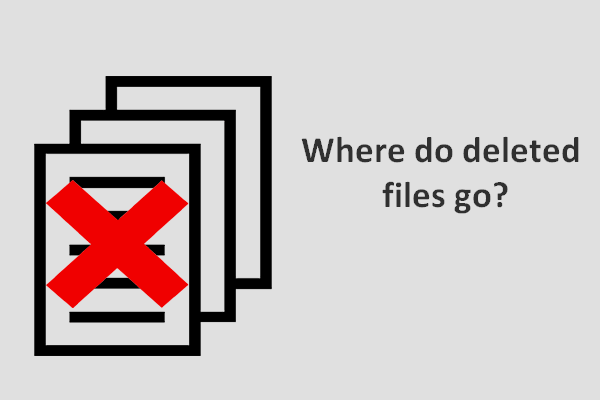 I find the question – where do deleted files go bothers a lot of people, so I decide to talk about it and then provide solutions for deleted file recovery.
What Happens When a File Is Deleted or Lost
When you delete files permanently, they will not disappear; you just lose entries to them. The situation is the same when a file system is damaged.
What's going on when you delete a file on a Windows PC?
The file content itself won't be cleared: when you delete a file in Windows Explorer, Windows will move it to Recycle Bin and mark it as deleted; even if it's cleared from here, the actual data remain.
That's why you can recover deleted file or folder with the help of file recovery software.
Windows Explorer needs to be restarted.
Conclusion
It's definitely a useful skill to know how to retrieve deleted files on PC with snap-in tools and data recovery software. In this post, multiple recovery methods are provided to help you get rid of data loss. You should follow the steps to get back files immediately.
One important thing to notice is – you must stop writing new data/using the PC after file deletion in order to avoid data overwriting.
Retrieve Deleted Files on PC FAQ:
How do you recover permanently deleted files?
First, you need to download and install MiniTool Power Data Recovery on your computer. Then, you need to open the software and keep using the This PC module. Next, you can select the target drive that contains the files you want to rescue to scan. When you get the scan results, you need to select the needed items and choose a location to save them.
How do I recover deleted files on Android?
If you want to directly
retrieve data from your Android device
, you need to root the device in advance. After installing MiniTool Mobile Recovery for Android, you can use its
Recover from Phone
module to scan your Android device and get the scan results.
Where do deleted files go?
When the files are first deleted from your computer, they will be move to Recycle Bin, Trash, or some similar location depending on your own operating system. They will stay there as long as you don't delete them permanently and you can even restore them to the original locations when necessary. After they are permanently deleted, the sectors they occupied will be marked as 0 and any new data can take up these sectors. When the permanently deleted files are completed overwritten, they just become unrecoverable.
Is it possible to recover the deleted files?
If the deleted files are still in Recycle Bin or Trash, you can just enter Recycle Bin or Trash to restore them to the original location. If you have deleted them permanently, you will need to use MiniTool Power Data Recovery to get them back. But, if these deleted files are overwritten by new data, they will become unrecoverable.