To tell the truth, data can also be lost from SD card due to many reasons, like accidental deletion of files and unintentional formatting of the card. No matter what the reason is, please remember, the first thing you should do is always recovering data, unless they are not important to you anymore.
The SD card various a lot in quality, so I suggest not choosing too-cheap SD card; on the contrary, you are supposed to choose SD card with high quality and assurance, in order to avoid unwanted sudden SD card data loss caused by the quality problem.
Besides, you should pay high attention when using SD card with important data stored in. That is because both physical problems (high temperature, improper humidity, etc.) and logical problems (human error, system crash, etc.) can be caused during this process.
Though SD card recovery sounds difficult, it can be done easily with the help of powerful data recovery software.
Here, I'll lay my emphasis on SD card recovery for Windows 10: how to achieve free SD card data recovery with MiniTool Power Data Recovery Free Edition – the professional & reliable SD card data recovery freeware. After that, I'll analyze the specific issues on the SD card and the corresponding solutions.
Free SD Card Recovery for Windows 10 – Ultimate Guide
As an ordinary user, what will you do to recover SD card on Windows 10 after discovering file loss? Perhaps, you do not have any ideas on what to do. But, please don't worry, I'll show you how to perform SD card recovery for Windows 10 step by step in different situations.
Preparations:
Please remove the SD card gently from a mobile phone, digital camera, or other devices.
Connect it to your Win 10 computer via card reader/adapter.
Check whether the SD card can be recognized or not in Windows Disk Management.
If it is not recognized on the computer, please click here to know how to fix; if it does show up, please go ahead to recover data.
Now, let's install & run MiniTool Power Data Recovery Free Edition – the fabulous Windows 10 SD card recovery freeware I have just recommended you to acquire.
MiniTool Power Data Recovery FreeClick to Download100%Clean & Safe
How to Do SD Card Deleted File Recovery
When you need to get back accidentally deleted files from SD card on Win 10, you may as well follow this tutorial:
Select "This PC" (this works when the SD card shows up as a mass storage drive on computer).
Choose the target SD card from the right action panel of the software interface.
Double click on the card or press the "Scan" button in the lower right corner.
Browse the found items and decide which ones to recover and which ones are not.
Check all the needed files and press "Save" to recover them to another drive.
How to Do SD Card Photo Recovery
If you only want to recover deleted pictures off SD card on Windows 10, you may as well accomplish the following steps:
Select "This PC" from the left action panel.
Choose your SD card with lost photos from the right action panel.
Click on the "Settings" button and check to show only certain types of files you want in the scan result.
Click on the "OK" button to confirm and press the "Scan" button to search for files.
Browse the found photos and make sure which are needed.
Check all the files you want to recover and press "Save" to recover them to another drive.
When all the files are saved to the appointed place, you can end the work to recover deleted photos from SD card.
How to Do Recovery on a Damaged SD Card
To recover data from damaged/formatted SD card on Win 10, you should do the following things:
Select "Removable Disk Drive" to find your SD card quickly.
Choose the card under "Logical Drive" or "Removable Disk" (it will be shown as unidentified if the SD card becomes RAW drive suddenly).
Double click on the card to start the scan and wait patiently.
Browse the found files and choose the part you need.
Press the "Save" button to recover them to another drive.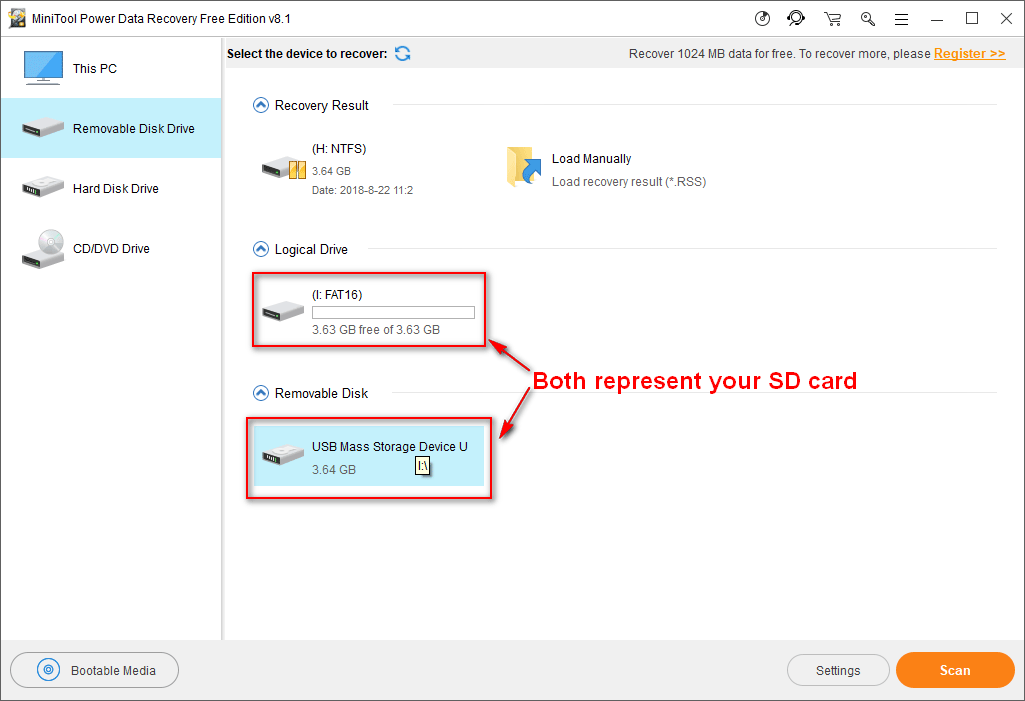 Common SD Card Errors and Protection Measures
Here, I'll introduce 8 frequently seen SD card errors, if you're encountering one of them, you should read the possible reasons and the corresponding repair solutions carefully; if you have no such experiences, you still need to take a look at them since they may be helpful for you someday.
Tip: Since Windows 10 is now widely used, I'll give suggestions on how to fix SD card errors on Win 10 computer when necessary.
SD Card Is Not Supported by Mobile Phone
Sometimes, you may encounter this situation: the SD card can be recognized by your computer properly; but, when you use it in a mobile phone, it can't be supported.
This situation often happens when the format of SD card is not compatible with mobile phone.
After you formatted the card on the computer and then tried to use it in a mobile phone, you may find it can't be used. The solution to solving this kind of problem is to format it again in a mobile phone. Remember, before the format, you should copy/transfer the data kept on this card to another place.
Card Is Not Formatted
When you plan to use your SD card on a digital device, for instance, digital camera, the device will prompt that "Card not formatted. Format card with this camera".
This may happen due to 3 reasons:
Your SD card is not formatted properly.
The file system of the SD card is damaged somehow.
The file system is not supported by the device.
Also, you need to format the SD card again on the device on which such error occurs.
Top Recommendation:
How to deal with SD card not formatted error.
Devices Ask You to Remove Memory Card and Press OK
When you actually see remove memory card error message, just like what shows in the picture below, please follow the prompts to pull out the card, and then insert it to your device after a while. By doing this, you'll find the card can continue to work; yet, it will not last long until you meet the same problem later.
Why does this happen? The direct reason to cause this problem is poor contact, which is resulted from a loose memory card slot.
Under such circumstance, my suggestion is to consider going customer service to have a comprehensive check on the device. The other thing you should do is paying enough attention when removing the SD card (plugging it into and unplugging it out from card slot/adapter).
Read and Write Speed of SD Card Is Getting Sower
After frequent operations on SD card, a lot of disk fragmentation will appear, just like the internal hard drive of the computer. And this will result in a noticeable drop in both read speed and write speed.
If you choose to manage the SD card by computer disk fragmentation in Windows 10, a series of problems tend to occur; some serious ones will even lead to the appearance of error messages during placing SD card back to electronic products like a mobile phone.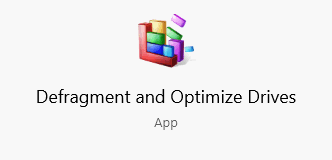 Password Is Required Suddenly
It's a common thing if you try to access your SD card and the mobile phone asks you to input a password. But, what if you haven't set any password yet? Things will become different.
If you come across such a situation, it is very possible that your SD card is infected with the virus.
When you accidentally download/receive a file containing a virus, you may perform some operations, such as opening it and installing it, to activate the virus. Once it is activated, it may set a password for the SD card naturally. At this time, you can format the SD card to try to clear the password.
My suggestions to avoid such problem are:
Do not accept any applications from strangers sent by short messages and especially Bluetooth.
Download things from authoritative sites or sites you can trust in.
Install a reliable anti-virus program if it's possible.
Fail to Access the Network with SD Card
If you find your mobile phone can't be connected to the network until the SD card in it is removed, there's something wrong with your card.
The problem of unable to open the webpage or network having no response may be usually caused by the incompatible third-party input method.
In this case, you should switch back to the default input method to try to solve the problem.
Unable to Safely Remove the SD Card
If you see this prompt in Windows 10: "Problem Ejecting USB Mass Storage Device", most of you will choose to unplug the card from it directly especially when you're in a hurry.
However, when you put the certain SD card into the device after unplugging it, for using, you may find it is shown as damaged (SD card data will be lost). If you connect it to another computer again at this time, you may be disappointed by finding it also can't be used here now.
What could be the possible reasons for this?
When a file/program saved on SD card is still running or when some data are still used by other programs, you'll not be able to safely remove your SD card from the computer.
Even if you can assure all files and programs are closed, you may still fall into this embarrassing situation when just have finished copying large volumes of data to the SD card at one time.
So my suggestion to this is copying fewer data at one time and then repeating the copying action. When actually meeting the SD card shown as damaged problem, you are highly suggested to recover data from dead SD card firstly, and then, choose to format the card for use on Win 10 computer or electronic device.
SD Card Is Unavailable
Usually, when you want to remove all data from SD card or need to change file system of it, you'll choose to reformat the card. However, after that, you may find the card become unavailable.
At this time, I suggest you remove SD card from the device and then connect it to a win 10 computer to check the status of its file system.
By the way, Partition Wizard also offers a function to help you check the file system of SD card.
SD Card Data Protection Skills
In order to avoid possible SD card data loss cases, you should notice the following things:
Set password for SD card if possible.
Be gentle enough to remove SD card with proper steps.
Enable write protection on SD card with important files.
Preserve SD card in a certain environment with proper humidity and temperature.
Backup SD card data on a regular basis and update the backups when changes are made.
Verdict
With the increasing demand for large capacity, memory card gradually becomes a must-have; it can be applied to a lot of electronic products people use frequently:
Mobile phones
Digital cameras
Multimedia players
Tablets
And so on.
After noticing the potential market of SD card, various manufacturers starting to produce their own product. However, the quality of those SD cards is not all the same. To reduce cost, some even choose to use inferior components for producing an SD card.
That's why I advise you to choose SD card carefully and pay much attention when using it. But even the data get lost from your SD card, you shouldn't be panic; just take measures immediately to start recovering data from SD card as you want.