Seagate 8TB NAS HDD is introduced in recent years. It owns tremendous users since Seagate is famous for hard drive manufacturing. Yet, some Seagate 8TB NAS HDD users reported that they have encountered problems on the drive and need to get back files from it. Now, I'm going to help them out.
As ordinary computer users, you may have not heard of NAS, let alone NAS hard drive. It's reasonable that you feel confused when NAS or NAS hard drive is involved. The action of Seagate adding an 8TB model to NAS HDD line sets off a heated debate – why 8TB model is used and why choose NAS HDD, instead of normal hard disk.
In view of this, I'm feeling like introducing the data recovery and usage of Seagate 8TB NAS HDD.
Actually, NAS was emerged a few years ago, but unfortunately at that time, it was not so popular and eye-catching.
Well, in recent years, with the surge in demand for network storage and the booming of cloud computing and private cloud, NAS made its appearance in numerous fields:
Office automation
Medical treatment
Education
Taxation
...
Though NAS is not famous enough at present, it's on the way to becoming more and more popular.
Seagate Adds 8TB NAS HDD to Its Product Line
According to statistics, one of the world's biggest HDD manufacturers – Seagate has already provided 1TB, 2TB, 3TB, 4TB and 6TB models in NAS HDD line. Now, it announces the 8TB NAS HDD, which then becomes the largest NAS optimized drive on today's hard drive market.
The appearance of Seagate 8TB NAS HDD indeed provides high capacity and flexibility for small business, helping them boost quick development.
Features of 8TB NAS HDD
As far as I know, the cache and the maximum sustainable transfer rate of this 8TB NAS HDD are respectively 256MB and 216MB/s.
It uses the SATA3 interface with a transmission speed of up to 6Gb/s.
This NAS HDD only makes small noise at work – about 2.6bels.
Its power during work, off hours and standby and sleep condition are respectively 9W, 7.2W and merely 0.6W.
Yet, what is NAS exactly and what is a NAS Hard Drive? I'll explain those things for you later. Now, let's dive right into how to recover data from a NAS HDD.
Recover Data from NAS HDD, You Can Do It
Free HDD Data Recovery Service
If you adopted the special NAS hard disk to store data, you don't need to worry about data recovery at all. Why would I say so? That is because usually, the manufacturer of special NAS HDD will provide the free HDD data recovery service for a period of time.
For example, the Seagate 8TB NAS HDD is provided with a three-year free data recovery service. However, if the data are lost from NAS after the free HDD data recovery service was expired, you'll need to pay extra money for finding lost data.
Click to know more details on Seagate data recovery.
Recover Files with Third-party Tool
If normal hard disk is used in your NAS system, you have to finish data recovery on your own after data are lost somehow.
Indeed, the HDD data recovery service cost may be very high in this situation. I mean, if you choose to hire professional recovery agencies to help you recover data from NAS HDD, you need to pay a large sum of money. In addition, the private data will be put under great danger (since they may be leaked out due to various reasons).
So, I suggest you to adopt professional data recovery software to do the recovery.
Seagate 8TB NAS HDD data recovery process:
1. Get the data recovery software downloaded and installed properly.
2. Run the software and select the target Seagate HDD to scan (by tapping "Scan" button).
If the HDD contains only one partition, you may select "This PC" and choose corresponding partition. (If your NAS HDD becomes RAW, you also don't need to worry; the following data recovery steps are also useful.)
If you need to recover data from more than one partition on Seagate HDD, you may click on the "Removable Disk Drive" to choose the whole disk to scan.
The "Scan Settings" feature helps you to show certain types of files during the scan.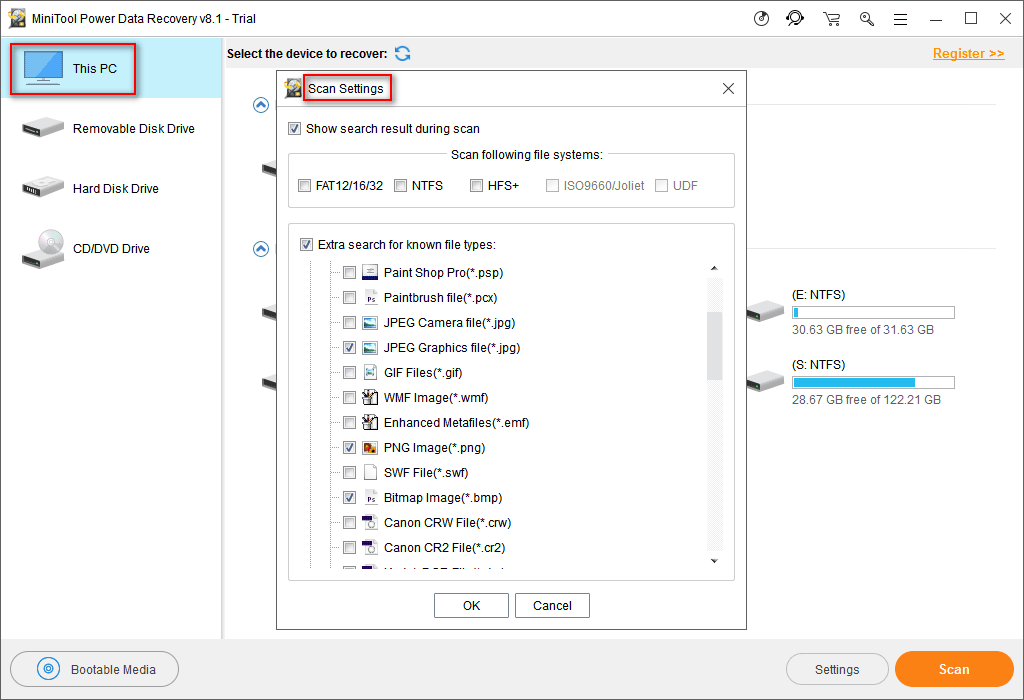 3. Look for the files you need from the scan result and pick them out.
4. Check the files you need and click on the "Save" button to recover them.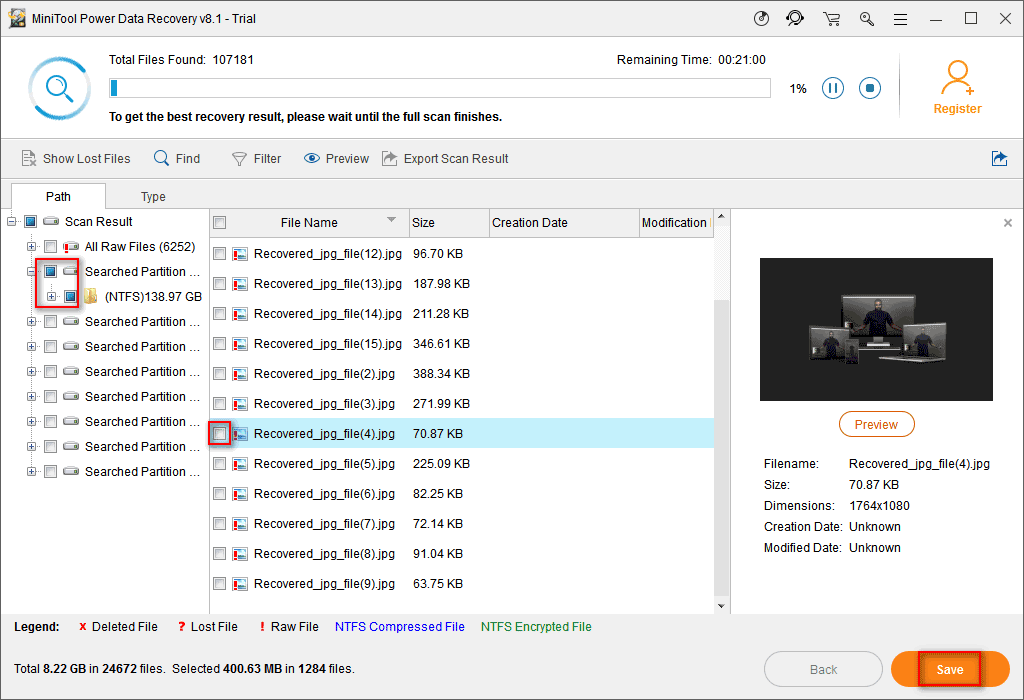 Please note that if you're using the trial edition, you are not able to recover any files until you purchase a license to activate the software.
Anyway, the local data backup won't be a hassle. It may save you from suffering someday and you'll be so glad that you did the backup when you come across data loss in the future.
NAS & NAS Hard Drive
What Is NAS
NAS, the acronym of Network Attached Storage, is basically the device with data storage function while it is connecting to network. It is a kind of special and private data storage server which is widely used in enterprises (some home users also choose to use this to achieve better data integrity and management).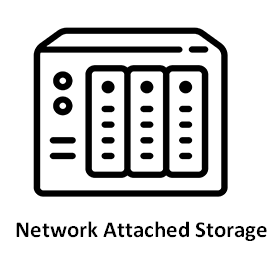 NAS focuses on data itself and makes a complete separation between storage device and server. It is able to manage data intensively so as to release bandwidth, improve performance, reduce total cost and protect investment.
What Is NAS Hard Drive
As for the NAS hard drive, it refers to the hard drive which is used on NAS for data storage. Some people may ask – can normal hard drive be used in NAS or do I need to buy special NAS hard drive? The answer is Yes.
I suggest users who have high requirement in the working time of NAS choose special hard drive like server hard drive, enterprise-class hard drive or monitoring hard drive as the storage medium in NAS system. And I'd like to alert you that you should not forget about the local data backup, which can save you in dire straits.
Click to know more backup tips.
Advantages & Limitations of NAS
Advantage 1: NAS is the plug and play product in the real sense.
Typically, NAS device supports multiple computer platforms, so users can enter the same document over network protocol support. In this way, NAS device can be used for mixed UNIX/Windows NT LAN without any transformation.
Advantage 2: the physical location of NAS device is flexible.
It can be placed in the Working Group, close to the application server of data center or anywhere else. And it can be connected to network through physical link.
Advantage 3: NAS is able to work normally without the intervention of application server.
By allowing users to access data on network, NAS device can greatly reduce the consumption of CPU and significantly improve the performance of network.
Limitation 1: NAS can't deal with file server issue.
Unfortunately, NAS fails to solve a critical issue related to file server – the bandwidth consumption during backup process. Being different from SAN which is responsible for transferring backup data flow out, NAS still uses the network for data backup and recovery.
Besides, NAS hand over the storage affairs from parallel SCSI connection to network. That is to say, in addition to handling the normal traffic flow of end users, LAN must also deal with the storage disk requests including backup operation.
Limitation 2: NAS data are susceptible.
Since the data stored in NAS is transmitted by the ordinary data network, they're susceptible to other traffic on the network. The system performance will be severely affected when there're other kinds of large data traffic. Hence, security problems like data leakage can easily be caused.
Limitation 3: NAS storage can only be accessed by files.
No direct access to physical data blocks (which is easily seen in ordinary file system) is allowed. Therefore, serious effect will be made to system efficiency in some cases. For example, large databases shouldn't use NAS.
6 Main Application Fields of NAS
According to search, 6 main Seagate NAS solutions are discovered.
Office Automation NAS Solution
Office automation system (OA) is the focus of government and enterprise information construction and this is inseparable from computer and LAN. When companies use the network to process daily office management and operation, office documents, drawings files, ERP and other enterprise business data and personal information will be produced.
Therefore, a safe, good cost performance, convenient and easy to manage physical medium is necessary for storing and backing up data within the enterprise, in order to achieve the unified management and safe application of the internal data of the entire enterprise and public institution.
Taxation NAS Solution
A comprehensive system which integrates business, information, and decision support is required in tax industry. Generally, in the tax industry, business data, daily office documents and data mail system are very important; once data is lost, it will bring much trouble to the daily work of tax collection in the entire region. Therefore, NAS server is advised to be applied to store and back up business data and daily office data.
In business host, the information stored in database can be backed up to NAS directly by using the incremental data backup function. Business data within the LAN, everyday office documents of the working staff and CD-based data can all be stored on NAS server so that the working staff is able to browse and use those data anytime they want conveniently. NAS helps achieve decentralized data storage and unified management of data & environment system.
Advertising NAS Solution
The data storage mode of many advertising companies is relatively backward; it is costly and inefficient, resulting in the main problem – poor data security. By adopting NAS to store and backup business data in advertising design industry network, advertising companies can achieve the centralized storage, backup, analysis and sharing of data.
According to the different requirements of different data from design research units, they can make full use of existing data and reasonably construct the data storage platform of advertising and design industry.
As a result, the transfer speed of data will be greatly increased; much time will be saved; and the work efficiency will be largely improved.
Education NAS Solution
With the continuous increase of data resources in campus, the physical media on which data are stored need to be equipped with large capacity, high security and fast transfer rate. Only in this way, can the security and fast access of the entire data be ensured.
Based on a series of problems found in school traditional network application, NAS device should be employed to ease the situation: providing an efficient and low-cost resource application system, offering flexible personal disk space service, providing online data backup environment and protecting resource data effectively.
Medical Data Storage NAS Solution
Hospital, as the social medical service institution, manages the case files of numerous patients and those files are extremely important, as you can imagine. According to the survey result, the amount of data that a hospital generates for a month is nearly 500GB, and it's obvious that merely computer is not competent in dealing with such large amount of data. Thus, the hospital needs a physical medium that is featured with large capacity, high security, easy management and quick data query characteristics to safely and efficiently store and manage those data. Based on this, NAS is what it needs.
Manufacturing NAS Solution
For the manufacturing industry, a variety of market data, customer data, transaction history data and community comprehensive data are companies' critical assets & the lifeblood of business operation. Currently, how to protect and make rational use of enterprises' critical data become the key factors in business success.
Therefore, the use of NAS storage approach is appropriate since it enables centralized data storage, backup, analysis and sharing. In this way, existing data can be fully used to meet market needs and improve enterprise competitiveness.
Bottom Line
In summary, NAS has great advantages in the aspect of data management. So it is used widely among people.
Yet, how to recover data from hard disk in NAS? This is a critical question that has been put forwards by lots of NAS users, no matter what they're using as the NAS storage medium – the special NAS hard disk or ordinary hard disk. Considering this, I write this post to tell you all about Seagate 8TB NAS HDD and the corresponding data recovery service.
Seagate 8TB NAS HDD FAQ
Can I use a NAS hard drive as a regular drive?
Actually, normal hard drive can be used on NAS. However, you had better turn the drive off for 5~10 hours a day for data security reasons. After all, the performance of normal hard drive is not as stable as special NAS hard drive.
How long do NAS hard drives last?
According to BackBlaze's search, the average lifespan of NAS hard drive is 3 to 5 years. They investigated about 25,000 running
hard drives' failure rates
and found 90% of them last for 3 years while 80% for 4 years. However, the results vary across brands.
What is Seagate IronWolf?
Basically, the Seagate IronWolf is designed for NAS (Network Attached Storage) devices, which are located in the center of your home and business networks. In addition to important files, the Seagate IronWolf also stores many significant backups from different computers.
What is the difference between IronWolf and Ironwolf Pro?
Fist of all, the IronWolf is the entry level NAS while the Ironwolf Pro is an enterprise level.
Secondly, the quality components of IronWolf Pro are better than that of Ironwolf.
Thirdly, the warranty of IronWolf Pro is longer. Fourthly, the workload rating of Ironwolf Pro is higher.