One of the most common reasons that people choose to use SSDS is that it starts up a computer quickly (even in a few seconds). However, problems may occur and slow down the speed of SSD. This post will discuss the issue: SSD running slow on Windows 10 and teach users how to speed up their SSD and improve the performance.
SSD, short for solid-state drive, is actually a storage device that appears and becomes popular in recent years. It adopts the integrated circuit assemblies (typically flash memory) to help people store data for good. The most important reason to drive people to use SSD is its fast speed (especially fast startup).
Find Your SSD Slow on Windows 10
Nevertheless, it's easy for you to find SSD slow on Windows 10 or other operating systems. Why does this happen? How can you fix the SSD running slow issue? In the following paragraphs, I will demonstrate the possible solutions to speed up a slow SSD yourself.
There is much MiniTool Software that could help you manage your disk and protect your data.
SSD Running Slow
By adopting an SSD, your computer should boot up and run quickly. That's why a large number of Windows users decide to get an SSD. However, problems like SSD drive running slow may arise during the usage. An important reason why your SSD drive becomes slow is the improper boot sequence – if the hard drive (not SSD) is set as the first boot device, you'll experiences an obvious decrease in the fetching and loading speed.
There are 2 situations of SSD running slow on Windows:
SSD runs slows (SSD suddenly slow): the write performance of solid state drive will be decreased dramatically if you fill your SSD to near-capacity or if there's something wrong with the SSD. This happens frequently when the SSD is used as the second storage. SSD running slow on Windows 10 is a common problem.
SSD boots slow: if you're using the SSD as the main drive, the bootup speed is supposed to be faster than that of a traditional hard drive. However, you may feel an obvious decrease in the PC boot time if the SSD gets into trouble. Besides, sometimes, users may find the computer slow after SSD install directly.
Even more strange, a new SSD may run slow. There's a special case that a brand new SSD could become very slow due to different reasons.
Why Is My SSD So Slow
In this section, I will mainly focus on the possible causes of the problem – SSD slowing down.
Cause 1: filling the drive to capacity. What does this mean? It actually means that the space on your SSD is just about to run out. You can go to check the capacity and used space of your SSD to find out whether low disk space is the reason for SSD slowing down.
Cause 2: the TRIM command doesn't exist or has been disabled. The TRIM command is necessary for the stable performance of an SSD; if it is disabled, you'll get poor performance SSD.
Cause 3: AHCI mode is disabled. This mode is very essential for you to get the best out of the SSD; if it's not enabled, your SSD will run slow.
Cause 4: Onboard VGA is enabled. The VGA feature will greatly affect the boot speed of your computer.
Cause 5: the boot sequence is incorrectly configured. If the first priority is given to hard drive, instead of SSD, the computer will run slow.
Cause 6: the computer or SSD is infected with virus. It is well known that a virus can make your drive and computer very slow.
Cause 7: the BIOS/firmware is outdated. If the BIOS or firmware is too old, it will also lead to the poor performance of SSD.
Cause 8: SATA port or cable is in trouble. If there's something wrong with the connection port and cable, the speed will naturally be affected.
Cause 9: RAM is low. If your RAM is at a very low level, the cache size will be decreased; then, it will cause SSD to slow down.
Cause 10: PC settings are improper. There are also chances that your SSD is in good condition but it runs slow on Windows 10 since the computer is not set to the best for SSD.
Note: What you should notice when finding SSD slow on Windows 10 (or other operating systems)? Of course, data security should be your first priority; the slow speed can be a sign of a damaged drive. Taking that into consideration, I advise you to backup existing data and recover lost data from SSD first before you try to speed up SSD.
SSD data backup:
Certainly, the most direct way to backup SSD data is copying existing data from SSD and pasting them to another drive. Of course, you can also backup data to the Cloud or by using reliable backup software (recommend: MiniTool ShadowMaker).
SSD Data Recovery
How to recover data from SSD:
First of all, you should realize that you need to get a powerful data recovery tool. MiniTool Power Data Recovery works well with all common operating systems and storage devices; it gives support for many file types. Therefore, it is the first choice of a lot of Windows users. (To recover data on macOS, you'll need to get Stellar Data Recovery for Mac.)
Step 1: download the setup program of MiniTool Power Data Recovery (please don't save the program to SSD). Then, run the application to finish installing the software.
MiniTool Power Data Recovery TrialClick to Download100%Clean & Safe
Step 2: run the software and copy & paste your license to the textbox in the Registration window; then, click on the Register button to finish. If you're using the trial edition, you can skip this registration step.
Step 3: connect your SSD to the computer and make sure it appears in Disk Management. If the SSD is an internal drive of your PC, please skip this step.
Please read this page with care if you find your SSD can't be recognized by PC:
Step 4: select Logical Drives if you need to recover files located in a certain partition on SSD. Then, look for the SSD partition in the list.
Please note: if the target SSD includes only one partition or it becomes RAW suddenly (the partitions are lost), you should select Devices instead and locate the SSD.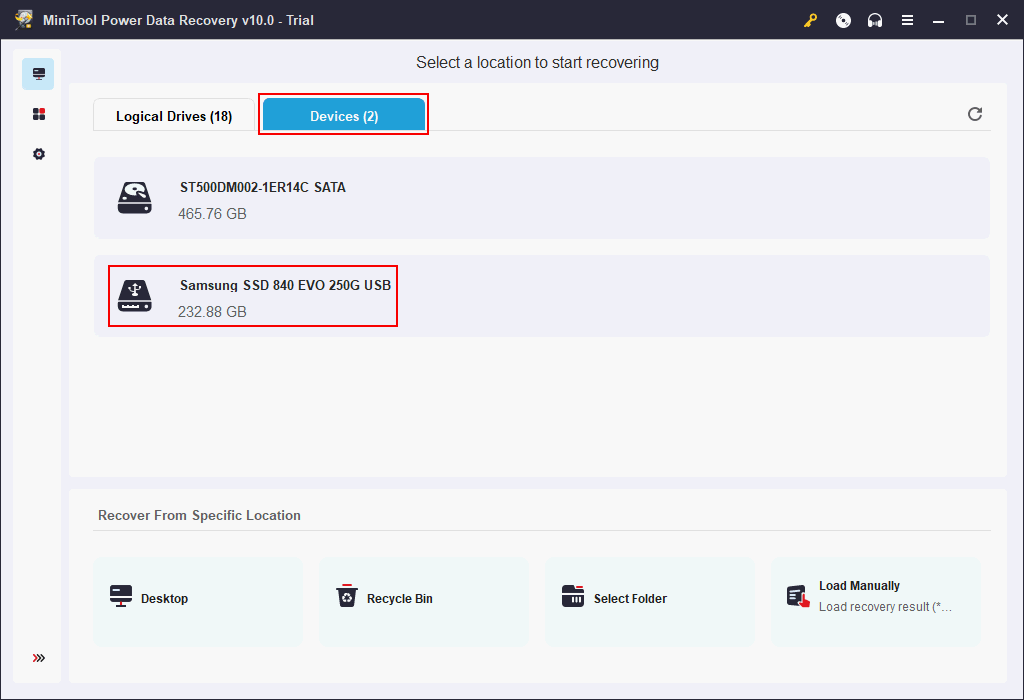 How To Recover Data From RAW File System/RAW Partition/RAW Drive?
Step 5: you should double click on the SSD drive to start a full scan (you can also finish this action by selecting the drive and clicking on the Scan button in the lower right corner); then, wait for the scan to process.
Step 6: look through the found partitions and folders one by one to pick out all the files that you really need. Then, click on the Save button to open the storage path selection window.
Step 7: browse the available drive and select one that has enough free space; then, click on the OK button to confirm this action. Now, wait for the SSD data recovery to complete itself.
Step 8: at last, you should click on the OK button on the prompt window saying that your selected files have been recovered successfully.
This guide teaches you the exact steps to rescue data from a slow SSD that may be going to die. Knowing that some people hope to master the skills to optimize SSD on Windows 10, I summarize some methods and list them in the next part one by one.
How Do I Speed up a Slow SSD
Things You Should Do to Speed up SSD in Windows 10
It's easy to find your SSD becomes slow when running on a Windows 10 computer. Users want to speed it up in every possible way but they don't know how. In this section, 20 methods are provided to help people optimize SSD for faster speed on Windows. Please try them one by one until the SSD speed is improved.
How to speed up your Windows 10?
Accordingly, the methods can be divided into two categories by the two types of situations SSD gets slow. In either case, the disk space on SSD is a decisive factor for the speed.
How to speed up my SSD Windows 10 when the space is running out?
Method 1: delete unnecessary files and folders from SSD.
Method 2: disable Hibernation (this could free up a lot of disk space for you).
Open Windows Search.
Type cmd.
Right click on Command Prompt and choose Run as administrator.
Type powercfg -h off and hit Enter.
If this is not the reason slowing down your SSD, please move on to the next part.
Speed up Windows 10 Boot Speed
Your SSD could run slow on Windows 10 and affect the computer speed. How to speed up SSD to accelerate Windows 10 boot speed?
Disable Onboard VGA.
Adjust boot sequence.
Update BIOS.
Check for defective hardware.
Method 1: Disable Onboard VGA
According to the feedback from the Windows 10 users suffered a long boot time delay, the Onboard VGA feature is responsible for slowing the SSD speed down. They said the system usually went from 1:15-1:30 boot time to 15 seconds.
How to disable it:
Restart your computer.
Boot into BIOS settings.
Find the Advanced BIOS Features/Advanced Chipset Features section.
Look for Onboard VGA feature and disable it.
Exit BIOS and click Yes to save changes.
Notice: the exact titles for the options vary from one motherboard to another.
Here's how to enter the BIOS on a Windows 10 PC.
Method 2: Adjust the Boot Sequence
If the order of boot device is not configured correctly, you will also find SSD slow on Windows 10 startup. In this case, you need to change the boot sequence to give first priority to SSD by following steps:
Reboot your PC and enter BIOS by pressing the corresponding button(s).
Navigate to Advanced BIOS.
Access Hard Disk Boot Priority.
Choose SSD as the First Boot Device by using the up and down arrows.
Exit BIOS and save changes.
How to recover data from a hard drive that can't boot successfully?
Method 3: Update BIOS
Since the BIOS is always the first software that any computer will load, it will have an impact on the boot-up speed naturally. Like any other software, the BIOS will be updated periodically by the computer or motherboard manufacturer. The main functions of updating BIOS are:
Fixing new bugs
Optimizing caching functions
Making necessary hardware tweaks
Improving compatibility with new devices
Etc.
How To Check & Update BIOS On The Dell Computer?
As a result, you should go to the manufacturer's website, find the update for your BIOS, and download & install it properly on your PC.
Oops, the PC can't boot after BIOS update, how to fix it?
Method 4: Check for Defective Hardware
You should try to disconnect all the unnecessary hardware from your PC and see whether the speed of SSD can be improved.
VGA card
USB device
Sound card
DVD-ROM
And so on
If one of the hardware connected to the PC is damaged or can't be recognized, the operating system will keep searching for its cache in order to get the relevant driver. That's why SSD becomes slow.
Speed up Windows 10 Running Speed
How to speed up SSD to accelerate Windows 10 running speed?
Check SATA port & cable.
Enable AHCI mode.
Check the TRIM support.
Optimize your drivers.
Choose high power plan.
Method 1: Check SATA Port & Cable
The speed of different SATA controllers is different: 3Gbps or 6Gbps. This has a close relation to the performance speed of SSD. You can go to the motherboard's manual to determine your SATA port. please connect the SSD to the first SATA port since it has the highest speed.
Tip: For the motherboards that have been built on Intel chipsets, there will be an Intel SATA controller which has super-high speed. You'd better connect the boot device to this controller. After that, you should go to check whether your SATA cable is broke or encounters poor connection problems.
Method 2: Enable AHCI Mode
Reboot your PC.
Enter BIOS Settings.
Look for the OnChip SATA Type option or a nything similar.
Enable the AHCI mode.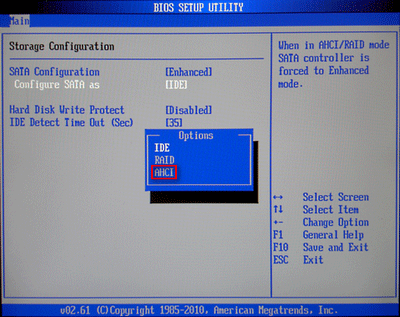 Method 3: Check TRIM Support
The TRIM command is responsible for maintaining stable performance for SSD; you should make sure it is enabled.
Run Command Prompt as administrator.
Type fsutil behavior query DisableDeleteNotify and hit Enter.
If you get 0, please close the window. If you get 1, please type fsutil behavior set DisableDeleteNotify 0 and hit Enter.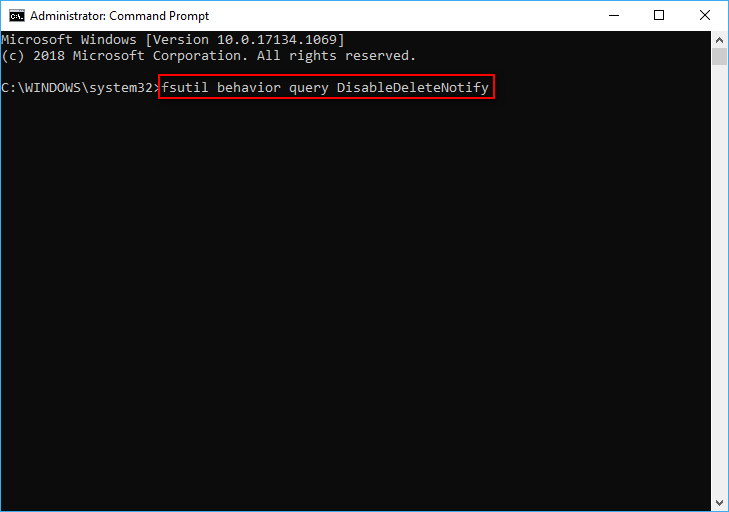 Method 4: Optimize Drivers
Open Windows Search.
Type Defragment and Optimize Drives and hit Enter.
Select your SSD and click Optimize.
Method 5: Choose High Power Plan
Open Windows Search.
Type Power & sleep settings and hit Enter.
Click Additional power settings link.
Select Create a power plan in the left pane.
Choose High Performance and follow the instructions to complete.
Other Tips to Speed up SSD & Optimize Performance
Disabling indexing on SSD.
Reduce unnecessary writing.
Enable write caching in Device Manager.
Move temporary files to another place.
Create a RAM disk (requires at least 3 GB of memory).
Move caches, temporary internet files to RAM disk.
Update SSD firmware.
Make use of SSD optimization tool.
Format SSD or erase SSD content. (MiniTool Partition Wizard is a good choice.)
Last Words
All in all, your SSD may become slow all of a sudden due to various reasons. When that really happens to you, you should first go to rescue your data (at least the important data) since the SSD may corrupt at any time.
After that, you ought to try the methods mentioned in the previous part to try to troubleshoot SSD slow on Windows 10 effectively.