The issue the volume does not contain a recognized file system can be caused by various reasons. This article has particularly listed three cases related to the file system not recognized problem and additionally, introduced a piece of effective software - MiniTool Power Data Recovery - to help you recover data when you encounter this problem.
Error: The Volume Does Not Contain a Recognized File System
You'll run into the volume does not contain a recognized file system error if the internal or external drive has corrupt system files, bad sectors, RAW disk drive, unallocated space, etc. And there are many ways available to fix it successfully.
The Volume Does Not Contain a Recognized File System
The volume does not contain a recognized file system error message occurs now and then when users try to open a drive from File Explorer or anywhere else. "The volume does not contain a recognized file system. Please make sure that all required file system drivers are loaded and that the volume is not corrupted." is the exact error message you'll see on Windows 10/8/7.
Many users have once reported their file system being unrecognized before. The results show that this issue occurs to not only computer hard drives, but also external devices such as external hard drive, USB flash drive and SD card.

Do you think it's an annoying thing? Now, I'd like to tell you the good news – this problem can be fixed and all data saved on the inaccessible drive can be recovered. And later in this article, I'll show you the way to recover data from broken flash drive.
Causes of "The Volume Does Not Contain a Recognized File System"
The following reasons could lead to the file system unrecognized problem:
File system conversion failure
Accidental deletion of necessary system files
Reinstallation of system
Getting attacked by virus
Users' misapplication
Abnormal shutdown of computer
Physical failures like bad sector
Unstable or insufficient power supply
How to recover lost files after getting attacked by virus:
How to Recover Data from Not Recognized File System
No matter what you decide to do after encountering the problem of volume not containing a recognized file system, I advise you to recover data from the problematic volume first. Otherwise, you may lose the data you need forever while having no chance for regrets.
Of course, you can skip this part, if your data in that drive are disposable. But if you do need to get back some significant data from the drive with unrecognized file system, this section will be very helpful.
Preparations and recovery process by using Power Data Recovery will be shown specifically in the following content.
Preparations for data recovery from not recognized file system:
First of all, please get to know about MiniTool Power Data Recovery license (8 license types are provided to satisfy users' different needs).
Designed and released by MiniTool Software Ltd., MiniTool Power Data Recovery made its debut in August 1, 2006. Now, 13 years passed and it becomes more and more powerful in recovering lost data.
You may click here to know the differences between the 8 license types, so as to figure out which one is most suitable for you.
Secondly, I advise you to choose the most suitable option from the main window you see after launching the data recovery software.
In the main interface of software, you will see four options in the left-hand panel: This PC, Removable Disk Drive, Hard Disk Drive, and CD/DVD Drive. You should select the one that satisfies your needs the most during data recovery process.
Take a look at the possible causes for common data loss; it may help you decide which option is the most suitable choice.
Accidentally deleted useful files.
Partition is damaged somehow or accidentally formatted by users.
One or more partitions are missing from hard drive due to various reasons.
Files are lost from multimedia storage devices; some data are lost from CD/DVD.
Start to recover data from RAW drive:
The recovery process just comprises of 3 easy steps.
Step 1: download the software and install it to your computer properly.
MiniTool Power Data Recovery TrialClick to Download100%Clean & Safe
Step 2: choose a suitable option from the left panel. Then, select the target partition/hard drive/USB flash drive/SD card/CD/DVD to scan by pressing the Scan button in the lower right corner.
Step 3: browse the scan result carefully in order to find all the data you need. Then, check them and press the Save button to put them to a safe location (another drive with enough free space).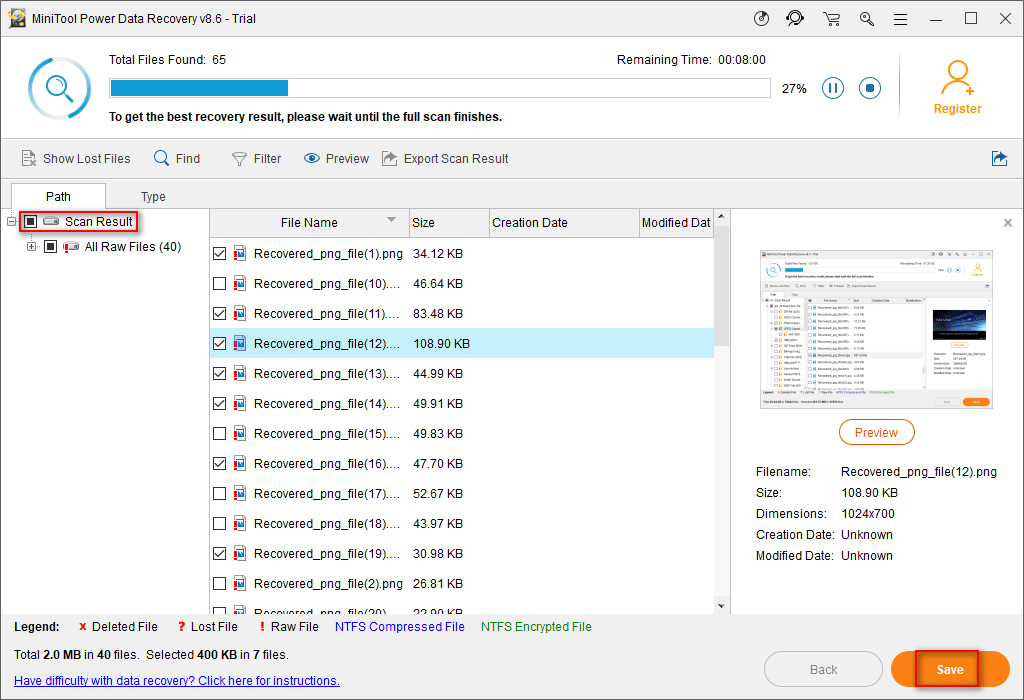 Just follow this tutorial to recover your data. Please don't worry; you'll not lose more data during the recovery process since this data recovery software has its own data protection mode.
Related reading: what if the whole disk is not recognized by computer? Please click the following links to know how to fix.
Unrecognized File System Problem: 3 Situations
Now, let's take a look at the following three situations where the file system cannot be recognized.
One: Fail to Access a Drive and Then See a Windows Prompt
You open computer as usual and then double click a hard drive partition, hoping to enter it and access files. At this time, a dialog box appears surprisingly, telling you that this partition is not accessible.
The volume does not contain a recognized file system. Please make sure that all required file system drivers are loaded and that the volume is not corrupted.
At this time, you have no choice but to click on the OK button to give up on entering this partition.
In most cases, the phenomenon mentioned above occurs in the hard disk because the partition table is damaged. So, it is similar to a new partition that has not been formatted yet. In this case, you must format the partition again to make it back to normal.
Tip: All files saved in the hard drive will disappear after formatting is finished. So this method for fixing file system not recognized problem is not recommended unless all files saved in that drive are of no use.
Error: Inaccessible Boot Device, How To Fix It Yourself?
Two: Hard Disk Suddenly Become RAW
The second situation is: the external hard disk suddenly became RAW when you access it from a normal working computer. This may happen if your external hard drive was ever forcibly unplugged from your computer.
Also, if you want to retrieve data from it, please don't perform any operations. Then, use MiniTool Power Data Recovery immediately. Scan your RAW drive and check needed files from scan results to recover.
Here's how to recover data from RAW file system, RAW partition, and RAW drive:
Three: USB Device Become Inaccessible
Removable devices are a little bit like external hard drive; they have the following features in common:
Good portability
Small size
High security
The difference lies in that the capacity and size of external hard drive are usually larger than that of other removable disks like USB flash drive and SD card.
When you fail to access a removable device, don't rush to reformat it (since it will damage all your data).
What should you do? Close the prompt window and then try the following methods after you found your USB flash drive or SD card becoming RAW all of a sudden in your computer.
What to do when USB flash drive becomes RAW:
Launch Winhex and open disk under the tool menu. Try to open your USB flash drive directly. If this works, you'll be able to browse your folders and files. At this time, you only need to copy them out to another safe location.
If your USB flash drive is formatted with exFAT, you need to download and install appropriate disk format support package before you can browse files in it.
If your USB flash drive is formatted with common file systems like FAT and NTFS, you may need to check the device interface and computer USB interface.
If the file system of USB flash drive is damaged, RAW partition recovery is unavoidable.
What to do when SD card becomes inaccessible:
If the volume does not contain a recognized file system error occurs on your mobile phone/camera SD card, you can try turning it off and waiting for some time before restarting it to see whether this problem is fixed or not.
If restarting doesn't work, the problem might be the CPU, newly installed programs or optimization operations.
Of course, the widespread computer virus can travel a long way to attack your SD card. So, please be careful when you connect your SD card device to the internet or try to manage the card on others' computer.
If your SD card is broken, MiniTool Power Data Recovery is also helpful for dead SD card recovery in different cases.
Try to Avoid Volume Does Not Contain a Recognized File System Error
Although this data recovery program is powerful enough to help you retrieve all your important data from the RAW partition under the condition that they're not covered by new data, there is still a chance that you could lose them forever.
So, please try your best to avoid volume not containing a recognized file system to save yourself from unnecessary troubles.
Things you should notice:
Try not to unplug your removable device from computer forcibly.
Don't connect your removable drive to and manage it on a computer arbitrarily unless you can confirm its security.
Don't open unsolicited emails and links without checking its safety.
Choose to manage computer hard drive/removable disk with the help of reliable software if you really need an assistant.
Remember to back up your important data regularly to safe location.
Hope you all can get rid of the disturbing RAW partition error and data loss problem.
A Closer Look at File System
With assigned name, computer file is a set of collections of associated character stream or associated records.
A file consists of two parts:
File body (the real file information)
File description (file storage and management information).
In an operating system, the file system usually refers to the program and data associated with file managing. It is responsible for creating, revoking, reading/writing, modifying and copying files and accessing file by name. Meanwhile, file system plays an important role in file organization and access control.
Generally speaking, file system is a directory structure included in a disk (such as CD-ROM, floppy disk, flash drive and other storage devices) or a partition; it can be used to organize files in the drive. An available disk device can comprise one or more file systems. Anyone who wants to enter a drive must mount the file system at the very beginning.
File System Characteristics
A common file system has the following wonderful features:
User-friendly: users only need to manipulate files, regardless of the file structure and physical storage location.
User-transparent: files are saved and accessed by name, and it is transparent to users.
Universal: some files can be shared by multiple users or processes.
If you want to understand file system clearly, the following aspects are important.
Aspect 1: storage media.
Hard disk drive, floppy disk, flash drive and network storage device can all be used as storage media to save personal data.
Aspect 2: division of disk.
Division is for large-capacity storage device (mainly refers to hard drive). For a large hard drive, you need to consider reasonable partitioning. This is why division is involved.
In Windows and Dos, the fdisk command is usually used to divide hard drive. Besides, many hard drive management tools are designed to help users manage and make the best use of their computer hard drive.
How to recover files with CMD?
Aspect 3: file system mounting.
In Unix-like operating systems, a file system can only be put into use after being mounted. In Windows, the situation is the same. Apart from that, the mount point is essential.
Aspect 4: visual geometry.
The visual geometry is used to organize and arrange file storage and access, file system is also visible. In Linux, you can see its structure through tools.
What Is RAW File System
A disk partition which has not been formatted by NT file system is called a RAW partition. If you check the properties of a RAW partition, you'll find both the used space and unused space are displayed as 0.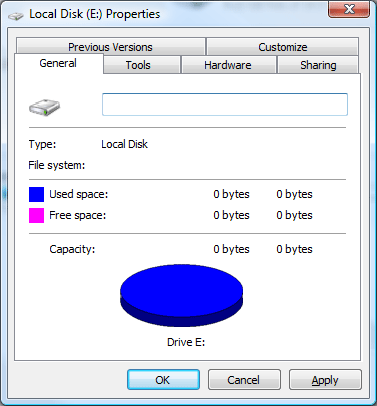 How could that be? In fact, RAW file system is just regarded by the OS as an uninitialized drive, so you're not allowed to access it or use it for data storage.
System reinstall is one of the major reasons for the appearance of unrecognized file system. If you see a few unrecognized partitions right after you have finished installing your OS, it is very probably that the real file system of them is exFAT; this format is not supported by an OS that haven't been updated in time.
Besides, RAW file system could easily appear on computer hard drive/removable device after virus invasion, MBR damage or partition table failure.
How to recover data from a disk shows as unknown (uninitialized/unallocated/RAW)?
Verdict
Though I have offered suggestions to help you prevent the problem: the volume does not contain a recognized file system, it can't be avoided completely. In other words, it happens sometimes out of the blue.
But don't worry, after you tried the solutions I have mentioned above, you'll be able to recover data from your inaccessible drive successfully. After the recovery, you can try every means (repairing hard disk boot record, rebuilding partition table and reformatting the unrecognized drive) to fix the problem for further use.
The Volume Does Not Contain A Recognized File System FAQ
How convert RAW to NTFS without formatting?
Open Windows search box.
Type cmd and right click on Common Prompt.
Choose Run as administrator from the menu.
Type Diskpart and press Enter.
Type *: /FS :NTFS (* stands for the letter of problem drive) and press Enter.
Wait for the command to complete.
What is a RAW partition?
RAW partition/drive and RAW file system
means that the state of current hard drive or another storage device is not recognized as a normal Windows file system. The RAW partition can not be used to store data unless it is fixed by reformatting or other methods.
How do I access a RAW partition?
To access a RAW partition, you must convert it to NTFS, FAT32, exFAT, or other types. In order to avoid data getting lost from the RAW partition, I advise you to run MiniTool Power Data Recovery, scan for data on it, and select needed files to recover.
What is NTFS format?
NTFS is the acronym of New Technology Files System, which is a newer file system than FAT32. It was first introduced in 1993, and finally became popular on PC in 2001. Later, it was integrated into Windows 7 and Windows as the default file system.