The System32 directory is an important part of your computer to guarantee the normal running of Windows. Do you know what happens if you delete System32? Your computer may become unbootable. MiniTool Software will show you why you should not delete System32 in this post.
At first, we directly tell you the answer: do not delete System32 in Windows 10 because it will influence the normal running of your Windows.
What Is System32?
The System32 folder was first introduced since Windows 2000. It is a required Microsoft Windows system directory that is located in either C:\Windows\System32 or C:\Winnt\system32.
What Is in System32?
The System32 folder contains many important system files that can maintain the normal function of Windows. What kinds of files are stored in it? You can access the directory to have a look.
The following screenshot is an example. You can see that the .dll and .exe files are the main contents in the System32 folder. Of course, there are some other things in it like Control Panel applets, MS-DOS applications, DAT files, and more.
For instance, when you open Command Prompt, you are really running cmd.exe from the System32 directory. You can also run other programs from this folder like Control Panel, Disk Management, Calculator, PowerShell, Task Manager, and more.
Some third-party programs can also put files into the System32 folder like the Dropbox service DbxSvc.exe.
Additionally, you may note that there are some subfolders in System32. They contain config that holds numerous Windows Registry files, drivers and oobe for Windows activation files.
Since early 2000s, some pranksters trick you into deleting System32 on Windows to fix some issues or remove viruses from your computer.
"Should I delete System32?" You may ask this question.
We tell you the answer: DON'T delete System32. Now, to help you realize the seriousness of deleting System32, we will try to delete System32 on Windows and tell you what happens if you delete System32 on Windows.
How to Delete System32?
Don't try this in your personal computer.
As mentioned above, the System32 folder stores many vital files that can guarantee the normal operation of your computer. In theory, when your computer is running, these files are locked and can't be deleted.
For example, we tried to delete the System32 folder on Windows 10 and got an error message saying Folder Access Denied. You need permission to perform this action. We tried again and again but only received the same error message.
Windows is wise enough to prevent you from deleting the System32 folder directly. However, to help you realize the seriousness of deleting System32, we force deleted System32 with CMD.
The deleting process was not smooth. Some files in the System32 folder were still preserved. But, the consequences have already emerged.
What happens after deleting System32?
What Happens If You Delete System32?
After deleting some files in the System32 folder, Windows began to fall apart. Some functions couldn't work. For instance, Task Manager was not working and we couldn't enter the Settings app.
We even couldn't shut down the computer normally because when pressing the Start button, nothing happened. So, we had to force close the computer.
When trying to boot the computer again, Windows started an automatic repair process and then entered a blue screen saying Automatic Repair couldn't repair your PC. We tried Advanced options and it also failed.

What happens if you delete System32? The answer is clear: the computer can't work normally and even becomes unbootable.
Now, you know deleting System32 is not recommended and should not be performed. When you suspect the System32 folder is infected by viruses, what you need to do is to use the anti-virus software to remove the viruses rather than deleting the System32 folder.
What happens if you delete Systems32 on Windows? Your computer may fall apart. This article tells you why.Click to Tweet
What If You Have Deleted System32 or Some Files in It?
If your computer won't turn on due to missing files in System32, the only thing you can do is to reinstall Windows. To guarantee the safety of the files on your computer, you'd better rescue them in advance.
So, you need to do these two things successively in a situation like this:
Rescue data from the unbootable computer
Reinstall Windows on your PC
Rescue Data from the Unbootable Computer
Since you can't boot the computer normally, you need to use third-party data recovery software to restore data from an unbootable computer. MiniTool Power Data Recovery is worth trying. Additionally, you also need to prepare an external hard drive that is large enough to save your needed files.
Software Introduction
MiniTool Power Data Recovery is specially designed to retrieve data from all kinds of storage devices like hard drives, memory cards, SD cards, and more. It can not only find the deleted files but also detect the existing data on your computer.
This software has a bootable edition that allows you to rescue data from an unbootable computer. Only the Deluxe and the above editions provide a snap-in WinPE bootable builder. If you are a personal user, the Personal Deluxe edition can fully meet your needs. You can go to the MiniTool official store to get this edition.
Recover Your Data with MiniTool
After getting the license key, you need to download & install the software on a normal working computer, and then register it. Next, you can open the software to create a bootable medium. After that, you can boot the unbootable computer from the bootable medium to recover your important data.
After booting from the bootable medium, your computer can automatically enter the bootable edition. The software will show you all drives it can detect on the interface. You need to follow these steps to rescue your files from an unbootable computer:
1. Connect the external hard drive to your computer.
2. Select the drive that contains the files you want to recover.
3. If you only want to recover some certain types of files, you can use the Settings feature of this software to select the target data types.
4. Click Scan to start the scanning process. Here, take drive C: as an example.
Tip: It will take a while to finish the entire scanning process. Although you can view and recover files when scanning, you'd better wait until the process ends to guarantee the recovery effect.
5. When the full scan ends, you will enter the scan results interface. The left side is a path list. You can open each path to find the files you want to restore.
Besides, you can use the Type feature to find your files by type. If you still remember the name of the file, you can also use the Find feature to locate the file directly.
6. Check the files you want to retrieve from your computer.
7. Click the Save button and you will receive a pop-out window.
8. Select the external hard drive from the pop-out window.
9. Click OK.
10. Click OK.
11. Close the software when all needed files are saved.
After these steps, your files on the computer are saved to the external hard drive. In other words, you have backed up your computer data. Then, you can feel free to reinstall Windows.
When your computer won't turn on, you can use MiniTool Power Data Recovery to rescue your data.Click to Tweet
Reinstall Windows on Your PC
You can reinstall Windows in different ways. But, if the computer is unbootable, you'd better perform a clean installation of Windows.
Preparation before Windows Clean Installation
Before Windows clean installation, you need to prepare a Windows installation medium. In this article, we create a Windows installation USB thumb drive and the USB drive needs to be at least 8GB. Besides, you can also create a DVD medium or an ISO file.
Note: If there are some important files on the USB drive, you need to transfer them to another safe location.
Of course, you need to do this preparation on a normal working computer. You can follow these steps to do the job:
1. Go to the Windows 10 Media Create Tool page.
2. Click the Download tool now button to download the tool on your computer.
3. Double-click on the tool to run it.
4. Click Accept when the Applicable notices and license terms window appears.
5. Select the Create installation media (USB flash drive, DVD, or ISO file) for another PC option.
6. Click Next.
7. Select the language, architecture, and edition based on your actual situation.
8. Click Next.
9. Select the USB flash drive option.
10. Click Next.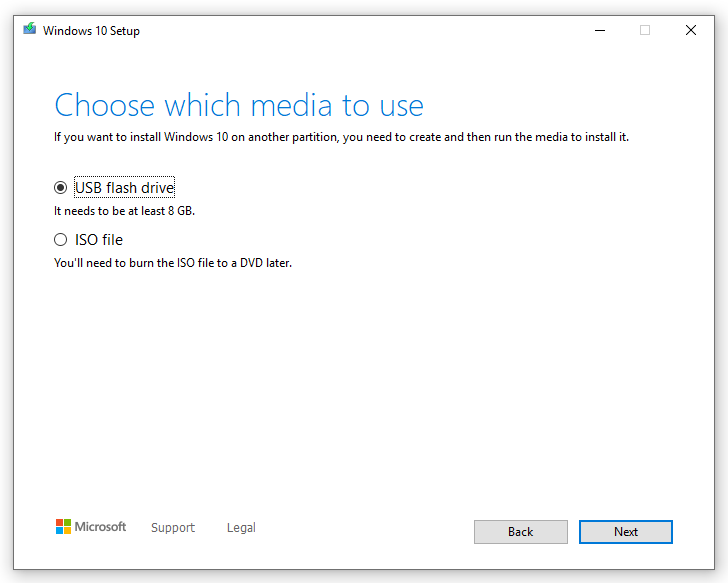 11. You will see a drive list. Select the USB drive you have connected to your computer.
12. Click Next.
The tool will begin to create the Windows 10 installation medium. This process will take a while. You need to be patient. When the whole process, you can close this tool.
Then, it's time to clean install Windows 10.
Windows 10 Clean Installation
Remove the USB thumb drive from the computer and connect it to your unbootable machine.
Then, you can follow this guide to perform a Windows 10 clean installation.
1. Set your computer to boot from the Windows installation USB drive.
2. Click Next when seeing the following interface.
3. Click Install now.
4. Since you are reinstalling Windows 10, the operating system has already been activated. You just need to press the I don't have a product key link to continue.
5. Choose the operating system you want to install and press Next.
6. Check the I accept the license terms option.
7. Click Next.
8. Select the Custom: Install Windows only (advanced) option.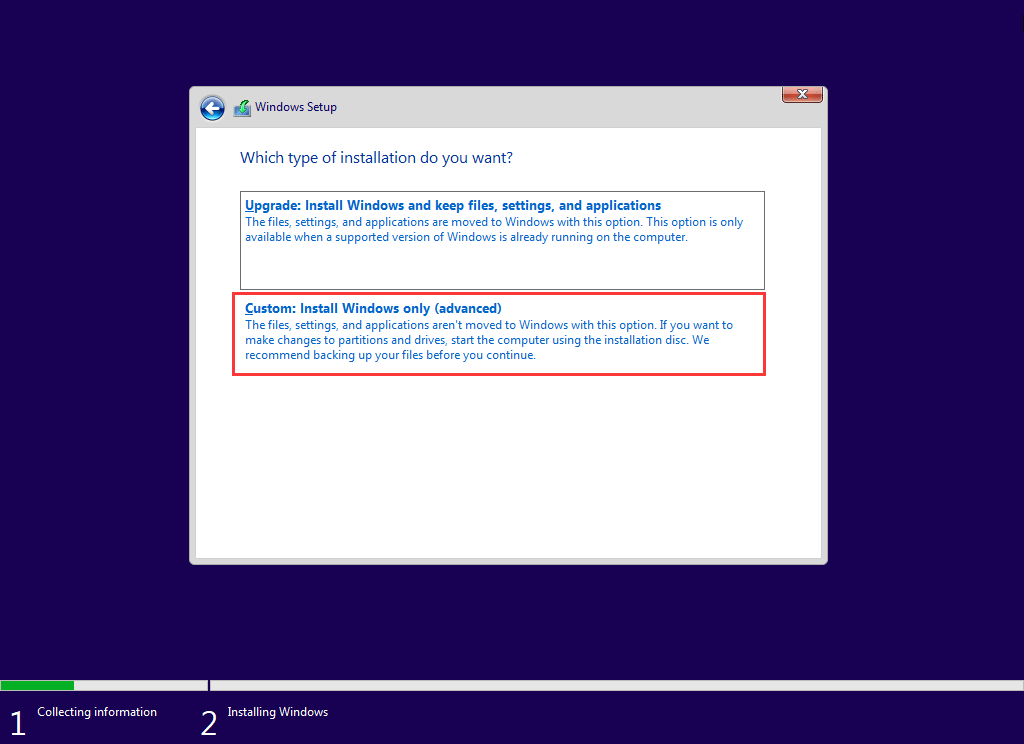 9. Normally, you install Windows 10 on drive 0. So, when you see the following interface, you need to select drive 0 and then click Delete to remove the partition from the hard drive.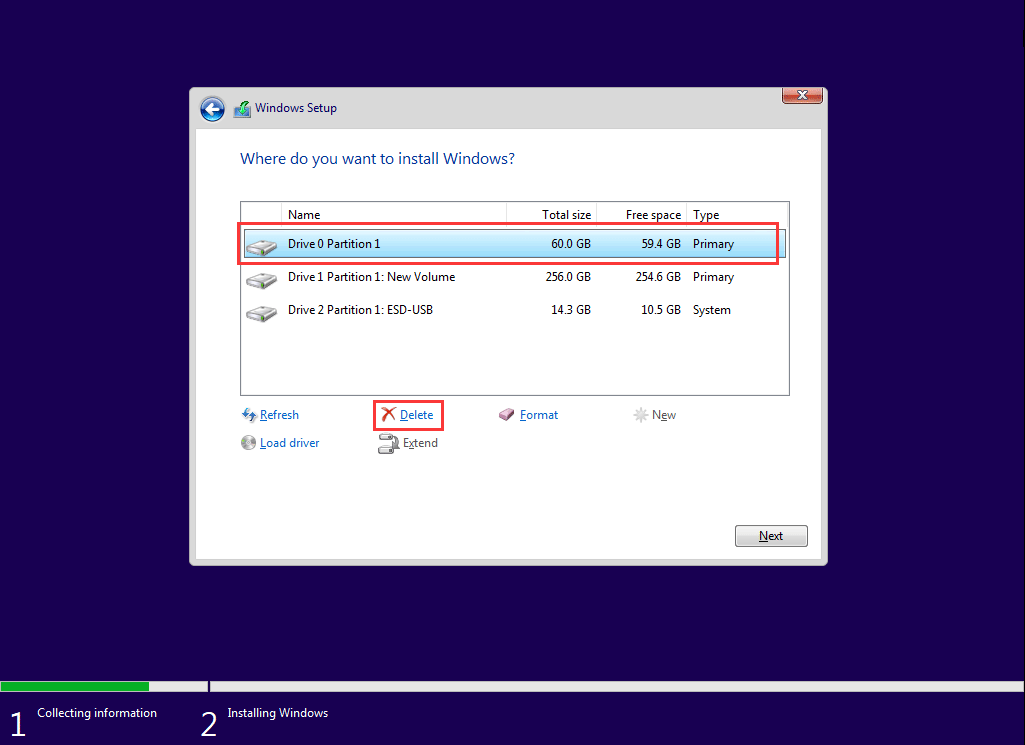 10. Click OK.
11. Choose the empty partition.
12. Click Next to start the Windows installation process.
You can follow the wizard to create a new account and set up the environment according to your actual requirements.
After Windows 10 installation, the System32 folder should be back to normal and you can use your computer as usual.
Windows 10 clean installation can completely solve the System32 issue. Share this method with your friends.Click to Tweet
Recommendation: Back up Your Computer
You may encounter different issues when using your computer in your daily life. Some of these issues may influence your computer data or even the system. To avoid the possible serious consequences, you can back up your computer regularly.
Professional backup software is a good choice. The current backup software is always capable of system backup, files & folders backup, automatic backup, backup scheme, and more. MiniTool ShadowMaker is such a representative. If you are interested in this software, you can go to the MiniTool official site to get more information about it.
Bottom Line
After reading this article, you must know what happens if you delete System32 on Windows and why you should not delete the System32 folder or any files in it. When your computer is infected by viruses or bothered by other issues, you should ask for professional suggestions but not delete System32.
Should you have any questions when dealing with the System32 issue or using MiniTool software, you can contact us via [email protected] or let us know in the comment.