Does your laptop become slow suddenly? Do you know what causes a laptop or computer to run slow? What are the solutions to laptop running slow problem? If you are interested in any of these questions, please read this post provided by MiniTool Solution. After reading, you'll know the most common reasons for causing a slow laptop and the corresponding fixes to speed it up.
Why is my laptop so slow? This question bothers a large number of users and they all want to find useful ways to speed up the laptop effectively.
It's a common phenomenon that your laptop slows down over time. The laptop is slow after working continuously for a very long time or when the laptop has been used for years. However, there must be some problems if you find the laptop running slow suddenly or a brand new laptop becomes slow (there are many users saying my new laptop is slow).
In addition to why is my laptop so slow, you may also ask: how to make laptop faster, how to make computer faster, questions like that. The following content will explain the main reasons why my laptop is so slow and give some useful tips on how to speed up laptop.
A slow laptop or computer can make even the simplest tasks feel like a real hassle; this is very annoying. In general, more and more data, files, and programs will be accumulating as a result of regular laptop use. This will have a great impact on the responding time for sure; resulting in a lower work efficiency and productivity. If this is the case, it's very easy to make your laptop faster by deleting the useless and infrequently used files/apps.
This page discusses about: the common reasons for laptop running slow, how to speed up laptop or how to speed up computer Windows 7, Windows 8, and Windows 10.
Note:
The steps of solutions to laptop running slow (including
HP laptop running slow
) in the following content are finished on Windows 10. As for how to fix
Windows 7 running slow
or Windows 8 running slow, there are only a few differences in the methods and steps.
Reason 1: Too Many Programs Are Running
Situation 1: too many startup programs.
One of the most common causes of a slow laptop (or computer) is too many startup programs. Most of the time, when you install a new program on the laptop, you'll be asked to give permission for allowing it to start while the laptop is booting up. This will obviously increase the boot time and slow down your computer.
Situation 2: too many programs running in the background.
You have much more programs running on your laptop than you can image; you don't even know which programs are running since they won't ask you for permission and are running in the background. Besides, some programs still runs in the background after you closed them on laptop.
Situation 3: too many programs are running simultaneously.
Users are accustomed to doing a lot of things at once while using the laptop; this can help to save time and improve work efficiency. However, if there're too many programs, applications, and files opening at the same time on laptop, it will be slow down.
These programs will eat up your processing power so as to slow down your laptop. In this case, closing unnecessary programs completely or restarting your laptop is the direct solution to speed up. Besides, you can also add RAM (Random Access Memory), which decides the computer's ability to run multiple programs at the same time.
Fix 1: Close Programs
How to Close Unnecessary Programs
Open Task Manager. (Please click More details if you see a small window.)
Make sure the Processes tab is checked.
Look through the programs running on your computer. (You can see how much CPU, memory, disk, network, and GPU are used by each program in the list.)
Determine which programs are not necessary.
Right click on each program and select End task. (You can also select the target programs and click on the End task button in the lower right corner.)
Several programs belong to the same app will be folded together; you can end them directly or unfold it & select a specific process to end.
How to Stop Unessential Services
Open Task Manager -> shift to the Services tab -> browse the services in the list to determine which are needed and which are not -> right click on a service -> choose Stop from the context menu.
Also, you can perform a laptop restart to close some programs and services automatically.
Fix 2: Disable Programs
How to Disable Startup Programs
Open Task Manager.
Select the Startup tab.
Browse the startup programs to decide which one should be disabled.
Right click on a program and choose Disable. (You can also select the program and click on the Disable button at bottom right.)
Another way to remove a program from Windows Startup folder:
Go to C:\ProgramData\Microsoft\Windows\Start Menu\Programs\StartUp.
Select the program you don't want to run during startup.
Press Shift + Delete at the same time.
Click Yes in the confirmation dialog.
Bonus Tip: 4 Easy Ways to Open Task Manager
1st way: right click on the taskbar located at the bottom of your laptop screen (you can adjust its location manually) -> select Task Manager from the context menu.
2nd way: click Start in the lower left corner -> scroll down to find Windows System folder -> expand it and select Task Manager.
3rd way: press Window + R to open run -> type taskmgr -> click OK or hit Enter.
4th way: press Ctrl + Alt + Delete -> select Task Manager. You can also open it directly by pressing Ctrl + Shift + Esc.
Reason 2: Hard Drive Issues
If you're in face of low disk space or if there are errors detected on the hard drive, it will slow down your laptop dramatically. In this case, you need to free up more space on disk or fix certain errors in order to troubleshoot Windows 10 running slow (or Windows 8/Windows 7 running slow).
Fix 1: Get More Free Space
When the hard drive, especially the C: drive is running out of space (getting full), you should delete temporary and useless files & apps to release more free space on that drive.
What You Should Delete & How to Delete Them
3 types of files should be deleted: useless data, seldom used apps, and temporary files.
Delete unnecessary data:
Open File Explorer.
Browse the items and select the ones you don't need.
Press Shift + Delete to delete them permanently.
Please don't delete the system files unless you're pretty sure they are not useful.
Uninstall programs:
Press Windows + I.
Select Apps.
Make sure Apps & features is checked.
Look through the app list carefully.
Select the one you don't use and click Uninstall.
Click Uninstall again in the pop-up window.
Repeat step 5 & 6.
You can also go to Programs & Features to uninstall apps.
Delete temporary files:
Press Windows + R.
Type cleanmgr and hit Enter to open Disk Cleanup.
Select the system drive and click OK.
Wait for the calculating process.
Check Temporary files (you can also select Temporary Internet Files, Thumbnails, and other files to delete).
Click on the OK button and choose Delete Files in the pop-up confirmation window.
Disk Cleanup deletes the Downloads folder after Windows update.
Hard Drive Defragment
Press Windows + S to open Windows search.
Type defragment into the search box.
Select Defragment and Optimize Drives from the result.
Choose the system drive and click Analyze.
Wait for the analyzing process to end.
Click Optimize and wait for it to complete.
Add More Space
You can replace the old hard drive with a new one (which has more capacity) or you can just increase the system drive by using unallocated space or taking space from other drives.
Down MiniTool Partition Wizard and install it properly on your computer.
Launch the software and select the system drive.
Select Move/Resize Partition if there's unallocated space next to it.
Select Extend Partition to take free space from another drive on the disk.
Follow the on-screen instructions to finish the rest steps.
Fix 2: Check Disk for Errors
A hard drive can fail over time and there may be errors on it resulting in a slow laptop. Therefore, it's necessary to check your disk. (Is my hard drive failing? How to recover data from a failed hard drive?)
Error checking:
Press Windows + E to open Windows Explore. (How to fix Windows Explorer not responding/working?)
Right click on the system drive.
Choose Properties from the context menu.
Shift to the Tools tab.
Click on the Check button under Error checking.
Click Scan drive and wait for the process to end.
Follow the on-screen instructions to finish rest steps.
You can also perform this action on other disk drives.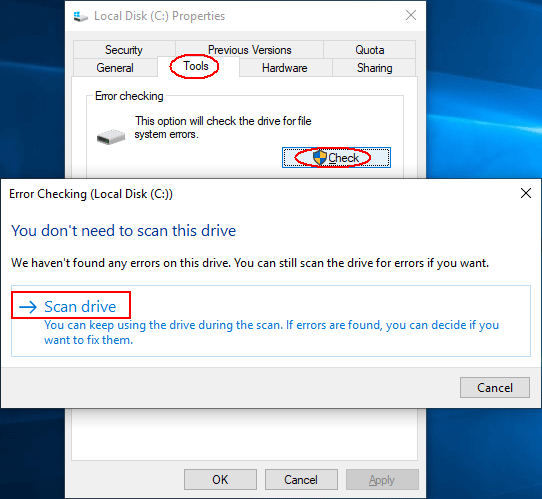 Run CHKDSK in Command Prompt:
Press Windows + S.
Type cmd.
Right click on Command Prompt.
Choose Run as administrator.
Click Yes in the UAC window (if it pops up).
Type CHKDSK *: /f (* is the drive letter).
Wait for the 3 examining stages to finish.
Things you may be interested in:
Tips: How to Recover Data from Laptop
You should follow the steps below to recover data from laptop hard drive ASAP because: 1. above methods may lead to data loss; 2. your data may disappear suddenly if your hard drive is failing.
Step 1: download the setup program and save it to your laptop hard drive or an external disk. (Please make sure the drive you select to store the program doesn't contain any lost files you need.)
MiniTool Power Data Recovery TrialClick to Download100%Clean & Safe
Step 2: double click on the setup program and follow the on-screen instructions to finish installing it. Then, click on the Start Now button to launch the software.
Step 3: select This PC in the left pane and choose the drive on which the lost files are stored.
Step 4: double click on the drive or click on the Scan button in the lower right corner to start a full scan. Then, wait for the scan.
Step 5: more and more files will be found during the scan. You can wait for the full scan to finish (in order to get the best recovery result) or browse the found items during the scan by expanding the partitions and folders.
Step 6: add a checkmark into the square box in from of the files you need and click on the Save button to bring up the Select a directory to save files window.
Step 7: select another drive as the target file storage location and click on the OK button to confirm your selection. Then, you should wait for the recovery to finish.
A window will pop up at the end of the recovery to inform you that all the selected files are recovered to the path you specified.
4 Useful Methods For Getting Files Off Failing Hard Drive On Mac.
Reason 3: Your Laptop Is Infected by Virus
If you find ads are popping up or programs are crashing suddenly, you may suspect that there's virus on your laptop. Virus, spyware, and malware can slow down your laptop and even ruin your data; they're very dangerous. You should get your laptop away from virus by keeping these things in mind:
Don't open emails from unknown senders.
Don't click links from untrusted sites.
Don't download files casually from the internet.
Besides, you should run a virus scan in order to detect all the virus and malware on your device and then choose to clear them completely.
Fix: Use Windows Security
You can use the built-in Windows Security to scan for virus.
Press Windows + S.
Type security.
Select Security at a glance.
Choose Virus & threat protection.
Click Quick scan and wait.
Follow the instructions to complete rest options.
Besides, you can acquire a powerful and reliable antivirus program to help you kill virus and protect your system in the future. Please always keep your antivirus program up-to-date in order to protect your laptop against the latest viruses.
Reason 4: Browser Issues
Situation 1: there are too many tabs opening in your browser or there are too many browsers running on your laptop. Each time you open a new browser tab, it will be saved in RAM; so your laptop may become very slow if you have little RAM left but too many tabs opening in the browser.
Situation 2: the browser you are using has too many add-ons. Users' web experience could be greatly improved by browser add-ons (also called extensions). But too many add-ons can also eat up too much of your processing power so as to slow down your laptop.
Fix 1: Open Fewer Tabs at Once
Obviously, you should go to close some tabs (open fewer pages) in the browser at once.
Close a tab by clicking on the X button on it.
You can also press Ctrl + F4 to close the active tab.
This is an effective solution to Windows 10 very slow and unresponsive if it's caused by browser eating up too much processing power.
More directly, you can add more RAM to your slow laptop to make it run faster ever than before.
Fix 2: Disable or Remove the Extensions
In this part, I'll take removing Chrome extensions as an example.
Click on the three dots icon in the upper right corner of an opening Chrome browser.
Navigate to the More tools option in the drop-down menu.
Select Extensions from the submenu.
Browse all the add-ons/extensions you have and decide which ones are not necessary.
Click on the Remove button under each extension.
Click Remove again in the pop-up confirmation dialog.
To disable an extension, you should finish step 1 ~ 5 and then toggle the switch to off.
There are chances that you know there's something wrong with your laptop but you can't figure out the exact reason. How to make your laptop faster in this case? Please try the following methods one by one.
Reset PC
Factory reset
Update system
Can you recover data after factory reset?
Conclusion
Why is my laptop so slow is a complex question; many factors could make your laptop running slow. You can figure out the exact cause of a slow laptop sometimes. While in other cases, you can only feel that your laptop is slowing down, but you don't know why. Considering this, I list the common reasons for causing such problem and give the corresponding suggestions on how to fix them. Besides, I also show you how to do laptop data recovery when necessary. At the end of this article, I also summarize some useful solutions to speed up a laptop effectively even if you don't know why your laptop is slow.
You may also ask – why is my computer so slow all of a sudden? Actually, the reasons and fixes are similar.