Windows File Recovery tool can help you recover lost or deleted files on your computer. However, sometimes you may find that the Windows File Recovery tool is not working or receive the error message saying winfr.exe is not recognized. In this post from MiniTool, you can learn several feasible ways to solve this issue.
About Windows File Recovery Tool
Windows File Recovery is a free command-line utility for recovering files that have been deleted from your local storage devices (including internal drives, external drives, and USB drives). When you cannot rescue your files from the Recycle Bin because the Recycle Bin is grayed out or for other reasons, Windows File Recovery is a good choice for data recovery.
In our previous post, we discussed how to use Microsoft's Windows File Recovery tool to rescue your data. In today's post, we will tell you what should you do when the Windows File Recovery tool is not working.
Note: Windows File Recovery requires Windows 10 version 2004 or later Windows versions. Here you may be interested in this paper: What Operating System Do I Have? And it doesn't support recovering files from cloud storage and network file shares.
How to Fix Windows File Recovery Tool Is Not Working
To fix the "Windows 10 recovery tool not working" issue, here we list a couple of effective ways. You can try them one by one until the problem has gone.
Method 1. Reinstall Windows File Recovery
When faced with most software-related questions, reinstalling the app can be the most effective way to deal with it. So, if you are encountering the winfr.exe is not recognized error or other errors that cause Windows 10 recovery tool not to work, you can uninstall Windows File Recovery, then download the Windows File Recovery tool again to check if it's back to normal.
Method 2. Use MiniTool Power Data Recovery to Recover Files
When the Windows File Recovery tool is not working, you can choose to use a piece of free data recovery software to help you get lost/deleted files or folders back. MiniTool Power Data Recovery, the best data recovery software, is recommended here.
MiniTool Power Data Recovery is designed to recover deleted/lost files, folders, pictures, screenshots, videos, audio, emails, and so on from internal hard drives (HDDs & SSDs), external hard drives, USB flash drives, CDs/DVDs, and other file storage devices.
It is fully compatible with almost all Windows operating systems, including Windows 11, Windows 10, Windows 8, and Windows 7. For Business editions, you can scan and recover data from your file storage devices in the Windows Server environment, and the free edition allows you to scan and view files in Windows Server.
Compared with Windows File Recovery, MiniTool Power Data Recovery is easier to operate because of its simple interface and clear data recovery steps. With only three easy steps, you can effectively restore your files lost due to various reasons, such as files getting deleted when left-clicking and Windows deleting your files automatically.
Now click the button below to free download MiniTool Power Data Recovery and start scanning and recovering your files.
Step 1. Choose the target drive to scan.
After downloading and installing MiniTool Power Data Recovery, you need to launch it to get its main interface. Under the Logical Drives section, you can select the target partition and click the Scan button to start scanning data on it, or you can double-click the target partition to start scanning.
If you are not sure which partition your lost data should exist in, you can move on to the Devices data recovery module and then scan the entire device, like the whole HDD, SSD, USB flash drive, and so on.
Step 2. Preview found files to check whether they are needed.
After scanning, all found files on the selected partition should be listed on your screen. Here you can preview them to check whether they are needed to be recovered. MiniTool Power Data Recovery supports previewing multiple types of files, such as DOC, DOCX, XLS, XLSX, PEG, JPG, JPE, PST, and more.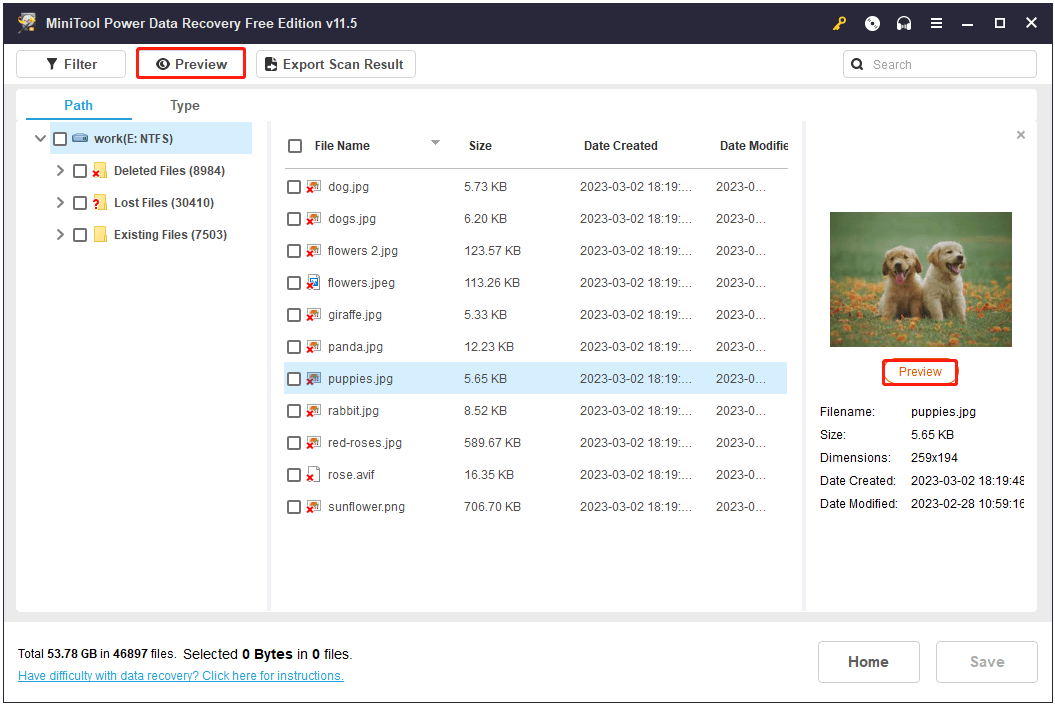 In addition to previewing files, MiniTool Power Data Recovery also offers other useful features like Filter and Search to help you find desired files quicker.
Filter: This feature allows you to filter found files by file size, file type, file category, and date modified.
Search: This feature supports searching for a certain file by part of or the full file name.
Step 3. Select a file location to restore the selected files.
After finding the wanted files, you need to select them all by checking the checkboxes next to them and then clicking the Save button to choose an appropriate file location to store them. It is not recommended to store them in the same location where they were previously.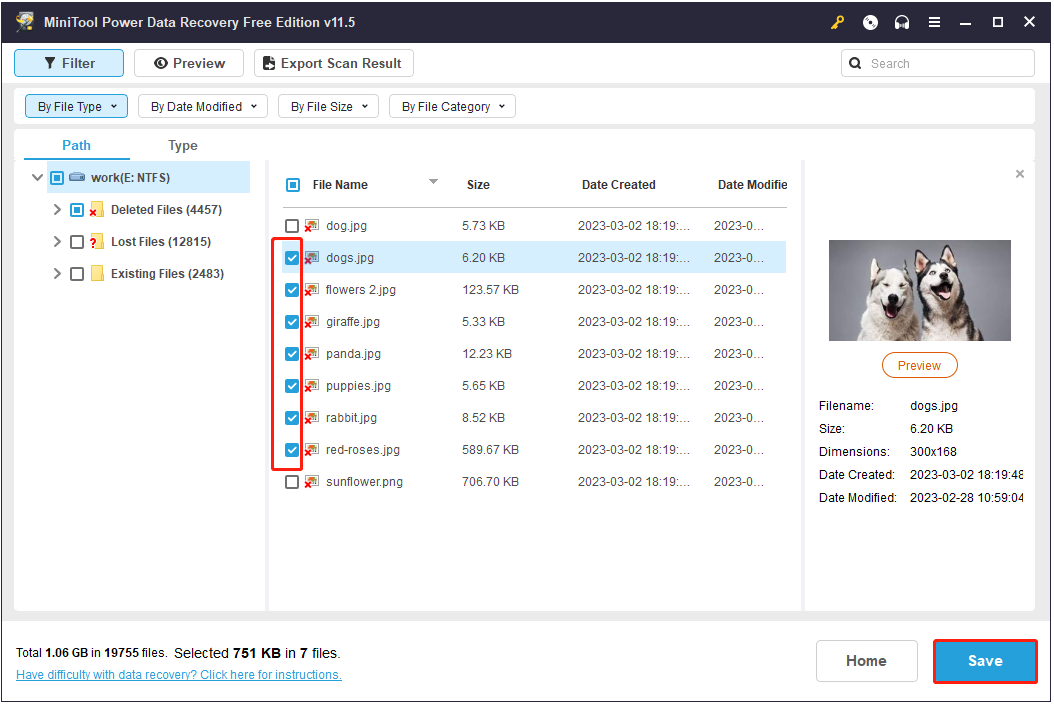 Tip: You may be prompted to upgrade to the full edition while recovering files because the free edition of MiniTool Power Data Recovery allows you to recover 1 GB of files for free. To break this data recovery limitation, you need to choose a registered edition.
Method 3. Update Your Windows
As said before, Windows File Recovery is only available in Windows 10 version 2004 or later Windows versions. So, ineligible versions of Windows may be responsible for the "Windows File Recovery tool is not working" issue. In this situation, you need to update your Windows version to the required one.
To update your Windows version, you can follow the steps below:
Step 1. Press Windows + I key combinations to open Windows Settings.
Step 2. Click Update & Security from the settings list.
Step 3. Choose the Windows Update tab, then click Check for updates in the right panel and follow the instructions on your screen to finish the update process.
Step 4. Restart your computer and check whether the Windows File Recovery tool is working now.
Method 4. Disable Other Apps
Some third-party applications may conflict with the Windows File Recovery tool, preventing this tool from working properly. To fix this issue, you can try to stop all unnecessary apps from the Task Manager.
Step 1. Right-click the Start button and choose Task Manager.
Step 2. Select the running app that needs to be closed and click End task in the lower right corner. Or you can right-click the unwanted process and click End task from the context menu.
Step 3. After that, launch Windows File Recovery again and check whether it can run normally.
Method 5. Run DISM and SFC Scan
Windows File Recovery may also not work properly when system files are corrupted. So, to scan and fix corrupted system files, you can run an DISM and SFC scan.
For an intuitive guide to scanning and fixing disk errors, you can read this post: Use the System File Checker tool to repair missing or corrupted system files .
Top Recommendation: Back up your files regularly
As you can see, though Windows File Recovery and MiniTool Power Data Recovery are both good solutions for data recovery, you had better back up your important files in advance. So, you can get files back easily from the backup files when something goes wrong instead of running data recovery software.
If you do not know how to back up your files effectively, you can try MiniTool ShadowMaker, a professional and reliable data backup tool that can help to back up your files, folders, partitions, disks, and even the whole system. And it offers full, differential, incremental, and scheduled backups that make it easy to customize your backup plan.
What's more, you can try its features for free for 30 days. After this time limit, you need to choose a registered edition.
Wrapping Things Up
Now I believe you already know what to do when the Windows File Recovery tool is not working. Hope you can recover lost files successfully with the help of Windows File Recovery or MiniTool Power Data Recovery.
Should you have any questions or suggestions when using MiniTool software, please do not hesitate to leave your comments below or contact us via [email protected].