Data is the most important thing on a hard drive. But when you plan to sell, give away, or trade-in your Mac, you need to wipe it first to avoid data leakage. Besides, resetting Mac to factory settings work well in fixing many problems you don't know how to solve. Please master the methods provided by MiniTool Solution right now.
In general, you need to protect hard drive data well to prevent personal data loss/leakage. However, you need to remove the data completely when you plan to change a hard drive, sell/trade in the old Mac, or give away your MacBook to others. What should you do? Do you need to take out the disk drive and ruin it? How to wipe a MacBook completely? All of these questions will be answered later.
Wipe USB Drives: Erase Your Data Completely & Securely!
What to Do Before You Sell, Give away, or Trade in a MacBook
Before talking about how to wipe MacBook (how to wipe a MacBook Pro to sell), I'd like to show users what they should do before erasing the Macintosh HD.
Step 1: Back up Your Mac
Please ensure the security of your data on your Mac hard drive. You have two choices: transfer files to another Mac/external hard drive and make a backup of the important files.
How to backup MacBook:
Back up with the built-in Time Machine: you can configure Time Machine to back up all your files automatically.
Store your files in iCloud: iCloud and iCloud Drive are also used widely to backup important files like documents, photos, music, videos, and contacts.
Use third-party software: you can also back up a MacBook/MacBook Pro/MacBook Air with third-party programs.
Please read this page to know how to free up storage on Mac when it's not enough.
Step 2: Sign out of iTunes, iCloud, and iMessage
Sign out of iTunes:
Open iTunes on your Mac.
Select Account from the menu bar.
Choose Sign Out from the submenu.
Deauthorize iTunes:
Open iTunes.
Click on the Account menu.
Select Authorizations from its submenu.
Choose Deauthorize This Computer.
Type your Apple ID & password, and then click Deauthorize.
Sign out of iCloud (macOS Catalina or later):
Click on the Apple logo menu.
Select System Preferences.
Choose Apple ID.
Select Overview in the left sidebar.
Click Sign Out.
If you're using macOS Mojave or earlier, please go to the Apple logo menu -> System Preferences -> iCloud -> Sign Out.
Sign out of iMessage:
Open the Messages app.
Select the Messages menu.
Choose Preferences from its submenu.
Select iMessage.
Click on the Sign Out button.
Step 3: Reset NVRAM
The NVRAM, formerly known as PRAM, refers to a small amount of special memory on Mac. This RAM type will keep data for users after their devices are powered off.
How to reset NVRAM/PRAM using startup command:
Shut down your Mac completely.
Press the power button to turn it on again.
At this time, quickly press & hold Command + Option + P + R until your Mac boots twice – the Apple logo appears twice. This process will last about 20 seconds).
How to reset NVRAM/PRAM using Terminal:
Close all the apps running on your Mac.
Open Finder -> Utilities -> Terminal.
Type sudo nvram -c and press Enter.
Type the Administrator password and press Enter.
Type sudo shutdown -r now and press Enter.
Wait for your Mac to restart.
Step 4: Unpair All Bluetooth Devices
Please connect a USB keyboard and mouse in advance before following steps if you're using a desktop Mac: iMac, Mac mini, or Mac Pro.
Select the Apple logo menu.
Choose System Preferences.
Click Bluetooth.
Select the target Bluetooth device from the list.
Click on the X (remove) button next to the device.
Click Remove in the pop-up window to confirm.
Step 5: Factory Reset MacBook
What does factory reset Mac mean? It refers to format Macintosh HD (the internal hard drive on your Mac). But the question is how to wipe a MacBook or you can say how to erase MacBook. The following content tells all.
Factory Reset MacBook
Factory reset your Mac contains 2 steps: formatting Mac hard drive (erasing all data on it) in Recovery Mode and reinstalling the macOS. How to format the internal Macintosh HD? Please don't worry. The built-in Disk Utility can help.
How to Wipe Mac with Disk Utility
Step 1: Restart Your Mac
Press & hold the power button.
Click Restart in the pop-up dialog box.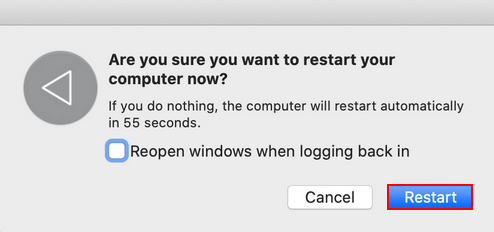 Other four ways to restart Mac:
Select the Apple logo menu in the upper left corner -> choose Restart.
Press Control + Eject and then click Restart.
Press Control + Command + Eject This is what we called force restart.
Type sudo shutdown -r <now> and press Enter.
Force restarting Mac may delete files that are still opening. Here's how to recover a Mac file easily:
Step 2: Boot into the Recovery Mode
Press Command + R immediately when your Mac starts to turn on.
Hold these two keys until you see the Apple logo on the screen.
Choose a user -> click Next -> type the password.
Select Disk Utility in the macOS Utilities window.
Click on the Continue button at the bottom right.
Step 3: Erase Your Data
How to wipe Mac (format Macintosh HD) in Disk Utility:
Look for your startup disk in the left panel under Internal. It is named Macintosh HD by default unless you changed it.
Click on the Erase button at the top of the Disk Utility window.
A dialog box will pop up to inform you that erasing the disk will delete all data stored on it, and cannot be undone.
You may give it a new name or just keep it as Macintosh HD.
Besides, you should choose a format from Mac OS Extended (Journaled) and APFS (recommended by Disk Utility).
Click on the Erase Volume Group If you don't see it, just click on the Erase button.
Enter the correct Apple ID to allow the erase if you're asked to provide one.
Wait for the erasing process to finish automatically.
If there are other internal volumes listed in the left sidebar, please select them one by one and then click on the - button to delete them.
Quit Disk Utility.
What's the difference between Mac OS extended journaled and APFS?
What to do if you don't see Macintosh HD in Disk Utility?
Click View in the upper left corner -> select Show All Devices -> look for the startup disk again.
Click on the Apple logo menu -> select Shut Down -> disconnect all the unnecessary devices from your Mac -> power on Mac and open Disk Utility again.
Can you recover data from a hard drive that's been erased?
Luckily, yes. You can recover the files that are important to you from an erased Mac hard drive. The process won't be difficult if you get the right tool to help you. (We'll show you how to recover data from Mac step by step in the next section.)
What if Mac won't boot into Recovery Mode?
Please try these methods one by one:
Use Time Machine backup.
Reinstall Mac OS X.
Create a bootable installer.
Access the Internet Recovery mode by pressing & holding Command + Option + R.
Step 4: Reinstall macOS
Go back to the macOS Utilities window.
Select Reinstall macOS from the list and click Continue.
A system version will be prepared for you. Please click Continue.
Click Agree to continue after you read the software license agreement.
Select a boot disk and click Install.
Wait for the installation to complete.
You can also restore your system from a previous backup.
Select Restore From Time Machine Backup in the macOS Utilities window.
Click Continue.
Select an appropriate backup from the list and follow the on-screen instructions.
How to factory reset MacBook Pro or how to factory reset MacBook Air?
The above guide also works for how to wipe a MacBook Pro or how to wipe a MacBook Air.
Bonus Tip: How to Recover Files from Mac HDD
Step 1: download a reliable data recovery tool that supports macOS. Stellar Data Recovery for Mac is worth a try.
Step 2: install and launch the recovery tool under guidance.
Step 3: decide the file types you want to recover. Toggle the switch to ON in front of Documents, Emails, Videos, Audio, and Photos. You can also turn ON Recover Everything.
Step 4: click Next in the lower right corner.
Step 5: select your Macintosh HD and click Scan. You can turn on the Deep Scan feature to find more results.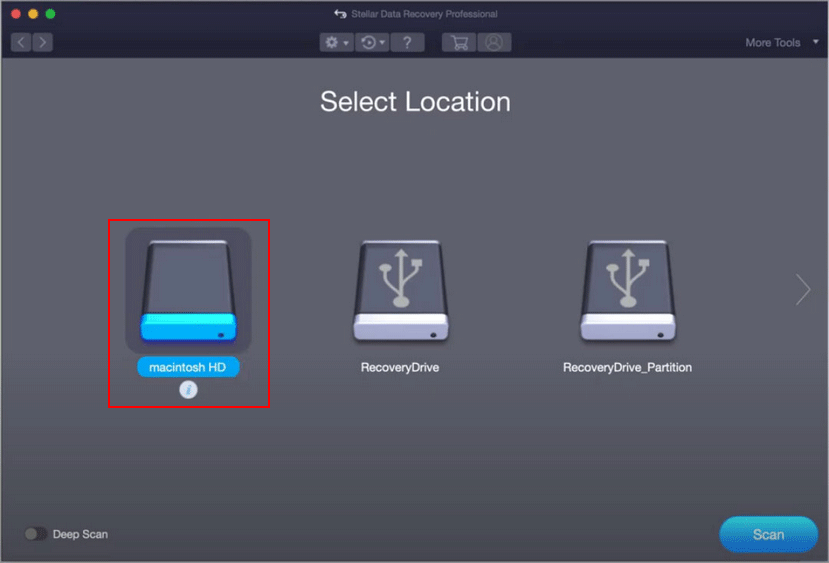 Step 6: wait for the scan and browse the scan results carefully to find the files you need.
Step 7: choose all the folders and files you want to recover from your Mac hard drive. Then, click Recover.
Step 8: choose a destination for the files selected and click Save.
Step 9: the last step is to wait for the recovery to finish.
How to recover data from a Mac that won't boot?
You should add one more step to the above recovery guide. That is to create a bootable USB drive.
Run Stellar Data Recovery for Mac on another Mac computer.
Click on the Click here link after Create Recovery Drive at the bottom left.
Click Create Recovery Drive and wait. Then, click OK when it's finished.
Please read this page to know more details on how to recover data from a Mac computer that can't start:
Is Erasing Enough
Still worrying about the data security after erasing your drive in Disk Utility? You can also get a professional disk wiping program to help you clear data completely. Also, you may take out the drive from your Mac and ruin it physically if you want: burning the drive, breaking it into pieces, scratching the platters heavily, etc.
Format External Hard Drive Mac
Steps to format an external hard drive on Mac/MacBook using Disk Utility (you don't need to boot your computer into Recovery Mode). Erasing the external hard drive will delete everything on it, so you should copy the files you want to keep to another storage device before the action.
Connect the external hard drive to your Mac properly.
Open Disk Utility.
Click View in the upper left corner.
Select Show All Devices.
Select the target disk under External in the left sidebar.
Click Erase located at the top of the Disk Utility window.
Give the drive a new name or keep the old name.
Choose a suitable format for the drive.
Click Erase Volume Group or Erase.
Enter the correct Apple ID if necessary.
Wait for the erasing process to complete.
Sometimes, people complained that the external hard drive is not showing up on Mac. Why does this happen? How to fix the problem and make it finally appear? Please read this page with care:
The format of the hard drive depends on where you want to use it usually: on Mac or Windows.
Mac OS Extended Journaled is suitable for macOS 10.12 and earlier versions.
APFS should be used in macOS 10.13 and later versions.
FAT (MS-DOS) and exFAT should be selected if you need to use the disk on Windows.
How to Format a Hard Drive for Mac on Windows
Also, you can format the external hard drive on a Windows PC and select a file system that can be supported by macOS. Please connect the external hard drive to your computer and make sure it shows up.
Way 1: format in File Explorer.
Open File Explorer. (What if File Explorer not responding/stopped working?)
Right-click on the external disk drive and choose Format.
Choose FAT or FAT32 as the file system and click Start.
Click OK to confirm.
Way 2: format in Disk Management.
Open Disk Management.
Right-click on the drive of your external disk.
Choose Format.
Choose FAT or FAT32 as the file system and click OK.
Click OK again in the prompt window to continue.
Note: If the drive capacity is too large, the FAT or FAT32 option won't be available in both ways.
Way 3: format in MiniTool Partition Wizard.
Download & install the software properly.
Launch it and select the target disk.
Choose Format Partition in the left sidebar.
Change Partition Label, File System (choose FAT or exFAT), or Cluster Size according to needs.
Click OK and then press Apply in the upper left corner.
Click Yes to apply pending changes.
Note:
MiniTool Partition Wizard provides a
Wipe Partition
and a
Wipe Disk
feature to help you erase data completely so that they can't be recovered anymore.
6 Ways To Read Mac-Formatted Drive On Windows: Free & Paid.
Secure Erase Solid State Drive
Is Secure Erase Necessary
As you know, the new Mac models ship with Solid State Drives (SSDs). According to Apple, the Secure Erase and Erasing Free Space will be not available in the Disk Utility. They are not needed anymore since the standard erase action makes it very difficult for others to recover your data intentionally. Therefore, you only need to do a simple erasing on your SSD.
How to Secure Erase SSD on Mac
Some people still want to perform secure erase on their SSDs, ignoring Apple's word. They should open Terminal and type diskutil secureErase freespace VALUE /Volumes/*.
The word VALUE should be replaced by a number between 0 and 4, representing different erasing methods.
The symbol * represents the name of the target drive.
This process may take a very long time.
Besides, there's another way to protect your data on SSD – using FileVault, which is a disk encryption program built-in Mac OS X 10.3 and later. Please read this page to know how to encrypt Mac data with FileVault.
Conclusion
Many people want to sell/donate/trade in their old MacBook after buying a new Mac. The thing they are worrying about the most is data security. They don't want others especially the malicious ones to recover their private data for a specific reason. That's an important reason why people ask how to wipe a Mac or how to erase MacBook Pro.
In this article, we've shown you what to do exactly before selling a MacBook, including how to wipe a MacBook in different cases. Hope this page is helpful enough for you.