Movie Maker Overview
What Is MiniTool Movie Maker
MiniTool Movie Maker, an easy-to-use video editing software, lets users create a wonderful movie with their own pictures or videos, regardless of their skill level.
MiniTool Movie Maker offers movie templates to help users quickly create a movie. Users only need to select a suitable movie template, and then import their files to make a movie. Then, users can edit this movie in timeline/storyboard and add transitions, effects, animations, and texts. Finally, export it or share it on social media sites like YouTube and Facebook.
Main Features
Import video, picture, and audio in various formats
Support lots of transitions, filters, animations, etc.
Edit videos & photos
Split/trim videos
Edit titles, captions, and credits
Export video in common internet video formats
Install/Uninstall
To Install MiniTool Movie Maker:
Step 1: After getting MiniTool Movie Maker, users can double-click the installation package to get the following welcome interface.
Step 2. Click Install to install the software to the default location or click Customize Install to choose an installation location to install this tool.
Step 3: Follow the installation guide to install MiniTool Movie Maker.
Step 4: Follow the installation guide to install MiniTool Movie Maker.
To uninstall MiniTool Movie Maker:
Go to Start Menu -> All Programs -> MiniTool Movie Maker -> Uninstall.
Go to Windows Control Panel -> Programs and Features -> MiniTool Movie Maker -> Uninstall.
Go to Windows Control Panel -> Uninstall a program -> MiniTool Movie Maker -> Uninstall.
Project
For every project users create, MiniTool Movie Maker creates a project file. A project file contains all information about the files used in users' project, the order of videos on the timeline, and edit decisions, effects, and music used in the project. By default, the project file is stored in the default location, but users can choose to save project file anywhere else when saving it.
Create a New Project
Launch MiniTool Movie Maker, then users can make their own movie to create a new project.
Save Project
Click on Menu at the top-right corner, hover the mouse over File option and select Save Project or Save Project As to save the project file.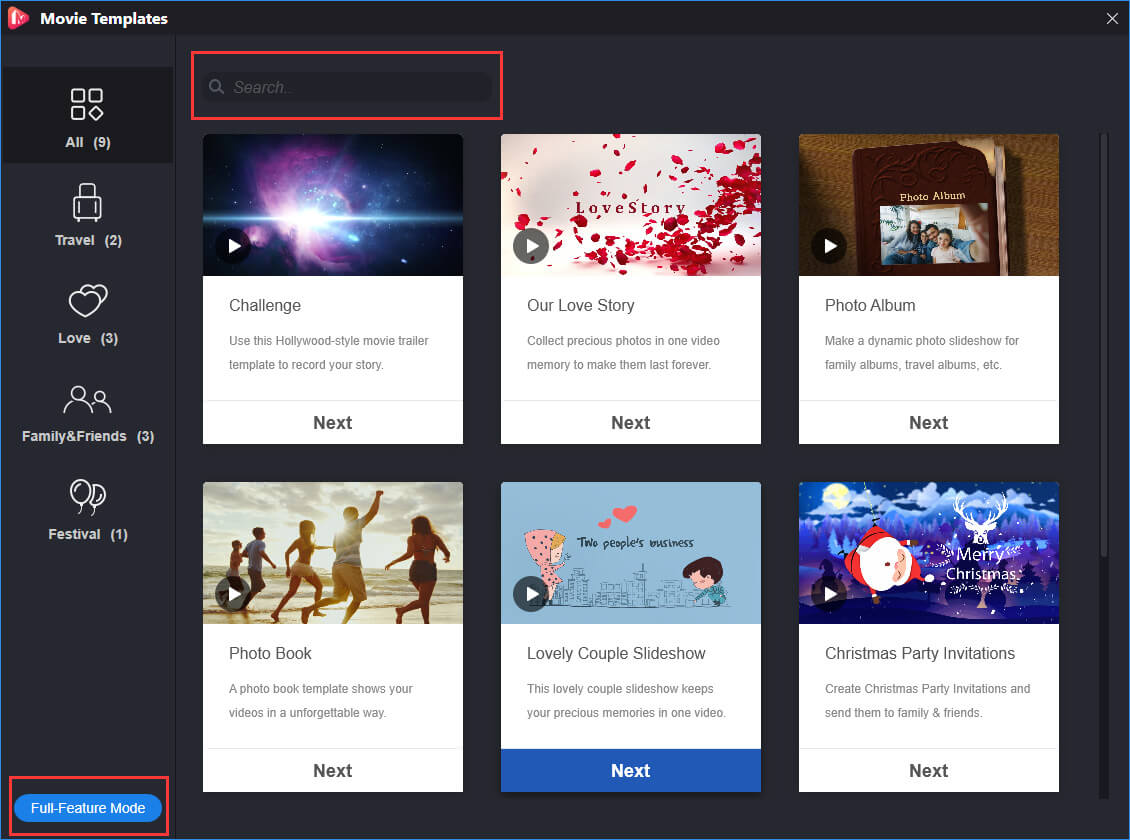 Choose the location which users would like to save the project file. Then enter the file name and click the Save button. The project will be saved as a file with the extension .mmm. These project files can be only opened by MiniTool Movie Maker.
Project Library Window
Project library window will list all recent projects.
1. New Project: It will create a new project. You can also create a new project in the Menu option, File >New Project.
2. Open Project: Open the saved project file to locate it.
3. Movie Templates: It will offer you different kinds of movie templates to help you create a movie quickly.
4. Large icons: It will show the thumbnail of the project file.
5. Details: It will show the project file's name, date modified, size, and type.
6. Search bar: Enter the file name to locate it.
Open Project File
1. Open a project file from project library
If users have created projects with MiniTool Movie Maker, they will enter into the following window.
All the most recent projects will be shown in the Project Library. Double-click on the project users would like to open. If users can't find the project in Project Library, click Open Project to locate it.
2. Open an existing project when editing
When editing your movies in the timeline, you also can click Menu > File > Open Project to locate the .mmm file.
Main Interface Introduction
MiniTool Movie Maker has a user-friendly main window, which is composed of 4 parts:
Menu Bar
1. Media: It collects all your media files including photos, videos and music.
2. Transition: Add transitions like fade in, blind or dissolve.
3. Effect: Add filters like black and white, cold, vivid and others to videos/images.
4. Text: Add titles, captions and end credits to decorate your movie.
5. Template: Use various movie templates to easily and quickly create a movie.
6. Export: Export movie to PC or devices.
7. 3-Bar Menu: It hides some features like File, Help and Skin.
Media Library
The library is the source for all media, including videos, photos, and music files. It also contains transitions, effects, and a variety of other media assets that users can use in their projects.
8. Import Media Files: Import photos, videos and audio files.
Preview Window
The Preview Window shows the video which is currently being played in the Timeline or Storyboard.
9. Player Controls: Play/pause the video, step forward/backward by one frame, or skip to the start point of movie.
10. Volume: Turn up/down the volume.
11. Timecode: Display the exact time of the playhead position and the duration of the complete sequence.
12. View/Exit Full Screen.
Timeline
The Timeline is where users assemble the media clips for their video project.
13. Undo
14. Redo.
15. Delete: Delete the unwanted clips and transition.
16. Split/Trim: Split or trim video clips.
17. Zoom to Fit Timeline.
18. Text: Add text to your photos/videos, and delete the added text.
19. Video track: Arrange video clips and photo clips with flexibility.
20. Audio track: Adjust volume, fade in/out music, etc.