This guide will help you quickly get started on how to use MiniTool ShadowMaker to perform kinds of operations.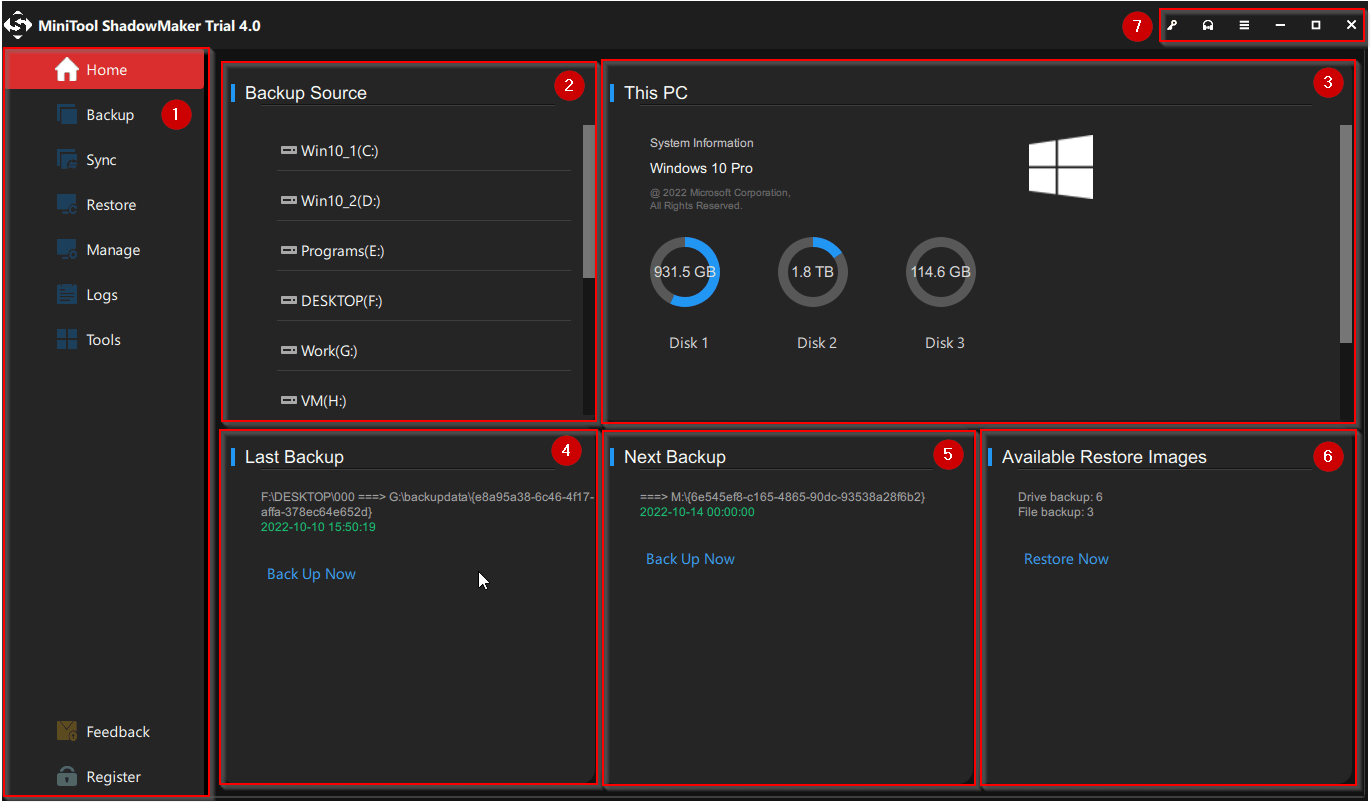 Section 1: Main Menu
| | |
| --- | --- |
| Home | View Sections 2 – 6 for details. |
| Backup | The location to back up files, folders, system, disk, and partition. |
| Sync | Sync files and folders to keep the backup in pace with the latest version. |
| Restore | Choose a backup image to restore so as to get your computer back to an earlier state. |
| Manage | Manage backup and sync tasks such as editing the source files, editing the backup schedule, changing the backup scheme, and more. |
| Logs | View the detail of each backup task.   |
| Tools | More useful tools like MiniTool Media Builder, Add Boot Menu, Dismount, Clone Disk, PXE boot, and Remote Backup can be found here. |
| Feedback | Give us feedback if any problem occurs when using MiniTool ShadowMaker. |
| Register | The location to get a license key and register MiniTool ShadowMaker. |
Section 2: Backup Source
This section lists all drives connected to this PC. Please note that partitions without a drive letter will not be displayed there.
Section 3: PC Information
This section shows which operating system your computer is running. Also, you can have a glance at your hard disk capacites along with the used/unused disk space proprotion.
Section 4: Last Backup
The latest backup task will be listed here. Click Back Up Now to start another backup of this task.
Section 5: Next Backup
The upcoming scheduled backup is shown here. Click Back Up Now to perform another backup of this task immediately. Doing this will not change your schedule settings.
Section 6: Available Restore Images
This section summarizes how many partition/file backup tasks have been created and successfully executed. By clicking Restore Now, you will be led to the Restore menu where you can choose the desired backup task to restore its image file.
Section 7: Auxiliary Menu
From left to right, they are:
Register: get a license key there or register MiniTool ShadowMaker.
Support: go to MiniTool Support Center for help.
The Hamburger Menu: switch software display language; use High DPI scaling or not; go to User Manual; check for software updates; view software information.
Minimize: minimize MiniTool ShadowMaker and hide its interface.
Maximize: Maximize MiniTool ShadowMaker for a better visual experience and operating experience.
Exit: Exit MiniTool ShadowMaker.