Recover from iOS Device
Premise


Install iTunes
Step 1: if the version of iTunes included in your Mac is not the latest one, the following interface will show up. Now, please click on the anchor text – "Apple's official website" in this interface to jump to the official download website of iTunes. Then, it will detect your computer system and recommend the most suitable installation version to you. You only need to perform a few clicks to get it downloaded to computer drive. It is so convenient!



Step 2: install this new downloaded iTunes version to your computer depending on your own installation habit.

Step 3: please click "Retry" in the software interface at the end of installation. At this time, a prompt will pop-up to inform you that this program will be disabled when iTunes is running in order to avoid data overwriting. You can easily find this is a wonderful security mechanism designed to protect your data. After clicking "Close iTunes", you're able to enter MiniTool Mobile Recovery for iOS and use "Recover from iOS Device" feature.




Trust This Computer
As is well known, Apple's devices have high security: no software can easily access data in Apple device without users' permission. Therefore, before you use our MiniTool Mobile Recovery for iOS to recover data from iOS device, you need to "
Trust
" your computer from device, making data accessible. However, if you have already finished the "
Trust This Computer
" process before, you can skip the following steps.
Step 1:
open MiniTool Mobile Recovery for iOS and connect your device to computer. Then, the following interface will appear, teaching you how to "
Trust
" your computer.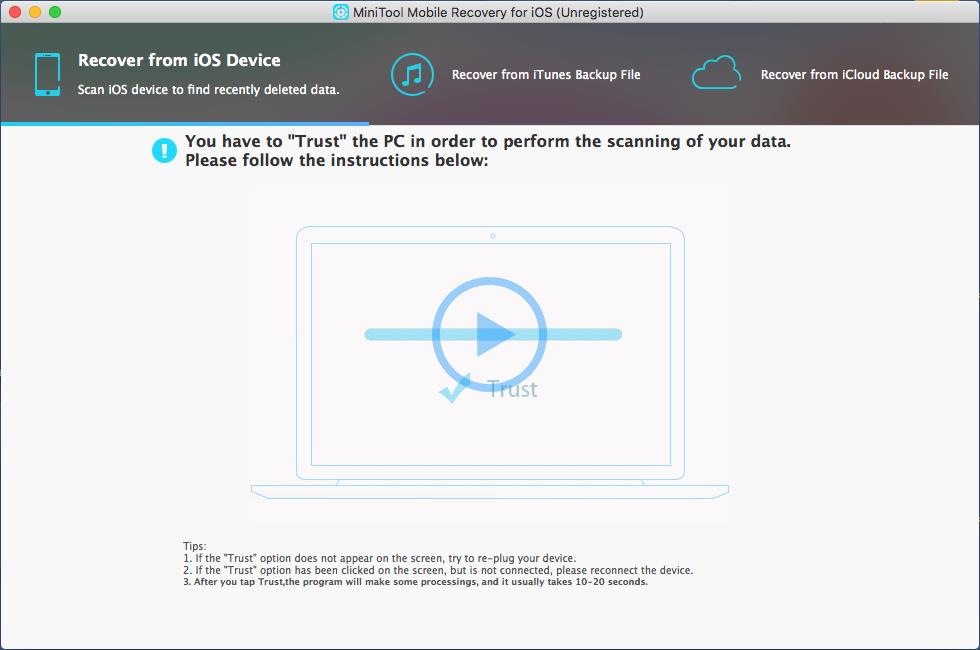 Step 2:
at the same time, the "
Trust This Computer
" box will pop up on your iOS device's screen. Please click "
Trust
" now (
if you have passcode lock, please unlock it at first
) and then wait for a moment. When our software detects that you have performed a successful trust, it will jump to the "
Scan
" interface.
Tips:
If the "Trust This Computer" dialog box didn't appear on your screen after you connected the device to computer, you may as well try to unplug the cable from computer and then plug it in again. If there's still no response, you may need to check the computer USB interface, the cable used to connect device to computer and the interface of iOS device.
How to Recover from iOS Device
MiniTool Mobile Recovery for iOS supports iPhone, iPad, iPod touch and other iOS devices. It can help to recover lost messages, contacts, call history, WhatsApp, notes, calendars, reminders, bookmarks, etc. Lost files could be recovered by using this software as long as these files are not overwritten by new data.
Note: we cannot guarantee data integrity since deleted data can easily be overwritten by new data
.
Step 1: Analyzing iOS data and scanning device.
After connecting iOS device to Mac computer, users only need to click

"
Scan
" button.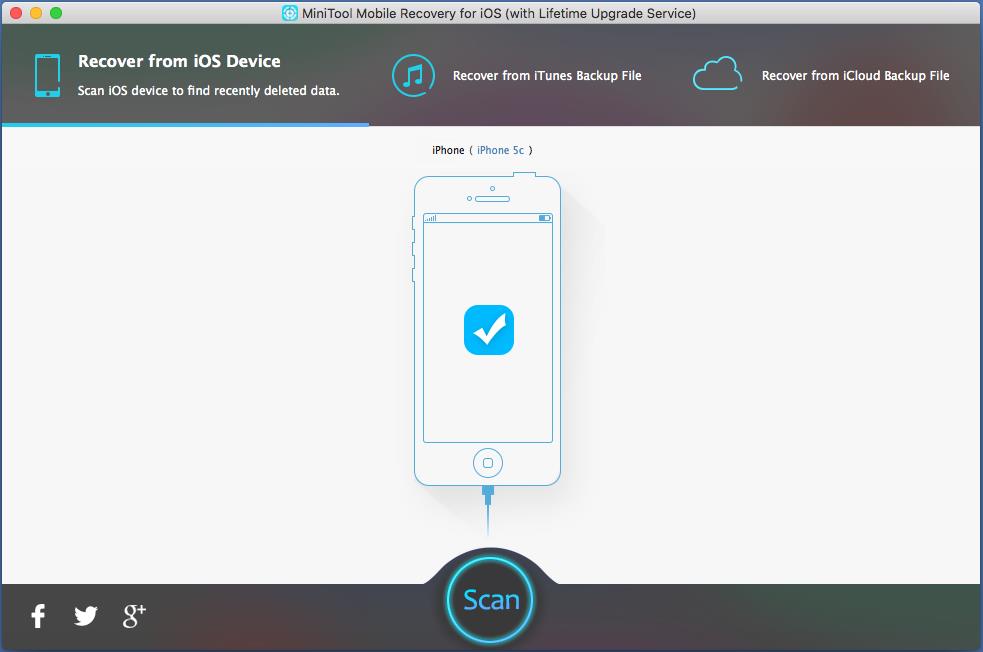 And then, this software will automatically analyze the data saved in iOS device.
Note: if the iOS device is encrypted, users need to enter password to unlock it at first
.
After analyzing iOS data, the software will scan the device. The scanning process will take a few minutes, and it depends on the amount of data saved on the device. If users have found desired data, they can click "
Stop
" button.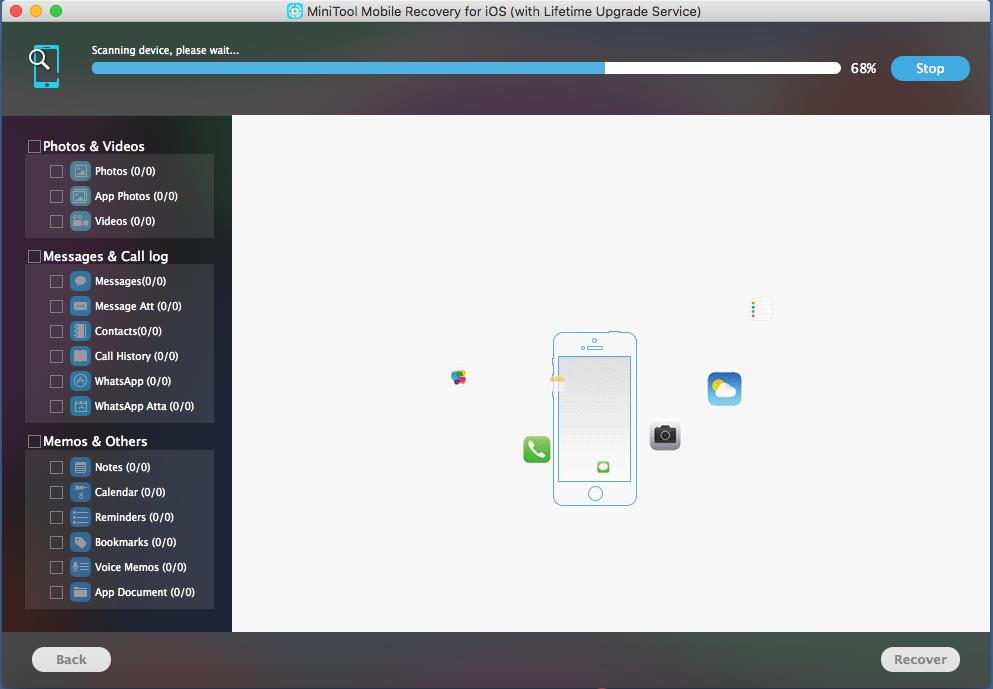 Step 2: Previewing scanning results.
After scanning, this software will list all found files. At this time, users can quickly find desired files via category and time. And then, users need to select all desired files.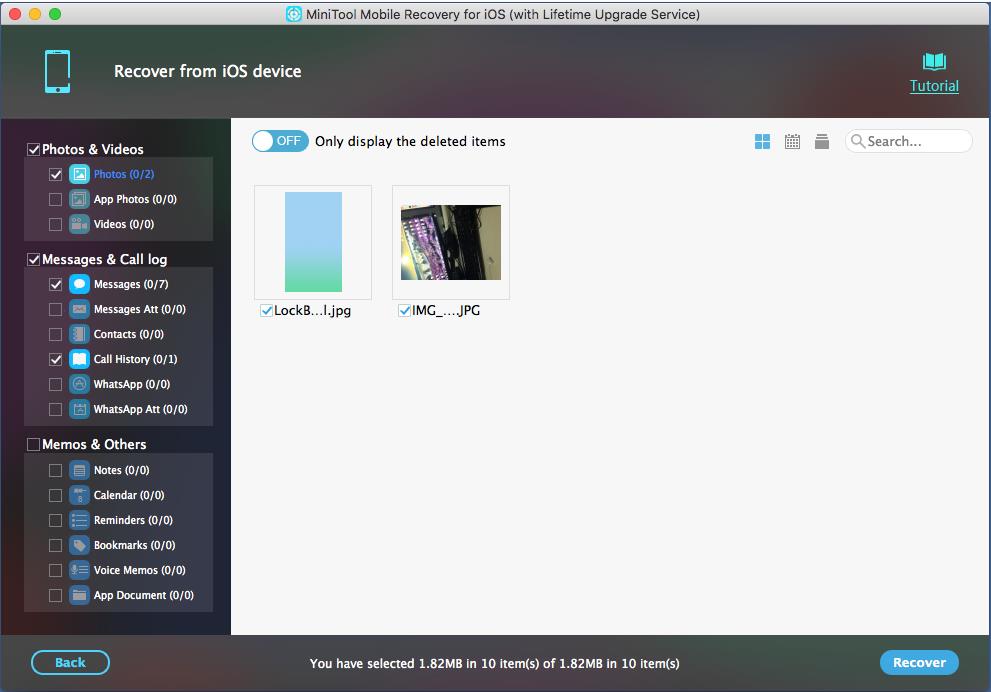 Step 3: Saving recovered data.
After choosing all desired data, users need to click "
Recover
" button to store them. In general, although this software will automatically provide a place to store recovered files, users can click "
Browse…
" to select a suitable place according to actual needs. After all operations are done, users have finished recovering lost data from iOS device.