iPhone doesn't have enough space to save more data? iPhone is showing the storage full error? In this post on
MiniTool
, we will guide you on how to effectively 
increase iPhone storage
from both internal space and external space.
iPhone Not Enough Space, Help!
The iPhone's popularity is on the rise thanks to its seamless operating system, robust features, and more. Nevertheless, the device does continue to face certain challenges.
Some iPhone users have recently reported space shortage and full storage issues, which is a common problem. Frequently, the internal memory of the iPhone easily gets filled with music, photos, videos, and apps. Even with 256GB or 512GB, your iPhone may eventually run out of memory after a long time.
Facing the "iPhone not enough space" issue, you may ask: how to increase iPhone storage capacity?
Keep reading, then you can find several reliable ways that help to increase iPhone storage effectively.
How to Increase iPhone Storage
Here we collect a couple of useful methods to free up or expand iPhone storage. Follow the guide below if you are bothered by the "iPhone storage full" issue.
Case 1: Free up Memory on iPhone
1. Extract iPhone Files to the PC
As we all know, all iOS devices don't have SD card slots. In other words, unlike Android users, you are not allowed to directly expand the storage space of your iPhone by inserting an additional SD card.
Hence, you can only increase iPhone memory by other means, such as freeing up space on iPhone.
To free up iPhone space, you may consider transferring the files to a computer, an external hard drive, or a USB flash drive first of all, then delete the files that have been transferred. How to do this? It is very easy as long as you use a professional iOS data extractor tool.
Here, MiniTool Mobile Recovery for iOS can be your good helper. It is helpful to transfer existing files to your computer, a USB drive, or an external hard drive. Besides, it can recover deleted or lost iPhone photos, contacts, notes, etc. from iPhone internal memory, iTunes backups, or iCloud backups.
Tips:
MiniTool Mobile Recovery for iOS is available on both Windows OS and Mac OS X. Here we take the Windows OS version for example.
Click the button below to get the free edition of MiniTool Mobile Recovery for iOS and install it on your computer.
MiniTool iOS Recovery on WindowsClick to Download100%Clean & Safe
Then follow the guide below to extract iPhone data so as to free up iPhone memory.
Tips:
·         Connect your iPhone to the computer via a USB cable.
·         If you prefer to extract the iPhone data to an external hard drive, you need to connect the drive to your computer.
Step 1: Run MiniTool Mobile Recovery for iOS. In its main interface, you can see three data recovery modules, Recover from iOS Devices, Recover from iTunes Backup File, and Recovery from iCloud Backup File. Here, we use the Recover from iOS Device module to extract the iPhone data.
Before scanning and extracting the data, you are required to download and install the latest version of iTunes. Follow the instructions in this article to get the iTunes: Guide – iTunes Download, Install, & Reinstall in Windows 11/10.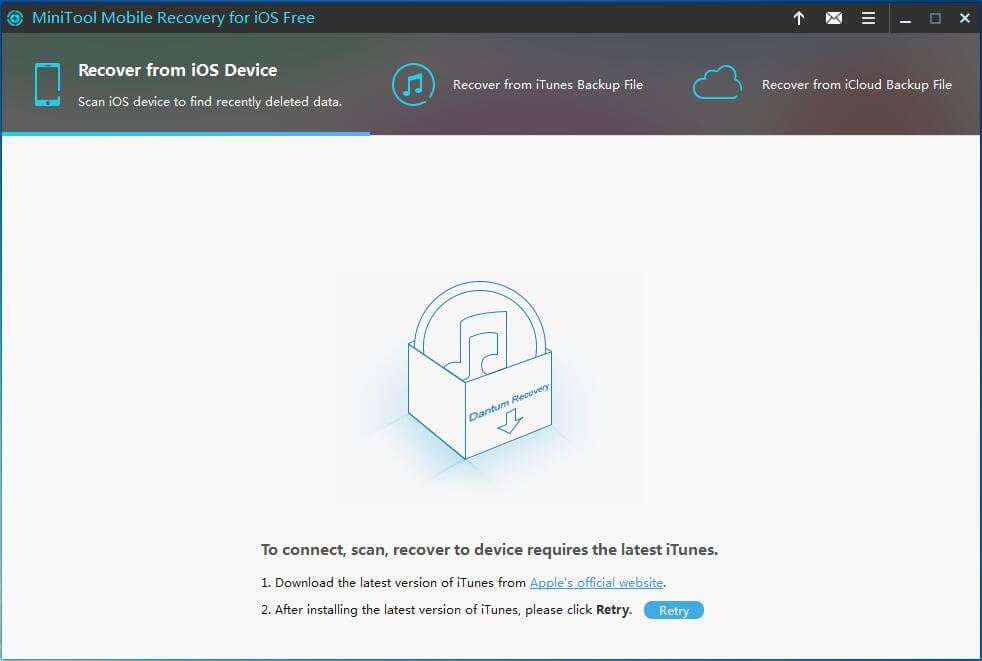 Step 2: Since iPhone has high security and no software can directly access its data without authority, you are required to Trust This Computer by following the on-screen instructions.
Step 3: Now click the Scan button, then this mobile data recovery software will begin to analyze your iPhone data and scan the device.
The duration of the data scan mainly depends on the amount of data on your iPhone, which may take some time. So, please wait patiently for the scan to complete.
Tips:
It is not recommended to click the "Stop" button. Otherwise, the data scan will remain unfinished.
Step 4: On the scan result page, all found files on your iPhone are listed by file type on the left side. Find and select the wanted files by unfolding each folder according to the file types. Then, click the Recover button to continue.
Tips:
To extract all the files on your iPhone, make sure the Only display the deleted items button is switched to OFF.
Step 5: You can save the selected items to the default path on your computer, or specify another location by hitting the Browse button. Finally, click Recover to transfer files.
Note that MiniTool Mobile Recovery for iOS Free Edition has some limitations. For example, it only allows recovering 2 photos/app photos/videos each time. To extract more files at once, we suggest you choose a full edition.
After finishing all operations, you can disconnect your iPhone from your computer. Then open the iPhone and delete those files you have moved to a target disk to free up iPhone memory.
My iPhone storage is almost full. Luckily, MiniTool Mobile Recovery for iOS helps transfer files to my computer.Click to Tweet
2. Delete/Offload the Unnecessary Apps
After deleting the transferred files, you can go to Settings > General > iPhone Storage to see what else is occupying your memory. In general, you will find that installed applications take up a lot of memory.
So, to increase iPhone storage, you need to delete or offload unnecessary applications.
Delete the app:
Under Settings > General > iPhone Storage, tap the storage-hungry app you do not need and hit the Delete App button. By using this feature, the app and its data will be erased from your iPhone and cannot be undone. This can effectively free up memory on iPhone.
Offload the app:
If you want to temporarily increase iPhone memory for some reason, such as updating the iOS system, you can use the Offload App button. This will delete the corresponding app but keep its data and files, and the data will be restored the next time you reinstall the app.
Tips:
You can re-download purchased App Store items without repurchasing, as they are linked to your Apple ID.
3. Use iCloud Photos
In iPhone, there is a feature called iCloud Photos, which enables you to keep your photos in the cloud instead of on your iPhone. If you enable it, it will help you to free up much-needed space on your iPhone by removing local copies, typically older photos.
How to free up space on iPhone using iCloud? Accessing iCloud Photos by going to Settings > your name > iCloud > Photos. Then tap the switch next to Sync this [device].
Besides, make sure the option Optimize iPhone Storage is selected. If this feature is turned on, iCloud Photos will automatically manage the size of the library on your device. Your original photos and videos are stored in iCloud, while the space-efficient versions stay on your device.
For a more comprehensive guide to iCloud Photos, please refer to this page: Set up and use iCloud Photos.
In addition to the above ways, you can choose to empty the Recently Deleted folder, clear Safari cache, keep HDR photos only, etc. to free up memory on iPhone when there is not enough space for data storage.
Case 2: Use Hardware/Wi-Fi Connected Memory to Increase iPhone Storage
Apart from taking measures to free up iPhone memory, you can expand the storage of the iPhone by using hardware-connected or Wi-Fi connected memory.
1. Employ Flash Drives With Lightning Connector
You can connect a USB drive to your iPhone via a compatible connector or adapter like Lightning to USB Camera Adapter. By using this USB drive as an iPhone external storage device, you can alleviate the burden on iPhone internal storage capacity.
Read this post to get more information about iPhone external memory: Connect external storage devices to iPhone.
2. Use Wireless Flash Drives for iOS Devices
Don't want anything sticking out of your iPhone? You can choose to use a wireless flash drive. Wireless flash drives are equipped with snap-in Wi-Fi and an internal battery, letting you connect to other Wi-Fi devices to transfer files, videos, and music, and save and share videos/photos to or from your iPhone.
To add more storage space to your iPhone, you need to buy a wireless flash drive from Amazon.
Using the above two ways, you can effectively increase iPhone external storage. Just choose one based on your actual needs.
Bottom Line
Is your iPhone storage full? Now it's your time to try all the above solutions to free up your iPhone memory or add an external device to increase iPhone storage.
If you have some questions when transferring files to your computer, external hard drive, or USB drive with MiniTool Mobile Recovery for iOS, let us know by sending an email to [email protected]. Besides, any suggestions for iPhone storage extension are welcome.