What is the external hard drive enclosure? What can it be used for? How to install it? If you are looking for the answers to the above questions, you are in the right place. This post provides detailed information about the hard drive enclosure.
External hard drives can be used to back up critical business data or add additional storage to a workstation. However, since external storage devices are expensive, you can buy a hard drive enclosure and an internal hard disk drive to reduce the costs, and then install the HDD to the case.
What Is the Hard Drive Enclosure?
What is the external hard drive enclosure? It is a portable caddy for 2.5-inch or 3.5-inch IDE hard drives. You are allowed to use ordinary inexpensive hard drives for portable storage and backup and easily connect 40GB, 80GB, 120GB, and larger IDE storage to your computer via USB. Maybe you are interested in this post – Back up Windows 10 to USB Drive: Two Simple Ways Are Here!
Tip:
To learn more information about the external hard drive, you can go to the
MiniTool
official website.
But these hard drive enclosures can do more than that. They can also act as high-capacity stand-alone media players. You can back up all your music (MP3) and videos (MPG, MP4, etc.) to an external hard disk box, then listen to MP3 while away from your PC and watch videos directly from HDD media player.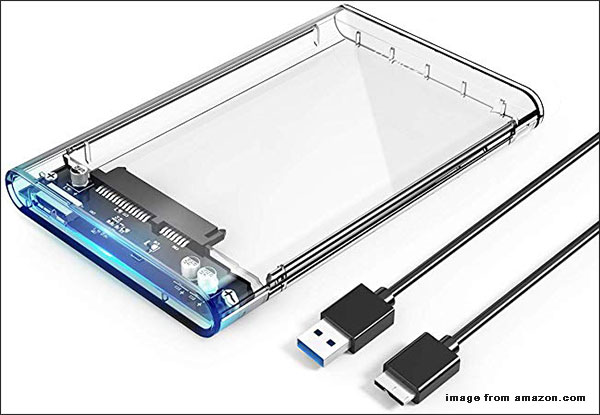 More External HDD Enclosure Features
When connecting to another USB storage device like an MP3 player or digital camera, and copy/exchange files on the fly, you can use the HDD media player as a USB host.
If the harddisk player has a flash memory card slot, you can insert your Secure Digital (SD) Card, Multimedia Card (MMC), or Compact Flash (CF) card to copy data to back up digital cameras or share music with your friends who use these flash media to store files.
DivX – a type of high-quality codec for compressing video.
Check the descriptions for the different models of HDD media player to check out the input and output ports.
If the portable USB hard drive enclosure features an ethernet port, it can be used as a portable removable network hard drive.
Advantages of the Hard Drive Enclosure
It can add additional storage space and media types to small form factors, laptop computers, and sealed embedded systems such as digital video recorders and video game consoles. It can also add RAID functionality to a computer that lacks a RAID controller or does not have enough space to accommodate other drives.
It adds more drives to any given server or workstation than their chassis can hold and transfers data between non-networked computers, humorously known as sneakernet. In addition, it can add an easily removable backup source with a separate power supply from the connected computer.
It can be used to share data or provide a cheap off-site backup solution by using a network-attached storage-capable enclosure over a network. The last advantage of it is that preventing the heat from a disk drive from increasing the heat inside an operating computer case.
How to Install the Hard Drive Enclosure?
Then, I will introduce how to install a hard drive enclosure. Follow the instructions below:
1. Loosen and remove all visible screws from the enclosure and slide the cover out of the case.
2. Insert the drive into the enclosure. Connect the 7-pin SATA data cable and the 15-pin SATA power cable to the device.
3. Align the drive with the screw holes on the housing and screw the drive into place. Put the cover back on the case.
4. Screw the case onto the cover. Connect a USB or external SATA cable to the corresponding slot on the enclosure.
4. Plug the other end into a USB or eSATA slot on your computer and set the switch on the case to eSATA or USB.
6. Connect the power jack to the drive and plug the adapter into a power outlet.
Also see: A Complete Guide to SSD & HDD Setup in Windows 10 (2020 Updated)
Final Words
To make a conclusion, this post has introduced the definition, the function and the advantages of the hard drive enclosure. In addition, you can know how to install it on your Windows 10. I hope that this post can be helpful to you.