This post will introduce what hiberfil.sys is and the causes for deleting it. Besides, methods to disable hiberfil.sys on Windows 10/8/7 and Windows XP are also talked about.
What Is Hiberfil.sys
When you don't use your PC temporarily, Windows offers you several different modes to save your computer battery.
Sleep is suitable for short breaks, like drinking some water, while hibernate is suitable for several hours or longer. When your computer hibernates, Windows memory's information will be stored in hiberfil.sys.
Tip:
To acquire more information about hiberfil.sys, please read this post of
MiniTool
.
Both of the two methods may be faster than restarting the computer completely to start and run the PC, but there is a little different between their work styles.
Sleep is the fastest one – all the current data is stored in the RAM, so your computer will back into life as soon as you press the source button.
On the contrary, hibernate is relatively slow for all the information will be written into the hard disk drive. This allows your PC to save more battery, but your computer will be recovered into a usable state somewhat behind the sleep.
Hiberfil. sys is the file used in Microsoft Windows by default, applied to save computer's state when your computer hibernates. Therefore, if you find a suspicious large file called hiberfilo.sys and want to know whether your PC is poisoned by virus, please don't worry.
The operating system also keeps the opened file handles for this file, so any user including the administrator cannot read the file while the system is running.
The size of hiberfil.sys may be increased to several GBs according to the content used on your computer, which is possible an obstacle for the storage-challenged modern devices.
Though the hiberfil.sys file is helpful for waking your computer from hibernate state, it occupies much unnecessary space when you don't use this function
Hence, how to solve this issue? Deleting the hiberfil.sys file? Is there any negative impact by doing so? Please keep reading.
How to Delete Hiberfil.sys
Is it safe to delete hiberfil.sys? Since hiberfil.sys may occupy much of your storage space, so is there any harm in deleting it? It is definitely safe if you don't use the hibernate feature though it is not as simple as putting it to the recycle bin.
In the following content, reliable and effective methods to disable the hiberfil.sys file will be introduced to you. According to your operating system on the computer, you can choose one from the given solutions.
Delete Hiberfil.sys on Windows 10/8/7
One of the methods to delete the hiberfil.sys file is through Command Prompt. This is an easy and reliable approach. You can delete hiberfil.sys Windows 10 easily only if you follow the following steps in below.
Step 1: Type Command Prompt in the search window. When you see this app at the top of the page, please right click it. After that, click the Run as administrator option in the pop-up menu page.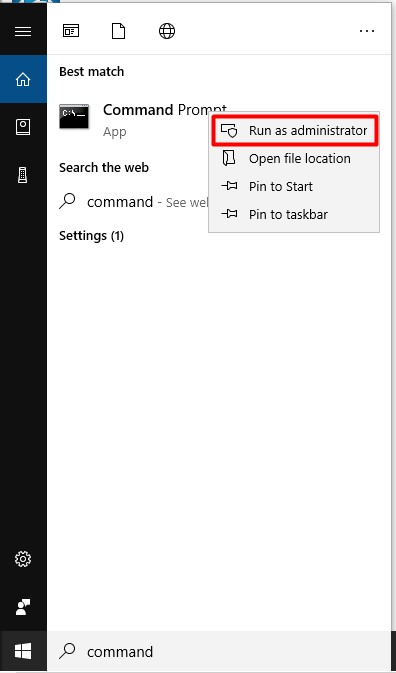 Step 2: To run this program, you need to allow it to make changes to your device. Click Yes in the pop-up window.
Step 3: At the prompt, type the powercfg -h off command (including the spaces). Then press the Enter key.
After this operation is completed, the hiberfil.sys file will successfully be deleted. If you visit File Explorer again, you'll see that the hiberfil.sys file has vanished.
Disable Hibernate Mode in Windows XP
Disabling hibernate mode in Windows XP is slightly different than in later Windows versions. First, go to Control Panel > Power Options. In the Power Options properties window, switch to the hibernate tab and disable the Enable Hibernate option.
After disabling the hibernate mode, you need to reboot your computer and manually delete the hiberfil.sys file.
Through this post, you are able to know what exactly the hiberfil.sys file is and why do you need to delete it. Though it plays a role in waking your computer from the hibernate condition, it is not suggested to be kept on your computer.
The next time you find a file taking a large amount of your storage space, you can check whether it's a hiberfil.sys file. If so, just delete it with the given methods in this post.