This article published by MiniTool official site focuses on the Windows error code 0x803f7001 of activation. It analyzes the causes of this problem and offers all 8 fixes that once helped many users to deal with the issue. Just check them out and find your special solution!
What Does 0x803f7001 Mean?
0x803f7001 is a Windows 10/11 activation error code. It may happen when you try to activate your Windows operating system (OS). Windows error code 0x803f7001 says "Unable to activate Windows. We can't activate Windows on this device because you don't have a valid digital license or product key. If you think you do have a valid license or key, select Troubleshoot below. You can also activate this device by going to the Store and purchasing a genuine copy of Windows."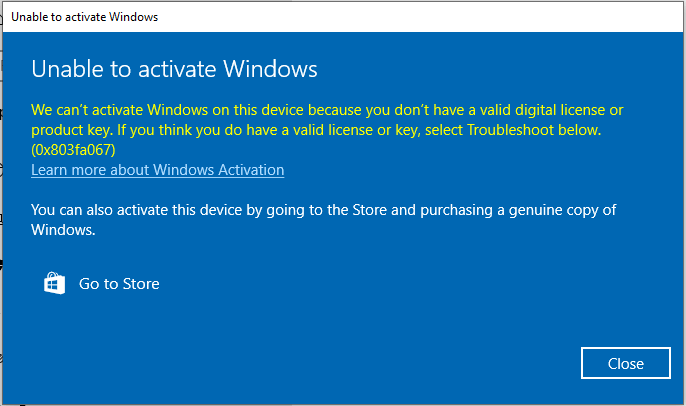 Or, the Windows 10/11 activation error 0x803f7001 may tell that "Activation failed because this device doesn't have a valid digital entitlement or product key. Error code: 0x803f7001" or "we can't activate windows on this device as the previous version of windows was not activated".
What Are the Causes of Error Code 0x803f7001 Windows 10/11?
The above Windows activation error may be caused by the following reasons.
0x803f7001 after hardware upgrade. You changed the hardware of your computer. The system license is linked with the hardware of your machine. If you make a big change of your hardware like changing your motherboard, Windows will not find a matching product key the next time you start your computer. you'll need to reenter your previous product key or reactivate Windows with the exception path in such a situation.
You reinstall your system of the wrong edition. You reinstalled Windows for some reason. Yet, you took the wrong edition instead of the one you are licensed to use.
You are freshly installed with the OS. If this is the first time Windows 10/11 has been installed on your machine, you have to provide a valid 25-character product key or purchase one to activate your Windows.
Manufacturing error. If your PC is purchased with the system preinstalled and you receive the activation error 0x803f7001, it may due to a manufacturer error that a proper Windows 10/11 product key was not included in your computer's hardware. This situation is rare. Yet, it does exist.
Error Code 0x803f7001 Solutions
Reactivate Windows
Purchase a Valid License Key
Reactivate Windows via Exception Path
Install the Right Edition of Windows
Contact Your Computer's Manufacturer
Activate Windows Through Phone
Activate Windows by Command Prompt
Reinstall Windows 10/11 or Reupdate to Windows 10/11
How to Fix Error Code 0x803f7001?
As there are different causes for the Windows activation error, there are also different solutions.
Method 1. Reactivate Windows
Step 1. Right-click on This PC on the desktop and select Properties.
Step 2. In the pop-up System Control Panel screen, click Change product key in the lower right.
Step 3. In the next window, type your previous valid product key.
Method 2. Purchase a Valid License Key
Step 1. Go to Windows Settings.
Step 2. Navigate to Update & Security > Activation.
Step 3. Click Go to Microsoft Store and follow the guide to buy a valid Windows product key.
Method 3. Reactivate Windows via Exception Path
In the Windows Activation Settings, click Troubleshoot below the error message. if the troubleshooter cannot solve the error, you will be shown a link to reactivate after a hardware change. Click the link ("I changed hardware on this device recently") and follow the guidance to reactivate your system.
Method 4. Install the Right Edition of Windows
If you think you have reinstalled the wrong edition of Windows 10/11, just click Troubleshoot in the Activation screen. If the troubleshooter detects a valid Windows digital license for an edition not currently installed, it will inform you and show you how to install the right edition. Just follow its process to correct your system edition. Finally, you can get your OS activated successfully.
Method 5. Contact Your Computer's Manufacturer
If you purchase a system preinstalled machine and failed to activate it. You can still, first of all, try to troubleshoot it. If the troubleshooting can't resolve the problem, just contact your PC's manufacturer.
Tip:
If your computer was recently repaired at an independent repair facility, contact them to see if the repairs need a new
Windows product key
.
Method 6. Activate Windows Through Phone
Step 1. Open Windows Run box by pressing Windows + R.
Step 2. Input slui 4 and Click OK.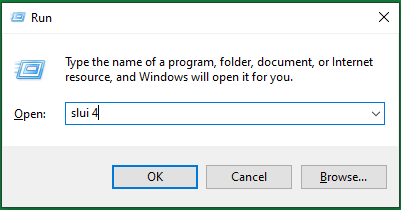 Step 3. In the pop-up window, choose your country or region.
Step 4. Call one of the numbers on the next screen and provide your installation ID (IID). In return, it will give you the confirmation ID.
Step 5. Click Enter confirmation ID and type in your confirmation ID.
Step 6. Finally, click Activate to activate your Windows system.
Method 7. Activate Windows by Command Prompt
Step 1. Search CMD in Windows Search next to Start, right-click on the first result and select Run as administrator. When asked that "do you want this app to make changes to your device?", click Yes to confirm and open the command prompt.
Step 2. Input the following commands separately and press Enter after each command.
slmgr -upk (Uninstall previous product key)
slmgr -cpky (Clear product key registry)
slmgr -ipk XXXXX-XXXXX-XXXXX-XXXXX-XXXXX (Replace XXXX with your product key / Install new product key)
slmgr -ato
Method 8. Reinstall Windows 10/11 or Reupdate to Windows 10/11
The final solution you might try if none of the above ways work is to reinstall Win 10 OS. Or, just uninstall the current Window 10, install a genuine version of Windows 8/8.1 or Windows 7 and activate it. Then, upgrade to Windows 10/11 and try to activate the Windows 10/11.
Things You Need to Do to Ensure a Successful Windows Activation
Besides the causes mentioned in the above that may lead to the activation failure, there are also some indirect factors that might also result in the Windows activation error 0x803f7001. Thus, just ensure the below aspects during the activation of Windows 10/11.
Ensure stable Internet connection
Keep a secure computer environment with Windows Defender or another antivirus software.
Make sure all device drivers are up-to-date.
Clear old and corrupted entries from Windows Registry.
Also read: