Is 100% GPU usage bad? How to fix 100% GPU usage in Windows 10? Don't fret. MiniTool Website provides you with this article to work out high GPU issues. Those methods are worth a try if you are undergoing 100% GPU usage.
Is 100% GPU Usage Always Good?
As we all know that 100% GPU usage means that you make full use of your graphics card and you cannot squeeze more out of it. It doesn't mean GPU is being excessively overloaded.
However, is 100% GPU usage always good? Well, it all depends on situations. GPU always at 100% when playing games suggests that there is nothing in your computer that will trigger a bottleneck on your graphics cards.
GPU usage is a quite contextual parameter thus it reaches different values in different games. For heavy games, 100% GPU usage is good, while for low-ended games, they can't use all resources hence causing a low GPU usage.
At the same time, keeping 100% GPU usage when idle for a long time may lead to higher temperatures, noise levels, and even an evident decrease in performance. There are several solutions for you to fix this issue.
How to Fix 100% GPU Usage When Idle?
Solution 1: Boot Your Device to Safe Mode
Safe Mode can help you recognize if your issue persists in it by running the least drivers. If your GPU usage looks normal in Safe Mode, it is likely that some programs or drivers cause 100% GPU usage.
Step 1. Press Win + R to open the Run dialog.
Step 2. Type msconfig and click OK.
Step 3. In the Boot tab, check Safe boot and hit OK.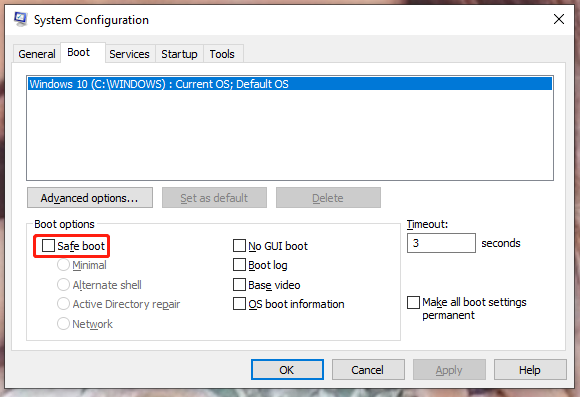 Solution 2: Turn off Backgrounds Software
At times, a few background software might also cause high GPU usage. For some less intense games, you can try enabling all high-processing GPU usage background apps. If you wonder how to fix high GPU usage by turning off background software, try the following steps.
Step 1. Type msconfig in the search bar to run System Configuration.
Step 2. In the Service tab, check Hide all Microsoft services, tap on Disable all and then click on OK.
Step 3. Under Startup, click the blue font Open Task Manager.
Step 4. In the Startup interface of Task Manager, right-click each item and select Disable.
Solution 3: Reinstall Your Graphics Card Driver
For game players with high-powered graphics cards, keeping the drivers up-to-date is the most important to maintain the system.
Step 1. Type Device Manager in the search bar and hit Enter to launch Device Manager.
Step 2. Click on Display adapters.
Step 3. Right-click your graphics cards and select Uninstall device.
Step 4. Check Delete the driver software for this device and click Uninstall to confirm this operation.
Step 5. Once the driver is uninstalled, the operating system will automatically install a new one for the graphics card.
Solution 4: Update the Graphics Driver
Likewise, updating the graphics drivers also works fine to address some graphics-related issues such as 100% GPU usage.
Step 1. Open Device Manager and click Display adapter.
Step 2. Right-click the graphics card and choose Update driver.
Step 3. Hit Search automatically for drivers.
Step 4. The operating system will look for, download, and install the latest version of drivers for you. All you need do is to wait patiently.