Laptop is widely used for study and work. The battery is an indispensible hardware component in laptop. It powers up your laptop, making it possible for you to take the laptop out for work without connecting to the power supply. However, the battery will begin to wear down over time. This post offered by MiniTool tells you how to do Dell battery test in 3 ways.
Battery is used frequently for powering electrical devices like laptop and mobile phone. Any battery will wear down as time goes by. It's necessary for you to check the health of battery so that you can decide whether you need to replace it with a new one or not.
Well, is laptop battery test useful? How to check laptop battery health? Many people don't know what they should do. This page will take Dell laptop as an example to introduce 3 ways to finish Dell battery test.
Tip:
Worrying about data loss caused by unexpected shutdown or improper operations? Please back up your system, disk, or at least valuable data regularly. However, if your important
files are disappeared
before backup, you should start recovering them at once by using a professional recovery tool.
Perform a Dell Battery Test in 3 Ways
Dell battery check is not very difficult even for inexperienced users. You should follow the steps mentioned in the following methods to check the battery health on your Dell laptop.
How To Check The Battery Health Of Your Laptop?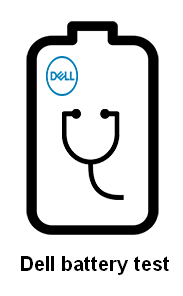 Using Dell Battery Diagnostics
Start your Dell laptop as you usually do.
Look at your screen carefully. Immediately press F12 on the keyboard when you see the Dell logo screen.
Look for the Diagnostics option in your Dell boot menu.
Select it and press Enter.
Wait and respond to user prompts properly in the pre-start diagnostic program.
Browse the test results of the Dell battery.
Note: You should submit some information on the system performance check page whenever the test failed: the service tag , ePSA error, and verification code (before SupportAssist begins to learn how to proceed).
Accessing the BIOS
You can also check the health of battery on Dell by entering its BIOS. The BIOS settings and information are not all the same on different Dell computers.
Situation 1:
Start your Dell computer.
Press F2 when the Dell logo screen shows up. You may press it repeatedly upon start in case of missing the screen.
Look for the General category in the left pane and expand it.
Choose the Battery Information option under it.
The corresponding Battery health status and information will be displayed in the right pane.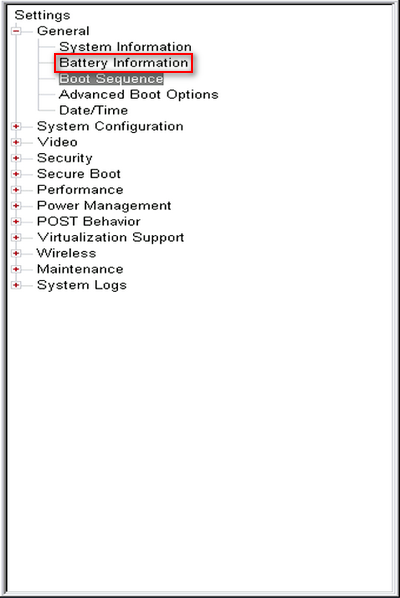 Situation 2:
Repeat step 1 and step 2 mentioned in the previous situation.
Shift to the Advanced tab at the top by using the arrow keys.
Look for the Battery Health option from the list.
If it says This battery is performing normally, it means your battery is in good health. You don't need to replace it.
Turning to Dell Power Manager or Dell Command | Power Manager
Both Dell Power Manager and Dell Command | Power Manager are useful applications available for users to check battery health & configure battery maintenance for a longer Dell laptop battery life.
How to check battery life on Dell laptop?
You should open the Dell Power Manager or Dell Command | Power Manager app.
Select Battery Information option and then look at the report.
Should You Replace Your Dell Battery
You can get to know the battery health and status after doing a Dell battery test. If the run time does not meet your needs, you should considering replacing the battery with a new one.
How Long Does a Dell Laptop Battery Last
It's no doubt that all batteries will wear out with time and usage. In general, users of Dell laptops will notice an obvious decrease in the run time of their battery after 18 to 24 months. The power user may even notice this issue within 18 months.
How to Improve the Performance of a Dell Laptop Battery
After using the battery for a long time, the battery performance will degrade. Are there useful solutions to improve it?
Check battery health on Dell laptop regularly.
Unplug the charger when it's not necessary.
Turn off the Dell laptop when it's not in use.
Save battery power during the use of Dell laptop: decreasing brightness, turning off WiFi/Bluetooth, charging with the original AC adapter, etc.
Use the Dell Power Manager and Dell Command | Power Manager tools to optimize battery settings.
Change the power plan in Microsoft Windows according to your needs.