What is Amazon Music? How to download this app and install it on your Windows 10 PC, Mac, iOS, or Android device? From this post, MiniTool gives you a detailed guide on Amazon Music download & install, as well as how to fix Amazon Music not working in Windows 10.
Amazon Music is a music streaming service offered by Amazon. With it, you can access millions of songs. It is a subscription-based platform that enables you to easily find favorite playlists & stations and download music for offline listening. If you don't subscribe to it, you can still listen to some songs but cannot save the music to your device for offline listening.
Amazon Music can be used on multiple devices, including your Windows PC, Mac, iOS, and Android devices. Even you can add songs to your car to listen to music on the road.
According to users, Amazon Music is add-free and brings high-quality audio. If you are interested in this music app, download and install it on your machine by following the below-given guide.
Amazon Music Download for PC (Windows 10)
In terms of Amazon Music download for Windows 10, there are two simple and safe ways for you and let's see them one by one.
Amazon Music App Download Free via Amazon Website
On the Amazon official website, this company gives you a free download page and see how to download Amazon Music app.
Step 1: Go to the page of Amazon Music Desktop Player for PC & MAC.
Step 2: Click the Get the app button to get the AmazonMusicInstaller.exe file for your Windows PC.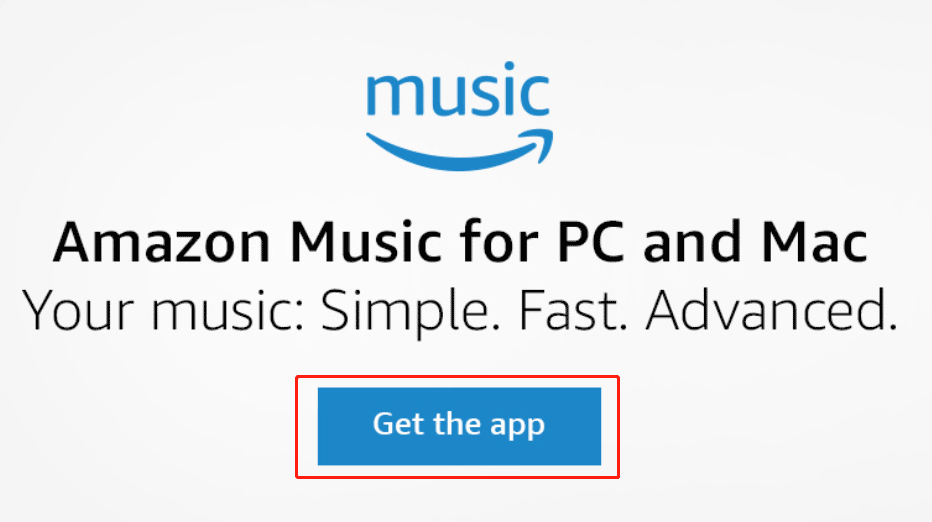 Install Amazon Music on Windows 10
After downloading this app for your PC, now you can install it on your computer. Just double-click on the AmazonMusicInstaller.exe file, click Run in the popup, and the setup process is beginning.

Amazon Music App Download for PC via Microsoft Store
Amazon Music is available in Microsoft Store and you can download & install the Amazon Music desktop app via the store.
Step 1: Launch Microsoft Store in Windows 10.
Step 2: Search for Amazon Music and click the Get button to start downloading and installing this app on your PC. After that, click the Open button to launch it.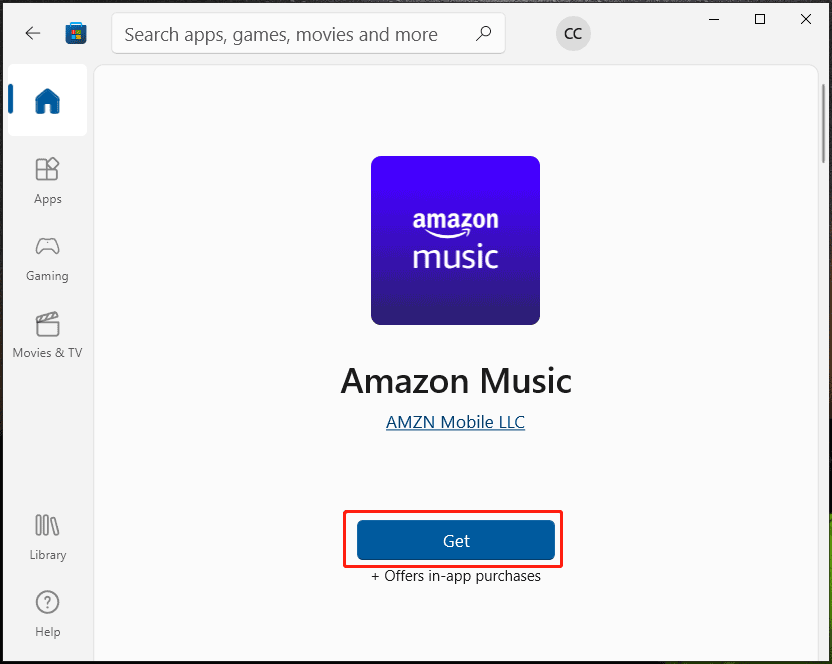 Amazon Music Download Mac
If you want to listen to music on macOS, you can also download Amazon Music app for your Mac. Just go to the page of Amazon Music for Mac Download on the Softonic website, then click Free Download > the continue to download link and click the download button again to get the .dmg installation file. Next, use this file to install this app on your Mac for use.
Amazon Music Download APK (Android) or iOS
You can search for Amazon Music download APK via a browser and get an APK file to install the app on your Android device. Or you can directly open Google Play to download and install Amazon Music. For iOS devices, go to App Store to get this app.
Further Reading
Amazon Music offers you an edition called Amazon Music Unlimited that allows you to have a free trial. Currently, it is 4 months and it is a limited-time offer that is available only to new subscribers to Amazon Music Unlimited. This edition brings unlimited access to any songs and allows you to listen offline with unlimited skips.
If you are interested in it, access the Amazon Music Unlimited page and click Try now. Then, follow the on-screen instructions to get it.
Amazon Music Not Working
After installing this app on your PC, you may find this app doesn't work properly and you may get the error "Amazon Music has stopped working", as shown below.
What should you do if Amazon Music is not working in Windows 10? Try these fixes.
Install the Latest Version of Amazon Music
Uninstall and Reinstall Amazon Music
Check the Network Connection
Final Words
That's all the information about Amazon Music download for PC, Mac, and mobile devices. On Windows 10, if you run into Amazon Music not working, try the given solutions. If you find some other useful workarounds, leave a comment. Thanks a lot.